From a quick 30-minute meal to feed the family to the more elaborate dishes for special occasions, there are plenty of ways to cook and serve delicious beef ribs.
Whether you are looking for something hot and spicy or sweet and sour, there's a beef rib recipe to suit your tastebuds. So, sit back, relax, and check out our list of 12 delicious beef rib recipes.
The Best Beef Rib Recipes
1. Korean Grilled Beef Short Ribs
Korean grilled beef short ribs are better known as Korean Kalbi. You've probably seen this dish listed on menus in various restaurants. These ribs are crispy on the outside and soft and juicy on the inside, it's hard to say no!
This BBQ Korean dish combines honey, hot sauce, and garlic to produce an incredible beef rib bath to marinate your meat. This dish isn't just for beef either! Feel free to substitute the beef for chicken or pork.
2. Standing Ribeye Roast
It's hard to beat an American classic. This dish is simple to make, it is more than enough to feed your whole family, and it doesn't require all that much effort to make. This dish is the perfect choice for those foodies who don't have much free time for cooking.
This recipe allows you to cook up the perfect ribeye roast easily. Also, it goes with just about everything, from veggies to mashed potatoes. This is a very versatile dish.
3. Fall off the Bone Baked BBQ Beef Ribs
No, you didn't read that wrong. It really is BBQ-quality beef ribs baked in the oven! This dish is perfectly flavored all the way through to the bone, and it's also easy to make, so it's a win-win!
As the title states, this really is a fall-off-the-bone recipe. Combine that with its delicious smokey flavor, and you've got a dish that will keep everyone coming back for more!
Also, this recipe is very easy to follow; in just 14 simple steps, you'll have the perfect rib dish ready to serve.
4. Bourbon Barbecue Beef Back Ribs
Up next, we have another American classic. Bourbon barbecue beef back ribs are both sweet and spicy; it is an explosion of flavor for your tastebuds. This dish is filled to the brim with incredible flavors and a soft, fall-off-the-bone texture that will keep everyone coming back again and again!
This meal is an excellent choice for when the extra chairs come out, and the extended family comes around. It is a real crowd-pleaser!
5. Beef Ribs in BBQ Sauce Slow Cooked
There's something about slow cooked BBQ ribs that just ticks all the right boxes! This recipe covers all there is to know when is comes to making the perfect rib meal. From top tips about cooking the beef to making your own BBQ sauce from scratch, it's all there.
This is the ideal meal if you are looking to impress, whether it is at a potluck or for a romantic dinner for two, these ribs will definitely hit the spot!
6. Grilled Beef Ribs
It's hard to beat a classic. Grilled beef ribs are usually pretty delicious, but this recipe will elevate your beef rib game to a whole other level! Marinated in a BBQ sauce with a spicy kick and slow-cooked to perfection, these grilled beef ribs are guaranteed to please even the fussiest of eaters!
This dish is great for chowing down on while watching the big game. Just be sure to make enough of them, as these bad boys are incredibly moreish!
7. Crockpot Beef Short Ribs
Simple, delicious, and only 10 minutes of prep time, who said cooking delicious dishes has to be difficult? Sit back and relax as your slow cooker takes care of the heavy lifting to bring you the perfect beef short rib dish.
Whether you have it with mashed potato, rice, or fries, this dish goes well with just about anything. Just don't forget to pair it with a nice red wine to really make this dish pop.
8. Red Wine Braised Short Ribs in Dutch Oven
For those who aren't familiar with the term Dutch oven, don't worry, it's just a casserole dish! This slow-cooked rib dish is soft and succulent. The ribs soak up the wine as they cook to provide a juicy and delicious flavor.
Onions, carrots, garlic, and celery gives the dish several different textures which really makes this dish stand out. Serve with mashed potato, and you are on to a real winner with this one! It is the perfect dish for a romantic candle-lit dinner for two.
9. Oh Yeah Sticky Beef Ribs
Sticky, sweet, and just plain delicious, this recipe offers restaurant quality ribs from the comfort of your own home. This easy to follow recipe is a game changer, once you've used it once, you'll make it again and again!
The honey, apple cider vinegar, and cola, yes cola, fuse together to create an incredible basting sauce. Whether you are cooking for two or feeding the 5000, this is a must try recipe that will have people coming back for more.
10. Smoked Beef Back Ribs
Smoked, juicy, and tender, these ribs are to die for! The meat falls straight off the bone and melts in your mouth, this recipe is a real winner. By using beef back ribs, you get more money per pound, so it is delicious as well as cost-effective.
This is the perfect dish for those meat lovers out there. It is a real no-nonsense recipe that is easy to follow and undeniably delicious.
11. Mongolian Beef Ribs
Why not try something a little different and cook up some Mongolian beef ribs? This dish is tasty and easy and kind on the wallet too. It's a bit of an all-rounder. This sweet and savory delicacy is too good to pass up.
The combination of soy sauce, chili flakes, and ginger really gives this dish its uniquely delicious flavor. The sauce is thicker than your average rib sauce, meaning that the sauce will really stick to the ribs.
12. Instant Pot Beef Ribs
Finishing off we have a stunning pressure cooker recipe for the perfect instant pot beef ribs. The best thing about this recipe is just how easy it is to make. It's strange how something so easy to make can be soo delicious, but it is!
Not only is this a delicious dish, it is also rich in protein making it a good food for those gym bunnies out there! Try this dish once and it will become a regular dish in your home, guaranteed!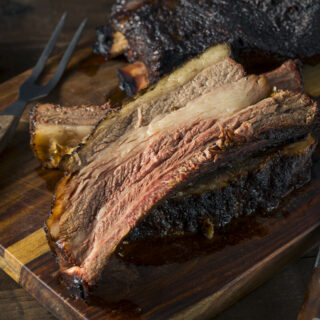 The 12 Best Beef Rib Recipes
Instructions
Pick your favorite beef rib recipe.

Get the ingredients together.