Beef ribs are taking over. They are tender, delicious, and more meatier than their pork counterparts.
However, if you want the most delicious beef ribs, you need to find a tried and tested recipe.
Luckily you don't have to spend hours online looking for the perfect recipe. We've gathered a list of the 12 breast smoked beef ribs recipes.
The Best Smoked Beef Ribs Recipes
1. Fall Off The Bone Smoked Beef Ribs
The beautiful mahogany color is the first thing you will notice about these ribs.
The paprika, chili powder, and brown sugar in the rub are definitely responsible for these stunning beauties.
The flavor is even more amazing than the color. The ribs are tender, juicy, sweet, savory, spicy, and tasty.
2. Smoked Beef Short Ribs
Most people braise short ribs. However, they are perfect for smoking.
The short ribs are coated with spices like coriander, cayenne pepper, and dry mustard powder. The ribs are sprayed with water and apple cider vinegar.
This mixture keeps the short ribs moist and juicy.
3. Smoked Beef Ribs
Sometimes, simple is best when dealing with beef back ribs. They are seasoned with salt, black pepper, and garlic powder.
These simple ingredients make moist and tender ribs with beautiful bark.
This smoked beef rib recipe works whether you have a Traeger grill, electric smoker, or offset smoker. So, there's no reason not to make these ribs.
4. Texas Style Beef Plate Ribs
Texas knows how to BBQ. It's no surprise they've figured out how to make delicious beef plate ribs.
Texas-style ribs refer to partially smoking ribs, then wrapping them with foil or butcher paper, and smoking them until they are cooked.
You can tell the ribs are perfectly smoked because they have beautiful bark, and you can see a beautiful smoke ring when you cut them.
5. Dinosaur Ribs
Dinosaur ribs are just another name for beef plate ribs. They are called dino ribs because they are gigantic. They are larger and meatier than most types of ribs.
This recipe coats the ribs in spices like paprika and cumin. But the real kicker is the cinnamon. The cinnamon adds a warmth that enhances the flavor of the dino ribs.
6. Smoked Beef Back Ribs
These beef ribs are seasoned with salt and black pepper. All the flavor comes from the smoke and the savory mop sauce. Mop sauces are a thin vinegar-based version of BBQ sauce.
The mop sauce consists of coffee, butter, white onion, garlic, beef stock, Worcestershire sauce, black pepper, Dijon mustard, and sweet BBQ sauce.
The beef ribs are smoked for 2 hours, then mopped every 45-60 minutes until the ribs are done smoking which creates the perfect juicy ribs.
7. Bourbon Barbecue Beef Back Ribs
If you prefer sweet and spicy foods, these bourbon barbecue beef back ribs are right up your alley.
The ribs are coated with a BBQ sauce made from bourbon, soy sauce, and hot chili sauce. It gives the beef ribs a sweet yet spicy flavor that is so addicting.
Best of all, it only takes about 2 1/2-3 hours to smoke the ribs. Even though it seems like a long time, some beef rib recipes can take up to 7 hours to cook.
So you will be eating beef ribs in a quarter of the time.
8. Traeger Smoked Beef Ribs
This Traeger smoked beef rib recipe is a 5 ingredient recipe that yields great results.
They are coated with barbecue rub and allowed to marinate for 10-20 minutes until the meat starts to absorb the flavor.
The ribs are sprayed with apple cider vinegar, soy sauce, and tabasco sauce to prevent them from drying out.
Overall, in 5-8 hours, you will have tasty, delicious beef ribs.
9. Charlie's Smoked Beef Short Ribs
This recipe does things a little differently. Most rib recipes remove the silverskin from the ribs. The silver skin is a thin silver-white membrane located at the back of the ribs.
It is removed because it becomes tough during the cooking process. However, this recipe leaves the silver skin on to prevent the ribs from falling apart.
Furthermore, these beef ribs are sprayed with water and beer to keep them moist, so you know they are going to be delicious.
10. Bourbon and Coke Braised Short Ribs
Who knew combining 2 different cooking methods would make the most amazing flavorful ribs? First, ribs are massaged with a BBQ rub and mustard, then smoked for 1 1/2 hours.
Next, they are braised on the smoker, so you don't have to turn on the stovetop or the oven.
The ribs are braised in cocoa cola and bourbon, giving them a sweet yet savory flavor. But it does not stop there.
The rubs are glazed with BBQ sauce, then placed back onto the smoker for a few minutes to give them a little more smoky flavor.
11. Glazed And Blazed Beef Ribs
The secret to these glazed and blazed ribs is in the name. The glaze brings the flavor.
It's made with soy sauce, orange juice barbecue sauce, hoisin sauce, agave nectar, mirin, bourbon, red pepper flakes, and ginger.
This glaze is sweet, salty, spicy, and slightly bitter, giving the beef ribs an umami flavor.
12. Korean Style Short Ribs
If you are looking for something different, look no further than these Korean-style short ribs. The process is pretty much the same.
However, the ribs cook in 3 hours, and they come with a flavorful Korean-style sauce.
The ribs are smoked for 2 hours. Next, they are placed into a pan and covered with a sauce made from soy sauce, brown sugar, sesame oil, rice wine vinegar, ginger, garlic, and red pepper flakes.
The ribs are covered with for and braised in the smoker for 1 hour until they are tender, delicious, and tender.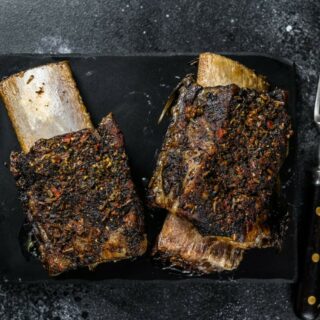 The Best Smoked Beef Ribs Recipes
Instructions
Choose a smoked beef ribs recipe.

Get your ribs and ingredients.