Everyone remembers bologna from their childhood. However, this is definitely not the bologna from your childhood. It is flavorful, delicious, and smoked.
Revisit your favorite childhood food in a new way with these smoked bologna recipes. They are the 12 best smoked bologna recipes on the planet.
The 12 Best Smoked Bologna Recipes
1. Smoked Whole Bologna
Don't have a smoker? No worries, this smoked bologna recipe is cooked on a grill.
So whether you have a natural gas or kamado grill, you will end up with a beautiful smoked bologna.
Crosshatch marks are cut into a 5-pound bologna. It is slathered with mustard and BBQ sauce, then coated with dry BBQ rub.
It is smoked and glazed with more BBQ sauce to give it a sweet flavor that enhances the savory flavor of the bologna.
2. Smoked Bologna Recipe
Smoked bologna is a cost-effective meal. Believe it or not, this recipe costs less than $10, and each serving only costs $1.24.
But keep in mind the prices may change based on your location.
Nevertheless, you will end up with a flavorful smoked bologna. It is coated with mustard to help the homemade rub stick.
Once it's smoked, you will have an easy-to-make protein that feeds 8 people.
3. Low-and-Slow Smoked Bologna
Up next is another stunning, tasty smoked bologna. Cutting crosshatch marks into bologna before smoking is normal.
However, these crosshatch marks are cut just a little deeper causing them to open up like a flower and absorb more smoky flavor.
The crosshatch marks also help create more surface area for the bologna to get crispy.
4. Honey Mustard Smoked Bologna Chub
Honey mustard works well with bologna too. It gives the savory ham a sweet and tangy flavor.
Honey or beer syrup, yellow mustard, and seasonings are massaged onto bologna. Best of all, this smoked bologna only takes 10 minutes to prep and 2 hours to cook.
So you will be making smoked bologna sandwiches in no time.
5. Easy Smoked Bologna
Smoky, sweet, and delicious is what you can expect with this easy smoked bologna recipe. It is seasoned with BBQ sauce, mustard, and a sweet and spicy rub.
It is smoked until a beautiful bark forms, but not long enough, it becomes black. Additionally, if you don't eat all that delicious bologna, you can freeze it for later.
6. Traeger Smoked Bologna Recipe
Crosshatch marks are cut on the top and sides of the bologna. So nearly every inch of it will be exposed to the smoke and develop a crisp exterior.
The bologna is doused with brown sugar, yellow mustard, soy sauce, and Worcestershire sauce.
This simple sauce gives it a spicy, sweet, and umami flavor. It's smoked and basted with the sauce until it's perfect and delicious.
7. Smoked Bologna With A Hot Honey Glaze
This smoked bologna is rubbed with spices like a ground mustard seed, ancho chili powder, and Spanish smoked paprika.
Spanish smoked paprika, also known as pimenton, are smoked, dried peppers that are ground into a fine powder.
The bologna is brushed with a hot honey glaze to add even more flavor.
The hot honey glaze is made with melted butter, brown sugar, hot honey, and garlic powder, which gives the meat a sweet, savory, and spicy flavor.
8. Smoked Bologna With Rodeo Rub
This is one of the easiest smoked bologna recipes you will find. It is a straightforward, simple smoked bologna tutorial that is so delicious.
Plus, the bologna has crispy skin. It's seasoned with a Texas rodeo rub that helps the crispy bark bark form.
9. Smoked Bologna
This smoked bologna is absolutely delicious. It is sweet, tangy, and savory. The diamond-shaped marks are slathered with BBQ sauce which gets into the cracks and makes this bologna taste amazing.
The trick to this bologna is slicing it into paper-thin slices. Your bologna will last longer.
You will be able to trick your family or friends into thinking they got more smoked bologna when they really got less.
10. Bologna Smoking Fun 10
The first thing you'll notice about this smoked bologna is its rich dark brown crust. The bologna is cooked for 3 hours, allowing this rich crust to form.
The bologna is sliced thin and sandwiched between soft burger buns along with a sweet yet savory BBQ sauce.
The savory element comes from sauteing garlic, onions, and spices in oil until fragrant, then mixing it into the BBQ sauce.
See, smoking bologna is fun, especially when you make your own BBQ sauce and pile the meat high on soft buns.
11. Classic Smoked Bologna
There are 2 parts to this smoked bologna recipe: the binder and the rub. The binder is made with tangy mustard, sweet honey, and maple syrup.
The second part is the rub. The rub is made with bread crumbs, spices, and sugar, then massaged into every nook and cranny and smoked until it's golden brown.
Overall, the binder and the rub are what make this smoked bologna so delicious.
12. Simple Smoked Bologna
https://www.pinterest.com/pin/365987907230103578/
Instead of the standard cross hatch marks, this smoked bologna recipe uses a checkered square pattern. This pattern is much easier to cut than a diamond or crosshatch mark.
These checkered marks will still expand, and the meat smokes, so there is no need to worry about it not having enough smoky flavor or a rich dark amber bark.
What would smoked bologna be without BBQ sauce? The bologna is served with sweet and spicy BBQ sauce made from a special ingredient: raspberry jalapeno pepper jelly.
This special ingredient gives the sauce a fruity and mildly spicy flavor.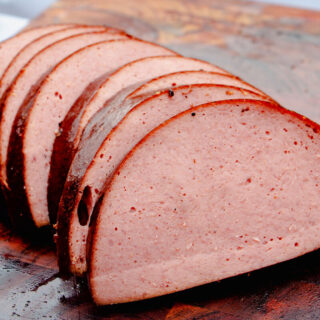 The Best Smoked Bologna Recipes
Revisit your favorite childhood food in a new way with these smoked bologna recipes. Here are the best smoked bologna recipes on the planet.
Instructions
Choose a smoked bologna recipe.