Smoked chicken wings are simply delicious. They are a BBQ staple that is easy to make and can feed a lot of people.
But to smoke chicken wings, you need one important thing: a recipe. All recipes are not the same. Some recipes claim to be the best, but they are the worst.
That's why we've compiled the 12 best smoked chicken recipes. You will find simple classic recipes, spicy yet sweet chicken wing recipes, and so much more on this list.
The Best Smoked Chicken Wings Recipes
1. Traeger Smoked Chicken Wings
If you are looking for a simple, straightforward recipe for smoked chicken wings, look no further than these Traeger smoked wings.
This smoked chicken recipe is so easy a fool could do it. Party wings are tossed with olive oil and a homemade BBQ rub and then smoked until tender.
It doesn't get any simpler than this.
2. Parmesan Ranch Smoked Chicken Wings
Raw chicken wings are seasoned with a chicken rub and ranch parmesan seasoning until they develop a beautiful color.
The parmesan ranch seasoning adds a salty, cheesy flavor, while the chicken rub brings that classic BBQ flavor.
The only thing that could make these parmesan ranch smoked chicken wings better is serving them with more ranch dressing.
3. Pumpkin Spice Chicken Wings
Pumpkin spice chicken wings sound strange. However, don't knock these pumpkin spice chicken wings until you try them.
The wings are tossed with paprika, pumpkin spice, salt, mustard powder, onion powder, garlic powder, and chipotle powder, then smoked.
Next, they are tossed with a buffalo hot sauce, spiked with more pumpkin spice, brown sugar, and roasted pumpkin seeds to create smoked chicken wings loaded with pumpkin spice flavor.
Once you try these pumpkin spice chicken wings, they will be your favorite recipe.
4. Dry-Rubbed Smoked Chicken Wings
A dry rub is essential if you are going to smoke chicken wings. It's where the wings get most of their flavor from.
This simple dry rub consists of paprika salt, pepper, oregano, and cayenne pepper. It gives these smoked chicken wings a classic BBQ flavor.
But you can also use this rub to season chicken thighs, chicken breast, or other types of meat.
5. Sweet Heat Smoked Chicken Wings
These chicken wings are calling your name if you like spicy and sweet flavors. The wings get the heat from habanero pepper and the sweetness from brown sugar.
The wings are smoked for 2 hours so they can absorb as much smoky flavor as possible. The wings can be cooked on the grill in an air fryer or shallow fried in oil to get crispy skin.
Overall, these chicken wings will set your taste buds on fire in a good way.
6. Lemon Pepper Smoked Chicken Wings
Lemon pepper chicken wings are delicious, but smoked lemon pepper chicken wings are on another level.
The wings are tossed with lemon pepper and smoked until cooked through.
You can eat the wings as soon as you remove them from the smoker or crisp up the skin by shallow frying them.
Either way, there will be an explosion of lemon pepper flavor when you put these chicken wings in your mouth.
7. Honey Chili Oil Chicken Wings
Up next is another sweet but spicy delight. Chicken wings are slathered with mustard and then coated with a special seasoning that uses Gochugaru Flakes and then smoked.
Gochugaru Flakes are a kind of Korean red pepper that is dried in the sun.
The chicken wings are fried until crispy and then tossed with a honey chili glaze that makes the wings taste amazing.
8. Applewood Smoked Chicken Wings
Sometimes naked wings are better. There's no BBQ sauce to overpower the natural flavor of the wings.
These applewood-smoked wings are perfect. What makes these wings different is that they are brined for 8 hours which gives them a ton of moisture.
The smoky, subtle fruity sweet flavor from the applewood is just a plus.
9. Bourbon BBQ Smoked Chicken Wings
Bourbon and smoked chicken wings go hand in hand. It is the perfect adult spin on a classic dish.
The wings are coated with a sweet and spicy chicken rub and smoked using hickory wood.
They are then glazed with a boozy bourbon sauce that takes the chicken's flavor to new heights.
10. Fireball Whiskey Chicken Wings
These fireball whiskey chicken wings are another great smoked wing recipe for adults. The wings are tossed with a tablespoon of fireball whiskey and a BBQ rub and smoked.
The wings are coated with a sticky, sweet, and boozy fireball whisky sauce. Overall, the smoky flavor and the whisky flavor will transport you to chicken wing heaven.
Best of all, there is also an oven version of the recipe, so if you don't have a smoker, you can still make fireball whiskey chicken wings.
11. Smoked Paprika Chicken Wings
Paprika is an underrated ingredient, but it adds so much flavor to food. The wings are tossed with regular paprika and smoked paprika for double the flavor.
This smoked paprika chicken wings recipe is simple and easy to follow, so it's perfect for beginners. The wings will be smoky, delicious, and filled with paprika flavor.
12. Smoked Double Fried Wings
Who doesn't love fried or smoked chicken wings? This is the ultimate smoked and fried chicken recipe.
The wings are fried not once but twice, creating the crispiest skin.
First, the chicken wings are smoked and then fried. After the first fry, the wings are tossed with buffalo sauce and fried again.
The wings are tossed with more buffalo sauce again, creating spicy, smoky, delicious chicken.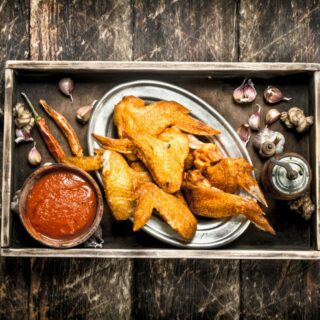 The Best Smoked Chicken Wings Recipes
Smoked chicken wings are simply delicious. They are a BBQ staple that is easy to make and can feed a lot of people.
Instructions
Choose a delivious smoked chicken wing recipe.

Get your wings and ingredients.