Duck is usually reserved for special occasions, but you can eat duck any time of year. The secret to making the most succulent smoked duck is using the right recipe.
That's why we gathered the 12 best smoked duck recipes. From duck smoked with tea leaves to spiced pomegranate duck with maple glaze, you will find your new favorite duck recipe on this list.
The Best Smoked Duck Recipes
1. Smoked Orange Rosemary Duck
Orange duck has an amazing flavor. Add a bit of smoky flavor and fresh rosemary, and the flavor will be unbelievable.
The orange duck is seasoned with garlic and lemon pepper and then placed into a dish with potatoes, oranges, rosemary, and apples.
These ingredients infuse the duck with flavor as it smokes. Plus, you will have delicious smoked potatoes to serve with the orange rosemary duck.
2. Smoked Duck With Spiced Pomegranate-Maple Glaze
Smoking a whole duck is scary. This recipe breaks it down in an easy way, ensuring you end up with the best duck you've ever tasted.
Slits are cut into the duck skin. The slits allow the fat to escape creating crispy skin.
The duck is brushed with a sweet pomegranate glaze that is utterly delicious and provides a beautiful contrast to the savory duck.
3. Spice-Rubbed Smoked Duck
This spice-rubbed smoked duck is a twist on an old classic. It is seasoned with a holiday rub made with spices like cinnamon, clove, and anise pods.
The glaze is made from duck fat for a richer flavor and orange juice, soy sauce, honey, brandy, and thyme sprigs.
Overall, this is a flavorful duck that is perfect for the holidays.
4. Smoked Duck Breasts With Apple-Brandy Caramel Recipe
Smoked duck breasts are much easier to smoke than the whole bird.
The duck breasts receive a coating of salt and are brined in the fridge overnight. Dry brining pulls moisture out of the duck, which helps the skin get crispier.
The duck breasts are delicious, but the sweet apple brandy caramel is the star of the show.
5. Smoked Duck Breasts
This is a simple duck breast recipe that yields excellent results. Instead of brining the duck breast in water, it is brined with apple juice, sea salt, honey, soy sauce, fresh ginger, spices, and herbs.
This apple juice brine infuses the duck breast with so much flavor that it does not require additional seasoning.
That's right; the brine is enough to create tender and juicy meat.
6. Cherry-Smoked Duck with Chipotle-Cherry Barbecue Sauce Recipe
There are many kinds of wood to smoke duck with, including hickory or maple wood. But cherry wood is one of the best options.
The cherry wood gives the duck a fruity yet subtle sweetness.
The duck is also served with a flavorful chipotle cherry BBQ sauce made from cherries, port wine, and chipotle chilis.
The sauce gives the duck a sweet and spicy flavor.
7. Maple-Smoked Duck Breasts
This sweet take on duck breast is irresistibly delicious. The duck breasts are coated with salt, pepper, and maple syrup and then marinated for 12-24 hours.
The duck breasts are brushed with more maple syrup and smoked using maple wood chips. That's a triple dose of sweet delicious maple flavor.
8. Sichuan Tea Smoked Duck
If you are looking for a different way to prepare duck breasts, these Sichuan tea duck breasts are perfect.
Sichuan peppers are not actually peppers, so they do not have a spicy flavor.
The duck breasts are seasoned with flavorful ingredients like Sichuan peppers, ginger, chilies, and Shaoxing wine to create a sweet yet savory flavor.
This recipe is also perfect for date night since it yields 2 delicious duck breasts.
9. Tea-Smoked Duck Breast
Tea and duck breast make an excellent combination. This recipe uses a spice rub made from loose lychee tea leaves and other robust spices to flavor the duck.
What makes this recipe so delicious is a foil packet containing tea, cinnamon sticks, peppercorns, orange zest, and star anise.
This packet is placed on top of hot coals to produce smoke. So the duck breasts are literally smoked with tea.
10. Cherry-Smoked Duck Breasts With Cherry Salsa
Cherry-smoked duck will be the best thing you have ever tasted. The duck breasts are seasoned with Chinese 5 spice.
Chinese 5 spice consists of 5 main spices: star anise, cloves, Chinese cinnamon, Sichuan pepper, and fennel seeds.
The cherry salsa features fresh sweet yet tart cherries, cilantro, and lime juice. The salsa doubles down on the sweet cherry flavor but also adds a bright, citrusy flavor.
11. Smoked Jerk Duck
Duck legs get a touch of Jamaican flavor. They are brined overnight in a vinegar water solution with salt, sugar, and fresh thyme.
The duck legs are rinsed with cold water to remove the salty flavor from the brine.
Then it's jerk time! The duck legs are massaged with homemade jerk paste and marinated for at least 4 hours before being smoked.
12. Rotisserie Maple Smoked Duck
Why make rotisserie chicken when you can make rotisserie duck? It is even more flavorful than plain old chicken since it is smoked with maple wood chips.
It is coated with two Jack Daniel rubs, Chinese 5 spice, granulated garlic, ground coriander, and ginger.
The duck is dry-brined for maximum flavor and smoked on a gas grill to perfection.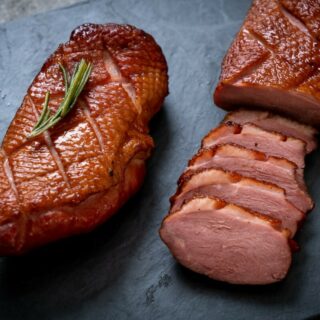 The Best Smoked Duck Recipes
From duck smoked with tea leaves to spiced pomegranate duck with maple glaze, you will find your new favorite duck recipe on this list.
Instructions
Choose a smoked duck recipe.

Get your ingredients together.