Finding the perfect smoked ham recipe can be difficult. There are more than a million smoked ham recipes on the internet.
You don't have to scan a million recipes hoping to find one delicious smoke ham recipe.
From double-smoked maple glazed ham to slow cooker maple beer ham, we've gathered a list of the 12 best smoked ham recipes.
The Best Smoked Ham Recipes
1. Smoked Ham With Brown Sugar Glaze
Brown sugar and ham are the perfect combinations. This smoked ham with brown sugar is no different.
The ham is massaged with a BBQ rub, then smoked until it's nearly cooked. Next, the ham is slathered with a glaze made from butter, brown sugar, vinegar, and maple syrup.
The smoky BBQ flavor combined with the salty ham and the sweet buttery brown sugar glaze creates an irresistible masterpiece.
2. Double Smoked Maple Bourbon Glazed Ham On The Big Green Egg
Just because you don't have a smoker does not mean you can't smoke ham. Big green eggs, also known as kamado grills, are perfect for smoking ham.
Plus, the recipe double-smokes the ham, which means double the flavor.
The ham is smoked for a few hours, then it is covered and smoked for 1 hour.
The ham is coated with a maple glaze and then smoked for 30 minutes, creating moist and delicious ham. The beautiful mahogany-colored crust is a plus.
3. Juicy Traeger Smoked Ham Recipe
Simple and easy to make are the words that come to mind with this smoked ham recipe. You don't need any fancy and elaborate glazes or foil to wrap the ham.
Simply place the ham on the Traeger grill and let it smoke. The only thing you will have to do is baste the ham with the butter concoction.
The great thing about using a butter concoction consisting of butter, rosemary, and seasonings, is it gives the ham flavor while.
However, it still allows the ham's natural flavor to shine through.
4. Maple Bourbon Glazed Smoked Spiral Ham
Spiral-cut hams are one of the most popular types of hams. First, the ham is partially smoked, then braised.
While it sounds strange, braising makes the ham super tender. The ham is braised in chicken broth, bourbon, and maple syrup.
Lastly, the ham is slathered with a maple bourbon glaze and broiled until the maple syrup, and brown sugar caramelize, giving the ham a rich dark color.
5. Honey Mustard Double Smoked Ham
The combination of honey and mustard is unclear. Some say it originated in Egypt, while others claim it started with a salad dressing created by chef Dan Ryan.
Nevertheless, honey and mustard make a stellar combination. The honey gives the ham a subtle sweetness that is accentuated by the tart mustard.
It provides the perfect flavor contrast to the salty ham.
6. Fresh Smoked Ham with Rosemary and Garlic Rub
Most people go for recipes that have a sweet glaze, but sometimes savory is better.
The ham is brined to add moisture, then slathered with fresh rosemary, garlic, and salt before it's smoked to bring the flavor.
But it does not stop there. The ham is brushed with BBQ sauce, Worcestershire sauce, and soy sauce to give it an umami flavor.
This smoked ham recipe literally stacks layers of flavor to create a captivating dish.
7. Slow Cooker Maple and Beer Smoked Ham
Smoking ham in a slow cooker sounds like an atrocity, but it actually produces quality results.
The trick is to buy smoked ham, so you don't have to smoke it.
The ham is basted with sharp Dijon mustard and then cooked in pale ale beer, maple syrup, and spices for hours until it is tender and delicious.
See, it's that easy. Plus, you'll end up with delicious smoked ham.
8. Pellet Grill Ham with Bourbon Orange Glaze
Up next is another delicious but different smoked ham recipe. But instead of using a traditional smoker, the ham is smoked using the next best thing: a pellet grill.
The orange juice adds a bright, sweet, yet acidic flavor that prevents the salty ham from overwhelming the palette.
Whether you serve this ham for Christmas or Easter, it will disappear as soon as you put it on the table.
9. Delicious Spiced Apple Glazed Double Smoked Ham
A delicious twist on an old classic that's made in 2 hours? Yes, please!
A spiced apple honey glaze brings this ham to life. It's perfect served alongside holiday staples like mashed potatoes, mac and cheese, and candied yams.
10. Double Smoked Ham With Salted Caramel Peach Glaze
Salted caramel, peaches, and ham usually don't go in the same sentence, but in the case of ham, they are the perfect combination.
The sweet caramel peach glaze provides a sweet twist that compliments the ham.
Best of all, the recipe is easy to make, so it's perfect for beginners.
Anyone who eats this ham will wonder why no one told them salted caramel could make smoked ham taste so good.
11. Jalapeno Pomegranate Glazed Ham
Give your friends and family a new ham recipe to enjoy during the holidays. While there is nothing wrong with a classic smoked ham, sometimes it can get a little boring.
If you are tired of the same old maple, brown sugar, or honey-glazed ham, this jalapeno pomegranate ham is perfect for you.
The jalapenos give the ham some much-needed spice that offsets the saltiness, while the pomegranate juice adds a sweet fruity flavor.
12. Cherry Chipotle Pineapple Glazed Ham
The pineapples and cherries arranged on top of the ham make it look like the same old ham. But trust me; this ham is anything but old.
Cherry chipotle pineapple glazed ham is another different yet exquisite ham recipe.
The chipotle, pineapple, and cherry provide the ham with sweet heat, which makes it hard to eat 2 slices of ham.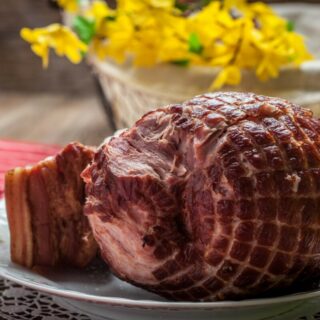 The Best Smoked Ham Recipes
From double-smoked maple glazed ham to slow cooker maple beer ham, we've gathered a list of the best smoked ham recipes.
Instructions
Pick your favorite smoked ham recipe.

Get the ingredients together.