Meatloaf is an American classic. Meatloaf is moist, juicy, and delicious. It's no wonder why people have started smoking this delicious classic.
If you are going to smoke meatloaf, the first thing you need to do is find a delicious recipe.
We've gathered the 12 best smoked meatloaf recipes you will ever taste. From cheese smoked meatloaf to keto meatloaf, there's meatloaf on this list for everybody.
The Best Smoked Meatloaf Recipes
1. Cheese Stuffed Smoked Meatloaf
Melty cheese combined with a smoky flavor is what you can expect when you cut into this cheese stuffed smoked meatloaf.
It is stuffed with Monterey Jack cheese and wrapped in bacon, which adds even more flavor.
The secret to this juicy meatloaf is letting it sit for 5 minutes so the panko breadcrumbs can absorb the moisture.
This simple step prevents the meatloaf from drying out, leaving you with a delicious, juicy meatloaf.
2. Jack'd Up Smoked Meatloaf
If you are going to smoke meatloaf, why not add a splash of Jack Daniels? We're all adults here, so why not?
There's Jack Daniels in the sweet BBQ sauce and meatloaf, so there's double the flavor.
The meatloaf is also stuffed with pepper jack cheese which adds even more flavor. Overall, this jack'd up meatball is extremely juicy and delicious.
3. Cheesy BBQ Smoked Meatloaf
This meatloaf is for the cheese lovers. It's made with 2 cups of cheddar cheese. The cheddar cheese gives the meatloaf a rich, salty flavor that perfectly compliments the sweet BBQ sauce.
The meatloaf base is made with ground beef and pork. Furthermore, the meatloaf contains chopped, crispy, salty bacon.
So, there will be cheese and bacon in every bite making this one of the best meatloaves you will ever taste.
4. Smoked Meatloaf (Whole30, Paleo, Gluten Free)
If you lead a healthy lifestyle but still want to indulge in this American classic, this meatloaf is definitely for you. It's made using almond flour instead of breadcrumbs, making it naturally gluten-free.
This meatloaf is also the perfect way to add more veggies to your diet. It's made with spinach and onions, but you can also chop your favorite vegetables finely and add them to the meatloaf.
The meatloaf will be moist and delicious, and the kids won't know they are eating vegetables.
5. Jalapeno Cheddar Stuffed Meatloaf
This recipe is another classic meatloaf recipe for cheese lovers but with a spicy twist. The meatloaf uses 2 minced jalapenos, and it's decorated with more jalapenos. The flavor is quite spicy.
If you think the meatloaf will be too spicy, you can reduce the amount of jalapenos. It will give the meatloaf a mild spicy flavor without burning your mouth off.
Nevertheless, you will have a cheesy, spicy, and delicious meatloaf.
6. Traeger Meatloaf
You don't have to miss out on meatloaf if you are on the keto diet. Traditional meatloaf contains breadcrumbs, milk, and BBQ sauce made with sugar. However, these ingredients are not keto.
This recipe modifies this delicious classic slightly by using heavy cream and ground pork rinds in place of breadcrumbs and milk. The result is a delightful, moist, and smoky meatloaf.
7. Smoked Weber Q Meatloaf with Sweet Honey BBQ Glaze
The sweet honey glaze isn't the only sweet thing about this meatloaf. The meatloaf is made with earthy mushrooms to make it a little healthier.
The mushrooms are sauteed along with garlic, red onions, and salty flavor, then mixed into the meatloaf to take the flavor to another level.
Ketchup for a touch of sweetness to balance out the robust, savory flavor.
8. Traeger Smoked Bacon-Wrapped Meatloaf
Bacon and meatloaf. Is there a better combination? Of course not.
This meatloaf is made with two secret ingredients: oats and pork sausage. The oats help hold the meatloaf together. In contrast, pork sausage creates an added depth of flavor.
This meatloaf is wrapped in bacon and then smoked until it is perfectly moist and juicy.
9. Smoked Bourbon BBQ Meatloaf
Bourbon makes everything better, including meatloaf. The meatloaf is made with bourbon butter breadcrumbs and bourbon for a double dose of bourbon flavor.
The bourbon flavor combined with the smoky flavor is a match made in heaven. Remember, this meatloaf is only for adults, so make another booze-free meatloaf for the kids.
10. Unbelievably Easy Smoked Meatloaf
Sometimes a simple and easy-to-follow meatloaf recipe is just what you need.
This recipe uses simple ingredients like ground beef and pork, herbs, coconut aminos, aromatic veggies, and eggs to make a flavorful, moist meatloaf.
It's also perfect if you've got gluten-free friends or family members who are gluten-free.
If you've got folks who aren't gluten-free, there's no need to worry. The meatloaf will be so delicious that no one will ever know it's gluten-free.
11. Traeger Smoked Stuffed Pizza Meatloaf
This recipe combines two of the world's best comfort foods: pizza and meatloaf.
The meatloaf is stuffed with San Marzano tomatoes, pepperoni, mozzarella cheese, and fresh basil, then smoked until the cheese melts.
The meatloaf is brushed with homemade tomato sauce instead of BBQ sauce which gives the meatloaf a savory flare.
Get ready to experience the best of both worlds as you cut into this cheesy, delicious pizza meatloaf.
12. Keto Smoked Meatloaf
This is another excellent meatloaf recipe for keto dieters. However, this is not any old meatloaf.
This keto meatloaf is stuffed with pepper check cheese that oozes out when you cut the meatloaf.
The meatloaf is slathered with sugar-free BBQ sauce that tastes just as good as, if not better, than regular BBQ sauce. Overall, this keto meatloaf is irresistibly delicious and filled with smoky flavor.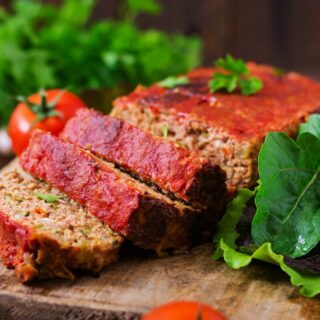 The Best Smoked Meatloaf Recipes
Meatloaf is an American classic. Meatloaf is moist, juicy, and delicious. It's no wonder why people have started smoking this delicious classic.
Instructions
Choose your favourite recipe.