The smell of smoke and the crackling fire, the joyous laughter and singing of friends around a picnic table, the rush of excitement when your team wins, and the heartwarming homecoming of reuniting with old friends after a long day—all these experiences are what make us love Texas.
So why not combine them all into one unique road trip?!
The Texas BBQ Trail is an intimate experience that allows you to see the wonderful small towns sprinkled across Central Texas. Each stop along this self-guided tour offers you delicious local barbecue, unique attractions, and a genuine sense of community.
There are plenty of amazing places on this list, and we think you should visit them all! The best part about this trail is that it's easy to get from location to location. Here is your ultimate guide to the Texas BBQ Trail!
Texas BBQ Trail Map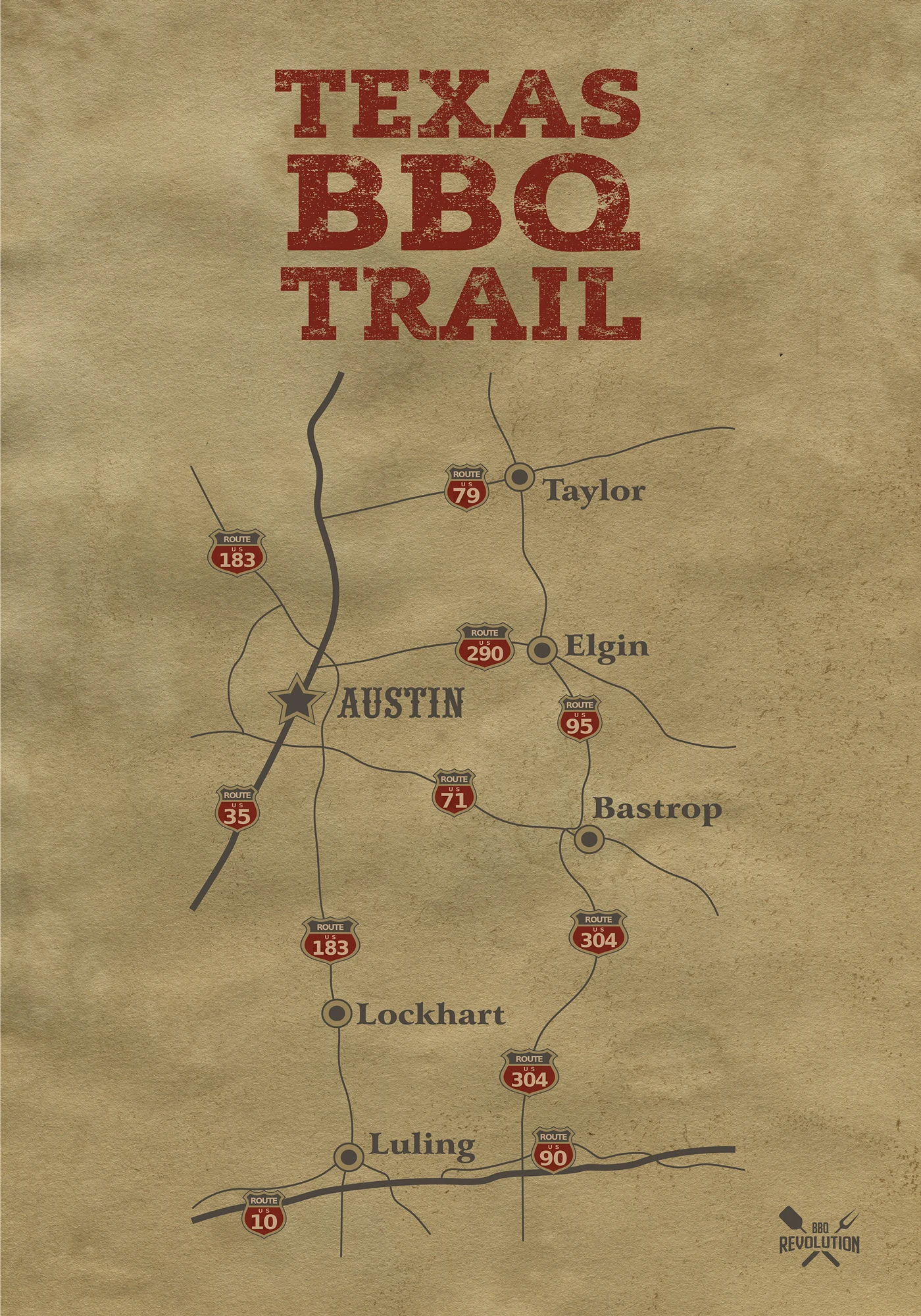 Texas BBQ Trail Overview
Taylor
From cowboys to cotton fields, Taylor is full of charm and natural beauty. It's also home to two incredible BBQ joints.
Elgin
Elgin is the Sausage Capital of Texas and is just north of Austin. It's another small town that has been able to retain its charm.
Bastrop
Bastrop may be the most unique town on the entire trail. Enjoy some live music, and end with some mouthwatering barbecue treats.
Luling
Luling is a little city that offers BIG flavors. While you're eating your way through the city, you will also find some pretty cool nature spots.
Lockhart
This is the barbecue capital of Texas! Lockhart is known as the Lone Star State's barbecue mecca along with music and breweries.
Austin
When it comes to barbecue, Austin does not play around. Fortunately, it's easy to find a delicious barbecue in Austin.
Texas BBQ Trail
Taylor
Taylor may be one of the smallest towns on the trail, but it's one of the most charming. Beyond the barbecue, there are many incredible aspects to Taylor.
They have incredible sunsets, fields of cotton, and plenty of cowboys that are willing to take you for a ride, but Taylor is much more than that. Every city wants a blend of cultural diversity, natural beauty, and opportunity, and that's precisely what Taylor provides.
You'll experience something truly remarkable when you visit. Here are two of the best BBQ spots in Taylor.
Austin to Taylor is 36.6 Miles and should take approximately 40 minutes to drive.
Louie Mueller Barbecue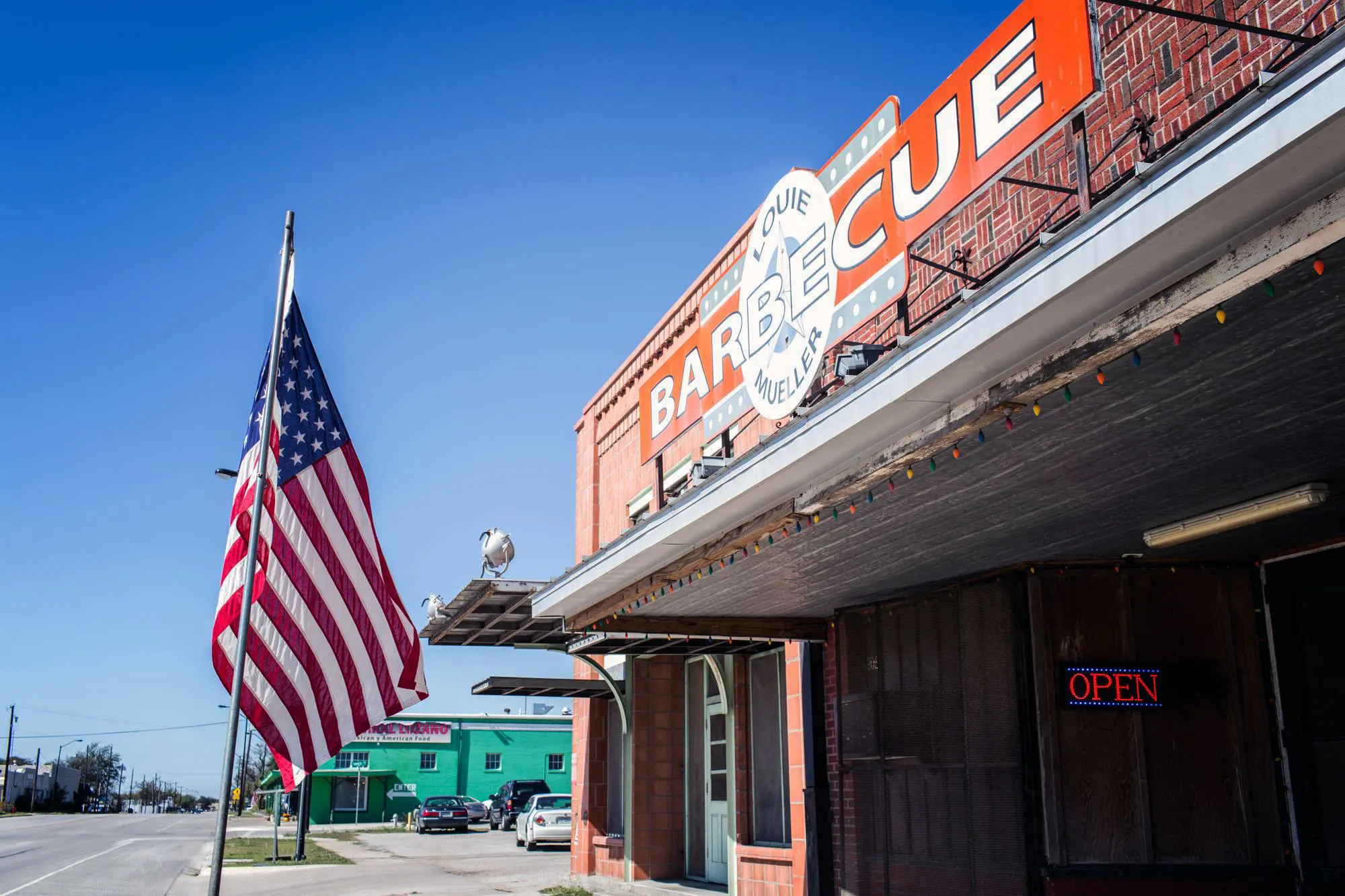 Louie Mueller Barbecue has been lauded as "a cathedral of smoke" due to its excellent BBQ since 1949. Louis Mueller transferred control of his restaurant to his son, Bobby, in 1974, who controlled the smoker for 33 years until his son, Wayne Mueller, took over in 2007.
When the James Beard Foundation awarded an American Classics prize to the BBQ restaurant in Central Texas in 2007, it honored the country's finest and most popular regional cuisine.
The menu has remained relatively similar since the restaurant's founding, but the Mueller clan's dedication to serving the finest Texas BBQ (and, indeed, world BBQ) remains intact.
You'll find a Mueller behind the counter, and the highest quality beef, sausage, and pork will be served on your tray, just as it was then.
Opening times: Wednesday – Saturday 11 am – 4 pm (or until sold out). Located at 206 W 2nd Street, Taylor.
Davis Grocery & BBQ
Since 1994, Davis Grocery and BBQ has provided Taylor, Texas, and nearby areas with great customer service and a family-like experience. Owner and pitmaster James Davis Jr., a Taylor native, opened this business in the area to benefit himself and his family.
Besides offering the community his services daily, he has been working in retail grocery for over 20 years, and he now provides the greatest meat. Their meat includes the finest brisket, which has a crunchy bark.
Their ribs are so tender that they fall off the bone, and all of their meats are enhanced with "Come Back Juice" BBQ Sauce.
They are open Monday – Saturday 9 am – 6 pm and Sunday 9 am – 4 pm. Located at 400 South Robinson Street, Taylor.
Where to Stay in Taylor
There are limited options for hotels in Taylor. This is mainly due to its small size. Take a look at some of these options for your visit:
Holiday Inn Express & Suites – Taylor – Taylor's Holiday Inn Express & Suites provides an outdoor swimming pool, a fitness center, a lounge, and free Wi-Fi. The hotel has family rooms. A continental or buffet breakfast is available for guests.
Airbnb Tayor, Texas – Renting out a place through Airbnb would be a good idea for your stay in Taylor. There are plenty of options here for your trip
Elgin
Next stop! Elgin – The Sausage Capital of Texas is just north of Austin and is another small town that has been able to retain its charm.
Because of the presence of three brickyards in the mid-20th century (two of which are still operational), Elgin is known as the Brick Capital of the Southwest.
Beyond barbecue, Elgin has great shops and events, so don't forget to explore! The top two BBQ hotspots in Elgin are:
Taylor to Elgin is 16 Miles. This drive should take approximately 19 minutes.
Southside Market & BBQ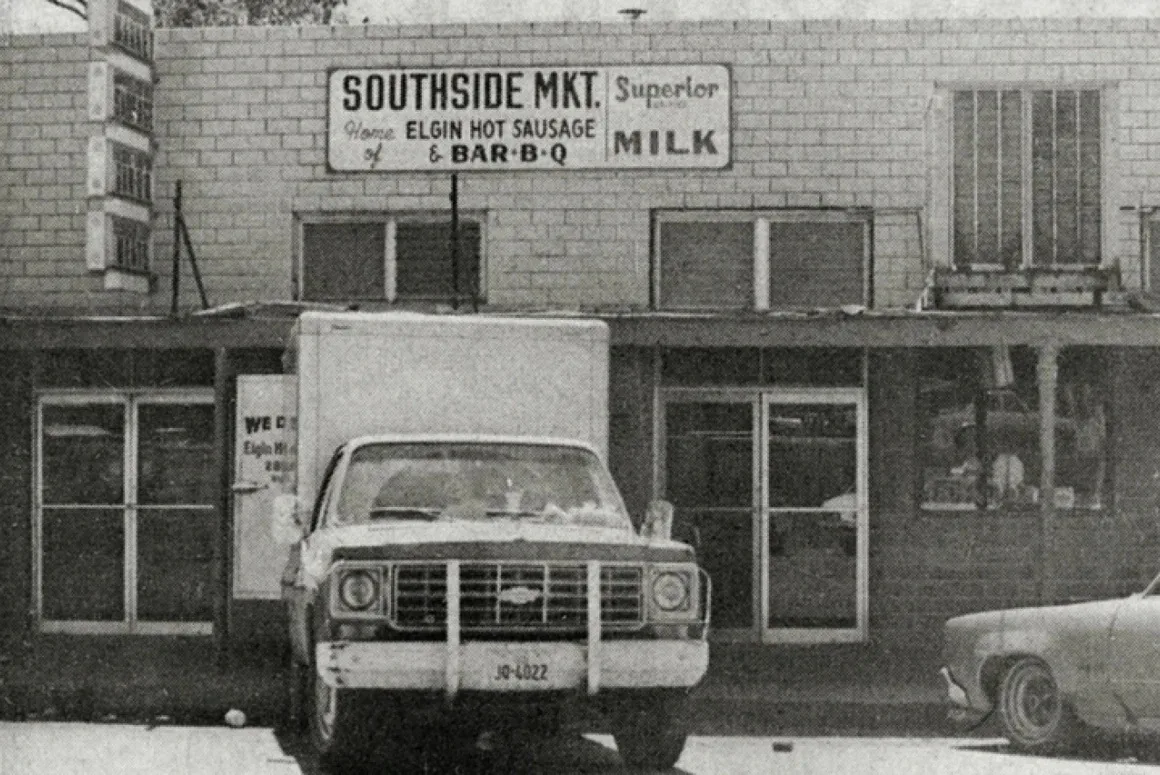 Now this place has a history lesson all of its own, dating back to 1882! William Moon founded Southside Market in 1882 by raising and killing animals on FM 1704.
He drove his horse-drawn wagon into Elgin and sold the meat door-to-door fresh, or he lost it due to spoilage. Since he couldn't refrigerate the meat, the Smoked Sausage and BBQ were created. In 1908, Moon sold the business to Lee Wilson, who continued to run the Butcher Shop that sold BBQ in the back.
On the menu, they have everything you could want from a traditional Texan BBQ, including brisket, steak, and ribs. Don't forget to try their famous sausage slammers!
They're open Monday – Sunday 9 am – 8 pm, and offer Dine-In, Drive-Thru, Meat Market, and Online Ordering for Curbside Pickup & Delivery! Located at 1212 Highway 290, Elgin.
Meyer's Elgin Sausage
Meyer's Elgin Sausage is so delicious that no one can resist it. This popular eating place is much more than a simple restaurant; it's an experience. Customers return day after day after four generations of experience, it's no wonder they do.
After four generations of expertise, it's not surprising that people keep coming back. People rave about the high-quality meats, the special blends of spices, the natural casings, and the hickory smoke flavor of Meyer's sausage.
But most consider the critical aspect of Meyer Sausage Company and Meyer's Elgin Smokehouse's success is the family pride and tradition that has lasted for over 75 years.
You can find them at 188 Highway – 290, Elgin. They're open for dine-in and drive-thru from 10 am – 8 pm.
Where to Stay in Elgin
Again, because Elgin is such a small town, there are fewer hotels to choose from. We've found a few good suggestions for you to have a look at.
Quality Inn & Suites Elgin by Choice Hotels – This pet-friendly hotel provides a wide range of amenities and excellent service at an economical price. Throughout the hotel, fast and free Wi-Fi keeps you connected, and a free hot breakfast keeps you nourished and energized when on the go.
Holiday Inn Express Hotel & Suites Elgin – This hotel is ideally located close to three major brick manufacturers, namely the Luminant Power Plant and award-winning Meyer's Sausage Company, and Southside Market and BBQ. Breakfast is included, and there is free complimentary coffee in the lobby.
Airbnb Elgin, Texas – If you would prefer your own space, then check out Airbnb for some great holiday rentals in Elgin.
Bastrop
Next up! Bastrop may be the most unique town on the entire trail. It's in the middle of the trail, which makes it a good midpoint for those driving from the north or south.
Beyond the midpoint location, Bastrop has a lot to offer. The town has a unique charm and culture all its own from the moment you cross the iconic Old Iron Bridge.
Take a walk along the charming downtown streets, you'll be welcomed from the moment you step foot on them. Why not take part in an epic outdoor experience, followed by some live music, and end with some mouthwatering barbecue treats.
Elgin to Bastrop is 18 Miles. This drive should only take around 20 minutes.
Billy's Pit Bbq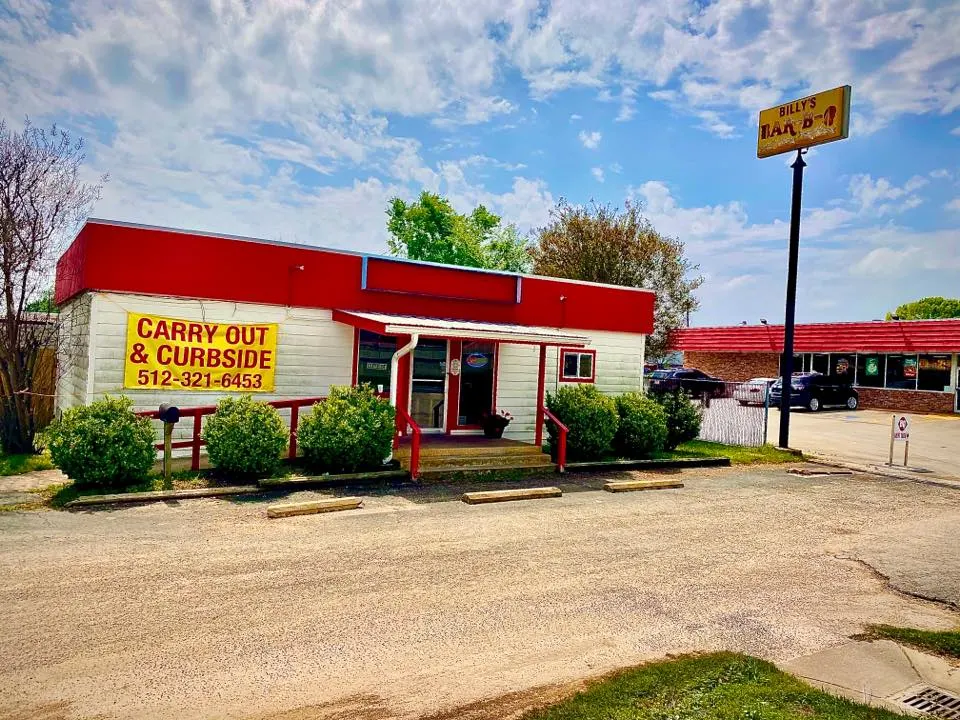 "The REAL Texas BBQ experience"
The BBQ experience is the real deal here at The Pit. It's cooked right out the back, and it's delicious. They serve large portions with their sausage and brisket being stars of the show.
If you're looking for the real deal with a great family vibe, then this is the place to go. They celebrated 40 years in business in March 2022, so they have had plenty of years to perfect their BBQ specials!
Located at 110 State Highway 71, Bastrop. Open Monday, Wednesday – Saturday 11 am – 7 pm, and Sunday 11 am – 6 pm. CLOSED TUESDAYS.
Longhorn Texas BBQ – Bastrop
This new-to-town barbecue is creating big waves within the food scene in Bastrop. Offering an exceptional barbecue experience.
While they cook using traditional methods, the Longhorn Texas BBQ has a modern, clean vibe to it, offering something a little different to other more well-established venues along the trail.
Their mouthwatering menu is not something you'll want to miss, and nobody will judge you for making a few trips back to this joint during your stay! They offer indoor/outdoor dining plus curbside ordering.
You can find them at 2820 TX-21, Bastrop. Opening hours: Thursday – Sunday 11apm – 3 pm.
Southside Market & BBQ
Yes! Another Southside Market & BBQ. You already know what to expect from this well-established BBQ after your visit in Elgin. They have expanded and have locations in Elgin, Bastrop, Austin, and Hutto.
Offering the same delicious menu that you can dine in or drive-thru! Enjoy your second helping at the Southside Market & BBQ.
Located at 534 Highway 71, Bastrop. Opening Hours: Monday – Sunday 10 am – 8 pm.
Where to Stay in Bastrop
Hampton Inn & Suites Bastrop is located at 240 South Hasler Boulevard, just off Highway 21. They have an indoor pool and a fitness center. Included in your stay are a hot breakfast and free WIFI.
Days Inn by Wyndham Bastrop is just one block away from Bastrop State Park and 30 minutes from Austin. They provide non-smoking and accessible rooms to ensure a comfortable visit. You may enjoy free Wi-Fi and a free light breakfast item in addition to coffee, tea, and juice. They also have an outdoor pool!
Comfort Suites Bastrop is conveniently located off of Highway 71, Bastrop. As well as the great location, this hotel offers free hot breakfast, free weekday newspapers, and free WIFI. There is also a snack shop, spa, and fitness center on-site!
Luling
Luling is a little city in Texas that offers BIG flavors. It doesn't matter if you want to stuff yourself with juicy watermelon or get your fill of some of the best barbecue in the Lone Star State, you'll leave here satisfied.
While you're eating your way through the city, you will also find some pretty cool nature spots.
To cool off on a hot summer day, visit this renovated mill on the San Marcos River, where you can splash in one of Texas's best swimming holes. It has everything you need for a perfect afternoon with shade, water, and plenty of sun.
If you prefer to paddle rather than swim, you can rent kayaks and canoes on-site. Let's take a look at Luling's best BBQ hotspots!
Bastrop to Luling is 38 miles. The drive time should be about 40 minutes.
Luling Bar-B-Q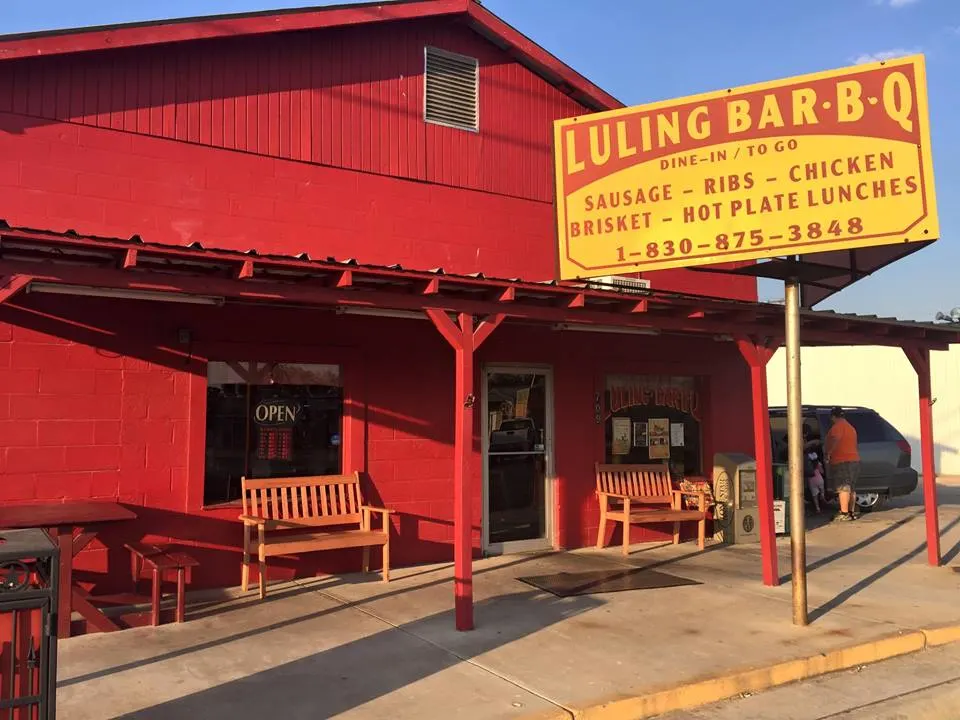 Luling Bar-B-Q opened its doors in 1986, and ever since then, they have been serving the finest barbeque in Luling.
The Chambers family bought Luling Bar-B-Q in 2002 and has continued the proud 30-year tradition of providing the finest, most mouthwatering barbeque and the freshest selection of sides around.
They offer dine-in, take-out, custom cooking, and catering services. They begin preparing their menus early every morning by smoking meats and making their homemade sausage.
In addition to this, they freshly prepare a wide variety of side dishes, including potato salad, pinto beans, coleslaw, and more, they use the freshest ingredients that will have your taste buds tingling!
Located at 709 East Davis Street, Luling. Opening: Monday – Thursday 10am – 6pm, Friday – Saturday 10:15am – 7pm and Sundays 10:15am – 6pm.
City Market BBQ
Since its inception 60 years ago, Original City Market BBQ has consistently been among the top 10 barbecue joints in Texas. They have also appeared on The Today Show and have been named one of the top 100 eateries in the country by Newsweek magazine.
We strongly suggest that you call in advance to ensure that you can get the items you want, as we frequently run out of them. Carryout is also available.
Location: 633 East Davis Street, Luling. Open Monday – Saturday 10am – 6pm.
Where to Stay in Luling
There are a couple of decent hotels that we can recommend for your visit to Luling.
La Quinta by Wyndham Luling provides modern comfort, great amenities, and friendly service. Located near I-10, Highway 189, and Highway 90. During your stay, you'll enjoy a complimentary breakfast, free Wi-Fi, an outdoor pool, and a gym.
Best Western Plus Longhorn Inn & Suites offers an outdoor pool and free Wi-Fi access. This hotel is located 5-minute drive from Luling city center. The rooms are fitted out with a flat-screen cable TV, a refrigerator, microwave, and coffee-making facilities are also included. The en suite bathroom has a hairdryer. A fitness center is on-site, 24-hour front desk, and free parking are offered for guests' convenience. You can also enjoy a complimentary daily breakfast.
Lockhart
Welcome to the barbecue capital of Texas! Lockhart has come a long way from its humble beginnings as a cowboy town along the Chisholm Trail to a thriving Texas town with a vision.
Although it's still known as the Lone Star State's barbecue mecca, Lockhart is beginning to expand beyond that reputation. Austin's skyrocketing costs have driven musicians and breweries to the city, as well as big-city-style restaurants.
You should expect to spend more time in Lockhart's downtown area because there is so much more than barbecue to be discovered.
Take a look at some of Lockhart's BBQ venues. You won't be disappointed!
Luling to Lockhart is 15 miles. Drive time is around 20 minutes.
Kreuz Market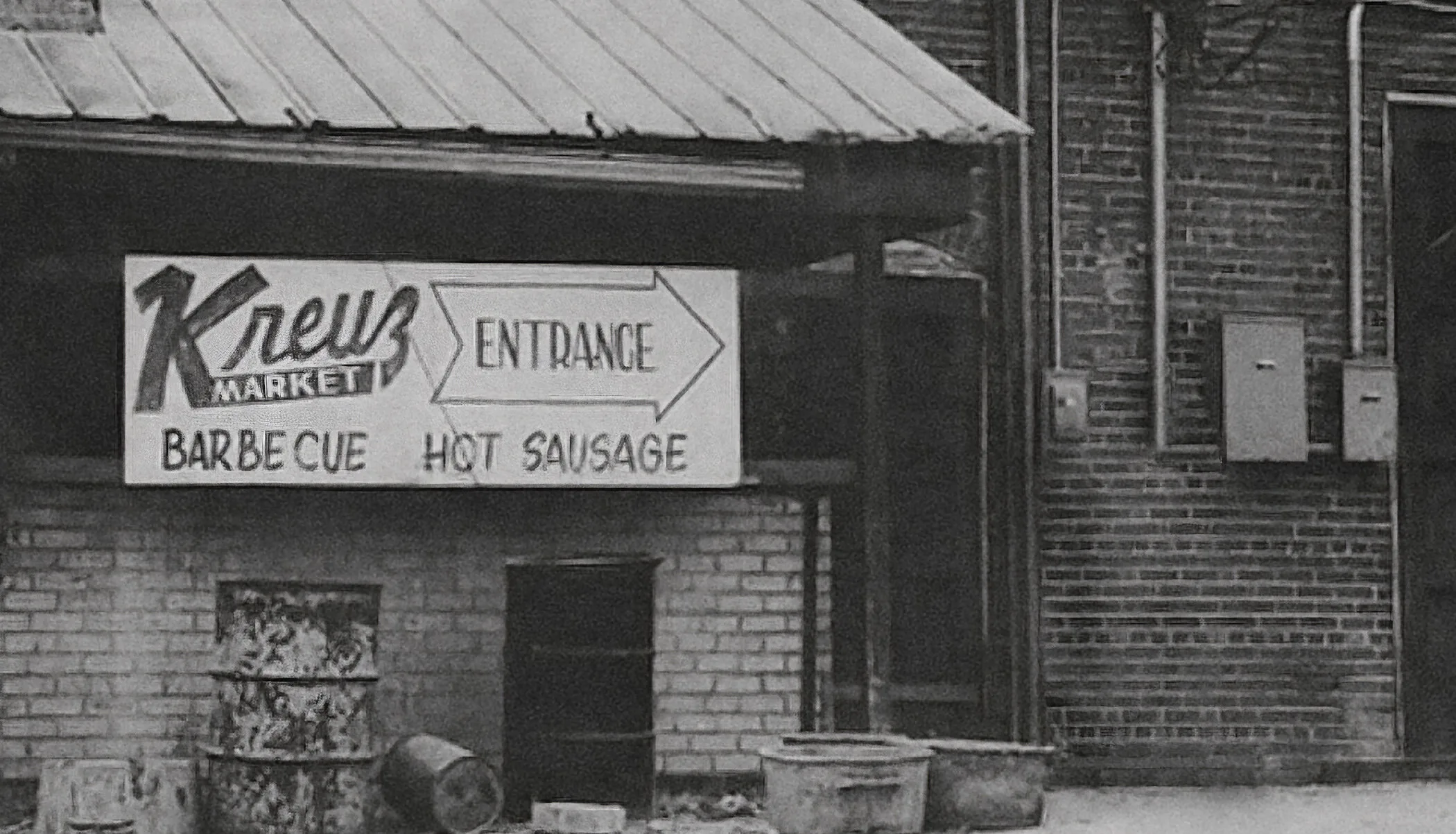 Kreuz Market was one of the places that defined Texas barbecue over 100 years ago. Due to a complicated family feud, Kreuz Market moved out of town a few years ago and now operates from an airplane hangar-like dining barn.
If you're a carnivore and you want to satisfy your craving, this is the place to go. Kreuz Market's prime rib is one of the finest meats ever cooked in a pit. Brisket, sausage, and ribs are also excellent.
Despite its new facilities, Kreuz has kept its pit-cook tradition. The eatery offers a limited menu of meat, bread, and condiments (plus ice cream in a separate corner), and meat is served by the pound after being sliced to order and served from a ferociously hot pit.
Located at 619 North Colorado Street, Lockhart. Open: Monday – Saturday 10:30am – 8pm, Sunday 10:30am – 6pm.
Smitty's Market
One of the top BBQ restaurants in Texas, according to Texas Monthly magazine, was voted Best Sausage, Best BBQ, Best Meat Market, Best Ribs, and Best Brisket in Caldwell County in 2015 by the Lockhart Post Register.
In 1948, Smitty bought Kreuz Market in downtown Lockhart. Thirty years later, in 1978, he bought the 1906 dry goods store next door to create additional dining space.
In 1999, Nina Schmidt Sells, his daughter, opened Smitty's Market in the location that had been her father's Kreuz Market for over 50 years, while her brother moved Kreuz Market to a new location down the road.
In 2015, she purchased a twenty-eight hundred square foot building next to Smitty's Market to create additional dining and banquet areas.
Despite the fact that Smitty's Market has expanded significantly, the market and pit are still in the spot where barbecue has been sold in Lockhart since 1924 when the Kreuz family established the building.
Their delicious menu includes brisket, shoulder clod, prime rib, and sausages with sides including beans, potato salad, coleslaw, mac n cheese, and chips. If you want to cook for yourself, they also sell fresh meat and cold sausage.
Location: 208 South Commerce, Lockhart. Opening: Monday – Friday 7am-6pm, Saturday 7am-6.30pm, Sunday 9am-6.30pm.
Lockhart Chisholm Trail BBQ
Chisholm Trail Bar-B-Que has been churning out traditional, slow-cooked barbecue since 1978. They offer brisket, ribs, sausage, chicken, plate dinners, sandwiches, and more.
The meats are slowly cooked in real fire pits using post oak wood. They offer worldwide shipping and catering as well! Because of their superior food, they've been recognized as a BBQ favorite by the locals on numerous occasions.
Located at 1323 South Colorado Street, Lockhart.
Open: Monday-Wednesday 7am – 8pm, Thursday – Saturday 7am – 9pm, Sunday 8am – 8pm. Serving breakfast daily 7 am – 10:30 am
Riley's Pit Bbq
The moment you set foot inside Riley's, you'll feel like you've come home. It's much more than a greeting; you'll receive samples to help you pick from the many options.
Riley is one of the most friendly owners around, and he has the knowledge and experience to back it up. The meal will be both huge and delicious. The wet brisket is succulent throughout, with perfect smoke, seasoning, and moistness.
The green beans are magnificent, as is the smoked turkey, which will make you rethink your Thanksgiving plans.
Located at 1326 South Colorado Street, Lockhart.
Open: Wednesday – Monday 11am – 8pm. Closed Tuesday.
Black's BBQ – Lockhart
Black's BBQ opened in 1932 and is now serving up some of the best barbecue in the state. The restaurant is best known for its delicious smoked meats, including brisket, ribs, sausage, and turkey.
They also offer catering services for events both large and small. In addition to serving up delicious barbecue, Black's BBQ is a popular music venue, hosting concerts by local bands throughout the year.
Located at 215 North Main Street, Lockhart. Open: Sunday-Thursday 10am – 8pm, Friday – Saturday 10am – 8.30pm.
Where to Stay in Lockhart
There are only a few options for accommodation in Lockhart, here we have a list of suggestions for you.
Best Western Lockhart Hotel & Suites is located at 1811 S Colorado, US Highway 183 Lockhart. The property has a 24-hour front desk, and free Wi-Fi is available throughout the property. Guest rooms at the hotel include air conditioning and a desk. A continental breakfast is available daily.
Lockhart Inn offers comfortable furnished guest rooms that come in a variety of floor plans to fit your specific needs. Each of the rooms offers modern conveniences like a flat-screen TV, free Wi-Fi, and a microwave and refrigerator.
Airbnb Lockhart – If the above recommendations aren't to your liking, then why not take a look at what is available on Airbnb in Lockhart. We're sure you'll find some great holiday rentals here.
Austin
Final stop, back to Austin! It's always a pleasure to be in Austin, the state capital of Texas. Whether you're looking for a lively country, blues, or rock music scene, Austin has you covered. Hiking, biking, swimming, and boating are all popular activities in Austin's lakes and parks.
When it comes to barbecue, Austin does not play around. Fortunately, it's easy to find a delicious barbecue in Austin. Here are some of our favorites.
Lockhart to Austin is 33 miles. The drive should take you 35 minutes.
Leroy and Lewis Barbecue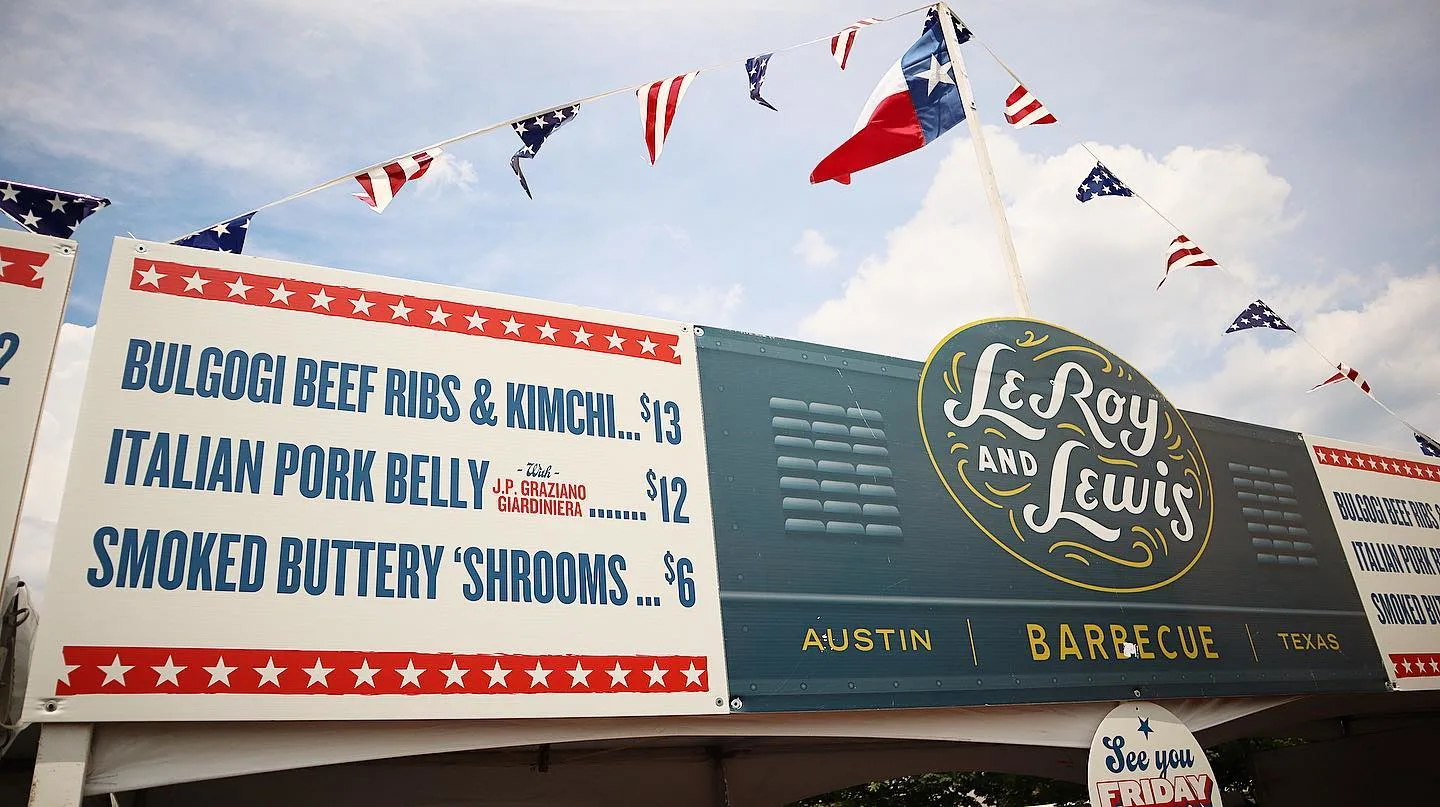 Leroy and Lewis Barbecue is a Texas barbecue joint that you don't want to miss! All meats are served from their tiny blue food truck located inside the fence of Cosmic Coffee & Beer Garden.
They pride themselves on only using locally sourced meat and going far beyond the usual brisket, ribs, and sausage. They are known for taking offcuts and making them shine!
With an emphasis on quality from start to finish, Leroy and Lewis is making its mark in the Austin barbecue scene.
Open Wednesday – Sunday 11 am – 9 pm and operating on a first-come, first-serve basis!
Franklin BBQ
Franklin BBQ Texas is a popular restaurant that offers authentic Texas barbecue. It is located on Austin's historic Eastside at 900 E, 11th. They serve food Tuesday-Sunday from 11 am until sell-out, which is usually around 2 or 3 pm.
The menu includes a variety of meats such as brisket, pork ribs, and sausage, as well as sides such as beans, coleslaw, and cornbread. All food is made fresh daily, and with love, this ensures that every customer receives a great experience.
Blacks BBQ
We couldn't resist another visit to one of Texas's oldest BBQ hotspots. Why not start and end this magical meaty trial in this well-aged establishment!
Black's BBQ has set up venues across Texas, including Austin, New Braunfels, San Marcos, and of course, Lockhart. Aren't we lucky!
Whether you're looking to eat some delicious barbecue or catch a show, Black's BBQ is the place to be in Austin.
They're open everyday Sunday-Thursday 11 am – 9 pm, and Friday-Saturday 11 am – 10 pm. You can find them at 3110 Guadalupe Street, Austin.
Terry Blacks Barbecue
Terry Black's Barbecue is a Texas barbecue joint that's been family-owned and operated since 1970. It's the go-to spot for barbecued brisket, ribs, and sausage, with sides like mac n' cheese and potato salad.
The portions are large, and the prices are reasonable, making this place a good value for your money.
Located at 1003 Barton Springs Road and opening Sunday – Thursday 10:30 am – 9:30 pm, then Friday – Saturday 10:30 am – 10 pm.
Where to Stay in Austin
You'll want somewhere to rest while you're exploring and eating around Austin, so take a look at our suggested hotels in the area.
La Quinta Inn by Wyndham Austin Capitol / Downtown – Attractively situated in the Downtown Austin district of Austin, La Quinta Inn by Wyndham Austin Capitol / Downtown is situated 650 yards from Capitol Building, 0.6 miles from Frank Erwin Center – University of Texas, and 0.9 miles from Austin Convention Center.
Extended Stay America Suites – Austin – Downtown – Town Lake – All rooms have a fully equipped kitchen with a stovetop, microwave, and a fridge. The hotel offers free on-site parking and free WIFI. A free grab-and-go breakfast is also available should you need it.
East Austin Hotel – Located in the vibrant East Austin region, this locally owned, Scandinavian-inspired hotel is five blocks from downtown Austin. This hotel has a room for everyone, from rooms with shared bathrooms to poolside suites.
Enjoy the Texas BbBQ Trail
The Texas barbecue trail is an incredible experience that will bring you full circle. On this self-guided tour, you will find small towns that have a great barbecue and have retained a lot of their original charm.
The towns in the Texas barbecue trail are small enough that you can easily drive from location to location, which makes this a perfect excursion for families and large groups of people.
The barbecue trail is one of the best ways to get a deep dive into the culture and history of Texas. Every stop on this trail offers a unique experience.
Whether you're a native Texan or just visiting this incredible state, you will enjoy your time on this self-guided lip-smackin' barbecue trail. Enjoy!