Jalapeno peppers are delicious on their own. However, you have not tried jalapeno poppers unless you try smoked jalapeno peppers.
They are the most flavorful jalapeno poppers you will ever taste.
If you want the best smoked jalapeno peppers, you have to know how long to smoke them. Smoke jalapeno poppers at 225°F for 1 1/2 to two hours for best results.
Should I Wrap Jalapeno Poppers In Bacon
Whether to wrap jalapeno poppers in bacon depends on whether you want the bacon to be crispy or soft. 225°F is a relatively low temperature.
This temperature is not high enough to crisp up the bacon, so it will be soft.
Furthermore, as the peppers soften and the cheese starts to melt, it will release moisture. Moisture will soften the bacon, preventing it from becoming crispy.
Therefore, it may be best to smoke the jalapeno poppers without wrapping them in bacon.
Alternatively, you could cook the bacon, then stir it into the cheese mixture.
Another option is to grill or broil the jalapeno poppers once you remove them from the smoker. The high heat will help crisp up the bacon.
Will Jalapeno Poppers Dry Out When Smoking
The jalapeno peppers could dry out if they are smoked at a relatively high temperature. Additionally, if you leave the jalapeno poppers in the smoker too long, they will dry out.
However, since the jalapeno peppers are smoked at 225°F, they will not dry out. They will be moist, smoky, and so delicious.
What's The Best Type Of Wood To Smoke Jalapeno Poppers
The wood you use to smoke jalapeno poppers is very important. This is where the jalapeno poppers will get their smoky flavor from.
Fruitwood, such as applewood or cherry wood, is best for smoking jalapeno poppers. They impart a mild sweetness that complements the spicy, cheesy flavor of the jalapeno poppers perfectly.
If you want the jalapeno poppers to have a stronger smoky flavor, use hickory wood. Do not smoke jalapeno poppers with mesquite or oak.
These woods are too concentrated and will overpower the jalapeno poppers flavor.
Tips For Smoking Jalapeno Poppers
Always wear gloves when smoking jalapeno poppers. Jalapenos contain oils that can linger on your fingers. These oils can cause a burning sensation if they come into contact with your eyes or skin.
It's best to wear gloves when working with jalapenos. You can toss the gloves in the trash once you are done with the jalapenos, and your skin and eyes won't feel like they are on fire.
If you want the jalapeno poppers to have a mild flavor, remove the seeds and membranes. You can also soak the jalapenos in cold water for 30 minutes to an hour once you remove the seeds and membranes to decrease the spiciness.
In contrast, leave the seeds and membranes in the jalapeno peppers if you want them to have a spicier flavor.
You can also add crushed red pepper flakes to the filling if you want the jalapeno peppers to have a spicier flavor.
Use softened cream cheese to make the filling. If you try to mix the filling using cold cream cheese, the filling will not be smooth and creamy.
Before you make the filling, let the cream cheese sit out at room temperature for 30 minutes to an hour until it softens.
If you broil the jalapeno poppers to crisp the bacon, do not walk away from them. The broiler is really hot, and the poppers can easily burn. Broil the jalapeno poppers for 30 seconds to a minute.
Place a baking sheet or foil pan beneath the jalapeno poppers. The pan will catch the grease that drips from the bacon.
How Long To Smoke Jalapeno Poppers At 225
Typically it takes about 90 minutes to smoke jalapeno poppers at 225°F. However, you can smoke jalapeno poppers for up to 2 hours. Do not exceed 2 hours, or the jalapeno poppers will start to dry out.
How Long To Smoke Jalapeno Poppers At 250
At 250°F, jalapeno poppers will take about 45 minutes to smoke. You can smoke jalapeno poppers for up to 90 minutes. However, it's best to remove them once the jalapenos look roasted and the cheese melts.
How Long To Smoke Jalapeno Poppers At 275
Smoke jalapeno poppers at 275°F for 30 minutes. You can smoke jalapeno poppers at 275°F for up to an hour. This will help the bacon to crisp up more.
However, do not smoke the jalapeno peppers too long, or they will start to dry out.
How To Smoke Jalapeno Poppers
Smoking jalapeno peppers is a simple, easy process. Simply set up your smoker and let it preheat to 225°F.
Next, cut the jalapeno peppers in half lengthwise and remove the seeds and membranes using a spoon.
Mix cream cheese, cheddar cheese, smoked paprika, and scallions in a bowl until it is combined. You can also dice a few additional jalapenos and mix them into the filling.
Stuff each jalapeno with the cheese filling, then wrap each jalapeno pepper with a slice of bacon. You can secure the bacon by inserting a toothpick into the jalapeno pepper.
Place the jalapeno poppers onto your smoker 1/2 inch apart. Smoke the jalapeno poppers for 1 1/2 to 2 hours until the cheese melts, the pepper is roasted, and the bacon begins to crisp.
Remove the jalapeno poppers from the oven and place them onto a baking set. Set the oven to broil. Broil the jalapeno poppers for 1-2 minutes until the bacon crisps up and the cheese is golden brown.
Let the jalapeno poppers cool for 3-5 minutes before serving.
Final Thoughts
Smoking jalapeno poppers definitely enhances their flavor. The smoky edge makes smoking the best way to prepare these delicious appetizers.
Whether you are making them for game day or because you are craving these tasty treats, try smoking them. You will never go back to baking jalapeno poppers again once you taste smoked jalapeno poppers.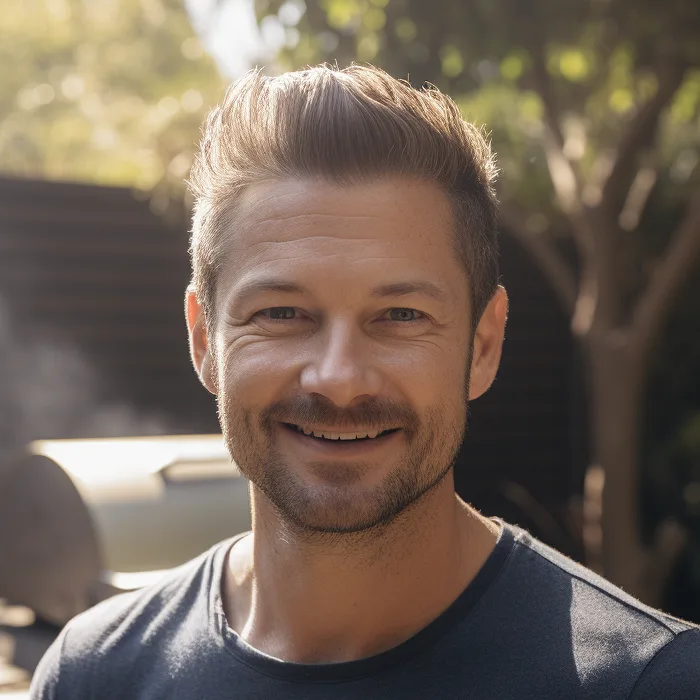 I have been smoking and grilling meat from an early age and enjoy sharing my knowledge and expertise through the hundreds of articles I have written about BBQ. I hope to make everyone's BBQ journey that little bit easier.