When someone is cooking, they need to make sure they keep a lot of things in mind. You just can't take the food out, stick the food in, and start eating it. Things you should check, especially with meat, is if the meat is cooked thoroughly.
You can keep an eye on this by using a meat thermometer. One food people may check the internal temperature of is a duck.
In this article, we will go into what the internal temperature of a cooked fish is, how to check it, the risks of eating undercooked meat, and finally, how to safely cook it.
What Is a Duck's Internal Temperature?
Duck is a poultry, so the internal temperature will be similar to chicken, goose, turkey, etc. It won't be the same as red meats, which are meats that come from four-legged animals and are red in their raw form.
If you are cooking duck, the internal temperature needs to read 165 degrees Fahrenheit at the least.
You can cook it more if you desire. Just know that if it does read 165 on the meat thermometer, it is technically done.
In the next section, we will tell you how to be able to check the temperature. Don't worry, it's very simple!
How Do You Check a Duck's Temperature?
We promise it is very easy to check the internal temperature of the duck you've cooked. All you have to do is follow these three easy steps, and in no time, you'll have the final temperature.
Grab your duck and let it rest on the counter for three minutes. The resting time lets you get a more accurate read of the duck's internal temperature.
After the three minutes have passed, stick the thermometer into the duck, making sure to keep it away from bone, fat, etc. You want the most accurate read possible.
The final step just requires you to take out the thermometer and wash it.
As we told you, it's very easy to take the internal temperature of your duck.
However, just before you get to eat, you'll want to read on and figure out what happens if you do eat undercooked ducked. It's always good to be prepared!
What Happens if You Eat an Undercooked Duck?
Eating undercooked duck is not something you want to do because of the risks that are involved with it. The risks include:
Salmonella is one of the more well-known bacteria that can enter your body after eating undercooked meat. Symptoms include diarrhea, headache, nausea/vomiting, cramps, and fever. Normally, the infections last around four to seven days, and this is without antibiotics. It will usually clear up on its own and isn't fatal, so you don't have to worry about getting seriously ill. However, if the illness does present with more serious symptoms or doesn't go away, antibiotics will be necessary.
Campylobacter is a bacteria that is very common for people to get if they eat undercooked meat. Symptoms usually include bloody diarrhea, cramps, and fever. Some of the time, you might even end up with nausea/vomiting. Most of the time, this isn't serious and will go away on its own. However, some groups that are at risk are children, the elderly, and immunocompromised people. For them, it can be fatal.
Food poisoning is another issue that can come about with eating raw meat like a duck. This, for the most part, is not fatal and will clear up in a few days. After consuming the food, you will experience diarrhea, cramps, etc., less than 24 hours later. Give it a few days, and you'll be as good as new. If, on the rare chance, it doesn't go away, then you do need to seek medical treatment just to be on the safe side.
By checking the internal temperature of your duck, you can avoid all of this.
Ways to Safely Cook Duck
Fear not, because there are several ways that you can cook your duck. This includes:
The stovetop method is very simple. Heat a pan on medium heat (using oil or something if it's not a non-stick pan), and once it's hot, put the duck in the pan. Wait until the fat starts to come off the duck. It should be cooked for 15 to 20 minutes, depending on the size of the duck. During the cooking process, add whatever spices you like or prefer to use.
The oven method is longer but hands-off once you've prepared the chicken. Preheat the oven to 425. Once it's done, season the duck and put it in a pan, which will go into the oven. It cooks for a total of two hours usually. Halfway through, you need to make sure you flip it over so both sides get browned enough.
If you have a grill at home, consider cooking your duck on it. Heat the grill according to whatever your directions say. Not all grills are created equal, but there are general commonalities between them. Once it's heated, put the duck on and start grilling away! Again, not everyone has a grill, so this might not be the method for you.
Duck is a common food, but you wouldn't be hard-pressed to find someone close to you that hasn't tasted it. With these methods, you at least have an idea of how to cook it!
Final Thoughts
And there you go, all you duck lovers out there! Now you know exactly what the internal temperature of a duck is, how to check for it, the risks of eating undercooked duck, and finally, ways to cook it properly.
It's very easy to purchase an internal thermometer. All you have to do is either go online or to your closest brick-and-mortar. They are also affordable, so you don't have to worry about that either!
Eventually, it will become second nature to you. When you start cooking, you'll whip out that meat thermometer and have it on hand.
So, what are you waiting for? Go purchase one!
You might also be interested in the following: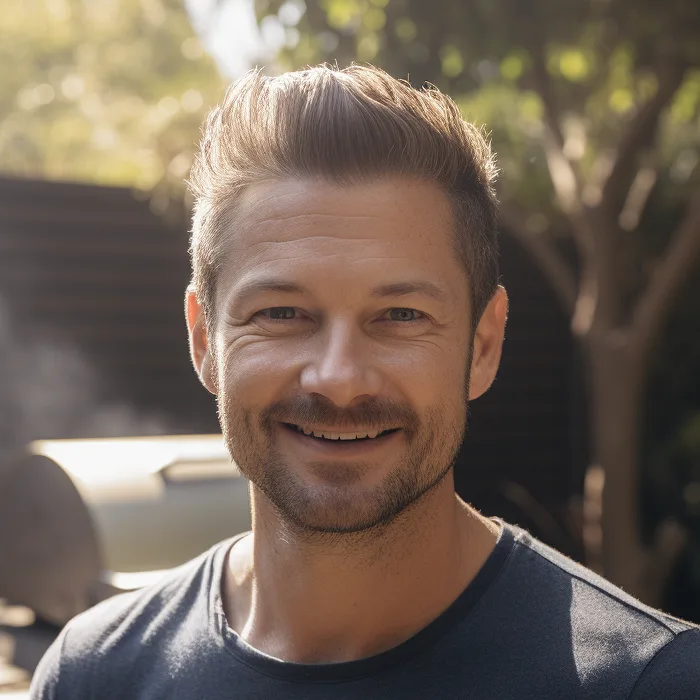 I have been smoking and grilling meat from an early age and enjoy sharing my knowledge and expertise through the hundreds of articles I have written about BBQ. I hope to make everyone's BBQ journey that little bit easier.