Fire pits that give the illusion of flames that flicker at the flick of one switch? An outdoor fire pit sounds attractive, doesn't it?
DIY gas fire pits give you fire without having to gather wood or stoke the fire.
Essentially you will get to enjoy the atmosphere a wood fire provides without all of the hard work.
DIY fire pits can be easy to install, especially if you buy a manufactured bowl or purchase a design that needs minimal assembly.
Fire Pit Considerations
Whether you are purchasing a griddle grill, chimney smoker, or gas fire pit, it is not wise to purchase any product without considering a few factors.
These factors will prevent you from getting in over your head.
Safety First
Before you purchase the materials to construct a DIY fire pit, you must consider safety first. Ensure your gas pit is positioned away from flammable surfaces.
Flames created by gas usually don't produce sparks or embers. However, there is still the issue of heat production.
Gas fire pits can melt vinyl siding if it is in close proximity to it.
For this reason, you should ensure your gas fire pit has a minimum of 5 feet of clearance above the burner and around the side of the housing.
In addition to this, you should also check your area's local ordinances on burning an open flame on private property.
Propane or Gas
Gas fire pits can be fueled by propane or natural gas. In addition to this, most fire pits can be converted from one type of gas to another.
Some people prefer propane gas because it is portable, especially if you have a small tank.
A propane gas fire pit will allow you to move the fire pit from the backyard to the front yard or the patio, or you can take it along with you to your favorite campsite.
On the other hand, a fire pit with a natural gas line needs a permanent home. However, a natural gas fire pit is cheaper than propane gas in the long run.
Whether you choose natural gas or propane gas, the BTU's need to be regulated.
A natural gas fire pit should have the supple pressure set between 3.5 inches and 7 inches of the water column.
Propane gas fire pits should have a supply pressure between 8-11 inches of the water column.
Enclosure
In this case, an enclosure refers to the body of your fire pit. The burner, as well as the gas and components, are housed in the enclosure.
You can build your own fire pit enclosure using masonry bricks.
However, you can also purchase an unfinished enclosure which may be included in a kit or purchased separately.
There's no denying that DIY fire pits are convenient and make the process of building a fire pit that much easier.
Luckily, most DIY fire pit kits contain most of the parts needed to construct it, including masonry blocks or a partially finished enclosure.
Ventilation
Whether you are cold smoking cheese on an offset smoker, pellet smoker, ventilation is an adequate part of the grill, smokers, and fire pit.
The standard volume of ventilation is 36 square inches or 18 square inches, with vents on opposite sides of your fire pit to allow proper air circulation.
Installation Collars
Installation collars are conveniently designed to make the process of installing a fire pit pan easier.
Choose a flexible installation collar that bends if you have a round enclosure.
In addition to this, make sure your installation collar can be fastened with concrete screws to anchor it in place.
How To Make a DIY Gas Fire Pit
Since you considered all of your fire pit options and selected your fire pit components, it's time to assemble the fire pit.
While there are multiple different ways you can install a fire pit, if you choose a manual or automatic system, you should not install it yourself.
Whether you are installing a natural gas grill or a gas fire pit, leave the gas and electrical installations to licensed professionals.
If your gas line or any other connections are not installed correctly, they could lead to serious injuries or even death.
Therefore, do not attempt to install a manual or automatic ignition system at home by yourself.
Drop-in Fire Pits
Truth be told, the easiest way to build a DIY gas fire pit is to buy a pre-manufactured drop-in fire pit kit.
These kits typically feature a bowl-shaped design and are ready to assemble in the fire pit of your choosing.
If you purchase a drop-in fire pit, you will need to construct an enclosure by laying or stacking bricks, cinder blocks, or concrete pavers.
Alternatively, you can also purchase powder-coated steel frames that are compatible with a drop-in fire pit kit.
This will allow you to fasten the cement board to the frame and create a mortar and stone brick or tile finish.
Now, it's time to install the burner. Next, select a fill material such as fire glass or lava rocks, and you're all done.
If you want a really fancy fire pit, you can also purchase partially finished curved shapes.
Manufactured Propane-fueled Fire Pit
Another convenient gas fire pit is the manufactured propane-fueled fire pit. Similar to a gas grill, these kits only need to be fastened to a propane tank, and they are all ready to use.
A burn pan is not a must-have for a gas fire pit. However, burner pans support the burner as well as the materials used to cover the burner, so it is a worthy investment.
When selecting materials to cover the burner, opt for heat-tolerant materials such as fire glass or lava rocks.
Fire glass absorbs and discharges heat, thus producing more heat than lava rocks. Fire glass materials are available in different colors allowing you to customize your fire pit.
Avoid using river rocks or regular stones sourced from your yard or the side of the road in your gas pit.
The rocks will come into contact with the intense heat of the flames.
If your stones were exposed to water, the heat causes the water to evaporate, generating steam and causes the rocks to explode.
The goal is a calming gas fire pit, not a fire pit of exploding rocks.
Manual Ignition
With manual ignition systems, the gas line should be run to the designated location for the fire pit with the enclosure placed on top of the line.
On one side of the key valve, you will notice it is joined to the gas stub, while the other key valve is connected to the flex hose.
The flex hose is joined to an air mixer found on propane fire pits, and the air mixer is connected to the pan and the burner.
Before placing the burner and pan into position, it's best to test the gas line for leaks at each of the connections mentioned above.
Next, add the burner pan and burner into the fire pit and check the ignition system and burner to ensure enough gas flows to produce the desired amount of flames.
The pattern of flames will not be an accurate representation of fire as it does not have material on top to scatter the flow of gas.
However, low flames will be an indication of gas pressure, and you will be able to see if the burner functions correctly.
Once your fire pit is in great working order, allow the burner to cool down completely.
Fill the pan with materials such as lava rocks or fire glass and cover the burner by 1-inch.
Finish your enclosure with bricks, cinder blocks, tiles, or another finishing material, and you're all set.
Automatic Ignition System
Also known as electronic ignition systems, automatic fire pits use gas and electricity. Most of these systems are plugged in, hardwired, or battery powered.
However, you should determine how you wish to control your fire pit before the electrician does the installation.
In addition to this, it's also a great idea to have a gas shut-off valve that is positioned 20 feet away from the fire pit.
Gas shut-off valves allow you to turn off the gas supply if there is an emergency.
Gas will travel to the gas shut-off valve; then, it will go to the fire pit.
If your electric system is hardwired, a junction box needs to be remotely installed from the fire pit to allow you to plug in the fire pit and receive power.
In addition to this, an outdoor approved outlet must be installed in the fire pit.
Next, follow the fire pit manufacturer's instructions to complete the installation process of your electric ignition system.
When testing your gas connections, check the ignition systems to ensure they are properly working.
Fill your burner pan with enough lava rocks or fire glass to cover the burner by 1-inch.
Finish your enclosure, then run one final test to ensure your fire pit is putting out an adequate amount of flames.
Final Thoughts
Like making charcoal, building a DIY fire pit is extremely easy.
Now that you know how to make your own fire pit get to work, and in no time, you will be lounging around your fire pit with your loved ones.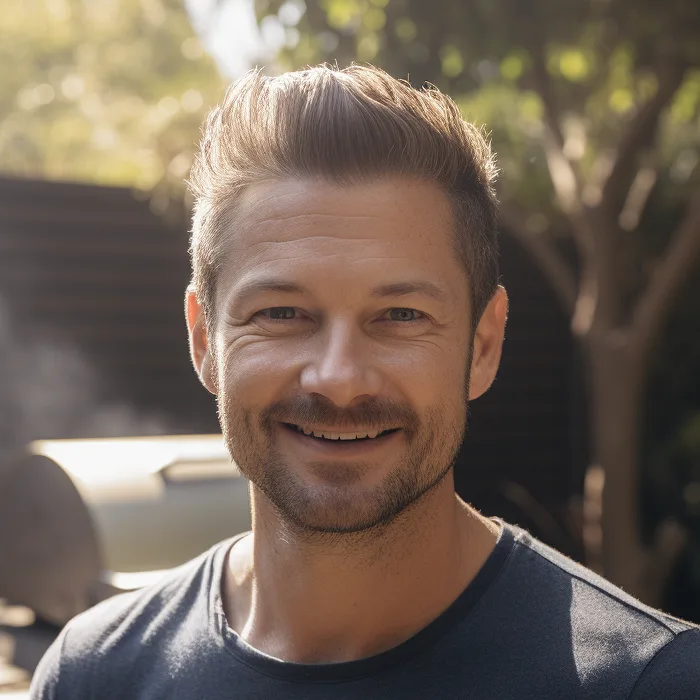 I have been smoking and grilling meat from an early age and enjoy sharing my knowledge and expertise through the hundreds of articles I have written about BBQ. I hope to make everyone's BBQ journey that little bit easier.