Presenting Hawaiian-style marinated chicken with a side of grilled pineapples and spring onions that will not only enhance your food cravings but will bless your mouth with the most scrumptious and delicious grilled chicken thighs.
This recipe will require boiled rice as a base covered up with chicken with your favorite BBQ sauce, pineapple juice, soy sauce, ginger, garlic, and sesame oil.
How To Make Perfect Hawaiian BBQ Chicken
Making grilled Hawaiian chicken BBQ is not easy, and some tips and tricks must be kept in mind for making the perfect Hawaiian chicken BBQ meal.
Always take skinless breasts and thighs. Trust me, if you want the authentic taste, chicken with the skin won't give the desired flavor because the skin will not allow the spice blend and other ingredients to fully penetrate into the meat.
Try to get a skinless chicken, if not, no need to worry about it you can also peel off the skin at home, all you need to do is make some fine cuts on some specific points and just pull it off.
Flavored wood chips can double up the flavor of your BBQ dish. You can use Applewood chips, Cherrywood chips, Hickory wood chips (for strong smoke flavor), or oak wood chips.
Lastly, always use a meat thermometer to check the internal temperature to be sure that your meat is perfectly done.
A great kitchen tip is to store your ginger into a plastic zipper bag; it will stay fresh for a long time. Never store chopped or shredded ginger.
Marinate your chicken for a longer period (overnight) to enjoy a more delicious and flavorful BBQ meal.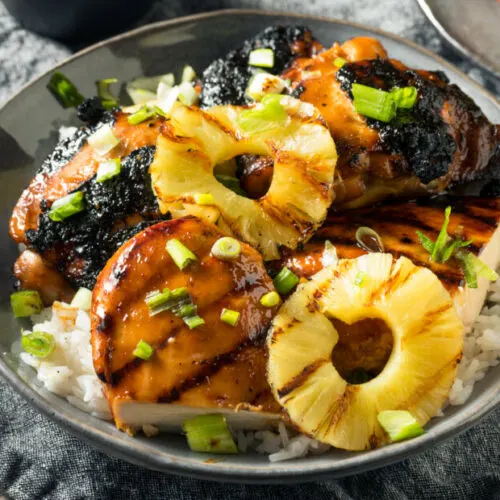 Hawaiian BBQ Chicken Recipe
This Hawaiian BBQ chicken recipe is all you need for your summer holiday. It is so simple and a saucy meal to satisfy your cravings. So what are you guys waiting for? Lit up your coals now!
Ingredients
1

lbs

chicken breasts and thighs

boneless and skinless

10

oz

pineapple slices

canned with juice

1½

cup

long-grain white rice

½

cup

BBQ sauce

3

tbsp

ketchup

⅛

cup

soy sauce

1

tsp

sesame oil

½

small onion

5

tbsp

melted butter

1

tsp

garlic

powdered or freshly chopped

½

tsbp

ginger

powdered or freshly chopped

1

tbsp

vegetable oil

2

green onions

thinly sliced
Instructions
First of all, separate the canned slices of pineapples from the juice and reserve both for later use.

Secondly, add BBQ sauce, soy sauce, reserved pineapple juice, ketchup, sesame oil, onions, powdered or chopped garlic, powdered or chopped ginger in a small mixing bowl, and combine them well. Also, reserve ½ cup of the prepared marinade for later use.

Then marinate the chicken with the remaining marinade batter, cover it with cling wrap or aluminum foil, and refrigerate for about 2 to 8 hours.

When it's time to BBQ the chicken, take a water-filled pan and boil the long-grain white rice in it.

Now, for grilling the chicken, light up your smoker with the woodchips of your choice.

Grill chicken over the smoker while brushing it using a food brush with reserved marinade and melted butter, especially in the last few minutes, and cook until the internal temperature of the chicken reaches 165 degrees F.

In a pan, roast some black cumin in vegetable oil and then grease both sides of pineapple slices with vegetable oil. In the last few minutes, grill each side of pineapple slices for at least 2 minutes or until they have slightly softened and formed a grilled texture.

Finally, top the boiled white rice with deliciously grilled chicken and pineapple slices for serving your meal. Sprinkle some thinly sliced green onions, and here you go. Enjoy!
Nutrition
Calories:
490
kcal
Carbohydrates:
56
g
Protein:
37
g
Fat:
12
g
Saturated Fat:
5.5
g
Cholesterol:
101
mg
Sodium:
1021
mg
Potassium:
859
mg
Fiber:
2.2
g
Sugar:
31
g
Vitamin A:
280
IU
Vitamin C:
14
mg
Calcium:
56
mg
Iron:
2.1
mg
FAQs
What Is the Best Way To Cook Chicken at a BBQ?
The best way to cook chicken on BBQ is to make it slow and steady. Always set coals on one side of the grill so you can have a cool place to give rest to your chicken to avoid overcooking.
If you have a gas grill, you can lower the flame or adjust accordingly.
Should You Put Bbq Sauce on the Chicken Before Grilling?
Sauce application is critical when cooking chicken. To avoid burning chicken for a more tender taste, you should add some reserved sauce in the final 10 to 15 minutes.
How Do You Get the Sauce To Stick to Chicken?
This is where most of the pitmasters fail. Here is the perfect hack that will let the sauce stick to the chicken while cooking. The sesame oil in the sauce is the playmaker. It will work as a binder and help the sauce stick to the chicken.
How Do I Stop My Chicken From Burning on the BBQ?
Make sure your chicken is not sticking to the grill. To avoid burning, grease your grill with oil or use the cooking spray before putting chicken on the grill.
How Long Should I Bbq Chicken Breast and Thighs?
Grill the chicken breasts or thighs for about 10 to 12 minutes. Flip the sides when you see they are done. I usually prefer to grill for 12 minutes.
Do You Close the Lid When Grilling Chicken?
If your grill has a lid, always cover your food, it will make your food cook more evenly and fast.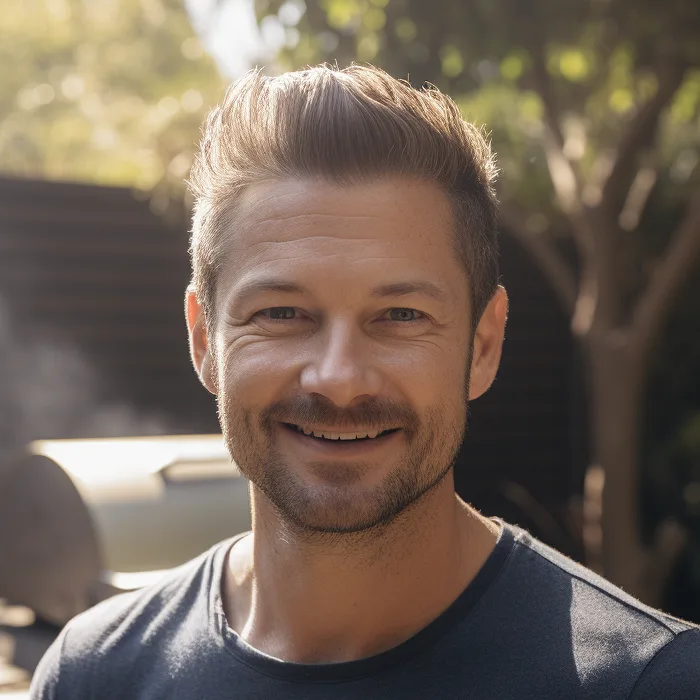 I have been smoking and grilling meat from an early age and enjoy sharing my knowledge and expertise through the hundreds of articles I have written about BBQ. I hope to make everyone's BBQ journey that little bit easier.