Like BBQ in general, BBQ sauce is the subject of much contention, from Carolina gold to Alabama White BBQ and Kansas City BBQ sauce.
Everyone has one barbeque sauce that stands out above the rest.
This homemade BBQ sauce stands out above the rest. It features two unique ingredients maple syrup and balsamic vinegar.
These two ingredients make plain old BBQ sauce taste like it was meant for royalty.
Homemade Bbq Sauce Ingredients
BBQ sauce is one of the easiest and straightforward sauces you will ever make. This barbeque sauce comes together in a few minutes.
The first ingredient of this BBQ sauce is ketchup. Ketchup is the base of most BBQ sauces. It is best to use your favorite ketchup brand.
Balsamic vinegar is the next ingredient that helps to balance out the sweetness of the maple syrup.
Maple syrup adds a rich sweet flavor to the BBQ sauce.
Liquid smoke is an absolute must for this homemade BBQ sauce. Liquid smoke adds the signature smokey flavor BBQ foods are known for.
It is made by extracting rising smoke into a condenser from the combustion chamber that is loaded with wood chips.
Smoke converts to liquid in the condenser, giving us the wonderful gift of liquid smoke.
This homemade BBQ sauce also features Worcestershire sauce. Worcestershire sauce flavor is unami.
The unami flavor is derived from anchovies or soy sauce, while the tart flavor results from tamarind and vinegar and the sweet from sugar and molasses.
A mixture of seasonings is used in this BBQ sauce.
Smoked paprika, ground mustard, dried oregano, salt, and pepper impart staple smokey sweet flavors associated with BBQ sauce.
Do I Have To Cook The BBQ Sauce?
While you could certainly whisk the ingredients for this homemade BBQ sauce in a bowl and use it as is, we recommend cooking it.
Cooking the BBQ sauce intensifies the sauce as well as thickens it.
Cooking this sauce only requires placing the ingredients into a saucepan and bringing it to a boil over medium-high heat, and allowing it to simmer over gentle for about 10 minutes.
How To Thicken Homemade Bbq Sauce
The consistency of this homemade BBQ sauce is perfect for basting your grilled or smoked goodies.
However, if you want a sauce that sticks to your food, use cornstarch. Whisk 1-2 teaspoons of cornstarch and 1 tablespoon of water in a small bowl.
Whisk the slurry into the BBQ sauce and allow it to cook for 1 minute while constantly whisking until it thickens.
How to Store Homemade BBQ Sauce
Storing this BBQ sauce is very easy. Simply allow the BBQ sauce to cool completely, then transfer the BBQ sauce to an airtight container.
Store the homemade BBQ sauce in the refrigerator for 1-2 weeks. This homemade BBQ sauce can also be frozen for 3 months.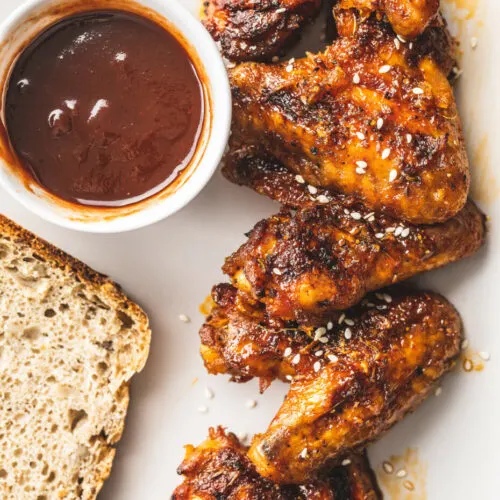 Homemade Bbq Sauce Recipe
Featuring two special ingredients: maple syrup and balsamic vinegar, this homemade BBQ sauce is unlike anything you've ever tasted.
Equipment
Whisk

Saucepan

Measuring cups

Measuring spoons
Ingredients
1

cup

maple syrup

1½

cups

ketchup

½

cup

balsamic vinegar

1

tsp

liquid smoke

½

cup

water

2

tbsp

Worcestershire sauce

1

tbsp

garlic paste

2

tsb

smoked paprika

1

tbsp

chili powder

2

tbsp

dry mustard

1

tbsp

oregano

2

tsp

salt

1

tsp

black pepper
Instructions
Place the maple syrup, ketchup, balsamic vinegar, liquid smoke, water, Worcestershire sauce, garlic paste, smoked paprika, chili powder, dry mustard, oregano, salt, and pepper in a small pot.

Heat the BBQ sauce over medium-high heat until it comes to a boil, then decrease the flame to medium-low and cook the sauce for 10 minutes.
Nutrition
Serving:
173
g
Calories:
234
kcal
Carbohydrates:
58.91
g
Protein:
1.42
g
Fat:
0.6
g
Saturated Fat:
0.088
g
Polyunsaturated Fat:
0.255
g
Monounsaturated Fat:
0.191
g
Sodium:
1483
mg
Potassium:
419
mg
Fiber:
1.5
g
Sugar:
48.51
g
Vitamin A:
1111
IU
Vitamin C:
3.7
mg
Calcium:
99
mg
Iron:
1.46
mg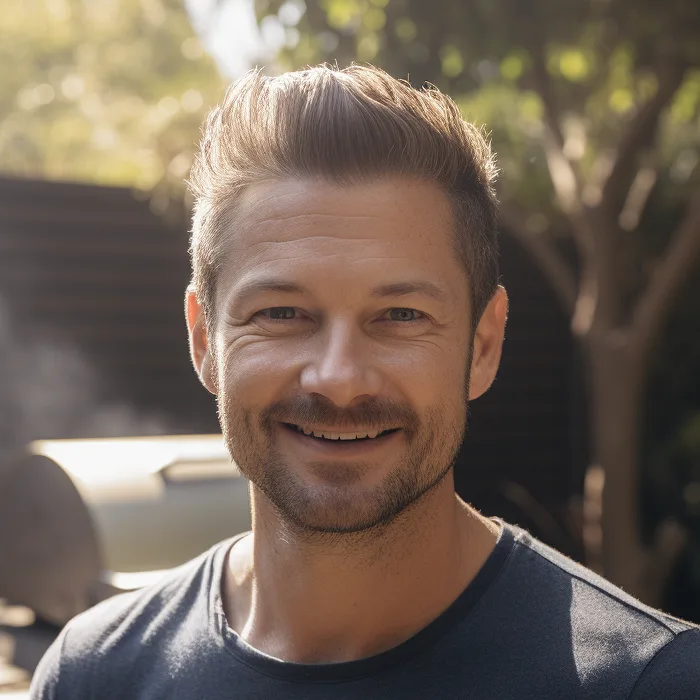 I have been smoking and grilling meat from an early age and enjoy sharing my knowledge and expertise through the hundreds of articles I have written about BBQ. I hope to make everyone's BBQ journey that little bit easier.