Who doesn't love Japanese food? If you are a Japanese cuisine enthusiast, you know all about the wonders of the hibachi world.
Habachi transcends a simple style of dining. It is truly an experience.
The biggest factor that attracts people to hibachi is having food prepared right in front of them.
Little hibachi grills are the perfect solution for those that are addicted to the taste of charcoal foods but do not have the space for a traditional grill.
Luckily you now can enjoy hibachi right in the comfort of your own home.
Hibachi grills are perfect for traveling on the go. Best of all, hibachi grills can technically do anything a traditional grill can do on a smaller scale.
These convenient portable grills even use real fire.
What Is Hibachi?
Hibachi refers to an ancient Japanese device that emerged during the 8th-century. The word hibachi means fire bowl.
A hibachi is a round cooker that uses charcoal as a power source.
Traditionally, hibachi grills were ceramic bowls loaded with charcoal used to cook seafood, vegetables, and meat by searing them over an open fire.
However, modern hibachis usually refer to small portable charcoal grills, flat-top grills, and teppanyaki grills.
What Is a Hibachi Grill Constructed From?
Usually, hibachi grills are constructed from cast iron. These grills are referred to as shichirin in Japanese.
These grills usually feature an open grate system and primarily use charcoal as a power source.
In addition to this, modern hibachis can also be electric which can be used to cook food indoors.
Types of Hibachi Grills
Like most grills, hibachi grills come in a variety of shapes, sizes, and forms.
Hibachi grill usually refers to one of three kinds of grills, depending on how it is used.
Charcoal Hibachi Grills
Charcoal grills are typically the ideal choice for hibachi grills.
The food is usually cooked on a cast-iron grate over a layer of charcoal. In contrast, inexpensive cast iron hibachi grills are usually constructed from.
Be wary of these grills as they are not the same as high-quality cast iron.
Several hibachi grills usually feature inside bottom vents, which allow consumers to control the heat.
In addition to this, most hibachi grills are usually designed to have two levels of cooking surfaces.
Gas Griddle
Gas griddles are also a popular kind of hibachi grill. These grills are perfect for outdoor kitchens and are typically made from cast aluminum or stainless steel.
Gas griddles use propane as a heating source.
In addition to this, the results of gas griddles favor that of a traditional BBQ grill or a regular griddle.
The only difference is there are no grill marks, and the food is free of that deliciously smoky charcoal flavor. This is definitely the convenient option for hibachi.
Teppanyaki Grills
A teppanyaki grill refers to a freestanding variation of a level bbq surface. There is some debate on whether teppanyaki grills fall into the hibachi family.
Some agree that a teppanyaki grill is a hibachi grill.
In contrast, others believe it's simply a marketing strategy used to sell teppanyaki grills.
Teppanyaki grills are typically fueled by propane gas and have cast-iron cooking surfaces.
What To Look for When Buying a Hibachi Grill
Before investing in a hibachi grill, there are a few characteristics you should look for.
Overall flavor, quality, and control are the most important characteristics that will separate quality hibachi grills from defective hibachi grills.
These characteristics will help you purchase a hibachi grill that will fit your needs perfectly.
Heat Source
Some hibachi grills are fueled by charcoal, while others are fueled by gas.
If you are a lover of smoky flavor, it is best to stick with a charcoal hibachi grill.
On the other hand, if you do not care about sacrificing the beloved smoky flavor, a gas hibachi grill may be best for you.
Durability
Though it is a little more costly, opt for a hibachi grill made out of cast iron.
A cast iron grate will give you more flavor when you are cooking foods, and it is more durable than cast aluminum.
Hibachis constructed from cast aluminum may be prone to rust and eventually fall apart.
Avoid them at all costs and purchase a cast-iron hibachi grill.
Two-level Fire
A hibachi with a two-level fire gives the user more control. It allows you to improve the grill's functionality.
Furthermore, two-level fires allow you to set up indirect and direct cooking zones on the hibachi grill.
You can sear your food and transfer it to the cooler side of the grill to keep it warm while you cook another piece of food.
All you have to do is arrange more charcoal on one side of the hibachi grill.
Bottom Vent
Hibachi grills feature an open-top which means the fire is exposed to copious amounts of oxygen.
Ensure you purchase a hibachi grill with a bottom vent.
A bottom vent will allow you to control the amount of air your fire receives and control the fire.
Adjustable Racks
Some hibachi grills are designed with adjustable racks. Adjustable racks allow you to control how close the food is to the heat source.
Unfortunately, most hibachi grills are not designed with superior quality adjustable racks.
Choose a hibachi grill with durable, adjustable racks, especially if you are traveling with your hibachi grill.
How To Use a Habachi Grill
As mentioned above, charcoal grills are the most common hibachi grills.
Though charcoal grilling can be intimidating and challenging once you have mastered it, it will be smooth sailing while you are hibachi grilling.
Charcoals hibachi are very versatile. To use your hibachi safely, ensure it is placed onto a solid level surface.
In addition to this, ensure that no objects can fall onto the grill and cause it to tip over.
Store a fire extinguisher or container of water nearby in case a fire breaks out.
If you are using your hibachi grill at night, ensure you have adequate lighting and do not leave your hibachi grill unattended for any amount of time.
To use your hibachi, transfer your coals to the base of the hibachi grill in an even layer so that the heat is distributed evenly.
Cook your food, and once you are finished cooking, clean your hibachi grill.
Use tongs to submerge the coals into a bucket of water and place them onto a tray to dry.
You can use these coals the next time you are in the mood for hibachi.
How To Light a Hibachi Grill
Similar to using the hibachi grill lighting, it is also relatively easy.
Unlike gas grills that can ignite with the push of a button or a turn of a knob, hibachi grills require a bit more leg work.
If you have a charcoal grill, you need to light your charcoal. Luckily you can easily do this by using a charcoal chimney.
If you do not have fire starter cubes, use paper towels. Soak your paper towels in oil, then place them into the bottom of the chimney starter.
Add your charcoal on top of the paper towels or fire starters and light the paper.
Allow the chimney starter to do its thing for about 10 minutes. When the coals begin to develop, a layer of ash on top of them removes your hibachi's grill grate.
Add the coals to the base of your hibachi.
Use a pair of tongs to arrange the coals and create your direct and indirect grilling zones.
Adjust the height of your grill to the desired height, and your grill will be ready to cook your food.
Additionally, now is the perfect time to adjust the temperature.
There are several ways you can adjust the temperature of your hibachi grill. Some hibachi grills are designed so you can lower or raise the grilling grates.
On the other hand, other hibachi grills are made with adjustable vents located on the bottom of the grill.
The vents allow you to adjust the level of air that comes into contact with the charcoal.
How to Season Your Hibachi Grill
Sometimes hibachi grills can come pre-seasoned or unseasoned.
While it is convenient to purchase a pre-seasoned grill, you must season it before grilling any food if you can only find an unseasoned hibachi.
Before you season your hibachi grill, make sure it is clean. Luckily you can easily clean it with soap and water.
Use a neutral-flavored oil for seasoning your grill.
Olive oil, vegetable oil, or food-grade mineral oil are the best oils for seasoning a hibachi grill.
Make sure you use a light coating of oil on your hibachi grill.
Avoid seasoning your hibachi grill with bacon grease or oils with a strong flavor.
Oils of this nature usually contain salt and will destroy the cast-iron material over time.
After you have coated your hibachi grill with oil, place it into a 350°F and bake it for 1 hour.
Allow your hibachi grill to cool completely to allow the seasoning to set and prevent yourself from getting burned.
The Best Hibachi Grills
There are probably a million hibachi grills on the market, all claiming to be the best hibachi grill in existence.
However, we have condensed the extensive list of grills to the 4 best hibachi grills.
Charcoal Barbecue Portable Bbq Hibachi Grill
This charcoal BBQ portable hibachi grill comes with four detachable legs in addition to convenient handles that make this grill super easy to transport to any location.
Furthermore, this hibachi grill is solid and durable.
This hibachi grill is constructed from high heat-resistant stainless steel, creating a firm yet abrasive surface that will not rust, bend, and last for years to come.
Unlike most grills, this hibachi grill is easy to clean, and it can be folded and transported easily.
You set up your grill, use it and fold it back down in no time at all.
The plated steel cooking grates hold heat well and are very easy to clean.
The legs of this device can be adjusted to fit your needs, and it has double air vents and an ash catcher.
The double airt vents give you more control over the temperature as well as allow you to circulate air properly.
This, in turn, will speed up the entire cooking process. Furthermore, the grid charcoal frame ash catcher literally makes cleanup as easy as 123.
Overall, if you are an active entertainer, the charcoal BBQ hibachi grill is the perfect option.
From tailgating to backpacking to picnics and camping, this grill is perfect for hibachi on the go.
21st Century Tabletop Hibachi Grill
The 21st-century tabletop hibachi grill is often overlooked, but it is a great hibachi grill.
This 17-inch tabletop hibachi grill is crafted from heavy-duty welded steel comes with three adjustable 3 adjustable cooking grids and 133 square inches of cooking surface.
It features two adjustable air vents that allow you to control the fire and remain safe while you are grilling.
The wooden handles allow you to transport the grill or move the grids safely. In addition to this, wooden handles are better than metal handles because they will not absorb too much heat.
Designed for cooking over an open flame, the legs of this grill fold up, so it is easy to store. The best part about this grill is it is super inexpensive.
With the adjustable grates, you can easily set up indirect and direct cooking zones with this hibachi grill.
You can sear a steak and allow it to finish cooking or keep it warm on the other side of the grill.
In general, the 21st-century hibachi grill is sturdy and perfect for all your outdoor parties.
Compared to other hibachi grills, this bargain grill is a budget-friendly quality grill.
Bruntmor Heavy Duty Pre-seasoned Cast Iron Hibachi-charcoal Grill
The Bruntmor heavy-duty hibachi grill is definitely a durable grill.
This grill is coated with a chemical-free electrostatic powder spray finish with superior quality heavy-duty cast iron materials.
Best of all, because it is crafted from high-quality materials that are resistant to high temperatures.
This grill screams hibachi experience. The Bruntmor hibachi is very portable and strong.
It allows you to enjoy your Japanese cuisine without having to tote around a traditional bulky grill. Best of all, this grill actually saves energy.
The Bruntmor hibachi grill does not require propane fuel canisters or batteries.
Though they may seem inexpensive at first, these items can cost hundreds of dollars down the line. Luckily, this grill uses good old-fashioned charcoal or wood to grill up all of your masterpieces.
Furthermore, these fuel sources are perfect for achieving the perfect grilling temperature and resist heavy winds.
This gorgeous grill is simple to use, holds stable temperatures, and is perfect if you are trying to lead a healthier lifestyle.
The grill's height and thickness make it very easy to achieve the perfect crust on whatever you are grilling.
This lead-free grill can easily be cleaned this grill with mild soap and water.
This stunning grill has a sleek modern design that does not scratch easily and is perfect for regular use in the kitchen.
All in all, this hibachi grill is portability at its best. If you have had a challenging time with grilling foods, this is the grill for you. This grill is easy to transport, is not limited to one area, and makes the grilling experience that much easier.
Ironmaster Pre-seasoned Cast Iron Charcoal Hibachi Grill
The ironmaster charcoal hibachi grill is extremely durable. It is forged from top-quality cast iron elements that meet all the FDA food-grade standards.
Furthermore, it has passed the California Proposition 65 test and does not have a chemical coating.
Best of all, the cooking surface is non-stick and pre-seasoned, so your foods will not stick to the grill.
Cast-iron is unmatched when it comes to conducting heat. This means moisture particles are drawn to the surface of the food, creating a better sear and make your food that much tastier.
This grill is easily transportable. Even though this grill only weighs 22 pounds, it can cook enough food for about 5 people.
You can use this grill anywhere. You can use this grill in your kitchen, garden, and backyard while camping or on a picnic. Furthermore, you can keep your food warm while you are waiting on the rest f your guest to arrive.
Furthermore, you can control the hibachi grill's temperature by adjusting the air doors.
It even comes with a fire door that allows you to add coal to keep the fire burning.
All in all, ironmaster made this hibachi grill for BBQ. You can easily produce perfectly seared foods hibachi-style foods.
FAQs About Habachi Grills
Alas, there are a wide variety of hibachi grills available on the market. I am sure that you have a few questions that need to be answered with all of this information.
These are the most popular questions about hibachi grills.
Are Hibachi Grills Any Good?
Hibachi grills are an all-around great appliance. Who doesn't love perfectly seared meat?
This particular style of cuisine requires searing food with heat instead of smoking food.
Therefore, hibachi grills are perfect for foods that need to be cooked quickly using high heat.
Furthermore, hibachi grills are much smaller than traditional grills. Therefore you can cook food without all of the stress of pulling out larger traditional grills.
What Do You Cook in a Hibachi Grill?
Hibachi grills are most often used to prepare yakitori-style foods, which usually include meats or vegetables cooked on skewers.
Even though kabobs are the most common good to be cooked on a hibachi grill, there is so much more than you can do with this grill.
You can cook any food on this grill from strips of fish or meat, hamburgers, and hotdogs.
How Much Does a Hibachi Grill Cost?
The cost of hibachi grills can vary. However, it all comes down to the size, quality, and materials used to construct the grill.
On average, hibachi grills can cost anywhere from $50-$200, depending on the area he lives in. Some hibachi grills may even cost up to $1000 or more.
Is Hibachi Actually Japanese?
Hibachi is authentically Japanese. As mentioned above, hibachi translates to fire bowl. In fact, it is regarded as a traditional heating device that is usually round or square.
What's the Difference Between a Hibachi Grill and a Griddle?
There is a definitive between a griddle and a hibachi grill. Griddles usually refer to a teppanyaki grill that is designed with a flat griddle or plate.
In contrast, hibachi grills are small, portable grills equipped with cooking grates rather than a flat griddle.
Can You Cook Burgers on a Hibachi Grill?
Yes, you can cook burgers on a hibachi grill. Technically, you can cook burgers on any grill or pan; however, since the hibachi grill is designed for small items like burgers, so itis perfect for cooking burgers.
How Hot Is a Hibachi Grill?
Grills are known for their ability to sear foods quickly. To achieve this, they need high temperatures.
The general temperature range for hibachi grills is 450°F in the center of the grill and 250°F around the grill's perimeter.
What's the Best Charcoal for Hibachi Grills?
While you can use any charcoal for a charcoal hibachi grill, use charcoal made from Japanese charcoal if you want an authentic Japanese hibachi.
The primary ingredient in Japenese charcoal is Japanese Oak from Kishu.
Not only is this the best hibachi charcoal, but it is also chemical-free and all-natural.
Final Thoughts
A small, portable hibachi is a versatile grill.
Remember, opt for hibachi grills constructed from cast iron, adjustable doors, and vents, as well as adjustable cooking grates heights.
We have given you all of the information you need to choose the best hibachi grill. Now the decision is up to you. Happy hibachi grilling!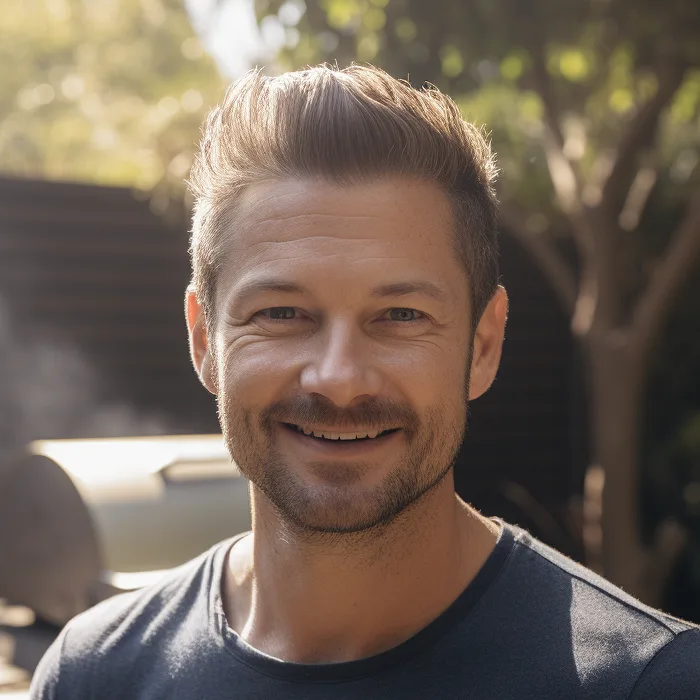 I have been smoking and grilling meat from an early age and enjoy sharing my knowledge and expertise through the hundreds of articles I have written about BBQ. I hope to make everyone's BBQ journey that little bit easier.