As the year goes by, the seasons will change, and gone will be the prime time BBQ season the summer gifted to us.
However, just because it's pouring rain outside or we are met with snowflakes when we open the door does not mean that we should say goodbye to our grills.
Luckily grill manufacturers have come up with a way to cure the grilling blues: indoor grills. Indoor grills can be used no matter what time of year it is.
Furthermore, they are easy to operate and easy to clean.
How Do Indoor Grills Work?
Essentially, operate like a hot plate or infrared stove-top. Most indoor grills feature infrared heating technology, which is how the grill can cook food with relatively little to no smoke.
Furthermore, unlike traditional stove-top cooking, these grills generate lower levels of fat and oil that may splatter and cause you to get burned.
Many indoor grills include a drip tray that helps you keep a clean grill and generates less smoke.
In regards to power, nearly all indoor grills require electricity and are designed to plug into indoor power outlets.
You can set up a makeshift cooking station on your dining room table or dorm room desk and prepare food safely in no time.
Indoor grills prove especially useful during the holiday season when your oven and stove-top are filled to capacity with dishes for your family dinner.
Types of Indoor Grills
Essentially, there are two kinds of indoor grills, open grills, and folding contact grills. Open indoor grills are akin to the traditional outdoor grill.
Designed with a heating instrument and a grill-like cooking grate, these indoor grills are the closest you will get to a real grill.
Even though you have to turn the food over to get the authentic grill marks flavor-wise, it is the best option. Open grills also have the capacity to prepare servings large enough for a family.
In contrast, folding contact grills are similar to a panini press and are the inspiration for folding contact grills.
Contact grills have 2 cooking plates, one that cooks the upper portion of the food and the other plate cooks the bottom portion of the food.
Popularized by Europeans, they are the ideal sandwich maker.
Bottom Line
The biggest benefit of these grills is that they can simultaneously cook foods on both sides. As a result, there's no need to flip your food, and it does not require as much attention as an open grill.
What To Look For in an Indoor Grill
Before you run out and purchase an indoor grill, there are a few things you should know.
Knowing which indoor grill features you should prioritize will prevent you from ending up with a less than stellar indoor grill.
Temperature
Temperature is very important to the cooking process. In the case of indoor grills, the larger the voltage, the higher the temperatures the grill will be able to achieve.
In the same way, the lower the voltage, the lower the temperature, which is not ideal when preparing meats such as chicken, beef, or pork.
Heat Adjustment
Indoor grills have a setting that allows the heat to be altered, giving you more control over the cooker. If you have more control over the heat, the more foods you will be able to cook.
From vegetables to burgers to chicken breast and steaks, adjusting the heat allows you to cook any food you can think of.
Cleaning
Cleaning is also an important feature. The grill's cooking area must be cleaned in addition to the surface the grill was placed on.
The grill's crevices must also be cleaned. Luckily there are indoor grills with removable parts that will make cleaning and maintaining it easier.
Size
The size of an indoor grill is one of the most important characteristics to pay attention to.
You must examine your kitchen and consider appliances you already own to determine how much real estate you have for an indoor grill.
Measure the amount of available kitchen space you have and take the dimensions to the store when you are shopping for your grills.
Nothing is more annoying than purchasing an indoor grill you have no space for. If you have a smaller space, purchase a smaller grill; if you have a larger space, purchase a larger indoor grill.
Price
The price is probably the most important factor when it comes to purchasing an indoor grill.
Create an indoor grill shopping budget to give you an idea of how much money you can invest into an indoor grill.
The more bells and whistles an indoor grill has, the higher the price tag.
A quality indoor grill usually runs for $100; however, quality grills are available for under $100.
In contrast, if you want a higher quality indoor grill with specialized features, indoor grills can run up to $2,000. Thus, when it comes to indoor grills, size has a huge role in the price.
Durability
It does not matter whether it is a pellet grill or offset grill; durability is important. Case in point, cast iron is less durable than stainless steel indoor grills.
In contrast, stainless steel indoor grills can last for more than a decade. Indoor grills crafted from other materials may not last as long.
Depending on who the grill is for, you may want to choose a different grill. For example, if you are gifting an indoor grill to a college student, it might be best to go for a cast-iron model.
However, if you are gifting an indoor gift as a wedding present or house warming gift, it might be best to purchase a stainless steel indoor grill.
Assembly
Although it may seem unimportant, how the grill that is assembled is also an important factor.
For example, an indoor grill that comes ready to use just needs to be wiped down and plugged in. This is definitely the more convenient indoor grill.
In contrast, an indoor grill that requires some assembly is less convenient and can often be frustrating if tools are involved.
Therefore, if you are not great with assembling appliances, opt for a pre-assembled indoor grill.
On the other hand, if you enjoy assembling appliances, opt for the indoor grill that has to be assembled.
Power
In essence, the more BTUs an indoor grill generates, the larger the portions of food you can grill. In addition to this, more BTUs equals shorter cooking times.
Power and efficiency affect how much time an indoor grill takes to reach the maximum cooking temperature.
Power also impacts whether you can grill 4 steaks or 1 steak at a time.
Bottom Line
Lower BTUs are ideal for 1-2 servings of food or if you do not mind waiting longer for your food to cook. However, if you have a larger family, higher BTUs are essential.
How To Use an Indoor Grill
Even though it is an indoor grill, it requires the same amount of attention as an outdoor grill.
Even though the wind will not transport the minuscule amounts of smoke produced by the grill, never walk away from your indoor grill.
To decrease fat and the smoke produced by your indoor grill, remove the excess fats from meats—the lower the fat ratio, the lesser the chances of you burning your food.
In addition to this, very little smoke will be generated, and there won't be as much fat in your dish.
Some grills are designed to allow the fat to drip into the heating instruments, which can create a fire. However, the chances of a fire erupting are very small.
For this reason, always have a fire extinguisher nearby when you are using your grill. Moreover, use your grill near a vent or a window.
What Can You Cook on an Indoor Grill?
The amazing thing about indoor grills is that you can cook almost anything you can on an outdoor grill. This, of course, excludes larger cuts of meat like brisket, pork shoulder, or pork butt.
However, foods such as chicken breast, steak, vegetables, shrimp, burgers, and so much more can be cooked using an indoor grill.
The drawback of indoor grills is that you cannot drain liquids and outdoor grills can.
Therefore you must place marinated meats onto a wire rack set over a rimmed sheet pan and let the drain to prevent marinades from spilling over your kitchen countertop.
Even though you can technically baste foods on an indoor grill, do not overdo it.
Lightly brush your basting liquid onto the food being very careful not to spill it or add too much liquid as it will spill onto your countertop.
The 5 Best Indoor Grills
The search for an indoor grill can become overwhelming and frustrating pretty quickly. There is only so much indoor grill research you can do before your brain shuts down.
Luckily you've got access to the 5 best indoor grills.
Ninja Foodi 5-In-1 Indoor Electric Countertop Grill
This all-star indoor grill is a 5 in 1 device that allows you to sear, sizzle, air fry, and, of course, grill indoors.
Featuring cyclonic grilling technology, this indoor grill can achieve temperatures of 500F.
You can sear your food will the high-density grill marks create the signature grill marks on the bottom of your food.
In the end, you will have food that is charred to perfection on the outside and cooked perfectly on the inside.
Boasting BTU cooking power that is comparable to an outdoor grill, even if you forgot to defrost your salmon or chicken breast in 25 minutes, your food will transform from its frozen state to a perfectly char-grilled meal.
Furthermore, this 1760-watt indoor grill allows you to air fry using the 4-quart crisper basket, which slashes the oil you would need to deep fry foods by 75%.
This indoor grill is also PTFE PFOA-free, and the cooking grate is non-stick and polished with a ceramic coating.
Crafted from stainless steel, this grill also comes with a 6-quart PTFE PFOA-free, non-stick, ceramic-coated cooking insert, a recipe book, and a cleaning brush.
Overall, if you want an indoor grill that does more than grilling, this is the unit for you. The ninja indoor electric grill is perfect for individuals who love multiuse cookers.
Hamilton Beach Electric Indoor Searing Grill
Most of you have heard of this popular brand before. However, did you know they made indoor grills too?
The Hamilton Beach electric indoor searing grill can sear food s at 450F to seal in the meat's juices and provide a flavorful, delicious grilled cut of meat.
Furthermore, you can also use the adjustable temperature dial to lower the grill's heat if need be.
This folding contact indoor grill closes to give your food authentic grill marks. With 118 square inches of grilling space, you can serve up to 6 people with this unit.
This indoor grill is also easy to clean as it features a removable hood, non-stick plate, and extra-large drip tray that are dishwasher safe.
The extra-large drip catches any juices that the meat renders so that they do not spill on your kitchen countertops.
IN general, with 1200 watts of power and power and preheat lights, the Hamilton Beach indoor searing grill takes the guesswork out of using an indoor grill.
This indoor grill allows you to cook a variety of foods such as chicken, pizza, vegetables, fish, fruit, and so much more.
Power Xl Electric Indoor Grill
The power XL indoor grill boasts a cooking surface that's large enough for you to have a BBQ party in your kitchen.
You can even grill 8 large burgers, a spatchcock chicken, 3 racks of ribs, or grill both your meat and vegetables simultaneously.
The grilling surface is coated with a non-stick ceramic-tech substance, so there's no need to add additional oil.
As a result, even delicate foods like fish will not stick to the grilling surface. In addition to this, there won't be any food debris to scrape up, which makes cleaning up a breeze.
The oil drip tray is directly under the grilling grate and catches any meat-reduced fat.
The ceramic-tech frill plate is also detachable and dishwasher safe, eliminating the need to spend hours trying to clean the crevices of the grill.
You can also easily store the cooking plate and pull it out whenever you need it.
Backed by an LED smart temperature control that can achieve temperatures of up to 450°F, you can customize the heat according to what you are cooking.
The rapid, evenly distributed heat also prevents overcooking. As a result, you can slowly cook flatbread or pizza crust low and slow or grill burgers and veggies hot and fast.
Furthermore, you can also grill foods straight from the freezer and end up with a tender cut of meat.
Powered by a turbo extraction fan, nearly all the smoke produced will be captured, allowing you to have a smoke-free grilling experience.
If you are looking for an indoor grill that cooks family-sized meals, is transportable, and easy to clean and maintain, look no further than the power XL indoor grill.
Maxi-matic Smokeless Indoor Electric Bbq Grill
The maxi-matic indoor grill allows you to enjoy the BBQ experience indoors. This unit allows you to grill foods simultaneously.
With 14 inches of grilling space lets, you can grill steaks, veggies, ribs, and shrimp at once
With a non-stick cooking surface, there's no need to be anxious about food sticking to the grill's cooking grate.
Featuring a removable 120V/1300W thermostat control, you can choose between 5 settings that go up to 450°F.
Designed with a circular heating instrument, this indoor grill heats up quickly and distributes evenly. Rendered fat will drip away from your meat which leaves you with a healthier end product.
This grill also has a cool-touch base and handles to keep you from getting burned.
Every part of this indoor grill is detachable and dishwasher safe, which means you can spend less time cleaning your indoor grill and more time using the grill.
Detachable parts of this grill include the grill base, drip tray, non-stick grill plate, tempered glass lid, and thermostat control knob.
Overall, with a one-year warranty, the maxi-matic indoor grill is an easy-to-clean, easy-to-use, smokeless indoor grill.
Gotham Steel Indoor Grill
The Gotham steel indoor grill allows you to grill without being bombarded with large clouds of smoke.
So whether you want to grill fish, kabobs, pork chops, steak, burgers, or something else, all that's required is plugging in the indoor grill and cooking your food.
Featuring smokeless technology, this grill was thoughtfully designed with a drip tray that cools the fat quickly and eliminates nearly all of the smoke generated.
Therefore, you can safely grill in your home without fear of the smoke polluting your living quarters.
The Gotham steel indoor grill's heating instrument is spread out across so that every square inch of the cooking plate is heated evenly.
You can also adjust the grill's temperature so that your food is cooked perfectly inside and out.
Coated with triple-reinforced ceramic and titanium, there's no way that food can stick to the cooking surface.
More importantly, there is no need to use any additional fat, making your food that much easier. It also helps not to scrub tons of grease away from the cooking surface, making clean-up as easy as 1-2-3.
Furthermore, the same triple-reinforced ceramic and titanium make the cooking surface so strong that it can withstand trauma from spoons, whisks, metal spatulas, and so many more utensils.
In addition to this, the aluminum exterior of the grill is non-porous, thick, resistant to wear and tear. More importantly, the grill will last for decades to come.
Overall, if you are looking for a healthy, nontoxic indoor grill, this is the best option.
The Gotham steel indoor grill is 100% free of PFOA, lead, cadmium, and other harmful chemicals, which means you can serve your family safe meals.
Best of all, the grill plate is dishwasher safe, which eliminates the need to scrub it clean.
FAQs About Indoor Grills
With all of this information about indoor grills, you must have a few additional questions. These are the most pressing questions about indoor grills.
Are Indoor Grills Worth It?
Yes, indoor grills are worth it! They allow you to bring the fun of outdoor grilling inside your home regardless of which season it is.
Furthermore, indoor grills are capable of producing tender yet flavorful foods.
Are Indoor Grills Healthy?
Generally, indoor grilling is considered healthier than the traditional method of grilling. The concept behind it is as the food cooks, fat flows away from the food, and less grease means fewer calories and less cholesterol.
In addition to this, most indoor grills are electric and can remove toxic gasses that may taint your food. For example, charcoal grills create soot, and excess carbon can taint your food.
Nevertheless, every food you cook on your indoor grill may not be good for your body.
Can You Use Outdoor Grills Indoors?
As a general grilling rule, never grill inside with an outdoor grill. You cannot use a grill that was designed for the outdoors in your home even if it has stellar ventilation; it is unsafe.
Charcoal and gas grills generate large amounts of carbon monoxide. Furthermore, outdoor grills also generate large amounts of smoke.
Even if you divert the smoke through a window or the exhaust fan above your stove-top, your house will smell like charcoal for months to come.
Bottom Line
Use an indoor grill and avoid the mess that comes with using an outdoor grill indoors.
Do Indoor Grills Work as Well as Outdoor Grills?
Indoor grills are convenient and ideal for people who do not have enough real estate for an outdoor grill.
Although the smoky flavor may not be there, the benefits outweigh the drawbacks.
Does Indoor Grilled Food Taste Like Outdoor Grilled Food?
The notion that food cooked on an indoor grill tastes identical to food cooked on an outdoor grill is simply a myth.
You can only get somewhat of a smoky flavor from an indoor grill if you use a gas vented indoor grill. Otherwise, the flavor of indoor grilled food will remain smokeless.
Final Thoughts
Just because grilling is your favorite pass time does not mean that the weather should restrict you. Do not let the change in season give you the grilling blues.
Instead, purchase an indoor grill; after all, you do have the 5 best indoor grills of all time.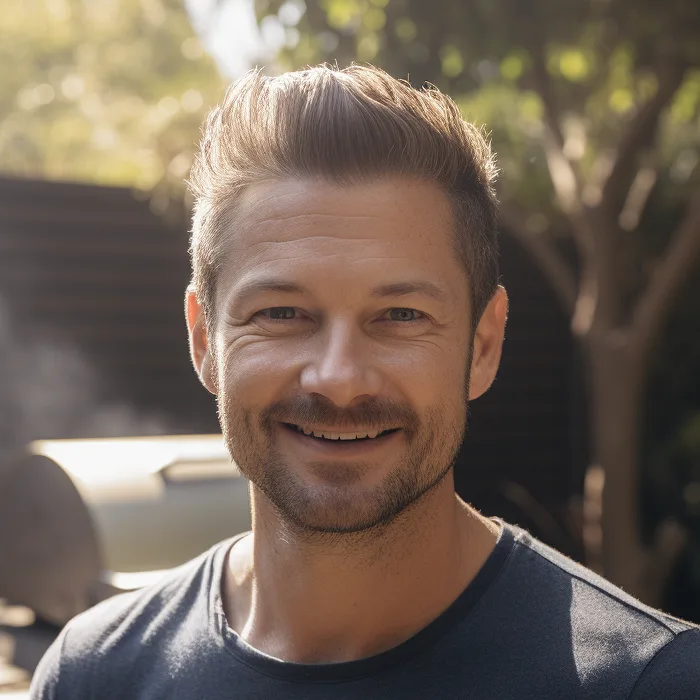 I have been smoking and grilling meat from an early age and enjoy sharing my knowledge and expertise through the hundreds of articles I have written about BBQ. I hope to make everyone's BBQ journey that little bit easier.