Beef is one of the most popular meats in the world. The popularity of beef keeps cattle production at the top of the agriculture industry, which has a marked effect on economics.
It can be found as an ingredient in traditional dishes in most cultures, showing its universal impact.
With so many beef lovers around the world, there is much to discover about this type of meat.
The influence beef has on a socioeconomic level can be seen in the numbers. Let's take a look at the facts and statistics behind it.
Beef Stats Highlights
Beef is the name given to meat from cattle. Dating back to prehistoric times, beef has been an essential part of diets around the world.
Particular breeds of cattle are bred specifically for this purpose, with some aimed only at those living on high-end means. Take a look at some of the most interesting beef stats:
American consumers spend an average of $9 on beef per grocery trip.
Sirloin steak averages at around $8.98 per pound, which makes it one of the most expensive cuts of beef in the US.
Aurochs, an extinct cattle species, were frequently hunted in the Mesolithic for their meat. Beef has been part of many cultures since prehistoric times.
In the US, there are over three times as many beef cows than milk cows.
Beef production figures are based on carcass weight, which makes the US the leading market around the world.
General Beef Stats
Beef has been influential since prehistoric times. Let's take a look at general facts and figures associated with this meat.
Global Cattle Population Is Now Over a Billion
(Source: Statista)
In 2022, the number of cattle worldwide reached over a billion head. This sets it apart from 2021 when it was circa 996 million.
It is the first time the cattle population around the world has gone over 1 billion since 2014. The lowest recorded number in the past decade happened in 2015, at 969 million.
Beef Has a Larger Environmental Impact
(Source: Science Magazine)
Cattle production has a significant impact on greenhouse gas emissions. Beef herds produce over 218 lbs of greenhouse gas emissions, well ahead of lamb and mutton at 88 lbs, pork at 26 lbs, and poultry meat at 22 lbs.
The massive environmental footprint of the beef industry is easily explained by the number of resources it requires, from farm sizes to types of fertilizers used.
Beef Is Less Energy Efficient
(Source: Science Direct)
When it comes to meat and dairy production, whole milk is the most energy efficient at 24%, with eggs following at 19%, poultry at 13%, and pork at 8.6%.
Beef, in comparison, has 1.9% energy efficiency. What this means is that only 1.9% of calories in animal feed inputs were transformed into animal products, while the remaining 98.1% was lost during the process.
Over 55 Pounds of Feed Are Required To Produce 2 Pounds of Beef
(Source: Science Direct)
To produce 2 pounds of beef, over 55 pounds of feed are required. In comparison, lamb and mutton require 33 pounds, while pork requires 13 pounds, and poultry requires 6 pounds.
This shows again how many resources the beef industry needs for production, especially due to the size of cattle.
The US Has Over 91 Million Cattle
(Source: Statista)
In 2022, across the United States, there were over 91 million cattle, including calves. This showed a slight decrease from 2021 when the number was over 93 million.
The highest figure was registered in 2001 when the total number was almost 98 million. In contrast, 2014 saw the lowest number of cattle in the United States, at 88 million.
Beef Is the Third Most Consumed Meat in the World
(Source: Statista)
In 2021, beef was the third most consumed meat in the world, with 71.5 million tons. Poultry meat was the most consumed meat around the world, at 132 million tons, followed by pork at 108.8 million tons.
Beef has consistently been the third most consumed meat in the world since the 1990s, usually trailing right after pork and poultry.
Beef Market and Sales Stats
Beef has a consistent impact on worldwide economics. It continues to be one of the most popular meats around the world, and this can be seen in the market and sales figures you can explore below.
Fresh Beef Has the Highest Retail Sales
(Source: Statista)
In the United States, fresh beef retailed for $30.1 billion in 2021. It was the leader in the industry, far ahead of fresh chicken at $13.4 billion and fresh pork at $7.1 billion.
Fresh turkey accounted for $2.7 billion of retail sales.
Beef Sales Make Up Most Fresh Meat Department Sales
(Source: Statista)
In 2022, beef accounted for 53.54% of fresh meat department sales in the United States. Chicken followed at 26.38%, pork at 12.74%, and turkey at 4.96%.
This distribution shows the popularity of fresh beef in department sales across the country. Sales of fresh beef are by far ahead of other types of meat in this particular sector of retail.
Sales of Fresh Beef Increased in 2021
(Source: Statista)
Fresh beef had a sales growth of 3.2% in 2021, second to pork at 6.3% and chicken at 4.7%. Sales of meat substitutes and other alternatives fell by 2.5%, which shows a decrease in popularity for options that aren't fresh meat.
In a year that was affected by decreases in sales, beef continued to experience competitive growth alongside the other two main meats on the market.
Fresh Ground Beef Is the Most Sold Cut
(Source: Statista)
In 2022, fresh ground beef had the highest sales per cut type at 39.46%. This was followed by loin at 14.98%, ribeye at 12.9%, chuck at 7.84%, and round at 6.77%.
The least sold cuts of beef in the United States in 2022 were flank, plate, and shank. Ground beef is very versatile and can be used in numerous recipes at affordable prices.
Beef Has a Retail Value of 725 Cents
(Source: Statista)
The annual average value of beef in retail in 2021 was 725 cents, the highest figure in the past decade.
In 2020, beef had an annual average value of 654 cents in retail, and in 2019 saw a retail value of 604 cents.
Beef Has an Annual Wholesale Value of 424 Cents
(Source: Statista)
In terms of wholesale value per year, beef averaged 424 cents in 2021. This was a marked increase from 2020 when it reached 363 cents.
In 2011, a decade earlier, the annual wholesale value was 278 cents.
The Retail Price for Ground Beef Is Increasing
(Source: Statista)
While ground beef remains the most sold cut of beef in the United States, it costs more money every year.
In 2021, the retail price for ground beef was $4.6 per pound of ground beef. This is the highest figure recorded since the 1990s, with the second highest being $4.16 per pound of ground beef in 2014.
In 2020, the price was $3.95 per pound, while in 2019, it was $3.86. In comparison, the retail price was $1.4 per pound in 1995.
While there hasn't been a huge increase, this steady upwards trend shows that the price of ground beef is following the global economy.
Sirloin Steak Retails at $11 per Pound
(Source: Statista)
In 2021, boneless sirloin steak had its highest price increase. It was $11 per pound, significantly more than in 2020 when it was $8.98.
The price of this cut of beef has been steadily increasing, showing an upward trend since before the year 2000, when retail prices averaged between $4 and $5.
Ground Chuck Beef Retails at $4.79 per Pound
(Source: Statista)
Ground chuck has also been getting more expensive, retailing at $4.79 per pound.
In 2014 and 2015, ground chuck was also over $4 per pound, but it had a slight decrease to around $3.70 per pound between 2016 and 2018.
Skirt Steak Is the Most Expensive Organic Beef Cut
(Source: Statista)
Organic beef is favored by connoisseurs investing in beef grown according to specific criteria. Among all cuts of organic beef, skirt steak is currently the most expensive per pound in general retail.
As of January 2022, it has an average price of $14.99 per pound. Boneless New York strip steak follows, at $14.5 per pound, with boneless top sirloin steak retailing at $12.5.
Stew organic beef meat costs $7.99 per pound, and organic ground beef containing 90% or more beef retails at $7.45.
If you are looking for affordability with your organic beef, consider ground or stew options.
Beef Consumer Stats
Consumers are the ones driving the demand for beef, so studying the demographics figures affecting this type of meat can shed light on its popularity.
Here's an overview of the most fascinating beef consumer stats and facts.
Consumers Are Willing To Pay for Steak
(Source: NielsonIQ, NCBA)
While the prices for beef are increasing everywhere, regardless of cut, research shows that consumers are willing to follow that trend for steak.
The price per pound for steak by the end of summer 2022 was $9.03, but consumers stated they were willing to pay $9.20 for it.
This shows that where beef is concerned, consumers continue to opt for it despite price increases over the years. It also shows that they are ready to pay more than the retail price to get the cuts of beef they want.
Experience Satisfaction Is Consistently High
(Source: NCBA)
Whether consumers eat beef at home or at a restaurant, the figures show consistent high satisfaction.
When eating steak, 93% of consumers experience high satisfaction at home, while 90% experience it at restaurants.
Ground beef is also a crowd pleaser, with 91% of consumers indicating satisfaction with eating it at home and 88%.
Roast beef is another popular choice, especially for those enjoying it at home, with 91% satisfaction and 86% at restaurants.
Beef Perceptions Are Overall Positive
(Source: NCBA)
68% of consumers in the United States have a positive perception of beef, with 41% indicating a strong positive feeling for it.
The beef production perspective is also overall positive at 42%, followed by neutral at 37%, and negative at 21%.
This shows that while consumers love beef, there are some concerns being raised over the way it is produced.
27 Billion Pounds of Beef Are Consumed in the US per Year
(Source: Statista)
In 2020, beef consumption in the United States exceeded 27.6 billion pounds.
This showed a slight increase from 2019, when it was 27.3 billion pounds, and from 2018 when it was 26.8 billion pounds.
The highest figure recorded in recent years was in 2006 and 2007 when it hit 28.1 billion pounds. Beef consumption has remained above 24 billion pounds in the past two decades.
Per Capita Consumption Is Expected to Decrease
(Source: Statista)
At the end of 2022, per capita consumption of beef in the United States was an estimated 56.8 pounds.
This showed a decrease from 2021 when it was 58.6 pounds. There is an expected slight downwards in per capita consumption, with 55.5 pounds projected in 2031.
While this does indicate that there will be less consumption per capita, it also shows that it will be very light and that consumers will continue to invest in beef.
Veal Is Not as Popular With Consumers
(Source: Statista)
Veal is meat that is sourced from calves, as opposed to beef sourced from adult cows. Consumers do opt for it at times, but it seems to enjoy nowhere near the level of popularity that beef has.
Since 2015, veal has only had consumption of 0.2 pounds every year. This figure is projected to remain the same until 2031.
Americans Spend More on Beef Than Other Meats
(Source: Statista)
On average, American consumers spend around $9.97 on meat products when they go to the grocery store.
However, they tend to spend $11.14 on beef alone per household per grocery trip. This is followed by chicken at $8.53 and turkey at $7.99.
This shows that American households pay more for beef but also that they continue to buy it regardless. Beef is a staple, and the figures show it.
The Midwest Leads Annual Beef Consumption
(Source: USDA)
Beef is popular all across the country, but one region, in particular, takes the lead when it comes to annual beef consumption.
The Midwest saw 73 pounds of beef consumed per person per year, followed by the South and West regions at 65 pounds per person each. The Northeast followed in their wake with 63 pounds.
Rural Areas Consume More Beef
(Source: USDA)
When it comes to beef consumption, those in rural areas tend to eat more of it than their urban counterparts.
In rural areas, beef consumption is 75 pounds per person per year, while in urban and suburban areas, it averages 66 and 63 pounds, respectively.
This can, in large part, be attributed to rural areas usually having direct access to cattle, while city dwellers tend to source their meats from stores.
Beef Production Stats
Beef production figures can be intriguing to follow when analyzing statistics on this topic.
Let's take a look at the most interesting facts about beef production to get a more in-depth perspective on how the industry works.
Total Beef Production Has Been Growing
(Source: Statista)
Since 2000, total beef production in the United States has been steadily growing. In 2022, it reached 27.17 billion pounds, while in 2021, it was 27.95 billion pounds.
The lowest figure in the past decade was registered in 2015, at 23.7 billion pounds, but production has been consistently over 24 billion pounds apart from that year.
This shows a stable trend that maintains itself at a similar average, with a slight upward focus.
Commercial Beef Production Shows Significant Increase
(Source: Statista)
Since 2008, commercial beef production in the United States has been steadily growing. In 2021, it reached almost 28 billion pounds after achieving 27.1 billion pounds in 2020.
The lowest commercial beef production figure was recorded in 2015 at 23.6 billion pounds.
It is currently the highest it's been in the past decade, which shows the stable demand for beef on the market.
Export and Import Figures Are Balanced
(Source: Statista)
In 2022, the total beef and veal imports in the United States were estimated at 3.26 billion pounds.
Exports were estimated to be 3.27 billion pounds, which shows that the country has been keeping a steady level between these figures.
The United States has been steadily growing its beef exportation market. In 2006, exports were at 1.1 billion pounds while imports were at 3 billion.
The two figures are now much more balanced, which gets the United States the best of beef production going each way.
The Total Carcass Weight of Exports Has Decreased Slightly
(Source: Statista)
Beef carcass yields are essential to shedding light on how the industry is performing. While it remains stable, the total carcass weight of United States beef exports decreased in 2020, reaching 2.95 billion pounds.
In 2019, the total weight was over 3 billion pounds, while in 2018, it was 3.16 billion pounds. Despite the decrease, the carcass weight levels remain stable, which shows that the rest of the industry is enjoying efficient figures.
Beef Is Part of the Most Commonly Wasted Foods
(Source: Statista)
Meat is highly perishable, which is why beef is one of the most frequently discarded food items in American households.
Fresh vegetables and fruit are at the top of the list, with 51% of the most frequently discarded food items.
Meat products, including beef, account for 29%, after dairy with 50%. Food waste can contribute to the ongoing environmental issues and can add to the large footprint of the beef industry.
The United States Is the Leading Beef Producing Country
(Source: Statista)
In 2021 and 2022, the United States hasbeen the worldwide leading country when it comes to beef and veal export volume.
It has had over 12 million metric tons, well ahead of Brazil with 9 million metric tons and China with 7 million. This makes the United States the largest producer of beef in the world.
Worldwide Beef Stats
Beef is an important food item around the world. Here are some global facts and figures to keep you in the loop with the beef industry and how it compares with the United States.
Worldwide Beef Production Is in the Millions of Metric Tons
(Source: Statista)
The beef and veal production worldwide has produced over 58.69 million metric tons. This shows how important the beef industry is around the world and how people continue to invest in it.
This figure has remained above 57 million metric tons since 2018. In 2013, 2014, and 2017, it exceeded 60 million metric tons.
Ground Cuts Hold the Largest Worldwide Market Share
(Source: Fortune Business Insights)
Beef is highly popular around the world, but not everyone feels the need to opt for luxury. From a global standpoint, the more affordable ground cuts have been increasing their share, especially when compared to more exclusive cuts.
In 2021, ground cuts held the majority of the market share, with steaks and roasts following at 19% of the share.
Developing Asian Countries Will Bring In Demand
(Source: OECD-FAO)
Growth continues to be expected in the future for the beef industry. While the market is remaining stable, these countries will add to the demand. At the moment, these developing countries have not yet reached the same level of demand for beef.
As they continue to develop, they will add the need for it in these other countries, thanks to population growth. Expect big changes in the region that will influence the entire industry.
Beef consumption across Asia is projected to grow by 2.7 million tons based on carcass weight equivalent. Vietnam and Indonesia are set to become essential import markets, with volume increase projected at 24% and 34%.
Over 135 Countries Enjoy Us Beef
(Source: BEA)
With such good exporting figures, it is no surprise that beef made in the United States has reached numerous other countries.
In total, over 135 countries have access to exported beef from the United States, which keeps the demand flourishing. This, in turn, helps the industry thrive.
Environmental Issues Are Affecting the Industry
(Source: BEA)
The effects of climate change are being felt around the world. The industries with the largest greenhouse gas emissions are starting to adapt to the pressure of environmental concerns.
Even with the beef industry, producers in different countries are attempting to become more sustainable in whatever way they can. Competitors offering options better for the environment might also change the face of the beef industry a decade from now.
Figures might change, but for now they remain stable, which shows beef won't be less in demand anytime soon. With meat production accounting for over 60% of greenhouse gas emissions, twice more than plant-based foods, alternatives will become necessary.
Beef production, in particular, is a driver of deforestation, with 80% of all converted land used to rear cattle.
Beef Is Consumed in Large Volume Around the World
(Source: USDA)
The United States isn't the only country with a huge demand for beef. On a global level, over 130 billion pounds of beef were consumed in 2020.
The second biggest consumer after the United States was China, followed by the European Union and Brazil. The top ten countries for beef consumption all used more than 2 billion pounds.
FAQs
How Do Consumers Know Beef Is High Quality?
To establish the quality of the meat, the cattle have to be treated well. After that, the meat needs to be thoroughly inspected by professionals before being put on the market.
Each consumer will have their own preference over the type and cut of beef, but they can always be assured of quality when buying from established vendors or direct from farms.
What Is the Most Common Beef Cattle Breed in the United States?
Black Angus is the most frequently encountered beef cattle breed in the United States. It provides a great meaty flavor with less saturated fats.
There are plenty of nutrients in Black Angus, and the widespread availability of the breed in the United States makes it more accessible to the consumer.
What Is the Most Popular Beef in the World?
Wagyu beef continues to top the list of the most popular beef in the world. Hailing from Japan, this beef cattle breed gives amazing high-quality meat with intricate fat marbling across muscle tissue.
This sets it apart from most other breeds. Kobe, Matsusaka, and Ohmi are Wagyu varieties.
Final Thoughts
Beef is one of the most important types of meat in the world, usually followed right after chicken and pork.
This importance has made the beef industry thrive, which it looks set to continue doing in the next decade.
Beef lovers have a wide range of meats to enjoy around the world, but the environmental issues may alter the look of the industry in the near future. For now, few things beat a good steak, especially where the American consumers are concerned.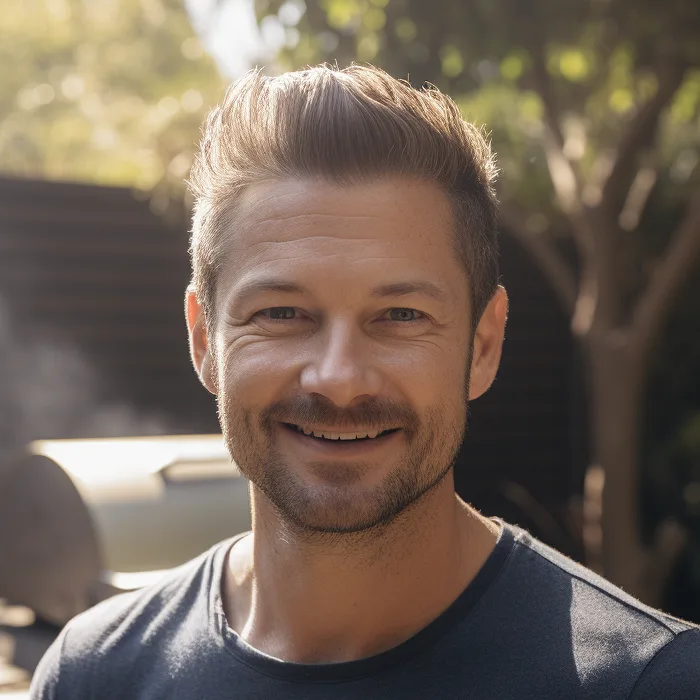 I have been smoking and grilling meat from an early age and enjoy sharing my knowledge and expertise through the hundreds of articles I have written about BBQ. I hope to make everyone's BBQ journey that little bit easier.