Barbecue is the perfect summertime activity favored around the world.
It has become a staple in American households, and there is a lot of data that fuels this activity.
Here are the most fascinating BBQ statistics and facts from brands to consumers and upcoming trends.
BBQ Stats Highlights
The value of the barbecue grill market is growing
The worldwide market revenue for grills and roasters is projected to go over 7 billion USD by the end of 2022.
Middleby Corporation LLC was the largest competitor on the barbecue and grill market in 2021, with a 19.62% share.
The barbecue and grill market is growing quickly in South America, with an 4% CAGR from 2020 to 2025.
7 out of 10 adults in the US own a grill or roaster.
75% of barbecue owners in the US love to grill during the winter too.
The 4th of July is the most popular holiday for BBQ, followed by Memorial Day and Labor Day.
BBQ Overview
Barbecuing has been having a social impact for decades, almost becoming a part of the culture in many areas in the world, from Korea to the US.
Let's take a look at some general figures about barbecuing that provide more insight into this activity.
Steak Is the Most Popular Grilled Food in the US
(Source: Statista)
Beef steak is the grilled food preferred by over a third of people in the US. 34% of barbecue fans in the country claim that steak is their favorite grilled food, while 19% prefer hamburgers.
Grilled chicken fans are 18%, while those passionate about ribs are at 11%.
Other favorites include bratwurst (6%), hot dogs (5%), pineapple (4%), and pork chops (3%).
Meat Is the Most Popular Food to Barbecue
(Source: Statista)
It may come as no surprise that meat leads the way when it comes to preferences for grilling food. 88% of US barbecue consumers have stated that they usually grill meat, particularly steaks.
86% have burgers as their go-to, with hot dogs following at 77% and sausages at 53%.
50% of consumers enjoy grilling vegetables, while 27% opt for fish and seafood. This shows that, while meat lovers win, there is still plenty of diversity when it comes to what Americans love to grill.
A1 Is the Most Popular BBQ Sauce
(Source: NHCS)
There are numerous brands of barbecue and marinades/seasoning sauces, but one in particular consistently takes the lead.
A1 is currently the most used brand, preferred by over 89.47 million Americans in 2020.
The trailblazing A1 is followed by Sweet Baby Ray's, favored by 84.73 million Americans, then by Heinz, preferred by 67.79 million. Tabasco (39.5 million), Frank's Red Hot (38.83 million), and Kikkoman (38.74 million) are some of the other most-used favorites.
There Was a Huge Boost in Sales in June 2020
(Source: Statista)
Following sales growth going down by 15% and 17% in March and April 2020, by June of that year, the reaction to the pandemic recovered.
That month, sales growth went up by 23%, showing that consumers were ready to buy the moment stores reopened after lockdown.
The increase in time spent at home and the arrival of summer were other factors that contributed to this spike in sales.
Barbecue was a way to spend time together again in the fresh air.
Hearth Products Lead in Gross Revenue
(Source: Statista)
Barbecue retailers involve several categories, and some lead the way when it comes to sales. Hearth products accounted for 52% of the gross revenue share, while barbecues were 16%.
Patio furniture was 6% of the gross revenue, while other categories accounted for 26% in total.
Canada Is the Leading Destination for Barbecues, Grills, and Stoves
(Source: Statista)
The United States exports plenty of barbecues, stoves, and cookers. Canada is the leading destination receiving these exports, with 228,647 USD in export value. Mexico follows at 35,573 USD, and Australia at 31,302.
This shows that the relationship between Canada and the United States is strong and that cooking appliances from the US are held in high regard. It also shows that the export market for these appliances is profitable.
Half of BBQ Grill Owners Have Accessories
(Source: Did You Know Homes)
Most barbecue grill owners take the art of it very seriously. 50% of them have been shown to also invest in at least basic accessories for grilling.
These can include items like tongs, mitts, meat thermometers, and cleaning brushes, but there are endless tools to help with grilling.
This shows that barbecue owners enjoy the activity enough to keep investing in add-ons to facilitate it.
Sales Are Surging at 2.8%
(Source: New York Post)
Barbecue lovers are investing regularly in grilling products.
Every year, there is a 2.8% surge in sales, and this is expected to remain a consistent figure as time goes by.
Barbecuing has become such a social staple that it continues to be a profitable investment and a successful part of the market.
The European Market Is Enjoying Increased Revenue
(Source: All the Research)
After a few years of a decrease in revenue, the European barbecue market is expected to have a CAGR of 15.9% from 2019 until 2026.
While these were pre-pandemic projections, the European market has been very stable since 2020 for the same reasons as in the US.
Barbecue is a great way to socialize in the fresh air, and people enjoy grilled food.
People Love BBQ for the Flavor
(Source: HPBA)
While there are many reasons to enjoy barbecue, 72% of consumers love it for the flavor it imparts on food.
52% enjoy the lifestyle aspect, while 40% do it for the entertainment factor. 33% do it for convenience, and 18% do it because they enjoy the healthier lifestyle of having grilled food.
BBQ Consumer Stats
Consumers are a huge part of why barbecuing is so successful. The popularity this activity has with people from all around the world keeps barbecuing equipment having a regular revenue.
Here are a few key statistics about consumer behavior when it comes to BBQ.
Good Weather Is the Ideal Occasion for BBQ
(Source: Statista)
In the United States, 74% of consumers have stated that the ideal occasion for a barbecue is when the weather is good, no matter the season.
68% have said that the ideal occasion for a barbecue is whenever they feel like it, while 67% prefer doing it mostly on holidays.
66% consider family celebrations the ideal occasion for a barbecue, while 57% love it for meeting friends or family, and 51% for birthdays.
This shows that people love barbecuing on many different occasions and for various reasons, regardless of season or even weather.
It is not reserved exclusively for specific occasions or times of year.
The 4th of July Is the Most Popular Holiday for BBQ
(Source: Statista)
Holidays are a great time to barbecue. Unsurprisingly, the 4th of July is the most popular holiday for barbecuing in the US, with a 68% share of Americans grilling on that occasion. Memorial Day, observed every last Monday in May, follows with a 56% share.
Other popular holidays include Labor Day (56%), celebrated in September, and Father's Day celebrated in June. Mother's Day, usually occurring at the beginning of May, has a 29% share.
Beef Is Favored by Consumers for All Holidays
(Source: Statista)
There are 4 major holidays in the US from May to September, covering the best barbecuing time in the summer.
With beef being such a huge favorite for barbecue fans, it isn't surprising that it features so heavily during these holidays.
On the 4th of July, beef is a star player, taking an 82% share of the choice for grilled food on the day. 50% of that is ground beef, and 32% is beef steak.
On Memorial Day, there is a 72% use of beef, with 43% ground beef and 29% beef steak. Father's Day is the holiday where beef steak takes the lead over ground beef, with 36% versus 30%.
July Is the Favorite Month for BBQs
(Source: Statista)
55% of people in the US prefer to barbecue in July. This is the month with the biggest summer holiday, the 4th of July, as well as some of the hottest temperatures of the season.
June is the 2nd most favored time for barbecuing, with 51% of participants choosing it.
August, September, and May follow, but 34% of participants have stated that they always like to have barbecues, no matter the month.
This shows that the summer months lead when it comes to barbecuing, but it is still an activity that at least a third of Americans like to do at all times.
Many Consumers Associate BBQ With Summer
(Source: Statista)
71% of study participants have stated that summers don't feel as summery without barbecues.
This highlights the social and cultural impact of barbecuing, especially in the United States.
While barbecuing is a popular activity all year, summer is definitely the star season for it.
At this stage, it seems impossible to go through the summer without barbecuing at least once. 41% said they would find it a great idea to barbecue every day of the summer.
Many Consider Barbecuing a Social Event
(Source: Statista)
59% of people who barbecue in the US consider it a social event that goes far beyond simply preparing grilled food.
It is an event that brings people together for part of the day, a great occasion to socialize no matter the time of year.
This shows that what makes barbecue popular isn't just the food aspect but everything else that goes into it.
Consumers Love Grilling for the Super Bowl
(Source: HPBA)
Super Bowl Sunday is another popular time for a barbecue, despite happening in the second week of February. 23% of barbecue consumers grill on Super Bowl Sunday, regardless of the weather.
Even if it requires eating inside, this event brings out the grill and shows how popular barbecuing is at all times of the year.
1 in 10 Have a Full Outdoor Kitchen
(Source: HPBA)
Many barbecue consumers take the activity very seriously. 1 in 10 barbecue owners have a full outdoor kitchen to go with their grill or roaster.
56% of them have stated that they use this kitchen at least once a week, no matter the season.
This shows that people commit to having a barbecue and to creating a usable space around it that makes it even easier to indulge in the activity at any time.
BBQ Trends
The Value of the BBQ Grill Market Is Growing
(Source: Statista)
In 2019, the value of the barbecue grill market was 5.1 billion USD. Since then, this figure has continued on an upward trend that is expected to continue.
In 2020, the value was 5.73 billion USD, followed by 6.43 billion USD in 2021.
The worldwide value of the barbecue grill market is expected to finish 2022 at 7.22 billion USD, then grow further in 2023 at 8.1 billion USD.
This shows that the market is expected to remain profitable in the near future and beyond.
Grill and Roaster Revenue Will Remain Stable
(Source: Statista)
The grill and roaster market has been experiencing consistent growth since 2012. In 2020, even more, people invested in grills and roasters due to the pandemic. This made revenue hit a record 5.78 billion USD.
In 2021, this figure was surpassed, and a new record was established: the revenue was 6.23 billion USD.
While this is expected to decrease slightly by the end of 2022, with projected revenue of 5.69 billion, this trend is expected to remain stable until 2026.
At that point, the grill and roaster market is projected to once more experience further increased revenue.
South America Is the Fastest Growing Region
(Source: Statista)
The barbecue and grill market is growing quickly beyond its most popular North American region.
In South America, the Compound Annual Growth Rate (CAGR) is estimated to stay at 8.4% until 2025. This has been the trend since 2020.
Eastern Europe follows in South America's footsteps, with an estimated 7.3% annual increase until 2025.
Africa and the Middle East are next, with 6.6% and 5.9%, respectively.
The Value of the BBQ Grill Market in the US Is Growing
(Source: Statista)
In the US, figures show that the barbecue grill market is continuing on an upward trend.
While in 2015, retail sales were estimated at 2.19 billion USD, in 2020, they were 2.65 billion.
This figure is expected to cross the 3 billion USD milestone in 2024 and is projected to be 3.28 billion USD in 2025.
This shows that the barbecue grill market is steady and will continue to be so in the years to come.
Per Unit Prices Are Increasing
(Source: Statista)
While the grills and roasters market revenue will continue on an upward trend, per-unit prices are also set to increase slightly.
The price will remain in the same approximate range, but consumers may notice the extra investment.
In 2013, the price per unit was around 51.03 USD. In 2022, it is 59.76 USD, and by 2026 it is set to reach 62.26.
A marginal increase, and one that is following the pace of the upward trend in revenue that is projected for the market.
Usage of BBQ and Marinades/Seasoning Sauces Set To Increase
(Source: Statista)
Barbecue lovers appreciate the value of marinades and seasoning sauces that impart the best flavor to the grilled food.
While many people are already consistently using these sauces, this number is set to increase.
By the end of 2022, it is estimated that 274.33 million Americans will be using BBQ sauces to enhance the flavor of their grilled food.
By the end of 2024, 278.08 million Americans will be using them. This shows that sauces will remain as essential a part of barbecue as they are now.
Smoking and Plant-based Options Are the Current BBQ Trends
(Source: HPBA)
Smoking is one of the leading trends in the BBQ world and continues to be popular despite the pandemic.
Consumer trends remain the same, and smokers are leading the way when it comes to investing in barbecue equipment.
The BBQ world is also starting to diversify in terms of meat alternatives. This follows the general trend of opting for healthy eating.
While grilling is generally a healthier choice than frying, there is now a surge in plant-based cuisine.
There is a focus on high-grade farming, top-quality ingredients, and sustainability.
Regional Flavors Continue To Be Important
(Source: HPBA)
Barbecue isn't the same everywhere. There are split regions, but connoisseurs have even started identifying micro-regions that have a lot of influence on the general barbecue world.
This can be seen not only in different barbecue techniques but also in the sauces that are becoming more popular.
Sauces like Memphis, Kansas, and Texas-style have become trends on their own, each adding a different flavor profile to barbecue.
BBQ Brands Stats
The barbecue world is huge and international, but there are some names that figure more frequently than others. Let's take a look at some of the most interesting and influential players on the barbecue scene.
Middleby Corporation Is the Largest Worldwide Competitor
(Source: Statista)
Middleby Corporation has an extensive presence in the commercial market but also specializes in barbecue grills.
The most well-known Middleby brand is the Evo line, which features numerous cutting-edge grill models and is manufactured in the US.
Middleby has a market share of 19.62% worldwide. It is ahead of Canadian brand Napoleon, which has a 16.08% share.
The third-largest market share goes to Weber-Stephens Products with 14.73%, while the fourth goes to popular BBQ brand Traeger.
Blackstone Has the Highest Online Purchase Rate
(Source: Traqline)
While there are a few leading brands that are popular with consumers, Blackstone leads when it comes to online sales.
It is the top choice and has the highest online purchase rate. This is a great boost for Blackstone, especially when in direct competition with huge giants in the industry.
Walmart Is the Top Choice When Buying In-store
(Source: Traqline)
25% of consumers choose Walmart as their first pick when they need to buy new barbecue equipment.
Home Depot follows, chosen by 22% as their first pick, then by Lowe's at 20%. Amazon and Ace Hardware are next, with 7% and 3%, respectively.
Weber and Char-broil Have Great Reputations
(Source: Traqline)
Some brands have a huge reputation in the BBQ world, with Weber and Char-Broil as some of the most popular.
These brands have established themselves as reliable leaders when it comes to barbecuing equipment.
Gen X Prefers Walmart and Lowe's
(Source: Traqline)
Gen X buyers invest in barbecue equipment, and they have their preferred stores for it.
Walmart and Lowe's are the main choices when it comes to purchasing barbecue-related paraphernalia.
Gen X tends to opt for these stores thanks to their variety in products and prices that cater to every budget.
Barbecue Consumers Love Traeger Pellets
(Source: HPBA)
Traeger offers some of the best wood pellets for barbecue grills on the market. Consumers tend to choose these pellets for their proven quality.
Flavored pellets are the current trend in the barbecue world, and Traeger is the go-to choice.
Blackstone Had the Highest Unit Growth
(Source: Traqline)
Blackstone is currently experiencing the highest unit growth per year among the leading brands in the US.
This shows that it is an established brand that can hold its own among competitors.
BBQ Fuel Stats
There are several types of fuel available for barbecue grills, and their popularity tends to alternate. Here are the most intriguing facts about barbecue fuel.
Gas Is the Most Popular Choice
(Source: HPBA)
Gas, particularly propane, is the most used fuel for barbecuing. 61% of consumers opt for it, while 49% opt for charcoal or wood.
This shows an increase in charcoal use from 45% in 2017.
Gas is a reliable choice that has proven itself effective in many decades of barbecuing. 10% of people have an electric grill, and 3% opt for a natural gas barbecue.
Double Fuel Grills Are Becoming Popular
(Source: HPBA)
The newest trend in the barbecue world is the double fuel grill. This involves getting the best of both worlds by grilling with clean gas and charcoal.
Double fuel grills combine the convenience of gas with the special flavor that is added by charcoal.
Gas Grills Will Remain at the Top
(Source: Statista)
By the end of 2022, gas grills are projected to get 1.53 billion USD in sales, with charcoal grills getting 1.03 billion USD.
In 2025, gas grills are expected to sell for 1.73 billion USD, with 1.23 billion USD predicted for charcoal grills.
Electric grills are projected to hit 0.31 billion USD in 2025, which is a steady increase from the 0.28 in 2022.
Pellet Grills Are the Most Practical To Run
(Source: YTrade)
While electric grills are the cheapest to run at around $.26 per use, they do not compare with the others in flavor.
Gas grills using propane are the most expensive to run, at $1.20 per use, but the real winner here may seem like an unlikely one.
Pellet grills are the second cheapest to run, at $.76 per use, but they also have the bonus of producing flavorful food.
This makes them the most practical choice in terms of price and flavor.
BBQ Food and Usage Stats
Grilled food is one of the main reasons behind the vast popularity of barbecue.
The flavor and the sense of community gathering around these meals are closely related. Here are some facts about barbecue food.
Steak Is the Top Choice
(Source: AllRecipes)
While 81% of barbecue lovers opt for steak as their top choice, there is one recipe that also gets top-tier status: garlic-marinated steaks.
This barbecue staple is a great addition to any barbecuing event, no matter the time of year or occasion.
It is also a great way for barbecue cooks to show off their skill with the flavor profile and cooking techniques.
The Majority of Barbecue Lovers Top Their Burgers With Lettuce
(Source: AllRecipes)
A vast majority of participants, 75%, choose to top their grilled burgers with lettuce. 68% opt for ketchup, while 67% go for tomatoes.
This shows that many barbecue owners and barbecue fans tend to go for the same popular options that are proven to be delicious.
Many Barbecue Owners Grill More Than Twice a Week
(Source: Statista)
75% of barbecue owners like to use their grill more than twice a week on average.
This shows that those investing in barbecue equipment will get a lot from it long-term. It also enables healthier cooking, even on a meat-heavy diet.
The great flavor profiles achieved through grilling food makes this option a great hit when it comes to cooking.
Steak Sales Are Increasing
(Source: Statista)
While steaks are a top favorite for barbecuing, sales have been consistently increasing since 2020. The top sirloin cut was the most popular, at 36%, followed by ribeye (27%), flank (21%), and strip (20%).
Despite these clear preferences, all cuts of steak enjoyed an increase in sales, apart from the top round and chuck.
Barbecue Sauce Production Has a Stable Market Size
(Source: Statista)
Barbecue sauce production in the US has a great market size. In 2021, it had 1.86 billion USD, and that figure is expected to remain stable in 2022.
In 2020, it had a market size of 1.82 billion USD, and in 2019 it had 1.92. This shows that it remains consistent through the years.
There Are Many Businesses in Barbecue Sauce Production
(Source: Statista)
The popularity of barbecue sauce in the US can be seen in the number of companies producing it. Currently, there are 244 enterprises making barbecue sauce across the US.
This is an increase from 2020 when there were 239, but a slight decrease from the peak number of 248, reached in 2016.
FAQs
How Popular Is Barbecue?
75% of Americans own an outdoor grill or a smoker. This shows the immense popularity that barbecue has in the country, but it is a favorite in many places around the world.
Why Is Barbecue So Popular?
Barbecue is so popular thanks to the blend of delicious food, getting to spend time outside enjoying the weather, and hanging out with friends or family. It is a versatile activity that adapts well to any type of event and can even be enjoyed in many types of weather.
Barbecuing can also help with having a healthier diet and encouraging grilling meat and vegetables instead of frying.
How Many People Grilled Out?
In the United States, approximately 80 million people grilled out in 2016. This shows how hugely popular this activity is in the country and how many people love doing it outside.
The trend continues today, too, with Americans associating barbecuing with summers and get-togethers.
Is There a Gender Divide With Barbecue?
Traditionally, barbecuing has been an assigned male activity. 44% of males tend to do the grilling, versus 22% of women.
Despite this figure, it is shown that 62% of women are much more experimental with grilling than their male counterparts.
What Are the Main Styles of Barbecue?
In the US, the main styles of barbecue are Carolina, Texas, Memphis, and Kansas City. The differences between them can't be found as much in cooking techniques but in the sauces.
These regions are the most popular with barbecue fans, especially thanks to their flavor profiles.
BBQ connoisseurs will easily be able to identify these different sauces.
Final Thoughts
Barbecuing is immensely popular across the world, but especially in North America, where it has become a social staple that is very much associated with all types of get-togethers, especially in the summer.
With such popularity, it is no surprise that there is so much data to study when it comes to this activity.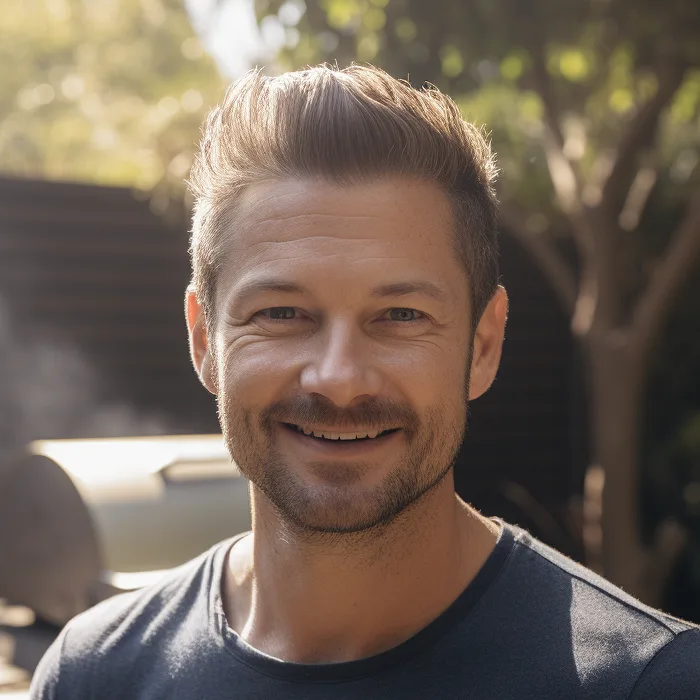 I have been smoking and grilling meat from an early age and enjoy sharing my knowledge and expertise through the hundreds of articles I have written about BBQ. I hope to make everyone's BBQ journey that little bit easier.