BBQ meatballs are the perfect versatile food because they can be served for any occasion.
You can serve meatballs for a weeknight dinner, graduation, gameday, and so much more.
The only issue is choosing what to serve with meatballs.
With so many options, it can be challenging to narrow down what to serve with meatballs.
Luckily, I put together this list of delicious foods to serve with those juicy BBQ grape jelly meatballs you just made.
What To Serve With BBQ Meatballs
When it comes to side dishes for BBQ meatballs, there are so many options to choose from.
Since meatballs are coated in a sweet yet tangy sauce, every dish mentioned below will pair perfectly with these savory and sweet balls of heaven.
Spaghetti
Spaghetti and meatballs is a classic dish that Italian immigrants brought to the US during the 1180s.
Since the spaghetti and meatballs are served with tomato sauce, it's a great way to add a twist to an old classic.
Best of all, once the meatballs are ready, all you have to do is boil the spaghetti in a pot of water.
The spaghetti will soak up that beautiful sweet and tangy flavor from the BBQ sauce.
So, make sure you have extra BBQ sauce on hand to toss the spaghetti in.
Mashed Potatoes
Mashed potatoes are probably the most popular side dish to serve with BBQ meatballs.
The creamy texture and buttery flavors contrast the meaty flavor of the tender texture of the meatballs perfectly.
You can even jazz up your mashed potatoes up by adding a little cream cheese, cheese, sour cream, chives, bacon, or roasted garlic to mix up the flavor of the mashed potatoes.
Rice
Although this may sound strange, rice is the perfect side dish for meatballs. It's best to serve meatballs with plain rice.
The rice will soak up the BBQ sauce and absorb its irresistible flavor.
Bread
Another great side dish for BBQ meatballs is bread. Bread is especially great if you are cooking BBQ meatballs for your barbecue.
Bread is filling, so people will be less likely to pile too many meatballs onto their plate.
In addition to this, since bread will fill them up, the chances that they will make a second or third trip to the meatball platter.
Potato Salad
Potato salad is an excellent paring for meatballs.
The creamy texture of the potato salad provides a nice contrast to the tangy meatballs.
If you want to try a different way of making potato salad, you can add bacon, celery, green peas, and carrots.
You can also try making a warm potato salad or replacing the potatoes in the potato salad with chickpeas or cauliflower.
Broccoli
Broccoli pretty much goes with anything, including meatballs.
You can steam the broccoli or roast it along with garlic, lemon zest and juice, and parmesan cheese to make it fancy.
You can also serve BBQ meatballs with cauliflower if you do not like broccoli.
Baked Beans
There's nothing like a scoop of BBQ baked beans. Luckily baked beans pair well with BBQ meatballs, so you can get all your cravings in one.
You can add ingredients like crushed red pepper flakes or red chili for added spice.
You can also add spices such as ginger, cumin, coriander, and molasses to make baked beans more interesting.
Cornbread
Cornbread also complements BBQ meatballs since you can use it to sop up the tangy BBQ sauce.
Furthermore, you can add bacon, cheese, or veggies you need to use before they expire to your cornbread batter before baking it.
Grilled Corn on the Cob
Corn on the cob is meant to be grilled on a natural gas grill. So, it pairs perfectly with BBQ foods, including BBQ meatballs.
Best of all, corn on the cob pairs perfectly with sweet and spicy meatballs.
The buttery corn kernels will be the perfect contrast to the meatballs.
Macaroni Salad
Macaroni salad is versatile as it pairs well with both sweet and spicy meatballs.
Macaroni salad is extremely easy to make, so it won't take up too much of your time while you prepare the other foods for your party.
The trick to making macaroni salad is to use store-bought mayonnaise.
There's no need to make your own dressing since you can add lemon and herbs to the mayonnaise.
You can also add eggs, relish, onions, celery, carrots, green peas, bell peppers, tomatoes, broccoli, cauliflower, or pickles to the macaroni salad.
If you want to make the macaroni salad extra meaty, you can add diced ham, turkey, crumbled bacon, smoked sausage, or leftover chopped brisket.
BBQ Coleslaw
Coleslaw has a sweet yet tangy flavor that pairs really well with BBQ sauce.
You can even switch out the mayonnaise-based dressing for a Greek yogurt-based dressing for a healthier side dish.
You can make BBQ coleslaw or Asian coleslaw.
Either way, the crunchy vegetables in the coleslaw provide a nice texture contrast to the tender, soft, yet firm meatballs.
Grilled Vegetables
If you want to pair the meatballs with a healthier side dish, grilled vegetables are your best option.
Plus, since most vegetables are low in carbs, it is an excellent way to slash the carb count in half.
You can grill whole unpeeled vegetables like eggplant or zucchini on your portable pellet grill.
You can also slice these vegetables into rounds and grill them with bell peppers, tomatoes, and onions.
You can also use these same vegetables to make vegetable kabobs.
If you are afraid the vegetables will fall through your kamado grill's cooking grates, you can grill them in a grill basket.
Nevertheless, whichever vegetables you choose to grill, make sure you do not overcook them.
Asparagus
Speaking of vegetables, asparagus is also a great side dish for meatballs.
The fresh asparagus will add an earthy, sweet yet bitter flavor to the meal. You can roast asparagus or sauté it in a cast-iron skillet.
You can also add butter and lemon to the asparagus to give it a rich zippy flavor.
Final Thoughts
BBQ meatballs are versatile, so you need to pair them with versatile side dishes.
Whether you choose to keep it classic and serve your meatballs with spaghetti and mashed potatoes or take the non-traditional route and serve them with grilled veggies or cornbread, you will be happy you paired these side dishes with BBQ meatballs.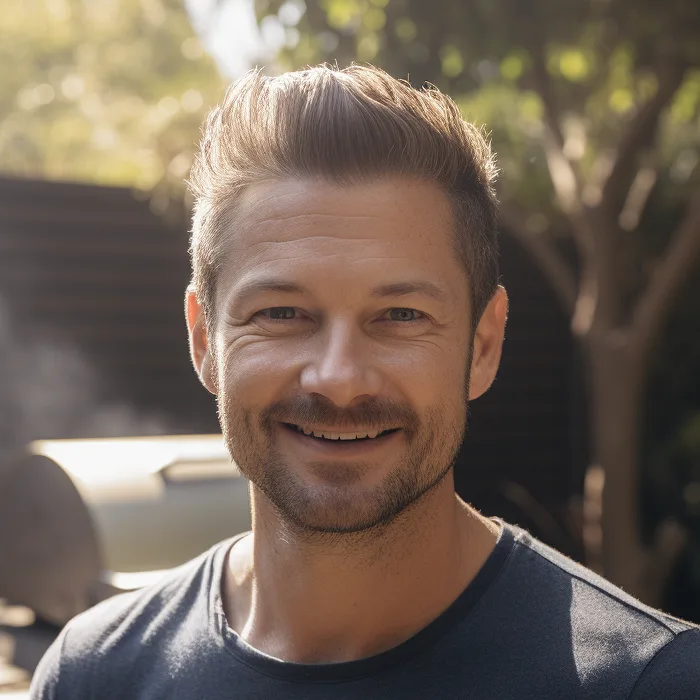 I have been smoking and grilling meat from an early age and enjoy sharing my knowledge and expertise through the hundreds of articles I have written about BBQ. I hope to make everyone's BBQ journey that little bit easier.