There no need to toss frozen meatballs in a crockpot with premade BBQ sauce anymore! Sometimes convenience foods are lifesavers, but often the quality of our food suffers.
Sometimes you need a homecooked meal, and these BBQ grape jelly meatballs are the perfect meal to serve your family and friends.
What's the Best Way to Brown Meatballs?
There are several ways to brown meatballs. You can brown meatballs on the stovetop in the oven, or you can skip it browning all together and toss the meatballs into the sauce.
If you have had a hard day at work and need to quickly get dinner on the table, you can toss the raw meatballs into the sauce.
This method gently cooks the meatballs in the sauce and results in the most tender and juicy meatballs. The drippings from the meatballs will infuse into the tomato or barbeque sauce. You can also cook bbq meatballs in the slow cooker.
Pan searing meatballs is on the stovetop is a viable method that yields excellent results. Heat a little of olive oil in a skillet, and once it is scorching hot brown your meatballs in batches. The best part about this method is not the meatballs.
It's the browned bits of meaty deliciousness that cling to the pan. Drain the grease from the pan and deglaze it with a little chicken broth or wine and add it to your bbq sauce.
The last method is baking the meatballs. Although you won't get the flavorful bits of flavor, this method is time effective. When pan-searing, meatballs often become misshapen by utensils. Baking meatballs creates an evenly shaped meatball.
This technique is also faster. You can roll your meatballs, place them onto a wire rack set over a parchment or foil-lined baking sheet, and place them in the oven. The wire rack promotes air circulation, which helps your meatballs cook evenly!
What's the Secret to Tender Meatballs
There are two secrets to tender meatballs—an even ratio of bread to meat and day-old bread. Most people don't know the key to the perfect meatball lies in the proportion of bread to meat.
As a result of this, they end up with tough, chewy meatballs instead of tender, succulent meatballs. Always remember to use a 50/50 ratio of meat and bread or bread crumbs.
If you want perfectly tender meatballs, put down the breadcrumbs and use day-old bread. Using breadcrumbs in meatballs has become a common practice.
Most people don't have the time to wait for the bread to absorb the milk or water. However, to get the most tender meatballs to soak day-old bread in milk or water for 5-8 minutes.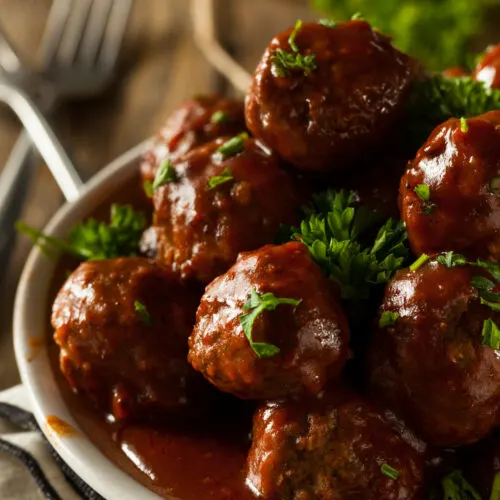 Bbq Grape Jelly Meatball Recipe
Italian-style meatballs are baked to tender perfection and coated in a deliciously sticky sweet and tangy grape jelly barbecue sauce.
Equipment
Whisk

Large bowl

Measuring cups

Measuring spoons

Wire rack
Ingredients
For the meatballs:
3

slices

bread

crust removed

½

cup

milk

1½

lbs

ground beef

½

lb

ground pork

¼

cup

onion

minced

3

cloves

garlic

minced

1

tsp

Italian seasoning

¼

cup

freshly chopped parsley

1

tsp

kosher salt

2

large

eggs
For the BBQ Sauce:
1

cup

Ketchup

2

tbsp

brown sugar

2

tbsp

apple cider vinegar

1

tbsp

Worcestershire sauce

½

cup

grape jelly
Instructions
Program the oven to 375ºF.

Place the slices of bread and milk in a large bowl and allow it to soak for 5-8 minutes.

Mix the ground beef, ground pork, onion, garlic, onion, Italian seasoning, parsley, salt, and eggs into the bread and milk mixture.

Shape the meatball batter into a 1-inch ball and place them onto a wire rack set onto a foil-lined cookie sheet.

Bake the meatballs for 25-30 minutes.

To make the bbq grape jelly sauce, whisk the ketchup, brown sugar, apple cider vinegar, Worstechire sauce, and grape jelly in a bowl.

Remove the meatballs from the oven, transfer them to a 9x13 baking dish and pour the grape jelly BBQ sauce over it.

Bake the bbq grape jelly meatballs for an additional 30-35 minutes.
Nutrition
Serving:
199
g
Calories:
363
kcal
Carbohydrates:
18.43
g
Protein:
32.3
g
Fat:
17.27
g
Saturated Fat:
6.67
g
Polyunsaturated Fat:
1.22
g
Monounsaturated Fat:
7.25
g
Trans Fat:
0.319
g
Cholesterol:
149
mg
Sodium:
750
mg
Potassium:
556
mg
Fiber:
0.6
g
Sugar:
11.69
g
Vitamin A:
435
IU
Vitamin C:
5.4
mg
Calcium:
67
mg
Iron:
3.76
mg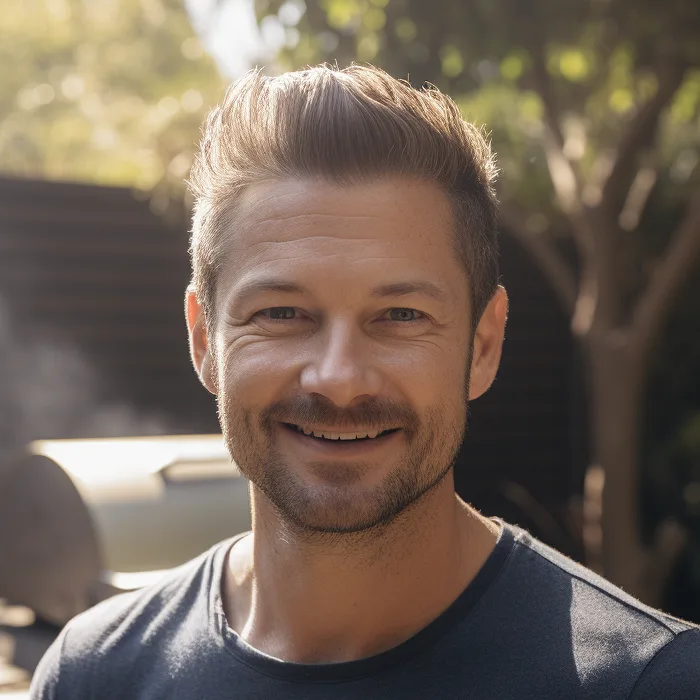 I have been smoking and grilling meat from an early age and enjoy sharing my knowledge and expertise through the hundreds of articles I have written about BBQ. I hope to make everyone's BBQ journey that little bit easier.