In the mood for hearty BBQ food but don't want to step outside under the sweltering heat of the summer sun.
Thousands of people not only waste their beautiful patios and backyards every summer. But they also waste the perfect opportunity to BBQ.
The summer is the designated time for BBQ. Hot sunny days, no wind, rain, or snow in sight. There is no time to BBQ like right now.
Just because you cannot take the heat outside doesn't mean you can't grill outside. An outdoor misting fan will solve all of your heat problems.
So, turn off the A/C, pull out your grill or smoker, and head to the backyard to grill up a BBQ feast.
Things To Look For in a Misting Fan
Features are everything when it comes to a service or product.
Before you head to the store or search the online marketplace for an outdoor misting fan, there are a few key characteristics you should look for in a misting fan.
Cooling Area Dimensions
One of the major features to look for when choosing a misting fan is the size of the cooling area.
This knowledge will help you decide whether a large or small misting fan will fit the area.
For example, if the mist airflow does not generate enough power, you will not get the cool feeling you are searching for.
On the other hand, if the misting fan is too powerful, your patio will be soaked with water.
There are two misting fan components to consider: CFM and PSI. CFM, also described as cubic feet per minute, measures the airflow of the fan.
This measure tells you how much air a misting fan can move in one minute when it's programmed to its highest speed.
Regarding an outdoor misting fan, CFM ranges from 200 CFM, optimal for smaller interior spaces, to more than 5000, better suited for cooling large outdoor spaces.
PSI refers to the measure of water pressure that is pushed through the fan. The PSI can range between low pressures beginning at 30 PSI and high pressures of 1000.
Material
Many people deem misting fans suitable for outside because they believe they may cause damage to the inside of the home.
Thus, you need to make sure your outdoor misting fan is made from durable materials.
Your outdoor misting fan will receive a hard lashing from the wind, rain, dust, sunlight, and other elements.
The level of quality materials used to construct your outdoor misting fan is a significant factor to consider.
Bottom Line
Plastic outdoor misting fans are lightweight and inexpensive. Metal fans last longer and are more durable than plastic. However, they are more expensive.
Water Storage
The kind of water your misting fan uses depends on how much you intend to use it.
For example, misting fans designed with a water tank must be manually refilled each time they are emptied. However, these kinds of misting fans are easy to move.
In contrast, a reservoir-free misting system gets water directly from the tap. So you do not have to refill the tank every 30 minutes or so.
Thus the reservoir-free misting system may be for you if you plan to be outside for a long time.
Height and Speed Adjustment
Before you purchase a misting fan, look for the fans for the specific height and speed adjustments you need.
There is nothing worse than buying a fan only to realize it is not the right height or speed.
Nozzle
Nozzles matter, especially when it comes to misting fans. A nozzle that is too big will cause you to be drenched with water.
A nozzle that is too small will not provide the cool environment you are trying to create.
Misting fans usually come with one of two nozzle types: impingement or impeller.
Impingement nozzles push water through a tiny hole located in the middle of the nozzle. As a result, you get hit with the smallest particles of water.
In contrast, impingement nozzles are costly and predisposed to clogging and becoming misaligned.
On the other hand, impeller nozzles are strong and very affordable. Even though you won't get the finest water particles around, it's a pretty good option.
Hot Tip
Whether you choose an impeller or impingement nozzle, ensure it is easy to clean. No matter the nozzle is bound to become clogged with materials over time.
Insect Repellent
Why purchase an outdoor misting fan if you truly can't relax? No one likes swatting away every few minutes. It ruins the misting experience.
Opt for an outdoor misting fan that has an insect repellent cavity. The insect repellent will not affect the misting experience, but it will get rid of those pesky mosquitos.
The Best Misting Fans
With the hot summer air in full effect, it's a no-brainer why you are thinking of investing in an outdoor misting fan.
These are eight of the best misting fans available on the market.
Geek Aire Outdoor Misting Fan
The geek aire is an effortless cordless, battery-powered outdoor misting fan that packs a lot of air.
This rechargeable fan has 1500CFM airflow, perfect for cooling down your backyard. The geek aire is easy to use and provides you with cool air at the twist of a button.
The geek aire allows you to decrease the temperature, and it has a wide range.
It has three nozzles that spray a cooling mist up to 11.5 feet. The geek air even allows you to adjust the misting fan to modify the mist range and the distance, 360º up and down.
Once fully charged, the misting fan's battery will give you anywhere from 3-24 hours of misting.
Furthermore, since the geek aire's battery can be removed, you can purchase extra batteries. This can prolong the misting experience.
Better yet, if you are into camping, you can charge all of your devices using the geek aire battery. This fan is portable and super lightweight.
It weighs 7.1 pounds and is compact enough to fit in your van or pickup truck.
The geek aire is one of the safest and most durable misting fans on the market. It is constructed from ABS and has a thick coating. Thus this outdoor fan can take a pounding from the elements.
It is waterproof, rustproof, and UV-resistant. Additionally, it works at 24v DC, which is much lower than average household voltage.
This outdoor misting fan also has anti-slip feet. These feet are designed to ensure the fan remains stable while rotating at a 360-degree angle.
The geek aire's not just a high-velocity fan. This design has not one but three nozzles for misting cool water particles.
They even provided an extra replacement nozzle that is conveniently sewn on the manual.
The geek air also comes with an easy-to-use detachable misting pipe.
It is placed into the water inlet and fastened to the blue ring. After attaching the pipe, all that's left is turning on your misting fan.
Geek aire has deemed their misting fan to be a 3-in-1 floor fan.
This is due to the joint size and cooling water pipe that is identical to nearly any garden hose found on the US market.
This allows you to control the mist by altering the water pressure with the simple twist of the valves. Best of all, the pipe can easily be removed and converted into a standard floor fan.
You can use it in the house without fearing it will cause damage.
Bottom Line
In general, it is perfect for a family gathering. Whether you have pets or children, this fan is beneficial to you. It will keep both your dogs and children busy for hours and leave you free to enjoy spending time with your family, the people you love.
Hand Fan Personal Misting Fan
This hand fan is for persons that do not enjoy pressing the spin feature and sharing the misting experience with others.
This personal misting fan is just that personal. You get to have it all to yourself without worrying about the heat when the fan rotates in another direction.
It uses a 55-milliliter water tank that sits on top of the fan. This handheld fan can produce approximately 40 minutes of mist.
Though you can have a glass of water if the mister runs out, this feature eliminates constantly adding water to the machine.
This personal fam also has a multiuse design. The fan's head can be moved from 0°-180°. Hence, it can be placed desk for cooling.
Additionally, this fan can be used anywhere. It is also equipped with a metal clip that converts the fan into a hanging fan.
The metal clip feature also allows you to hang it from your sun shades, stroller, or car.
Just because this misting fan is compact does not mean it lacks power. It was designed with a brushless motor and 6 turbo blades.
Unlike other personal fans, these blades rotate faster and produce stronger cooling you down within seconds of stepping into the hot summer air.
This fan is also optimal for traveling. It is easy to carry and store. Its compact size spans approximately 9.8-inches in length and 4.5-inches in width.
This personal misting fan can be stored in your bag or along with your BBQ supplies. This way it is you don't have to rummage through a million drawers to find it.
The built-in battery of this personal misting fan is a 2000mAh rechargeable battery. Once fully charged, the hand fan's misting fan battery will last for a whopping 9 hours.
Furthermore, this energy-saving, long-lasting misting fan can clock 20000 hours continuously. This translates to approximately 7-10 years of usage as long as it's taken care of properly.
Han fan's personal misting fan also has a multi-function feature. It doubles as a cooling fan and humidifier.
For cooling, you can adjust the wind speed from low to medium, medium to high, and vice versa.
Pressing the power button for 3 seconds activates or deactivates the misting functions. It even has a nightlight feature that functions simultaneously with the cooling or misting functions.
Though this fan is battery-operated, it can also be powered by compatible USB devices. In the event that you lose the power cord, you can always use your phone to charge it.
All in all, the hand fan personal misting fan will cool you down and prevent your beautiful face, hands, and nose from becoming dry.
Whether it is a backyard BBQ or a vacation, hand fan's personal misting fan will fit all of your compact needs.
Opolar Cooling Misting Fan Clip-on Fan
No products found.
With an instant cooling feature, this fan is perfect for those that work in the sun.
Releasing 200 milliliters of mist and accelerated air circulation, the fan will cool you off in minutes. Additionally, this fan has 7 -inch blades that promotes air circulation.
The opolar misting fan is not just limited to the backyard. It's perfect for any location, whether it be the backyard, the inside of your home, or at the office. It is very easy to transport because it is very compact.
Boasting a 10000mAh rechargeable battery, the fan has Micro-USB charging ports for 2A rapid charging. You can also use the micro-USB charging ports to power the misting fan.
When charged completely, this fan will produce mist for up to 48 hours.
Made with a durable clamp, this fan has the standard three adjustable speeds, high, medium, and low, designed to customize the misting experience to your liking.
Best of all, there's no need to twist a knob to change the wind speed. Simply pressing down on the power button will do the trick.
With a maximum airflow of is 4.2 milliseconds, the clamp opens 2-inches wide, allowing you to fasten it to any surface of your choice.
The unique feature of this fan is the battery life. Programmed at high speed, this fan can last about 6 hours. At mid-speed, the battery life doubles to 12 hours.
At low speed, this fan will last for 2 entire days.
The only downside of the opalar misting fan is you will have to remember to place the rubber plug back onto the fan when not using its misting function. It will leak if you forget to insert the plug.
Bottom Line
All in all, the opalar cooling misting clip-on fan is perfect for cooling over long periods of time. If you are in charge of the neighborhood BBQ, you can clip this fan right onto your station.
Cool-off Island Breeze Oscillating Misting Fan
The cool-off island breeze misting fan is the definition of a portable misting fan. Similar to the misting fan above, it is perfect for a noise-free backyard staycation.
Ever tried to sleep with a fan on? The buzzing sound is annoying and disruptive! With the island breeze cooling fan, there is no buzzing noise.
Its copper motor allows air to travel quietly. Thus you can enjoy your nap or spending time with family quietly without buzzing, clicking, or knocking.
Best of all, this portable misting fan is on wheels. Equipped with a safety brake, you can roll your misting fan into the perfect position and sit back and relax.
From the patio to your house this is the perfect fan if you intend to use for several occasion.
There's no need to worry about your misting fan running out of power and leaving you drenched in sweat. The island breeze misting fans can run up to 12 hours.
This fan has superior quality. It is a centrifugal mister manufactured from top-notch materials.
This design is not only based on appearances. It is based on functionality too. This is a worthy investment as this fan will last for years to come.
Built with the standard three-speed setting, it is a lean, green, quiet machine. It is so quiet that you might find yourself falling asleep under the cool mist of this fan.
The motor is constructed from copper and has an average coverage of 40 feet. Thus it is perfect for outdoor spaces and ideal for warmer climates.
Though this misting fan was designed for outdoor use, it is not limited to outdoor use.
This fan is so versatile you can even program it to mist tropical plants to supply them with the humid conditions they need to thrive.
The coolest thing about outdoor misting is their ability to save money.
You no longer have to fork out vast amounts of money on an AC to make your home cool. You can invest in an outdoor fan.
The island breeze misting fan is no different. While most systems come in handy, you can simply purchase a misting fan.
This fan is strong, durable, and will cool your home for a long time.
The island breeze misting fan was designed with overload protection. Nozzles are prone to clogging, especially in warm areas outside.
The centrifugal mist was specially constructed to prevent the nozzles from getting clogged.
Yes, the mist output can easily be tweaked and ran for 8 hours in one sitting. However, this machine has a water pump that automatically turns off in addition to a durable motor.
In general, the island breeze misting fan is your mobile air conditioner. It will cool you down wherever you go.
Oscillating Fan With Misting Kit
While a misting fan is ideal, those of you on a budget should not have to suffer too. Luckily you can always purchase an oscillating fan with a misting kit.
These kits are compatible with most outdoor fans.
They are compact and require a simple installation. This helps you to enjoy your outdoor experience by turning down the heat and turning up the mist.
Best of all, this system can be used even if the fan is not in use.
This particular product can be adjusted easily, thanks to its telescopic neck. The height can be as short as 40 inches or as high as 51 inches.
You do not have to fight the fan just to adjust it to the perfect height.
This pedestal-style fan is outfitted with the standard 3 modes giving you control of the wind speed. At its lowest setting, it has a speed of 900 rpm that is comparable to a light breeze.
Its medium speed is 1100 rpm's for a brisk breeze. The highest setting has a whopping 1280 rpm's that makes that promotes the ultimate cool environment.
The oscillating fans features are what make this misting system perfect.
Built with a 19-inch oscillating head, it operates in a side-to-side motion with increased coverage and decreases the temperature faster than full misting fans.
This misting fan was produced to be used solely outside. It is encased in all-weather paint that improves its capacity to withstand the elements and UV rays.
Furthermore, it also has a weighted base. This base keeps the fan sturdy and stable on days where there is a heavy breeze.
Additionally, this machine is equipped with an ETL wet listed safety rating and CFGI plug. This gives the fan safety rating gives the fan a stamp of approval for outdoor use.
All in all, this design is not only retro; it is functional too. The design of this oscillating fan with a misting kit is absolutely wonderful.
The clean, crisp lines crafted to cool you down give the fan a retro look.
With a simple 3 speed setting, this fan keeps you, your family, or guests cool, calm, and collected on a hot summer's day.
Table Misting Fan
No products found.
This table is misting fan that doubles as a humidifier and cooling fan. Best of all, this misting fan is suited for both outdoor and indoor use.
It can transport you out of a dry room or hot backyards into a cool hydrating atmosphere.
With a 300-milliliter large capacity water tank located on the base of the fan, all that's required is simply pressing down on the power button to activate the misting function.
The refreshing mist will provide your skin with a much-needed dose of moisture no matter where you are.
This table misting fan is equipped with 3 standard wind speeds: low, medium, and high, allowing you to adjust the speed as needed.
It also has a built-in 2000 mAh battery that supplies anywhere from 3 to 9 hours of running time.
Run times are heavily dependent on the speed settings.
On its low setting, this machine will place you under a deep spell of sleep. A medium-speed will suck up the heat particles in the air and replace them with cool ones.
High wind speeds tend to be the best as they help you enjoy being outside in the warm summer air.
This table misting fan is not only functional; it's also stylish. Made from superior quality materials this fan, is 3.7 inches in length and width and 6.7-inches in height. Best of all, this table misting fan only weighs 0.9 pounds.
Thus, its compact size is convenient for your backyard and any outdoor location such as camping or a trip to the park.
As long as there is a table involved, this personal USB fan will serve you well.
Not only is this table fan USB rechargeable nut it works for a long time. A rechargeable polymer lithium battery 2000mAh supplies this misting fan's power.
This gives it the ability to charge and discharge several times.
Additionally, it is compatible with multiple power ports like a normal socket, power bank, car charger, computer, tablet any other electronic device that has a USB port.
Better yet, this table fan can be charged in just 3 short hours.
One of the unique features of this table misting fan is the 7 color night lights function.
To activate these special nightlights, all that's needed is to press the spray button. The colors will automatically change.
The final feature worth mentioning is its 90-degree rotation. This fan rotates at a 90-degree angle horizontally giving you, more ways to keep cool.
Bottom Line
In general, if you are searching for a misting fan with a stylish look and feel, this is the fan for you. With the ability to light up the night, you can have a peaceful outdoor experience.
Cool-off 10 Gallon Water Tank Tropic Breeze Misting Fan
This 10-gallon water tank style misting fan by tropic breeze has an adjustable height and a 60-76 inch telescopic build.
Designed with patented centrifugal mist technology, this misting fan has coverage of 25 feet when it is on high.
This misting fane comes in black or white and has different mist functions. At speed one, you will receive a brisk wind that cools you down and creates a tranquil environment.
Speeds two and three provide a powerful the much-needed burst of air that can reach 20-25 feet away. But the best part is, their fan barely makes a peep. It's just that quiet.
Not only does this 20-inch fan have superior misting qualities, but it also produces a cold fog that has been compared to a high-pressure mister.
110 volt/60 Hz of power allows this misting fan to run for 8-10 hours in addition to the water tank.
With 90-degree oscillation, this fan is equipped with 3 oversized swivel wheels for easy transport.
The front-wheel safety break makes safely moving this fan from location to location that much easier.
Overall, with a span of 25 feet, this fan was made for the entire family. Patented centrifugal mist technology is the best-kept secret when it comes to misting fans.
If your family to experience the best groundbreaking thermodynamic misting fan on the market, the tropic breeze misting fan is your best option.
Koonie Misting Fan With Clip
Though it is another clip-on fan, this Koonie fan is by no means ordinary. In fact, it so unique because it has two misting modes. These modes are continuous mode and intermittent mode.
This particular misting fan has a 200ml tank, the desk fan. In contrast, this fan can only produce 1-2 hours of mist.
You will have to refill it with water frequently in order to prolong the mist.
However, this does not mean it is not suitable for outside spaces. With a detachable 10000mAh battery, you can receive anywhere from 6 to 48 hours of cooling once it is fully charged.
Similar to other misting fans mentioned above, you can also use your phone, tablet, or another electronic device to power your koonie misting fan.
Thus this fan not only offers you convince it saves you a few dollars.
The koonie outdoor misting fan doubles as a clip-on fan and a desk fan. A 2-inch clip allows you to fasten it to any firm, sturdy surface, whether it be outside or inside.
This fan has the standard three speeds that allow you to adjust the airspeed to your needs. However, this misting fan is extremely quiet. Even if it's programmed to its highest setting, with the misting function turned on, it will not make a lot of noise.
Additionally, this fan also rotates 360 degrees. If it is fastened to a desk, it will rotate horizontally or vertically 360°vertically and horizontally.
This allows ample coverage. Not only will it provide cool air in every corner of your room, but it will quickly decrease the temperature of your outdoor area.
This misting fan is also compact and easy to transport. In addition to this, the koonie misting fan is easy to clean.
All that's needed is to detach the rubber ring, rotate the frame counterclockwise, and remove the fan blades' debris with a dry cloth or napkin.
In a few seconds, your misting fan will be as clean as the day you bought it.
Bottom Line
In general, if you prefer a noise-free backyard experience, this is the misting fan for you. With a 360 degree rotation, there is not an inch of you that will be burned by the sweltering rays of the summer sun.
Frequently Asked Questions About Misting Fans
As you can imagine, there are some questions the information above did not address. This section covers the most frequently asked about misting fans.
What Does a Mist Fan Do?
Misting fans are like air coolers. They need a water supply in order to work efficiently.
The system pulls water from the tank and disperses it through small openings in the fan.
The blade of the fan will then break the water particles into a light mist while it rotates. The mist of water then evaporates, thus cooling and decreasing the air temperature.
Are Misting Fans Effective?
Of course, misting fans are effective. It combines the processes of cooling the surrounding air and rotating the blades of the fan at the same time.
What could be better than being misted with cool air?
Absolutely nothing! In fact, this process can decrease the air temperature by 20-30 degrees Fahrenheit without drenching you in water.
Do Outdoor Misting Fans Work?
Though there is some skepticism associated with outdoor misting fans, they do work very well.
They can induce significant temperature changes in the summer heat and use small amounts of energy. Evaporative cooling makes misting fans an affordable cooling solution.
Do Misting Fans Use a Lot of Water?
It is only natural to wonder whether or not misting fans use a lot of water.
The average amount of water misting fans use is about one gallon of water for each nozzle.
Are Misting Fans Bad?
Misting fans are not bad. In fact, they can eliminate the presence of pesky flies, mosquitoes, insects, dust mites, and smokes.
This simple fact makes it a superior cooling option as it safeguards us from certain health conditions.
While the air cooler's water tank and water pads require standard cleaning cycles to prevent rancid odors from developing, a misting fan does not.
Can I Put Ice an a Misting Fan?
In short, yes, you can place ice into a misting fan. Ice soaks up heat like a sponge as it melts. The warm air traveling over the ice will also cool the air.
As a result, the air will be cooler. However, proceed with caution when adding ice to your misting fan.
Do Misting Fans Work in High Humidity Environments?
Misting fans are perfect for high humidity environments. In fact, evaporative cooling is more powerful in dryer climates.
Do Outdoor Misting Fans Make Everything Wet?
No, misting fans will not drench your entire backyard or patio. Misting fans actually release minuscule amounts of water that fall onto the ground.
These droplets of watered may pool and create a tiny puddle of water.
However, beware if your pavement is less porous. This could be a potential slipping zone.
Final Thoughts
While air conditioning is extremely beneficial, too much of it can cause headaches or dryness.
With an outdoor misting fan, you can step outside in comfort and BBQ, chill with your friends, read a book, or have a pool party.
Allow the power of misting to make your days in the summer sun enjoyable.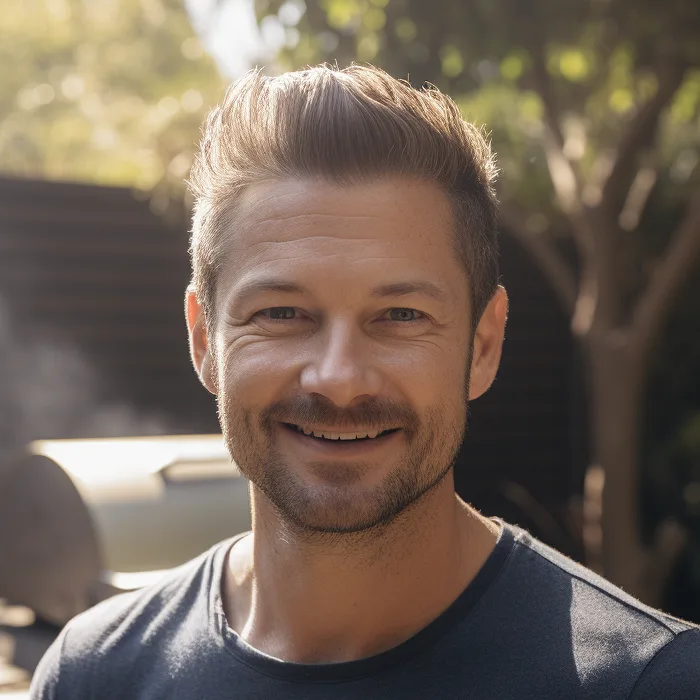 I have been smoking and grilling meat from an early age and enjoy sharing my knowledge and expertise through the hundreds of articles I have written about BBQ. I hope to make everyone's BBQ journey that little bit easier.