Infrared grilling is in. It is easily becoming the quickest way of grilling mouthwatering food.
The most attractive part of infrared grilling is definitely the high temperatures that cook good in record time and the reduced fuel consumption.
It is no surprise that you want to get on the infrared grilling bandwagon.
Even though infrared grilling is popular today, it has been in existence since the 1980s. It is thanks to the innovative thinking of TEC grills the infrared grill was born.
Even though this technology was created some years ago, many BBQ experts are still unfamiliar with infrared grills.
Thus to make an informed decision, you need to know the best infrared grills available on the market.
Things To Look For in a Infrared Grill
As you can imagine, there are many infrared grills available on the market.
Too many infrared grill brands to make an informed decision just by walking into a store or visiting an online store.
On the market, there are very many brands of infrared grills. You will probably end up leaving the store in a state of confusion rather than with clarity.
This is why you need to consider a few factors before stepping into a store to purchase an infrared grill.
Transportability
Just like any standard grill or smoker, infrared grills come in all shapes and sizes. From free-standing grills to small table-sized units, there are a wide variety of grills.
Thus it important to consider portability. Do you plan to move your grill from location to location, or are you creating a designated space?
Bottom Line
If you plan to transport your infrared grill often, the table option may be best. On the other hand, these varieties of infrared grills usually have limited space.
Fuel
Many infrared grills usually use propane for fuel as it is inexpensive and effective.
Moreover, there is also the option to refill propane tanks and swap empty propane tanks for the same price as new ones.
In contrast, other pricey free-standing infrared grills use natural gas for fuel. Though natural gas is quite inexpensive, it is not as transportable as propane.
A qualified plumber has to set up a natural gas line to your grill. On the bright side, this option is appropriate if you intend on placing a built-in grill in your backyard.
Total Cooking Space
Cooking space is the most important characteristic when it comes to grills.
If your grill does not have enough cooking space, you will be preparing your food in batches, especially if it is for a large BBQ party. Cooking in batches is working harder, not smarter.
The total cooking space is usually measured in square inches. This measurement always includes the cooking and warming racks.
While the ideal cooking space to cook food for 4 people is approximately 200 square inches, bigger infrared grills can have up to 1000 square inches or more cooking space.
On the other hand, a compact infrared may work for you if you have a small family of four or less.
Burners
Compact, portable infrared grills are usually designed with a single burner. Smaller cooking spaces work perfectly with a single burner because it promotes even heat distribution on the primary cooking rack.
In contrast, larger cooking spaces are not compatible with single burners because they will not distribute heat evenly.
For this reason, you should buy an infrared BBQ grill with two or more burners. This is the only way to ensure the cooking space heats up quickly, evenly, and efficiently.
Additionally, if the grill has a massive cooking space, make sure it has at least 3 burners to promote even heating.
Another benefit of having more than a single burner is it provides you better control of the temperature.
This also gives you the ability to switch one burner off and create an indirect grilling zone perfect for housing your main dish or sides before charring them with direct heat.
Design
The design of the infrared grill is one of the most important details. The design refers to the size, shape, and appearance.
Grills may be circular-shaped or wide. Wider infrared grills may provide more cooking space and direct and indirect cooking zone while others may not.
Circular grills can contain one warming and one cooking rack.
Bottom Line
It will not affect the quality of BBQ goods you produce, however, the design of your infrared grill depends on your preference. You may want your appliances to have the same color scheme if you are adding a built-in infrared grill to your outdoor or indoor kitchen.
Infrared Technology
These grills use several types of infrared technology to generate heat.
The three most common burner varieties include ceramic burners, radiant glass panels, and metal heat emitters.
Ceramic Burners
Ceramic burners are the most popular infrared technology. A burner of this variety is usually stainless steel and encased in a covering of ceramic.
The biggest benefit of a ceramic burner is it heats up very quickly and promotes even cooking.
In fact, infrared grills with a ceramic burner system usually range between 600 and 1000 degrees Fahrenheit.
In some cases, some ceramic burners can even peak up to 1500 degrees Fahrenheit.
On the other hand, ceramic burners cannot attain temperatures below 600 degrees Fahrenheit, which can be a setback in some instances.
This makes it harder gently heat side dishes and keep cooked food warm.
Radiant Glass Panels
The originators of modern infrared grills, TEC, are known for using their very own patented radiant glass panel system.
Rather than a ceramic burner, their infrared grills have a glass panel located between a stainless-steel burner and a cooking rack.
The radiant glass framework provides a temperature range between 200 and 900 degrees Fahrenheit.
Even though radiant glass networks do not achieve as much heat as ceramic burners, they do produce lower temperatures.
Metal Heat Emitters
Metal heat emitters are a rare sight when it comes to infrared grills. A metal panel is positioned between a stainless-steel burner and the cooking rack, similar to the radiant glass system.
This offers you a temperature range of 300-650 degrees Fahrenheit.
This temperature range is akin to a standard gas grill. The biggest benefit of this burner system is it seldom has heat flare-ups, and it disperses heat evenly.
In contrast, this type of burner system has a severely limited temperature span.
Accessories
Infrared grills have a wide array of accessories. Even the least expensive infrared grill has at least one cooking rack.
Side tables are usually a common sight on free-standing models, in addition to hooks, shelves, and drip trays.
Other standard accessories include gloves, food trays, warming racks, cleaning brushes, grill covers, and grilling tools.
Making a list of must-have accessories can help you narrow down your choices.
The Best Infrared Grills
On the hunt for the perfect grill, you will be met with many infrared grills. The search can quickly become overwhelming. Hence we've put together a list of the top 5 infrared grills.
Char-broil Portable Tru-infrared Liquid Propane Gas Grill
The char broil infrared grill was designed for on-the-go grilling. Made from durable die-cast aluminum materials, this monster of a grill ignites with the push of a button.
This is a true infrared grilling system, so there are no flare-ups involved.
Char-broil ensures heat distributes evenly over the grill top creating a makeshift barrier between the food and the fire. Thus, there are no flare-ups.
Best of all, the top-ported stainless steel burners can be easily modified to produce high or low temperatures evenly distributed across the cooking grate.
Additionally, the infrared cooking system gives you greater temperature control. Infrared technology eradicates hot and cold spots, promotes faster cooking, and reduces fuel usage.
Char-broil's infrared grill has a temperature gauge that is mounted on the lid. So, there is no need to wonder what the temperature of your food is.
You can easily read the temperature and make adjustments as needed.
Featuring 200 square inches of prime-time cooking space and stainless steel grates, this grill can cook about 8 burgers or 4 steaks.
Boasting a high-impact frame, legs, and side-carrying handles, this infrared grill is easy to transport from location to location.
The char-broil infrared grill has a cast-aluminum firebox and lid and stainless steel latches that make this strong, sturdy, and durable.
This grill receives its fuel from one-pound propane tanks that are fastened to the side of the grill.
Bottom Line
In general, this infrared grill was designed for moving at the speed of life. Whether you love camping, tailgating, picnics in the park, or cookouts, this grill is the perfect solution to all of your food problems.
Solaire Infrared Propane Gas Grill, Stainless Steel
The solaire infrared grill is portability at its best. Within three minutes of pressing the ignition button, your infrared grill will achieve a high temperature suitable for grilling foods.
Receiving heat from a ceramic and stainless steel burner, this grill has 140 square inches of grilling space that cooks six 4-inch burgers or 2 large steaks.
The specially crafted v-grate enhances the flavor of your food and makes flare-ups a thing of the past.
Better yet, this advanced technology has the simplest assembly ever. All you have to do is fasten 6 bolts to attach the handles and four adjustable legs.
This setup is so easy that you can use it within five to 10 minutes after removing it from the box.
This infrared grill weighs approximately 15 pounds and is fueled by 1 pound propane tanks. It can also be used with bigger BBQ pane tanks. However, the adapter hose is necessary for the conversion process.
There is also a natural gas option available that requires the natural gas conversion kit. A low-pressure propane system perfect for an RV that can be installed with the low-pressure LP Conversion kit.
The hood is fitted with spring-loaded latches that protect the burner upon being transported or stored.
All in all, the solaire infrared grill was created for tailgaters, backyard barbecues, campers, boats, and RV's all across the land.
It is the ultimate grilling device that replicates the superb flavor of a charcoal grill and gives you the control, consistency, and convinces of cooking with gas.
Solaire has been in existence for more than 100 years and has definitely perfected its infrared grilling technology.
Gaspro 1500℉ Propane Infrared Steak Grill
The biggest attraction of this grilling machine is definitely its ability to achieve an incredibly high temperature of 1500 degrees Fahrenheit.
You can literally grill your steaks for 2 minutes on each side and yields a cut of steak with restaurant-quality grill marks.
Furthermore, the different heating zones allow you to cook foods using several techniques.
You can cook steaks using sous vide techniques or grill up pork chops, chicken wings, chicken thighs, kabobs, shrimp skewers, salmon, corn, potatoes, and roughly chopped onions and peppers.
You can even make sandwiches, burgers, nachos, and enchiladas using this infrared grill.
These heat zones are created by the 6-notches located on the grill rack that can adjust the grate's proximity to the infrared heat source.
The Gaspro infrared grill has multiple connections. It has the one-pound connection and standard grill connection, which is a 3/8-inch male flare, and two of the universal connections that are compatible with most brands of propane hoses.
This grill is perfect for backyard grilling, RV, boats, and camping because it can use a disposable 16.4 ounce LP cylinder, large LP propane tank, or an RV propane tank.
This grill has a front panel that can temporarily house cooked food and keeps it warm during the grilling process. It is best to keep this front panel clean when it is not in use.
This infrared grill is CSA certified. Hence it is safe for outdoor grilling, camping, or other activities along these same lines.
It is manufactured from premium 304 stainless steel, sturdy and rustproof, very easy to clean.
Overall, gaspro's infrared grill is perfect for single people or a couple. You can also purchase this grill if you are looking to add a new device to your grill collection.
With the gaspro infrared grill with an electronic start button, you can heat this grill up in less than five minutes and cook an entire meal in 30 minutes.
Camplux Propane Infrared Steak Grill
If you thought an infrared grill could not exceed a temperature of 155 degrees Fahrenheit, you thought wrong.
The camplux infrared steak grill can reach the extreme temperature of 1600 degrees Fahrenheit in as little as 2 minutes.
This is in part because of the cutting-edge radiant technology that allows you to grill up steaks like a T-bone or ribeye in as little as 5 minutes.
You can cook shrimp, salmon, and other seafood in an instant without worrying about overcooking them.
Though it brings extreme temperatures, this grill is lightweight, transportable, and compact. This grill is approximately 26.5 pounds. It is small enough to fit a compact car.
Just because this grill is small doesn't mean it has limited cooking space.
The grill can be adjusted to fit certain foods with several layers of cooking space, such as a large porterhouse steak.
It is crafted from food-grade #304 stainless steel. Thus it is super easy to clean, and the racks are dishwasher-friendly.
The camplux infrared grill is easy to use with a quick ignition pilot system. You can power this grill with a 1 PC 1.5V AA, or you can connect it to a standard 20-pound propane cylinder.
Additionally, this grill can be hooked up to a standard RV propane directly, and the camplux customized adapter can be used to convert this infrared grill to a 1 pound tank.
With multiple ways to connect this grill, the camplux infrared grill is easy to assemble with adjustable grills and trays. Best of all, camplux's infrared grill is easy to clean.
This grill brings the steakhouse to your home. You don't have to limit yourself to steaks. You can cook chicken, vegetables, kabobs, fish, burgers, nachos, enchiladas, and so much more.
The camplux infrared grill is perfect for grilling in the backyard, at the park, camping grounds, or if you want to throw an elegant shindig.
Magma Products Catalina 2 Infra Red Grill
With a tempered glass viewing window, rounded edges, and a redesigned dynamic combustion system, the magma products Catalina 2 is a sight to behold.
Manufactured from 100% 18-9 marine grade mirror polished stainless steel, this grill is designed to stand up to the harshest weather environments.
The double-lined lower shell has a hermetically sealed thermometer makes it easy to decipher the temperature.
It is also has a front access grease tray, a 12 by 18-inch primary grilling space, and 5 ½ by 8-inch grilling area. This gives you the option to sear, slow cook, or keep your food warm.
Though this infrared grill uses the standard 1 pound disposable propane tanks, it can also be modified to an LPG or CNG system.
Made with an electric ignition powered by a triple-A battery. Infrared radiant screens allow the combustion system to remain lit even in windy climates.
Thanks to its anti-flare infrared technology, it generates intense, evenly dispersed heat, eradicating flare-ups by emulsifying meat drippings to give you an extra dose of smoky flavor.
Additionally, this infrared grill was designed with fold-away table top legs, making it easier to transport the grill to any location.
Bottom Line
Overall, this grill is ideal for feeding a large crowd. It is versatile, screams elegance, and easy to maintain. Best of all this, a beautifully designed infrared grill will never leave you hanging.
Frequently Asked Questions About Infrared Grills
There must be a few burning questions about infrared grills on your mind after digesting all of this information.
These are the most popular questions about infrared grills.
What Is Infrared Grilling?
Infrared grilling prepares food by using radiant heat instead of rising hot air or convection typically used in standard grills.
Radiant heat is direct heat that cooks food quickly and keeps it from drying out.
Additionally, some infrared grills have closed grates that serve as heat attractants. These attractants eliminate hot and cold spots and prevent flare-ups.
Are Infrared Grills Better Than Regular Gas Grills?
It depends on your preference. Though some BBQ legends have not boarded the infrared red train yet, they do cook food quicker than conventional grills.
Furthermore, due to their radiant heat system, they are hotter than traditional grills.
Can You Slow Cook on an Infrared Grill?
Even though infrared grills are known for their capacity to sear meats in a matter of minutes at record-breaking temperatures, they do have the ability to slow cook foods.
You can achieve this by leaving one side of the grill in an off position and heating the remaining side of the grill to medium-high.
Are Infrared Grills Worth the Money?
Infrared grills are efficient and hot. Thus they are a worthy investment. You can prepare more food in short bursts of time, use less fuel than conventional grills.
Furthermore, they are safer than traditional grills since no meat juices are dripping onto an open flame, causing flare-ups.
How Do You Clean Infrared Grill Grates?
Cleaning infrared grates is a simple process. We recommend burning excess grease and food debris that has collected on the grates off.
You can do this by closing the lid and adjusting the grill's temperature to high.
Allow the grilling process for 15 minutes, and it will reduce the residual food debris to ash.
How Do You Cook Steak on an Infrared Grill?
Preheat your infrared grill, then decrease the conventional butter to low.
Let the infrared burner remain on high, and season the steaks with your preferred seasoning and a bit of oil.
Let the extra oil drip off the steak before placing it on the grill's grates.
Sear the steak for two minutes per side or until it reaches your preferred temperature, and your steak will be perfectly cooked.
Can You Convert a Regular Gas Grill to an Infrared Grill?
Yes, you can convert a normal grill to an infrared grill.
You can buy infrared grill replacement grates from the online marketplace or a physical store specializing in grill accessories.
You can opt for grates that are the perfect size for your grill or buy them slightly larger and shave them down about 1-2 inches shorter than the original grates.
Final Thoughts
Everybody needs to place a steak, salmon, burger, or some other food on the grill at least once in their lives.
An infrared grill will help you to accomplish this momentous task.
Luckily you have learned the ins and outs of infrared grills and can select a grill that best suits your needs. Happy infrared grilling!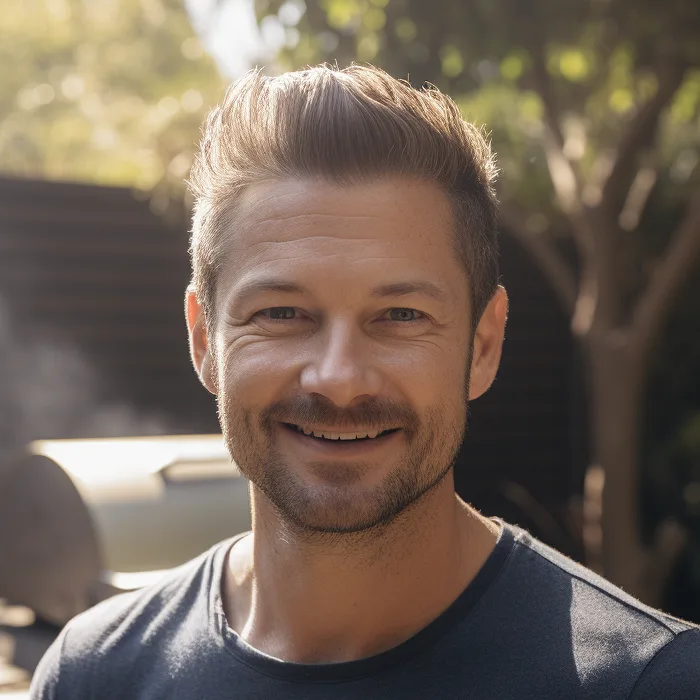 I have been smoking and grilling meat from an early age and enjoy sharing my knowledge and expertise through the hundreds of articles I have written about BBQ. I hope to make everyone's BBQ journey that little bit easier.