Ever wish you could place a brisket into your smoker without lighting a fire or restocking the fuel every hour. You can! With an electric smoker! That's right!
There's no stoking the fire every hour or cleaning ash up.
You can place your brisket into a smoker in the morning, go to work or lounge around the house for hours and come back to find a tender, smoky brisket.
Best of all, electric smokers only require 2-4 ounces of wood chips to impart that signature smoky flavor. Additionally, electric smokers are adequately insulated.
Thus they are perfect for smoking meats during the winter season.
No doubt, you will be bombarded with a wide variety of electric smokers on your search for the perfect one. For this reason, we've put together a list of the best electric smokers available.
However, before we get to the best electric smokers on the market, we should discuss the characteristics to look for.
Things To Look For in an Electric Smoker
In regards to choosing an electric smoker, you should choose a smoker that fits your needs. These are the most beneficial qualities you should look for in an electric smoker.
Cavities
One of the most important qualities is the appearance of a cavity. The design of the cavity eliminates the overabundance of heat on the outside of the electric smoker.
When excess quantities of smoke and heat are eliminated, the smoke levels inside the electric smoker and the temperature of the food stay at a constant temperature.
Furthermore, when you are preparing food, you must stir it in order to keep it from burning. However, the electric smoker's cavities promote steady heat, which reduces the possibility of you burning your food.
Temperature
The criteria for cooking the perfect dish boils down to time and temperature.
If time and temperature are not managed accurately, the results of your food may be drastically affected.
The best part about electric smokers is they take care of regulating the temperature within the structure. It is designed with a rheostat or thermostat inside of the unit.
Thus there is no need to constantly open the smoker and insert a thermometer into the food. Be sure to purchase an electric smoker with a rheostat rather than a thermostat.
Bottom Line
Reostats allows you to decrease the quantity of power-driven to the heater manually. In contrast, a thermostat deciphers the temperature and switches the heater on and off.
Heat Flow
As you can imagine, the power unit in an electric smoker is based on cutting-edge science. Electric smoker manufacturers had to come up with a way to cook food correctly within a suitable time frame.
Hence it's no surprise that BBQ experts far and wide opt for an electric smoker that cooks food faster.
Heat flow plays a key role in speeding up the rate at which food cooks. Choose an electric smoker where the heat flows upward and cascades downward if you work within the culinary industry.
On the other hand, if you are searching for your own personal electric smoker, select one where the heat flows downwards and rises upward.
This system allows the food to cook low and slow while maintaining its flavor.
Food Trays
Electric smokers are manufactured with several types of trays. These trays can be positioned in two ways.
The first way places the trays horizontally without an incline, while the other way allows an inclination.
Another aspect to consider is the food you want to cook in your smoker. For example, horizontal trays without an inclination are perfect for meat.
In contrast, if you plan to smoke a lot of fish, it would be best to purchase a smoker with horizontal trays that have an incline.
Food trays can be manufactured from steel, stainless steel, or other raw materials. Whichever smoker you decide to purchase, ensure the material of the food trays is heavy-duty and low maintenance.
Location
The optimal place for an electric smoker is outside. To use an electric smoker in a kitchen would require specific ventilation.
Unfortunately, most homes are not designed with this ventilation. Hence the best place for an electric smoker is outside.
When choosing a location for your smoker, make sure it is the smoker's final resting place.
This designated location should be beneath a roof where the smoker is protected from weather conditions such as wind and rain.
If you do not have a place similar to the one described above,opt for an electric smoker with wheels.
This will allow you to transport it easily to and from your garage to the backyard between uses.
Window on the Door
This characteristic is solely for newcomers to the smoking world. Choose an electric smoker with a window on the door frame.
This allows you to see the smoking process without interrupting the smoking process.
Newcomers are not aware of the transformation food goes through during the cooking process or the cooking times.
New barbecue cookers predisposed to opening the smoker to check on the meat after an amount of time elapses.
The consistent opening of the door will cause smoke and heat levels to decline. Additionally, it adds more time to the smoking process.
The window will allow you to see the food as it cooks without jeopardizing the heat and smoke levels or the cooking time.
Hot Tip
Ensure your electric smoker has a window constructed from tempered glass. Tempered glass is designed to withstand heat and is not easy to break.
Controller
Electric smokers can either be analog and digital. Analog smokers display the temperature on a temperature gauge. The temperature of this kind of smoker is not easy to control.
On the other hand, digital electric smokers are easier to control. Digital smokers allow you to program the time and temperature.
An added bonus is it keeps the same temperature throughout the entire cooking process.
Price
This is the most important point to consider. Make sure the smoker is available and within your price range.
To establish an electric smoker budget, write down all the features you want your electric smoker to have.
For example, the type of food you want to prepare or the cooking time should be on your list of features.
This allows you to narrow down your options to a few smokers. Furthermore, this is the best way to purchase an affordable smoker with the features you want and need.
The Best Electric Smokers
Now that you know which characteristics an electric smoker should have, it is time to discuss the best electric smokers available on the market.
Masterbuilt Analog Electric Smoker
First off, there is the masterbuilt analog smoker. Masterbuilt's story began many years ago.
At first, they were players in the welding industry but soon began transitioning to making cookers and fryers. In 2005 they soon began producing high-quality electric smokers.
Masterbuilts' quality features include superior design, ease of use, and consistent performance. This digital smoker has a built-in temperature gauge.
This allows you to easily control and read the temperature. Additionally, the digital temperature setting climaxes at 275°F.
Masterbuilt's electric smoker has 730 square inches of cooking space.
While most people prefer a smoker with a little more room inside, this smoker is perfect for those who do not plan to smoke much food.
If you plan to smoke a full pork butt or brisket, the top rack may be too small to allow them to fit evenly. In contrast, this smoker does come with three chrome-coated smoking racks.
Another premiere feature of this 30-inch smoker is its side door. The side door allows you to place wood chips into the smoker easily.
This prevents you from opening up the main cooking chamber and losing heat and smoke.
The side door feature also allows you to easily remove ash from the wood chip tray.
There's no need to worry about smoke levels with this electric smoker. Masterbuilt has a 1,500-watt heating element for even, steady smoking.
In general, the masterbuilt 30-inch analog smoker is a great choice. It is easy to use, promotes consistent heat, and has a great design.
Char-broil Deluxe Digital Electric Smoker
Like the previous smoker, this is also an excellent choice. On the surface, this smoker has an insulated double-wall design with 750 watts.
The insulated double-wall design allows the smoker to seal in heat and smoke.
Unlike other popular smokers, this seamless system allows the smoker to be up to ten times more effective with wood chips. This smoker has a 4 cup dimension.
You can fill up the wood chip box at the beginning of the day and produce 7 hours of smoke.
Other electric smoker brands would take up to 10 times more wood chips to yield as much smoke as the char-broil electric smoker.
Another feature of this smoker is it comes with a washable detachable integrated meat probe. This eliminates the need to estimate what the meat's internal temperature is.
Just implant the meat probe into the meat, and the smoker will inform you when the meat achieves the pre-set internal meat temperature.
As a result of your meat will always be smoked perfectly, every single time.
Additionally, once the smoking process has been completed, the smoker's warming system will keep the food warm until it's time to serve your BBQ feast.
Char-broils digital electric smoker is the perfect device for BBQ veterans and newcomers who have fallen in love with outdoor smoking.
This smoker was designed with 725-square inches of interior cooking space. It also has four adjustable smoking racks.
Therefore, this digital smoker is perfect for a BBQ party for a large group of people or an intimate family gathering. Additionally, the smoker's large size allows you to produce smoke 4-7 hours without refilling the wood chip box.
This feature easily takes the hassle out of smoking foods by allowing you to sit back and relax.
All that is required of you is relaxing until your delicious meal is ready. Get great smoked meat flavor without all the hassle.
Char-broil's smoker has a full-size glass window. This allows you to watch the meat transform and monitor its progress without releasing smoke or heat.
A side-locking latch and a tight seal around the door allow the smoke to stay inside the machine.
This serves as a guarantee that your meat will absorb the smoky flavor and remain tender and juicy.
The detachable temperature gauge lets you regulate the temperature.
Thus, you can also easily make changes using the advanced control panel with readable blue LED display.
The porcelain-coated slide in water vessel is easy to fill up and place into the smoker. This machine also comes with a remote control improved convenience.
This smoker has an 8.5-Cup high-capacity grease tray. This feature allows you to remove and clean the grease tray easily.
Bottom Line
All in all, if you want to get that signature smoky flavor by doing minimal work, this is the smoker for you. If you love throwing parties, this smoker will allow you to entertain your guests while you wait for your food to be smoked to perfection.
Cuisinart Cos-330 Electric Smoker
The Cuisinart COS electric smoker has 548 square inches of space on the inside. Cuisinart's smoker is perfect for those who want to cook several foods in their smoker at the same time.
With three removable stainless steel shelves, you could cook anything from vegetables to beef, poultry, ribs, seafood, or fish.
You can even smoke a whole bird and a brisket at the same time.
These racks can be removed with ease when smoking larger cuts of meat such as pork shoulder. Not only are the racks easy to clean, but they are dishwasher safe.
Cuisinart's electric smoker is the perfect size for patios and outdoor kitchens.
It is very compact, meaning it will be the center of attraction while you are entertaining guests.
This electric smoker gives the user more control over the temperature.
It is a simple setup that requires plugging in the smoker, setting the temperature, and relaxing with family or friends until the food is ready.
This smoker is designed with a dial thermostat for easily controlling the heat and a 1500-watt heating component.
This heating coil achieves temperatures ranging between 100 °F to 400°F relatively quickly.
A large readable thermometer is mounted on the front door.
You can easily look at the temperature without disturbing the smoking process or losing heat and smoke. Thus it is perfect for newcomers or BBQ legends.
Like stainless steel food racks, this smoker also has stainless steel trays that hold wood and water. This makes clean up that much easier.
A noteworthy aspect of this electric smoker is the 3-year limited warranty.
Though purchasing the warranty is optional, it is always useful in the event that the malfunctions due to a manufacturing error.
Though you should find a permanent home for your electric smoker. The Cuisinart electric smoker can easily be transported.
It's designed with a handle on the side of the smoker that helps you move it between locations with ease.
It is perfect for those who do not have a structure with a roof that is protected from wind and rain.
You will be easily able to transport the smoker from your garage to the backyard between uses.
Overall, this smoker is easy to use. There is no specialized training or previous smoking experience need to use this smoker.
All that is required is loading the smoker with food, setting the temperature, and walking away.
Thanks to the effectiveness of this machine, in a few hours, you will have a beautifully smoked meal. There is no stoking the fire or constantly adding wood chips every hour.
Best of all, you will not miss the party. You can be present and enjoy spending time with your friends and family while the food is being smoked.
Smokehouse Products Little Chief Electric Smoker
Smokehouse products electric smoker is another great electric smoker. It is a front-loading smoker and comes with a few recipes.
These recipes are useful to newcomers who have never smoked a brisket.
Additionally, this smoker comes with a 1.75-pound bag of Chips n' Chunks hickory flavored wood fuel.
This is particularly handy if you forgot to purchase fuel for your smoker.
This machine is known for maintaining a constant low temperature. It uses a 120V, 250W heating element that keeps a consistent temperature of approximately 165°F.
There is no guessing whether you are smoking your food at a low temperature.
Additionally, there is no fear of destroying and not cooking and ruining your expensive batch of fish or sausage.
The consistent low temperature eliminates all of your worries and fears.
This machine has chrome-plated grills and a maximum capacity fuel pan. Best of all, it has a dishwasher-safe drip pan which equals easy cleanup.
Smokehouse products electric smoker smokes up to 25 lbs. of food! You heard it right!
You can smoke a lot of meat in this smoker. From freshly caught salmon to sausage to beef jerky, you can smoke several foods simultaneously.
Unfortunately, this smoker is designed for outdoor use only. Even if your house has special ventilation, it is recommended you use this device outside.
This electric smoker is durable and constructed from aluminum materials. It has UL and CUL certifications. Thus it is safe for use.
With a 2-year limited warranty, this machine has a special ventilation system. This system was engineered to promoting smoke circulation and make sure the food is dehydrated properly.
As a result, you get a deep rich smoky flavor with the perfect texture.
Bottom Line
All in all, with over 50 years of experience, smokehouse products electric smoker is easy to use and lets you make enough food to feed the entire family.
Bradley Smoker Digital 4 Rack Smoker
No products found.
The Bradley smoker is constructed from superior quality materials.
It is designed with a powder epoxy steel construction and polished stainless steel interior.
This is not only easy to clean it, but it is easy to assemble. Though this smoker costs a little bit more than other smokers, it is worth it.
Think of the Bradley smoker as an investment into your smoking future.
Thanks to its stainless steel interiors, your smoker is easy to clean and maintain. It will not rust!
The smoke diffusing system outputs constant smoke. Thus it prevents dirty smoke and black rain from penetrating your food and ruining its flavor.
Bradley smoker claims to deliver pure smoke, and this is actually true. They invented clean smoke technology that is compatible with their 100% natural wood smoking bisquettes.
These bisquettes are distributed on a conveyor system, burned for a specific amount of time, then drenched before the wood transforms to ash.
Burning wood to ash is a tragedy in the world of smoking.
The ash drenches the food with bitter, odious, acidic toxins that should never be allowed anywhere near your food.
Thus if you want the creme de la creme of smoke, the Bradley smoker may be the right choice.
As you can imagine, this smoker also has a no-monitoring policy. You can place your food in it without worrying about nitrogen dioxide seeping into your food.
There is no stoking the fire, removing ash, or adding wood chips, chunks, or pellets with this smoker.
The Bradley smoker allows you to fill up to 9 hours of smoking bisquettes into the smoking chamber, program the temperature and time, and go about your day.
This smoker also allows you to simultaneously smoke several foods.
You can cook chicken, pork, fish, beef jerky, sausages, vegetables, and poultry with four cooking racks.
What more's is that this smoker has a cold smoke adapter. This device allows you to cold-smoked salmon, cheese, nuts, beer, wine, whisky, and so much more.
The digital controls allow you to monitor the temperature without losing all of the time and effort you used to create the flavorful cloud of smoke.
The smoke system provides you with 8 hours of controlled cool smoke, and the temperature is controllable up to 320°F.
Overall, you will be able to create quality smoked products with Bradley's electric smoker for many years to come.
The Bradley electric smoker is designed for entertainers and gourmet food enthusiasts.
Royal Gourmet Electric Smoker
Royal gourmet's smoker has 457.86 square inches of cooking space. With 3 chrome-coated smoking racks, you can smoke a variety of foods at the same time.
These cooking racks are also adjustable to move the racks around to accommodate different kinds of food.
A 1500-watt heating instrument powers this smoker.
In addition to this, the smoker also has a fully adjustable and removable digital controller, an integrated thermometer that gives you a quick read of the smoker's internal temperature.
This smoker also features a grease management system. It comes with a removable stainless steel water pan and a lidded wood chip box.
The unique thing about this analog smoker has a separate grease cup that makes your smoking journey easier due to the quick and convenient cleanup.
The oil residue from the food collects in a replaceable aluminum oil pan beneath the smoker. Thus you can easily remove it, clean it, and place it back into position.
The flavoring system of this smoker is also multi-faceted.
Wood chips are heated in a lidded box as steam rises from the water pan that is next to the heating chamber creating a rich smoky flavor.
It is also important to note that hickory chips seem to pair well with this system.
Mesquite gives a robustly smoky flavor to beef, while alder wood chips are perfect for smoking salmon.
If you plan to smoke poultry or pork, applewood would be the best option for this kind of smoker.
Royal gourmet's smoker is not limited to smoking foods. This smoker can even be used to grill, steam, or dehydrated foods.
This smoker has quality seals. The latches seal in smoke and heat, and it has a cool-touch handle that prevents you from getting burned.
It has two side handles that make transporting this smoker from the garage to the backyard patio a cinch.
The smoking temperatures remain consistent inside the cooking chamber. This is due to the double-wall design.
In general, Royal Gourmet's smoker is simple to use, easy to clean, and perfect for those who do not have a dedicated place to store their smoker in.
This smoker allows you to get the same great smoky flavor from any location.
Landmann Smoky Mountain 26″ Electric Smoker
Whether you are a novice or seasoned BBQ expert in the field of smoking, Landmann's Smoky Mountain 26″ Electric Smoker has got you covered.
This smoker is easy to use and will help you turn a stressful smoking experience into a hassle-free smoking experience.
If your backyard area has limited space, a Landmann smoker is the ideal choice for you. Unlike many other electric smokers, this smoker is compact, which means it saves space.
Just because this smoker is compact does not mean it is limited. This smoker has a 3-In-One Combo Tray. This combination tray is designed to be used as a wood chip box, water pan, and grease pan.
Landmann allows you to enjoy the smoking experience. There is no need to deplete the smoke reserves by opening the door to check the status of meat.
This smoker has a full window that allows you to visibly monitor the smoking process without opening the door.
Landmann's smoker is designed for maximum cooking capacity. This device has three easy-to-clean chrome-coated cooking racks.
You can smoke a brisket in one level, beef jerky on the next level, or a whole chicken on the lower level.
Because convenience is always better, this device is transportable. This electric machine is not only compact, but it is also very lightweight.
It is perfect for small areas and allows you to transport it to the garage for safekeeping or to a more convenient location on your deck.
A 1500 watt heating instrument smokes the meat at the correct temperature while adding a smoky flavor to the food.
Other features of this smoker include a temperature gauge mounted on the door. This allows you to control the temperature without decreasing the temperature.
This smoker also includes an adjustable door latch, a rear damper port, and adjustable feet. Adjustable feet make it easier to create a level smoking surface on even ground.
All in all, Landmann is a convenient electric smoker ideal for small places or uneven ground.
Dyna-glo 30″ Digital Electric Smoker
Featuring 732 square inches of cooking space, the Dyna-glow electric smoker has four chrome-plated steel cooking grates.
This futuristic device has digital push-button controls that make programming and regulating cooking times and temperatures easier.
It has an integrated meat thermometer that s digitally controlled, allowing you to monitor the meat's internal temperature without comprising the smoke levels.
It will show you the internal temperature of the meat with the simple push of a button.
This smoker also has a side door you can load your wood chips into. This was functional but simple design minimizes smoke loss and heat loss.
Best of all, this system makes it easier for you to smoke ribs, sausage, and brisket quickly. The heating design speeds up the cooking process.
The 800-watt heating element provides the smoker with ample power, even if you live in a colder environment.
In addition to this, the double insulated walls of this smoker and high-temperature seals around the door lock in smoke and heat while the food is cooking.
Dyna-Glo's 30-inch digital electric smoker has a removable tray that allows you to remove and discard grease and meat dripping in no time at all.
Overall, Dyna-Glo's 30-inch digital electric smoker is perfect for veterans and novices across the bbq land. It gives your food signature smokehouse flavor in no time at all.
Frequently Asked Questions About Electric Smokers
There is no way you can read all of this information without having at least one or two pressing questions. So these are a few of the most popular, frequently asked questions about electric smokers.
Should You Soak Wood Chips for an Electric Smoker?
In short, no. Soaking wood chips is not required for an electric smoker or any other kind of smoker.
You would be adding an extra unnecessary step and working yourself that much harder.
One of the primary purposes of using wood chips is to create smoke.
The other purpose of using wood chips is to add different flavors that complement and enhance the flavor already present in the food.
This process can be done without soaking the wood chips in a liquid before smoking.
Does an Electric Smoker Burn a Lot of Electricity?
It is natural to assume that electric smokers burn a lot of energy. After all, an assumption isn't necessarily a fact.
However, electric smokers do not burn a lot of electricity. In fact, most electric smokers burn about 800 watts per hour with is not a lot.
Don't believe me? If you smoked a cut of brisket for 6 hours a day for one month and multiplied 800 by 6, you would end up with 4800 or 4.8-kilowatt-hours.
Multiply the kilowatt-hours by 30 to get the total monthly consumption which is 144.
If you multiply this raw figure by your neighborhood's average kilowatt per hour price, you will see that an electric smoker does not consume mass amounts of energy.
How Long Does an Electric Smoker Last?
If an electric smoker is taken care of properly, an electric smoker can last approximately 5-10 years. Hence, it is an excellent investment into your BBQ future.
What Are Electric Smokers Good For?
Electric smokers are good for just about any food. If you are purchasing a smoker to expand your culinary creativity, this is the perfect method to do so.
You can cold smoke bacon, cheese, or salmon with an electric smoker. Additionally, you can make beef jerky, dehydrated fruits, and even desserts with an electric smoker.
Do Electric Smokers Actually Smoke?
It only natural to wonder if electric smokers actually smoke. It is electric, after all. There is no fire or charcoal used with this kind of smoker.
However, electric smokers do smoke. This particular device derives heat from hot electric rods.
These rods, along with the wood chips, create the smoke that is used for cooking the food.
Can You Place Aluminum Foil in an Electric Smoker?
In short, yes, you can put aluminum foil in an electric smoker. However, there are health concerns regarding the possibility of materials from the foil leeching into the food.
For this reason, we recommend using peach paper.
Can Electric Smokers Get Rained On?
Similar to any other kind of smoker, electric smokers should never be allowed to get wet.
Some electric smoker brands may be able to withstand a little rain, but this is not a guarantee that it will not be damaged by rain.
So make sure you choose an electric smoker made from durable materials.
Is an Electric Smoker Safe for Overnight Use?
Yes, you can smoke meat overnight. However, it must be monitored.
Whether it is an offset smoker, grill, or electric smoker, it is never truly safe to leave food unattended for vast amounts of time.
How Often Should You Add Wood Chips to an Electric Smoker?
It truly depends on the smoker. Some electric smokers can go for 6-7 hours without adding wood chips.
Even though there is no standard time frame for adding wood chips to an electric smoker, every 5-6 hours is appropriate.
Pay attention to the kind of smoke your electric smoker is producing, and you will know when it's the right time to add wood chips.
Where Do You Store an Electric Smoker?
Though we have previously discussed this, it is important to reiterate it.
The optimum location to store your smoker is in an enclosed space such as a shed or garage that's not attached to your main living quarters.
While you can store it in the house, the electric smoker may give off an unpleasant odor. Others are bold enough to store their electric smokers outside.
However, this is not recommended as you are leaving your smoker to be battered by the elements.
Can Electric Smokers Be Stored Outside?
If you must store your smoker outside because you do not have a garage or a shed, there is a solution you can use to protect your smoker.
Purchase a waterproof electric smoker cover to keep it dry. It will remain protected if you keep your electric smoker cover on during heavy rainstorms.
Do I Need to Season a New Electric Smoker?
Of course, you do. There is no denying that electric smokers are very convenient. However, an electric smoker must be seasoned just like an offset grill has to be seasoned.
Seasoning your electric smoker eliminates residues, such as oil and dust, that may be by-products of the production process.
Many of these substances may contain solvents or be petroleum-based. These materials should never be present when you are smoking food in your smoker. They will ruin the beautiful aroma of your food.
Can You Get a Smoke Ring Using an Electric Smoker?
Though smoked meats are known for their rich ring, electric smokers are not the best bat achieving this signature look. However, you can still get a rich pink ring with an electric smoker.
The pink ring can be achieved by placing a few pieces of wood and charcoal in your electric smoker's wood tray prior to smoking your meat.
How Do You Break in a Brand New Electric Smoker?
Ever bought a car without taking it for a spin? Though the circumstances are a bit different, it's still the same idea.
Before you prepare your first meal in your electric smoker, you should break it in.
Place the water pan into your smoker without any water. First, ensure the water pan is placed into the electric smoker.
Program your smoker to 275°F and let your electric smoker run for three hours. Place about 1/2 cup of wood chips in the wood chip box during the final 45 minutes of the seasoning process.
Turn off your electric smoker and let it cool fully before using it.
How Hot Do Electric Smokers Get?
Unfortunately, there is a myth floating around that electric smokers cannot achieve a high temperature. However, this is untrue.
Most electric smokers have a temperature that ranges from 100°F -275°F. On the other hand, some electric smokers can surpass this limit depending on the electric smoker brand.
Do Electric Smokers Give Off Carbon Monoxide?
Most people hear carbon monoxide and instantly think they will be exposing themselves to a poisonous substance.
However, electric smokers only generate minuscule amounts of carbon monoxide. While this amount is not harmful, you should still proceed with caution.
Final Thoughts
Now you know the ins and outs of purchasing an electric smoker. Remember to make a list of the most important features that you need in a smoker. Happy electric smoking!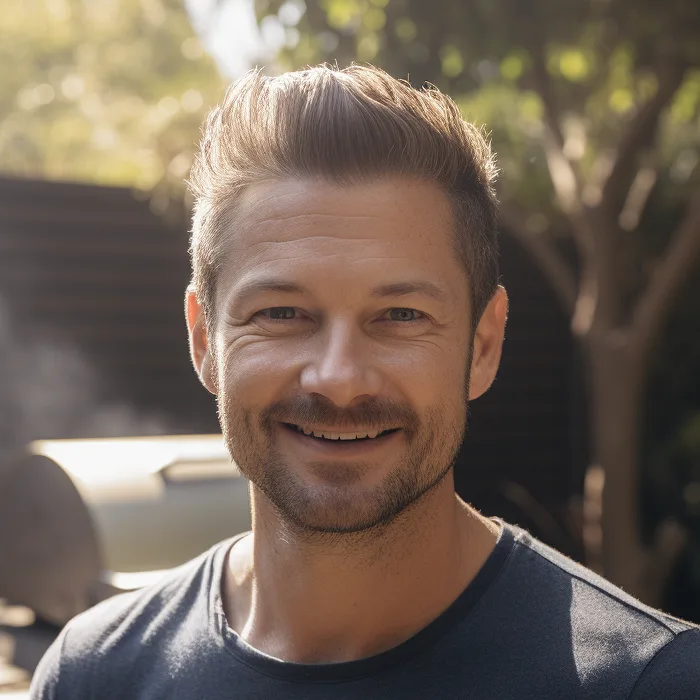 I have been smoking and grilling meat from an early age and enjoy sharing my knowledge and expertise through the hundreds of articles I have written about BBQ. I hope to make everyone's BBQ journey that little bit easier.