I think we can all agree that there is no point in trying to smoke foods without an accurate smoker thermometer. It's like driving a car without any fuel. You will end up nowhere.
Though BBQ experts make it look easy, it is extremely challenging to create the perfect smoked BBQ meat without keeping your smoker's temperature steady.
Most novice barbecuers depend on their smoker's built-in thermometer. However, your hopes of juicy, tender brisket will be crushed when you discover dry overcooked brisket.
The wonderful thing is you can prevent your BBQ meats from turning into a dry overcooked disaster by purchasing a smoker thermometer.
A thermometer will help you control your smoker's temperature giving you a tender, juicy, delicious cut of meat.
What To Look For in a Smoker Thermometer
When it comes to smoker thermometers, there are several key factors you want to keep in mind.
Thermometer type, wire length, probe and temperature range, efficiency, wireless/Bluetooth capabilities, and ease of use are all features that play a critical role in the quality of a smoker thermometer.
These are the characteristics you should look for in your smoker thermometer.
Thermometer Type
There are several types of thermometers including, instant-read, wireless/Bluetooth, and so much more. The type of smoker thermometer you need depends on your preference.
Unfortunately, for BBQ newcomers, this means experimenting with smoker thermometers until they find the one.
Instant-read thermometers can be inserted directly into the meat. Within a few seconds, you will know the temperature of your food.
You can simply insert the thermometer probe directly into your food for a few seconds to check its temperature.
Though instant-read thermometers were the must-have smoker thermometer back in the day, wireless and Bluetooth thermometers have wormed their way into many BBQ enthusiast's grill tool collections.
The most appealing aspect of wireless probe thermometers is that they can remain in the meat during the duration of the cooking process.
Since they do not need to be removed, wireless probe thermometers give you more precision and accurate readings.
Additionally, their safe heat wire is fastened to the probe and runs back to a digital module that sits on the exterior of the smoker. The digital unit will visually show you the temperature.
BBQ enthusiasts believe wireless and instant-read thermometers are viable options with advantages and disadvantages.
Some individuals fall in love with wireless thermometers because they do not have to constantly jeopardize smoke levels to take the temperature of the meat.
Others don't mind using an instant-read thermometer to gauge the smoker and meat temperature a few times during the cooking process.
Probes and Temperature Range
The average smoker probe temperature ranges between 0°c to 300°C.
This range is the most effective for smoking all kinds of foods. However, some probe temperatures can range up to 482°С and even 716°F.
While thermometers can have up to 3 probes, most experts agree that a dual smoker thermometer is practical and efficient.
This allows you to measure and monitor the temperature of more than one kind of meat.
However, it is possible to purchase replacement probes for some smoker thermometer brands and fasten them to make six thermometer probes.
Wire Length
A thermometer smoker's wire length should be approximately 30-48 inches in length.
A wire length of this range provides you with the appropriate amount of room to safely measure the temperature during the grilling process.
Accuracy
Accuracy is gold when it comes to a smoker thermometer. You want a smoker that gives you an almost perfect temperature.
It is best to search for a smoker thermometer that claims to provide at least 1.8°F plus or minus accuracy.
Ease of Use
During the cooking process, you should be able to easily whip out your thermometer and get an easily visible temperature. Struggling to get an accurate read ruins the grilling experience.
Look for a smoker thermometer that is easy to use and is not a hassle to put together. Smokers should be effortless to put together and use.
Hot Tip
Most thermometer smoker brands will often claim to be the easiest, simplest thermometer you will ever need. You will see it in the display as well as the settings, pre-settings, timers, and alarms.
Remote Range
This feature applies to wireless and Bluetooth-enabled smoker thermometers. It is best to select a thermometer that has a wide remote range.
This is why it is essential to test wireless and Bluetooth-enabled smoker thermometers for compatibility.
Testing the thermometer against your devices to make sure they stay within range. Additionally, you maintain a connection to the food whether you are inside or outside your home.
The best wireless or Bluetooth-enabled smoker thermometers have a remote range of at least 150 feet or more.
Construction
When it comes to a smoker thermometer, choosing a thermometer constructed from durable materials is vital.
While your thermometer does not have to be immortal, a smoker thermometer should last a very long time.
You may want to select a water-resistant or shock-proof smoker thermometer. They are designed for heavy use and will not stop working if a bit of water gets onto it.
Batteries
To be honest, cheap smoker thermometers will cost you more down the line than a pricier model. You will have to change your smoker thermometer's batteries frequently.
Pay attention to the batteries your thermometer requires and their predicted lifespan.
Digital Display Backlight
Smoking meat is a very long process that may last into the night. For this reason, you need a smoker thermometer that can be used day or night.
Backlights allow you to decipher the temperature of the meat in low-light environments easily.
Price
No matter what you are purchasing, price is always the biggest factor to consider. Luckily, the price range of smoker thermometers ranges from low to high.
You need to decide between paying more for a thermometer with high-tech features or paying less for a cheaper model with minimal features.
Warranty
Warranty is essential when it comes to all things involving grilling. Though most individuals avoid the warranty, it is beneficial that you purchase it.
Depending on what the warranty covers, you may be able to replace probes or sensors if they become inaccurate.
Bottom Line
Most thermometer smoker brands have a warranty between 1-3 years.
Best Smoker Thermometers
Though most think smoking meat is easy, it is actually a long process that requires time, effort, and, most importantly, money.
In fact, you will want to invest just as much time and effort into finding the perfect smoker thermometer.
Luckily we narrowed your options down to the five best smoker thermometers. These trusty gadgets will result in a tender, juicy cut of smoked meat.
Thermopro Wireless Remote Smoker Thermometer
There's no surprise that ThermoPro created a hands-free digital smoker thermometer. We live in a world full of hands-free devices.
This smoker thermometer has dual probes technology allowing you to prepare two cuts of meat simultaneously. Moreover, the monitors allow you to keep an eye on your phone even if you are 300 feet away.
This multipurpose thermometer allows you to use it on your grill, smoker, or oven. You will use this thermometer out nearly every time you step into your kitchen.
The setup for this smoker thermometer is truly effortless. Synchronization isn't even needed. Better yet, the large LCD displays are perfect for low-light conditions and present both food and smoking or oven temperatures.
The kitchen timer feature is perfect for the smoking process as it counts up and down. It even has two-time duration options, including 99 hr, 59min, 59min 59sec, to help you regulate your time efficiently.
An alarm will sound and flash once it achieves its preset temperature.
ThermoPro's smoker thermometer has settings for nine different kinds of meat along with their USDA recommended temperatures for doneness.
That's right; you can cook ground beef or poultry, beef, veal, pork, poultry, lamb, and fish to rare, medium-rare, medium, medium well, and well done.
You can even reset all of the preset temperatures until your meat reaches your desired temperature.
Made from food-grade stainless steel, the probes are extremely strong.
The steel probes feature a step-down tip design to get more accurate temperatures in no time.
The smoker thermometer displays both Fahrenheit and Celsius readings. The probe temperature ranges from 32°F to 572°F or 0°C to 300°C to give you a near-perfect read. Furthermore, the probe wires are heat resistant and can withstand up to 716°F.
Best of all, ThermoPro's smoker thermometer temperature settings are saved even though the thermometer is powered down.
This smoker was not only designed with a splash cover, but it has a receiver pullout countertop stand, receiver belt clip, and a rubber sleeve case.
Finally, the transmitter comes with a wire hook to fasten the thermometer to the oven door and doubles as a stand.
Overall, the ThermoPro smoker thermometer allows you to relax and enjoy your company without having to exit the conversation periodically to measure the temperature of your food.
Lavatools Javelin Instant Read Meat Thermometer
This smoker thermometer list would not be complete without an instant-read thermometer. Though it is a matter of preference, the lavatools smoker thermometer is a viable option.
This smoker thermometer has a 3-4 second ultra-fast response time with an efficiency better than ±0.9°F. That's right, ±0.9°F. Its large 1.4-inch display is super easy to read.
The lavatools smoker thermometer features IP65 splash-proof construction. This prevents minor spills and kitchen accidents from destroying your thermometer.
With an integrated magnet, you can fasten this thermometer to your oven or refrigerator. This allows you to store it in the easiest place.
Best of all, this smoker thermometer goes beyond smoked meats. This multipurpose can be used for liquids, fryers, bread, chocolate, yogurt, and cheese.
Lavatools thermometer smoker is NSF certified and has a quality unlike any other smoker thermometer on the market.
In fact, this smoker thermometer has an industry-leading 3-year limited warranty.
In general, if you are prone to losing kitchen tools, this is the smoker thermometer for you.
With convenient storage options, you won't have to rummage through your kitchen doors searching for your thermometer the next time you are in the mood for BBQ.
Nutrichef Smart Bluetooth Bbq Grill Thermometer
The nutrichef thermometer features upgraded stainless steel probes that are built to stay in a grill, oven, or smoker for the entire length of cooking time.
The probe probes can withstand temperatures up to 482°F. Additionally, the 32 inchbraided stainless steel cable wire can withstand temperatures up to up to 716°F.
The cable is designed to provide lots of room to keep the Bluetooth hardware a safe distance away from heat.
This smoker thermometer has an outdoor wireless range of 328 feet and an indoor range of 100 feet. You will even get a notification every time you lose the signal.
This thermometer comes with a smartphone alarm compatible with both Apple iPhones and Android devices through the WiFi mobile app.
You will receive a push notification to remove your meat from the smoker when it achieves the preprogrammed temperature.
Though this smoker thermometer comes with two probes, you can add four more and cook four foods simultaneously.
The remote will display temperatures in Celsius or Fahrenheit, and you can alter or save pro cooking presets for your favorite BBQ recipes.
This instant-read digital display thermometer is perfect for day or night-time grilling.
The large backlit display can be held in your hands or set on an adjustable stand. Additionally, it is great for taking a quick glance at your meat's temperature and progress.
The digital display will automatically switch between both the readings and notify you when the temperature drops below or above the preprogrammed temperature.
Bottom Line
Overall the nutrichef smoker thermometer is a cool piece of modern technology. If you love adding smart kitchen gadgets to your kitchen arsenal, this is the best choice for you.
Veken Wireless Meat Thermometer
The Veken wireless smoker thermometer has a range of 490 feet.
This strong, durable thermometer is double the standard thermometer range and triples the normal Bluetooth range of the normal range.
With four probes, you can cook four different types of meat simultaneously.
Built from food-grade stainless steel that can reach temperatures of up to 572°F, you can use this smoker thermometer when you are grilling, roasting, or smoking foods.
Best of all, Veken's smoker thermometer passes the IPX7 waterproof standards, so you don't have to worry about accidental spills.
Things are always better when they run smoothly, and this smoker thermometer operates smoothly. Equipped with a transmitter and receiver that are already paired, there's no need to fret about app crashes or continuous re-connection issues.
This thermometer has pre-programmed temperature settings for eight different kinds of meat as well as the five standard food-safe temperatures recommended by the USDA. You can easily set your temperature and walk away.
Built with accuracy in the Veken thermometer has fast data reading and provides you with both Fahrenheit and Celsius.
The backlit LCD screen that's perfect for day or night time smoking, and it will give you a temperature within 2-3 seconds. Additionally, it has an accuracy range of 8°F/1°C.
This hands-free thermometer features a belt clip as well as a stand that allows you to set or store your thermometer easily.
This smoker thermometer will even sound an alarm once your food reaches the desired temperature. Moreover, the smart settings and reminders are perfect for time management and meal planning.
The edges are outfitted with non-slip silicone for durability and reliable thermal sensors for increased accuracy.
Additionally, the thermometers are equipped with 49-inch stainless steel braided cables.
The Veken smoker thermometer generally allows you to sit back and connect with the people around you. It eliminates the need to stare at a grill as it monitors the smoking process.
Newstart Bbq Smoker Thermometer
This two-piece temperature gauge comes with two stainless steel BBQ thermometer gauges. The gauges display large degree scales and numbers, easy to read even from far away.
Best of all, it is outfitted with color-coded zones that clearly indicate smoke, BBQ, and grill temperature zones. The temperature ranges from 100 to 550°F with extreme accuracy.
One of the frustrating things about temperature gauges is they get foggy. However, the surface of the smoker thermometer is waterproof and will not get cloudy.
Best of all, with a screw thread and wing nut, you can easily mount it to your smoker.
With an accuracy of +/- 10°F, this smoker thermometer has a 12-month warranty and 2-inch long 304 stainless steel housing.
This smoker thermometer also features a 3-inch long and a 1/4-inch diameter stainless steel stem.
All in all, the Newstart BBQ thermometer is perfect if you are searching for a simple thermometer. Moreover, these can also be used to replace the gauge in your grill or smoker.
FAQs About Smoker Thermometers
With all of the information you have just read, there is no doubt you have a few linger questions. These are the most popular questions about smoker thermometers.
Are Smoker Thermometers Accurate?
Yes, smoker thermometers are accurate. Most grills and smokers usually include a dial thermometer pre-installed on the dome or hood of the machine. However, these thermometers are not only cheap but inaccurate.
This is why most BBQ experts recommend purchasing a separate smoker thermometer.
Smoker thermometers will give you an accurate temperature and prevent you from overcooking your meat.
How Do You Use a Digital Thermometer on a Smoker?
Using a digital probe smoker thermometer is very easy. Turn your smoker on, and insert the probe into the thickest part of the meat, making sure to avoid touching any bones.
Insert the probe just until it hits the center of the meat, do not push the probe all of the ways through.
If you are only preparing one cut of meat and have a dual probe thermometer, you can fasten the other probe to the grate.
The second probe connects to the control panel, allowing you to easily monitor both smoker and meat temperatures.
Furthermore, the probe should be inserted through the clip while the clip sits at the halfway point to prevent inaccurate readings.
Next, all that's left to do is read the temperature. Best case scenario, your smoker thermometer will allow you to relax away from your smoker and easily monitor and adjust the temperature.
Now comes the easy part, removing the food from your smoker once it achieves the desired temperature and devouring it.
How Do I Know if My Smoker Thermometer Is Working?
Unfortunately, some of us assume a thermometer is in working condition because it turns on. However, turning it on is simply not enough.
How do you know if a thermometer works? Do you aim it at yourself or at a flame? Rather than pointing and aiming at random objects, try this method instead.
Place enough ice and water into a large bowl at least 1/3 to 3/4 ways full.
Place the smoker thermometer's probe approximately 2 inches in the middle of the ice bath and gently stir it for 15 seconds, constantly moving the stem.
A working thermometer will register a temperature of 32°F. Also, do not let your set thermometer flush against the ice, or you will get an inaccurate low temperature.
How Do I Use a Wireless Smoker Thermometer?
Using a wireless thermometer in a smoker is very easy. First, turn your smoker on. Ensure your wireless thermometer is in working condition. Make sure your batteries are correctly installed.
Moreover, make sure you can visually see the temperature on display and the probes are fastened to the transmitter accurately. Next, insert the probe halfway into your meat and place it into the smoker.
Do not place the transmitter too close to the transmitter, as this will affect your reading. Seal your smoker and allow the meat to do its thing.
Wireless thermometer probes must stay embedded in the meat for the entire length of the cooking process.
The last tip for a wireless thermometer in a smoker is to keep the receiver near you. Keeping the receiver in range allows you to monitor the temperature of the meat without leaving your seat.
Once your food reaches the preferred temperature, gently remove the probe and dig in.
Are Digital Meat Thermometers Accurate?
Of course, digital thermometers are accurate. Some BBQ experts believe digital thermometers to be superior.
They believe digital thermometers are accurate, consistent, and generally easier to use than non-digital smoker thermometers.
Most digital thermometers have an accuracy range between 2 to 4 °F. However, most digital thermometers do not exceed more than 5°F.
Can I Leave a Meat Thermometer in a Smoker?
Unfortunately, only thermometers with a wired temperature probe can be for an extended time in a smoker.
The probe will be inserted into the meat and remain there during the entire smoking process until it achieves the desired temperature. Best of all, you can view the temperature of your meat without opening the smoker.
What Temperature Does Meat Stop Taking Smoke?
The myth that meats stop absorbing smoke is simply that: a myth.
Smoke absorption does not have a time limit. At 170°F, you may notice the smoke ring stops growing.
Some people believe salt to be the cause of this. However, this is a result of myoglobin losing the capacity to maintain oxygen levels.
Where Do You Place an Ambient Thermometer in a Smoker?
The grill or smoker's interior temperature is greater close to the top of the cooker. If you place your thermometer in this region, you will likely receive an inaccurate temperature.
It is best to place an ambient thermometer on the side of the unit a couple of inches above the cooking grates. This keeps the thermometer in line with the food and gives you a precise reading.
Is the Dome Temperature Higher Than the Grate Temperature?
The dome temperature can be higher than the grate temperature. Airflow, as well as indirect heat settings, can create substantial temperature fluctuations.
Clipping a probe to the grate will give you a temperature that is 50° less than the dome temperature.
Where's the Best Place To Insert a Thermometer in a Brisket?
The most optimal place to insert a thermometer probe into a brisket is in the center. The center is the thickest part of the brisket.
Insert your thermometer horizontally and at an angle across the grain for best results.
Do Chefs Use Meat Thermometers?
Of course, chefs use meat thermometers. They will probably advise you to invest in a thermometer too. Thermometers ensure that food, especially meats, is safe for consumption.
How Far Should You Insert a Thermometer Into Meat?
Most thermometers will suggest you insert the probe 1/2-inch into the meat.
However, if your cut is larger than 1-inch in thickness, you may want to insert the probe deeper until it reaches the center.
What Happens When a Meat Thermometer Touches the Bone?
When meat comes into contact with the bone, it gives you a higher false temperature. There can be as much as a 10° difference in temperature.
This could be the difference between a moist cut of meat or a dry cut of meat.
On the other hand, inserting the probe into the densest part of the meat gives you an accurate temperature. Avoid hitting the bone at all costs.
What Is the Difference Between a Meat Thermometer and a Food Thermometer?
The primary difference between food and meat thermometers is a meat thermometer is inserted into the joint of whole meats.
Meat thermometers can also be inserted into the thickest part of a brisket or a steak. Meat thermometers are left in the meat until it is finished cooking.
Is the Bone's Temperature Hotter or Colder?
It depends on what meat you are preparing. For example, the bone is always the coldest part of a steak.
In contrast, a bone-in pork shoulder will be hotter as the bone acts as a heat conductor pulling the heat into the meat.
Therefore you should never measure temperature near the bone.
Are Smoker Thermometers Worth It?
Meat thermometers are definitely worth it. Even if you are not into barbecuing, a thermometer is a must-have kitchen tool.
Not only are they easy to use, but thermometers will help you serve safe food. No one enjoys getting a food-borne illness.
Why Should I Purchase a Smoker Thermometer?
You should purchase a smoker thermometer as soon as you purchase your smoker.
In fact, while you are making a list of smoker essential smoker features, you should also be compiling a list of essential thermometer features.
You will be able to purchase both items simultaneously.
Built-in thermometers are not only cheap but inaccurate. Furthermore, built-in temperature gauges only measure the air temperature within the unit, not the meat's temperature.
While some individuals may tell you not to purchase a smoker, thermometer poking, prodding, or looking at a cut of meat will not tell you if it is done.
A thermometer can only tell when the meat has finished cooking. Additionally, it will also prevent you from overcooking or undercooking the meat.
Smoker thermometers, especially digital thermometers, will provide you with an accurate temperature in no time.
Will a Smoker Thermometer Make My Meat Dry?
No, a smoker thermometer will not make your meat dry.
Meats consist of approximately75% water. Though moisture does escape while inserting a probe into the meat, it is a minimal amount.
Final Thoughts
You are definitely engaging in risky behavior if you do not have a smother thermometer. Smoker thermometers are as essential as the meat itself.
Smoker thermometers will help you serve safe, perfectly cooked, moist, and flavorful food. They are just as important as the pièce de résistance.
Furthermore, modern smoker thermometers are incredible grilling tools!
Whether you are a BBQ novice, at-home chef, or a BBQ expert, smoker thermometers make the smoking process easy as pie. Happy smoking!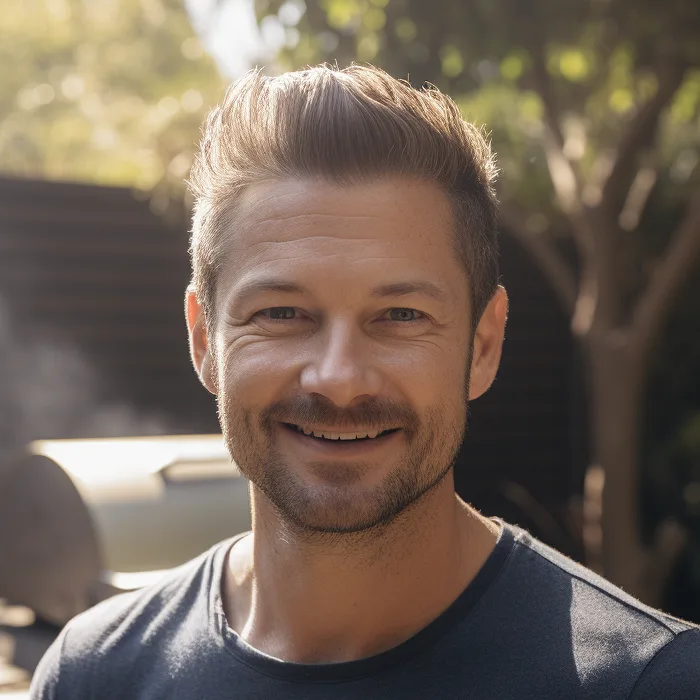 I have been smoking and grilling meat from an early age and enjoy sharing my knowledge and expertise through the hundreds of articles I have written about BBQ. I hope to make everyone's BBQ journey that little bit easier.