Summer is within our grasp, which means it's grilling season.
There is no better way to open the grilling season than with grilled chicken wings slathered in tasty bbq sauce.
These barbeque chicken wings are seasoned, grilled to perfection, and slathered with a thick rosemary-infused bbq sauce.
Do You Put Bbq Sauce on Chicken Before Grilling?
While a BBQ sauce adds unparalleled flavor and texture to meat throughout the cooking and after the cooking process, this may not be the wisest decision.
Most grilling enthusiasts recommend you marinate the chicken in bbq sauce or toss the chicken wings in the sauce and baste it with more sauce as the chicken cooks.
However, this method can cause your bbq chicken wings to burn.
The way to get the perfect barbeque chicken wings is to season the chicken, grill it and baste it with the sauce during the last 15 minutes of cooking time.
How Long Does It Take To Bbq Chicken Wings on the Grill?
Depending on your grill, it can take an hour and 15 minutes to 1 hour and 30 minutes.
However, you should note if you are using charcoal or wood grill, it is best to set your fire on one side of the grill and place your wing on the opposite side of the fire to keep them away from direct heat.
This bbq chicken wing recipe uses indirect heat. The wings are arranged on the grill and cooked over medium-high heat with the cover on for 30 minutes.
The wings are then basted with the rosemary-infused bbq sauce and cooked until they are lightly charred.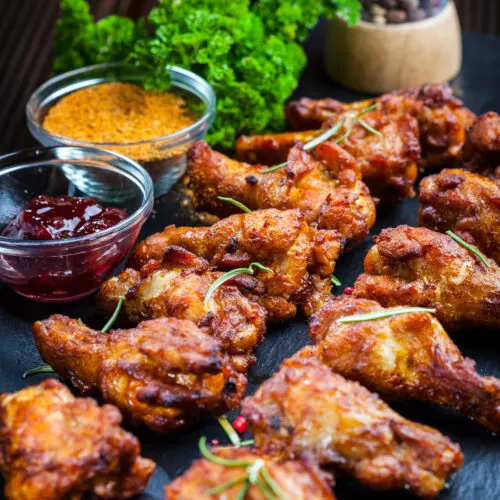 Bbq Chicken Wing Drummettes Recipe
Chicken wing drummettes are cooked slowly using indirect heat that basted with a delicious rosemary-infused sauce.
Equipment
Whisk

Bowl

Measuring spoons

Measuring cups

Tongs
Ingredients
3

lbs

chicken wing drumettes/drumsticks

1

tsp

kosher salt

1

tsp

black pepper

1

tsp

lemon pepper

1

tsp

smoked paprika

¼

tsp

cayenne pepper

1

tsp

garlic powder

1

tsp

onion powder

2

tbsp

vegetable oil
For the sauce
½

cup

ketchup

¼

cup

butter, melted

1

tbsp

Worcestershire sauce

2

tbsp

maple syrup

1

tbsp

chili powder

1

tbsp

fresh rosemary
Instructions
Set your grill to about medium heat and brush the grates until they are clean.

To make the rosemary-infused bbq sauce, whisk the ketchup, butter, Worteceshire sauce, maple syrup, chili powder and rosemary in a small saucepot.

Heat the rosemary-infused sauce over a medium-high flame; once it is boiling, decrease the heat to medium-low and cook it for 5-7 minutes, periodically stirring until it thickens up.

Whisk the kosher salt, pepper, lemon pepper, smoked paprika, cayenne pepper, garlic powder, and onion powder in a small bowl.

Pat the chicken wing drummettes dry with paper towels and place them into a large bowl.

Add the olive oil to the chicken wing drummettes, toss to coat, then generously apply the seasoning blend and toss to combine.

Place the wings onto the grill in an even layer, cover them and cook for 30 minutes.

Baste the chicken wings with the rosemary-infused bbq sauce, place the lid back onto the grill, and cook for another 30 minutes.

Continue to baste the wings with the sauce until they are slightly charred and reach your preferred doneness.

Toss the chicken wing drummettes with any remaining rosemary-infused bbq sauce.
Nutrition
Serving:
141
g
Calories:
200
kcal
Carbohydrates:
6.6
g
Protein:
22.2
g
Fat:
88.7
g
Saturated Fat:
3.901
g
Polyunsaturated Fat:
2.448
g
Monounsaturated Fat:
3
g
Trans Fat:
0.191
g
Cholesterol:
115
mg
Sodium:
521
mg
Potassium:
306
mg
Fiber:
0.5
g
Sugar:
4.57
g
Vitamin A:
563
IU
Vitamin C:
9.8
mg
Calcium:
24
mg
Iron:
1.19
mg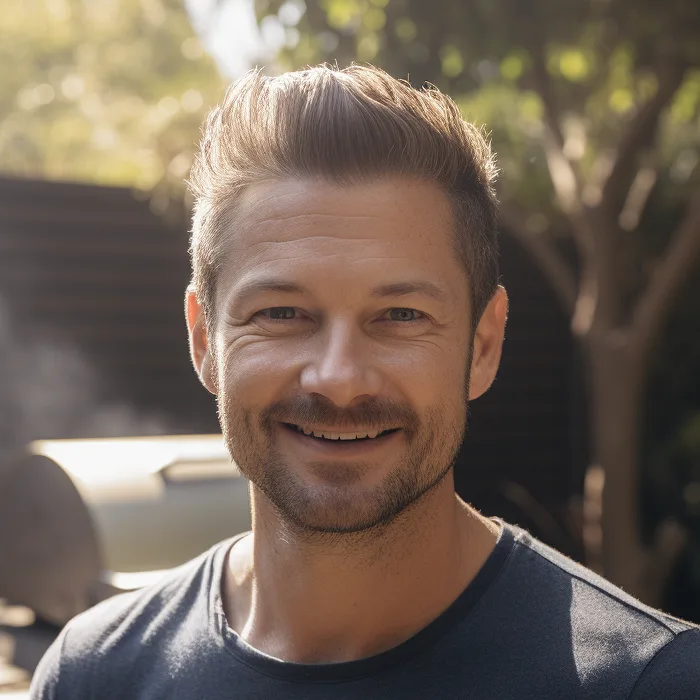 I have been smoking and grilling meat from an early age and enjoy sharing my knowledge and expertise through the hundreds of articles I have written about BBQ. I hope to make everyone's BBQ journey that little bit easier.