Whether it's fish, chicken, shrimp, burgers, vegetables, potatoes, or any other grilled food, nothing compares to reaping the rewards of grilling your favorite food.
Grill baskets can help you achieve your grilling dreams.
If you haven't discovered grill baskets yet, you are committing a major injustice. Not only do grill baskets make food taste better, but they improve food's appearance.
Moreover, grill baskets prevent food from falling through the cooking grates, making the grilling process sager and easier.
What To Look For in a Grill Baskets
When looking for the right grill basket, you have to consider multiple factors.
For example, material, design, size, handle type, and other essential components play a critical role in the product you choose as well as your grilling experience. Here are the essential elements your grill basket should have.
Material
The most beneficial grill baskets are strong, solid, and can withstand continued exposure to extremely high temperatures.
The most common grill basket materials are copper, aluminum, cold-rolled carbon steel, or stainless steel.
Durable grill baskets are constructed from thick wires. Thin wires can bend due to prolonged heat exposure.
Uncoated stainless steel grill baskets can be placed onto the flame no matter how hot it is. As a result, they can withstand heat and will not be damaged by fire.
However, oils and food debris will accumulate on non-coated baskets. Nonetheless, you can easily remove buildup by scrubbing them with a bit of dish liquid and hot water.
On the other hand, with nonstick grill baskets, you will not experience buildup. Meat, fish, vegetables, or any other food will lift as easily as when you first placed it into or on the grill basket.
However, it is worth noting that non-stick grill basket manufacturers do not recommend using temperatures higher than 400 degrees. At this temperature, the nonstick material will break down.
Bottom Line
You want your grill basket to last for many years to come, so choose a grill basket constructed from durable materials.
Size
Your grill basket should be the appropriate size for your grill.
Your grill basket should have high sides and enough room to simultaneously prepare several cuts of meat, fish, or vegetables.
Another size factor to consider is how many people you plan to serve as well as the size of the food you plan to cook. For example, ribeye steaks will need more room than burger patties.
Additionally, more cooking surface equals better heat distribution.
If you are an entertainer at heart or enjoy grilling up tuna steaks or large foods, a large grill basket may be the right choice for you.
If you are set on choosing a foldover grill basket, ensure it has adjustable height. This will allow you to close the basket over the tall foods such as steaks.
Ultimately you want a grill basket that can fit everyone's needs in one grilling session.
Design
Grill baskets are usually available in two design varieties: basket or foldover. Though they are less popular, there are also several wok-style grill baskets available.
Authentic grill baskets are what they claim to be. They are metal baskets designed to hold food while sitting on top of a grill.
Additionally, grill baskets usually feature tall sides to prevent foods from falling out of the basket and an open top for turning food over easily.
On the other hand, foldover baskets fold over as if you were folding a sheet of paper in half.
They hold your food in a stable position and usually feature a long handle that extends beyond the grill.
Foldover grill baskets allow you to easily grab the handle and flip the food over in one motion. In addition, it eliminates the need to turn each piece of food over individually.
Moreover, because foldover baskets close on all sides ensure you find one that is large enough to fit the food.
Inspect the basket for rough seams or bits of mesh sticking out that could potentially harm your fingers.
Make sure your foldover basket has a strong latch lock to keep foods in place. Additionally, some foldover baskets come with insulated handles to prevent you from being burned.
If you are leaning towards a Wok-style grill basket, keep an eye out for a basket with tall sides and a deep cavity.
This will prevent foods from escaping if you are stir-frying or sauteing veggies. Ensure the side handles are big enough to be gripped with BBQ mitts or leather gloves.
Hole
The size of the holes is very important when it comes to grill baskets. Holes allow fat and grease to slip through the holes.
However, a grill basket's hole should never be big enough that the food escapes through them.
If your recipe calls for the food being cooked in its own juices, a grill basket with smaller holes may be the right choice for you. It will provide an end product with more flavor.
Bottom Line
Choose a grill basket with suitable hole size. It could be the difference between perfectly grilled foods and foods covered in fat and grease.
Handles
Handles provide safety. Grill baskets should have insulated handles and secure enough to remove food from the grill easily.
In addition, insulated handles will remain cool to the touch preventing you from being burned.
Foldover baskets usually have long handles. These handles can be constructed from wood, plastic, or metal and extend inches beyond the heat.
On the other hand, basket-type handles are shorter, with handles within range of the heat.
Therefore, whether or not the grill basket's handle becomes too hot depends on the basket's height and cooking time. If left alone on the grill too long, it will become hot.
Grilled baskets handles are rolled metal fastened directly to the side of the basket. Whether your basket has an extended or short handle, ensure you use oven or grill mitts.
Best Grill Baskets
Grill baskets are like a makeshift skillet for the grill. Grill baskets come in multiple sizes, shapes, designs, and materials.
Choosing the right grill basket can quickly become overwhelming. Luckily, we have severely limited your options to the top 5 best grill baskets.
Grillaholics Heavy Duty Grill Basket
The grillaholics grill basket is a stainless a heavy-duty steel basket perfect for getting the signature smoky flavor.
It has triple-reinforced corner welds specifically designed to prevent warping. With holes instead of slots, your food will receive a subtle kiss from the flames without falling into them.
Best of all, this grill basket is easy to clean. You can throw your grill basket in the dishwasher after you are finished cooking.
Featuring a deep walled design and raised edges, this grill basket provides you with superior quality.
Grillaholics grill basket allows you to prepare enough vegetables, shrimp, or other bite-sized foods for the whole family.
Additionally, this grill basket also has built-in curved handles that make tossing vegetables and transferring them to the table that much easier.
In general, if you love listening to the sound of food sizzling on the grill, the grillaholics grill basket is the choice for you.
You can comfortably grill foods without them falling through the grill baskets.
Aizoam Portable Stainless Steel Bbq Barbecue Grilling Basket
Aizoam grill basket is made from durable quality materials. It is constructed from 430-grade stainless steel.
This grill basket boasts a 12.6 by 8.6-inch cooking surface. This grill basket's large surface area allows you to cook for two to three people simultaneously.
Its lockable grill grate holds foods in place while cooking, while its extended heatproof handle allows you to comfortably flip food over in one swift motion.
It is the perfect grill basket to cook burgers, vegetables, meat, shrimp, fish, and steak.
With a sturdy stainless steel net coated with nonstick materials, cleanup is a snap. Aizoam's grill basket allows you to remove cooked foods from the basket easily.
You even get a free basting brush so you can keep your foods moist and juicy.
This grill basket is not only lightweight, but it's also portable. If you love grilling on the go, you can easily transport this grill basket along with the rest of your grilling supplies to the perfect location.
Overall, this grill basket is easy to clean and long-lasting. It's ideal for those that love to grill delicate foods like vegetables or shrimp.
This grill basket is also perfect for those who like to take products for a spin before committing to it. Aizoam gives you a 30-day money-back guarantee. If you are not in love with this product, you can send it back.
Cuisinart Non-stick Wok Grill Basket
The top 5 best grill basket list would not be complete without featuring at least one wok-style grill basket.
The Cuisinart wok-style grill is the perfect alternative, especially if you love kabobs.
You can simply place the food in the basket and cook it as you normally would. No skewers are needed or threading pieces of food through a skewer to make kabob.
Moreover, this grill basket is also perfect for grilling vegetables, shrimp, cubed chicken, pork, or beef, or any small foods you desire to grill. You can even cook meat and vegetables together.
Cuisinart's grill basket has a perforated steel cooking surface. It is small enough to allow the smoky grill flavor to seep in but not large enough that food slips through the grates.
The Cuisinart Wok grill basket is nonstick. It makes the grilling and cleanup process that much easier. However, grill temperatures should never exceed 400 degrees.
At this point, the wok grill pan may begin to warp, and the nonstick coating may peel.
Additionally, this Wok-style grill basket is equipped with two handles that allow you easily transport the basket from the grill to the table.
Bottom Line
All in all, if you love kabobs or stir-fries, the Cuisinart wok grill basket is the one for you.
Yukon Glory Mini Grilling Basket Set
The Yukon mini grilling basket set is not only durable, but it comes with three different grill baskets.
These grill baskets are designed with small perforations that allow heat and smoke to infuse into the meat.
This grill basket is perfect for meats, fish, vegetables, and so much more. The grill baskets are small and convenient, especially if you are cooking lots of food on your grill.
It's also handy when you do not want to clean our entire grill just to grill a few pieces of food.
This grill set is equipped with a 10 by 7-inch grilling pan, an 8.5 by inch vegetable basket, and a 9 by 9-inch basket.
The vegetable basket is ideal for making a vegetable medley, broccoli, cauliflower, or Brussel sprouts. The flat tray is perfect for steaks, fish, or burgers, and the basket is perfect for stir-fries.
All of the baskets are approximately 2 inches in height and can cook enough food for 2-3 persons.
You can easily clean this grill basket set with soap and water or toss it in the dishwasher.It is lightweight and very easy to transport.
Better yet, it is suitable for most grill types, including charcoal, gas, propane, infrared and electric portable.
You can make a risk-free purchase as the Yukon grill basket comes with a 3-year exchange or money-back manufacturer warranty.
All in all, this grill basket is a value deal. With three different-sized grill baskets, this set is perfect for all of the camping food-related or BBQ needs.
Acmetop Portable Grill Basket
The ACMETOP portable grill basket is constructed from 304 food-grade stainless steel.
It will last you for years as it is more durable and less resistant to rust than 430 stainless steel or plated materials.
This grill basket's adjustable elongated heat-resistant wooden handle allows you to have a safe but comfortable grip.
This will enable you to keep a safe distance from the heat generated from the grill and grill basket.
This grill basket is perfect for fish. It has a 12.6 by an 8.2-inch cooking surface that can feed approximately 2-3 people.
The ACMETOP grill basket is compatible with several grills, including gas grills, charcoal grills, smoker grills, porcelain grills, infrared grills, and so much more.
The wooden handle is foldable and can easily be removed from the basket. It makes this grill basket much easier to store or take it on the road.
The grid gaps are the ideal size needed to stimulate even heat distribution. However, the grids while not allow smaller pieces of food to slip through the grill grate.
This grill basket features a lockable grill basket that holds food in place and can be flipped without fear of losing those delicious morsels of food to the grill grates.
The ACMETOP portable grill basket is equipped with a grill basket and a silicone mat. The silicone map acts as extra protection to keep foods from falling through the grill's grates.
Additionally, this basket also comes with a silicone sauce bottle brush to upgrade your BBQ experience, as well as a carrying pouch for storage and traveling.
Whether you are a grilling novice or a seasoned grilling veteran, this grill basket will help you produce delicious food.
This grill is so versatile it can prepare delicate foods such as shrimp, steaks, vegetables, meat, and seafood.
FAQs About Grill Baskets
There must be a few lingering questions about grill baskets running through your mind.
Luckily we have done some research and provided answers to the most frequently asked questions about grill baskets.
What Foods Can You Cook in a Grill Basket?
Though grill baskets are versatile, they are perfect for grilling vegetables.
In particular, foldover, wok style, and regular grill baskets are suitable for any small or thin food that may slip through the grills grates.
It is perfect for scallions, cauliflower, broccoli, sliced onions, and peppers or mushrooms.
Do Grill Baskets Work?
Of course, grill baskets work. They complete the grilling experience.
You can cook steaks, burgers, or chicken along with your choice of vegetables in a grill basket. In 10 minutes or less, your vegetables will be cooked and ready to devour.
What Can I Use if I Don't Have a Grill Basket?
If you don't have a grill basket, you can easily create a makeshift grill basket out of heavy-duty foil.
Simply fold a sheet of heavy-duty foil in half and crimp the edges to form sides of the basket. Additionally, you can also make veggie foil packets.
This basket allows your food to be exposed to smoke while preventing food from falling through the cooking grates.
Whether you choose to make a faux grill basket or a veggie foil packet, be sure to spray it with nonstick cooking spray.
How Do You Use a Grill Basket?
Using a grill basket is very easy. Heat your grill to medium heat, and set the grill basket directly on top of the grill racks.
Add your vegetables, meat, or food to the grill basket and cook until the food is tender and golden.
Can I Use My Grill Basket in the Oven?
Yes, you can use a grill basket in the oven or a toaster oven. In fact, it is perfect for french fries, wings, meat, vegetables, and so much more.
However, be sure to cook at temperatures below 400 degrees if you are using a nonstick grill basket.
Final Thoughts
The grilling experience is not complete without a grill basket. Luckily you've got the best grill baskets to choose from. Happy grilling!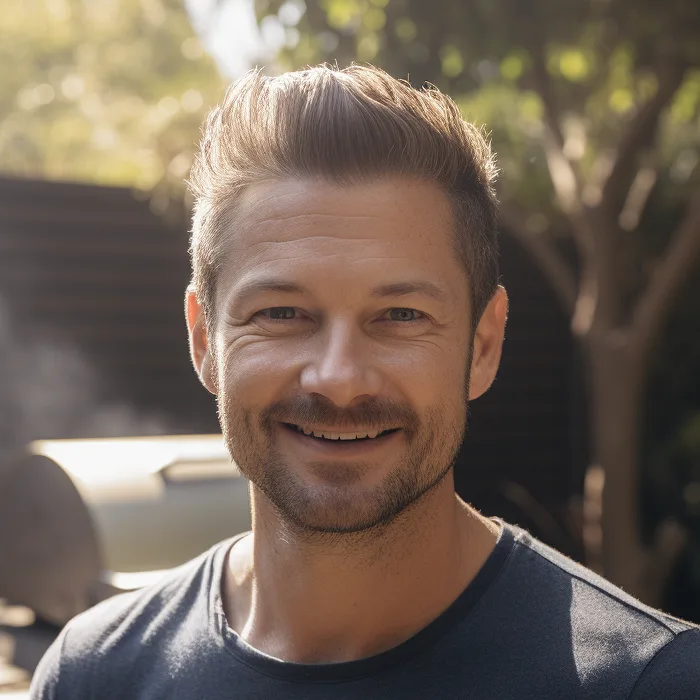 I have been smoking and grilling meat from an early age and enjoy sharing my knowledge and expertise through the hundreds of articles I have written about BBQ. I hope to make everyone's BBQ journey that little bit easier.