Tasted a tender piece of meat cooled lowly and slowly from your local BBQ joint and found yourself wanting to recreate the same delicious meal at home.
But, much to your dismay, you found it challenging to achieve the same levels of smokiness and flavor as meat smoked using an actual smoker.
After much contemplation, you finally decided to invest in a smoker. However, you have no idea how to choose a smoker. An offset smoker is an excellent choice for those who want to BBQ at home.
Best of all, this article explores the 5 best offset smokers, so you don't have to spend hours researching smokers online.
What Should Qualities I Look For in an Offset Smoker?
When it comes to offset smokers, it is common to look at factors such as the brand, size, and shape.
However, the features are the only thing that matters, especially if you are investing in a quality smoker.
Heavy Gauge Metal
Heavy gauge metal is important for maintaining heat and promoting even cooking.
Additionally, if the metal is not thick enough, it will be prone to warping in addition to being tarnished by harsh weather conditions.
Therefore, when choosing an offset smoker, ensure the metal is at least 1/4-inch thick.
Seals And Dampers
Seals and dampers are critical elements of an offset smoker. Seals give you more control over the temperature, maintain smoke levels, and decrease the rate of fuel usage.
The smoker's dampers should seal properly. However, they should slide open and closed smoothly.
If you want to save money by reducing fuel usage, make sure your offset smoker has quality seals and dampers.
Temperature Gauge on the Smokers Exterior
It's so disheartening to open your smoker's lid to watch all of the beautiful smoke escape because you have to measure the smoker's temperature.
Measuring the smoker's temperature without opening the lid plays a vital role in creating the perfect smoked cut of meat.
Select an offset smoker that has a temperature gauge on the smoker exterior. Additionally, ensure the brand has an accurate temperature reader.
To test the temperature gauge's accuracy, place two thermometers at the grate level on one or both ends of the thermometer.
Then heat the smoker up to see if there are differences in the temperature readings, and then adjust it as needed.
Pick a Sturdy Offset Smoker
You don't want your offset smoker to look like it has five years of wear and tear when you just bought it six months ago.
Choose a durable offset smoker. Examine the legs, wheels, hinges, and latches. Make sure they are strong.
Smoker Cover
A smoker without a cover is a smoker without a protective layer. It will be susceptible to moisture and rust. Ensure your smoker has a cover.
If you do not have inside storage for your smoker, purchases a waterproof cover.
Get The Warranty
Like a good cast iron skillet, a quality smoker will last a lifetime. However, it will require a bit of care. Nonetheless, this does not mean you should opt-out of the warranty.
The warranty will act as a safety measure should there be any manufacturer defects.
Fire Chamber Dimensions
Nothing is worse than purchasing an offset smoker only to realize the firebox chamber is too small to fit your preferred fuel source.
It doesn't matter if you choose to use a combination of wood chips and charcoal or a mixture of split wood and logs. Make sure the firebox can fit your preferred fuel materials.
Cooking Chamber Dimensions
Whether you love hosting BBQ or are hoping to smoke small quantities of meat, consider how much smoking you are going to do on your smoker before purchasing it.
Save yourself the trouble and buy a smoker with a sizeable cooking chamber.
This eliminates the need to upgrade your smoker because you do not have enough room to smoke your meat.
Choose a spacious smoker with adjustable racks and hooks so you can prepare a sizeable portion of food at once.
See the Space
Picture the smoker in its place. There have been numerous technological advances, one of which allows you to see how an object would look in your space. Essentially it's the same thing with the smoker.
Imagine the smoker in its place. How much space will your smoker need? Will it have adequate room for ventilation? Consider these factors before purchasing an offset smoker.
Easy Clean-up
Who likes cleaning an offset smoker? No one does, especially if they have to move the smoker to another location to clean it.
Why not purchase a smoker that is easy to clean?
Make sure your smoker has removable grates, a drain or plug, and an ash cleaning tool. This will make cleaning your offset cooker as easy as 123.
Purchase a Transportable Smoker
In the event that you have to move your offset smoker, you want to make sure it is movable.
First, consider how much the smoker weighs and if it has handles and wheels. Second, will the handles and wheels make it easier to transport?
Offset Smoker Accessories
Every smoker needs accessories. If your smoker does not come with accessories, research what accessories are available for your smoker.
You may need to purchase more racks, rib hooks, tools, or weather guards down the line.
The 5 Best Offset Smokers
For many years offset smokers have only been available to BBQ experts who frequently participated in BBQ competitions.
However, they are now available to everyday BBQ fanatics like me and you. These are the five best offset smokers.
Dyna-glo Wide Body Vertical Offset Charcoal Smoker
This beauty is certainly certainly a valuable offset smoker. The vertical shape is adapted to allow naturally rising heat, to improve the efficiency of the smoker by limiting the food's exposure to direct heat.
With a design that maximizes the movement of indirect heat, this offset smoker was built specially to slow-cook foods while infusing them with a deliciously smoky flavor.
This smoker has six adjustable cooking grates, so you can cook several different foods even if they are different sizes.
Additionally, the charcoal chamber was constructed from porcelain-enameled steel. This feature allows briquettes to be stacked tightly, which boosts burning capacity.
The built-in charcoal and ash management systems make clean up very easy. In fact, it even has a removable steel ash pan.
This machine was clearly designed to withstand large quantities of ash. This promotes a low-maintenance cooking experience.
The smokestack has an adjustable vent giving you more control of the temperature, as well as a readable stainless steel thermometer.
The thermometer also has a smoke zone symbol that gives you the perfect temperatures for smoking foods.
With 1890 square inches of cooking space and 25-pounds of capacity per grate, this smoker is perfect for those that love hosting backyard BBQ parties during the summer.
American Gourmet Char-broil Offset Bbq Smoker 430
This particular device is a combination offset smoker. Not only does it feature a smoker, but it has a BBQ and charcoal grill.
So it's perfect if you want to grill or smoke foods on the same device.
The primary chamber has 290 square inch cooking space, while the firebox chamber has 140 square inches of cooking space.
It's the perfect amount of space for smoking 15-18 burgers or 1-2 pounds of chicken wings. This smoker also has an adjustable height steel fire grate so you can adjust the heat as needed.
American gourmet's smoker gives you complete control of the heat and smoke levels. It's designed with multiple dampers that can be easily open and closed modifies airflow.
This action allows you to control the heat and temperature in the cooking chamber's interior.
The temperature gauge is located on the lid of the smoker. So you don't have to sacrifice that precious smoke just to check the temperature of the food.
The temperature is also easy to read and adjust if need be.
Another great feature about this offset smoker is it has a clean-out door. This allows you to easily remove the ash without creating a giant mess.
This smoker is built with maneuverability in mind if you ever need to move your BBQ smoker to a different location.
It has two stationary legs along with two large wheels. Thus it is easy to move around your deck, patio, or backyard.
With convenient features such as porcelain grates, a side shelf for utensils, sauces, or rubs, and cool-touch handles, this smoker is definitely one of the best the market has to offer.
Royal Gourmet Charcoal Grill With Offset Smoker
Royal Gourmet's smoker is another great combination offset smoker.
This smoker will definitely steal the show. It features 823 square inches of cooking, porcelain-enameled steel wire cooking grates, a chrome-plated warming rack, and an offset smoker.
This smoker contains all the space you will need to smoke as little or as much food as you want.
Built with two adjustable perforated charcoal pans allows you more control of the heat. The cooking chamber constantly maintains the temperature and minimizes air loss.
Royal gourmet also designed this smoker with two storage shelves. The front shelf is for seasonings, rubs, or sauces, while the bottom shelf provides extra storage space.
Hence, you do not need to drag an extra table next to the smoker for additional ingredients or supplies.
Two wagon-style wheels and a side spring handle allow this smoker to move from one space to the next without hassle.
The side spring handle also doubles as a protectant to keep your hand from getting burned when adding charcoal or checking on your food.
The porcelain-enameled steel wire cooking grates are not only durable, but they are also rust-resistant and very easy to clean.
It also has a side door that can be opened to remove ash or add charcoal.
Unlike some smokers, the slide-away air vent allows you to stoke fire and distribute heat evenly.
The built-in temperature gauge helps easily determine the smoker's internal temperature, and the smokestack can be opened or closed to control heat and smoke levels.
This smoker allows you to smoke and grill meat simultaneously, which promotes effortless, hassle-free cooking. Made for all the caterers in the BBQ world, this grill will make enough food for 8-10 parties.
Oklahoma Joe's Highland Offset Smoker
Titled after an actual person named Joe from Oklahoma, this smoker has 900 square inches of cooking surface.
In addition, this offset smoker has 619square inches of cooking surface in the primary chamber and whopping 281 square inches of cooking area in the firebox.
One unique feature of this smoker is that the open swing door is conveniently located on the firebox's surface, letting you stoke the fire without opening the chamber.
It also makes cleaning ash from the firebox that much easier. '
Made with several adjustable dampers, you can control the heat and smoke levels.
It also has a lid-mounted temperature gauge that lets you monitor the temperature of the food without disrupting the meat.
Like some of the smokers mentioned above, Oakclohoma Joe's offset smoker also has shelves for extra ingredients and tools.
This eliminates extra foot traffic as you can access your tools while smoking your meat.
The porcelain wire cooking grates are strong, are rust-resistant, and easy to clean. One cool feature about this smoker it has a firebox waring space.
It's perfect for keeping food warm or warming plates if you want to be fancy.
Lastly, this offset smoker can be maneuvered easily. Even though it 178 pounds, it has large wagon-style wheels that allow it to be transported with ease.
Because bigger is better for some folks, this is one of the best smokers for newcomers or seasoned veterans of the BBQ world.
Outsunny 48″ Steel Portable Backyard Charcoal Bbq Grill and Offset Smoker Combo
Outsunny's offset smoker combination is definitely an underdog. However, we all know the underdog should never be underestimated. This integrated device is a combination smoker and grill.
Thus it is perfect for backyard BBQ parties since you can cook everything on one instrument.
The firebox helps distribute heat evenly while giving your food a delicious dose of smokey flavor. The side vent also doubles as a control to direct air airflow.
Featuring two shelves and a metal grating storage area, you can load as many sauces, rubs, tools, or accessories on this smoker as you like. You won't run out of storage space with this smoker.
This smoker was designed with extra precautionary measures to keep you safe.
The wooden handles remain cool throughout the smoking or grilling process, preventing your hands from getting burned.
Additionally, the thermometer is readable and fastened to the main lid, preventing you from getting hit with a cloud of smoke when checking the temperature.
This smoker was definitely built for the long haul. Angled legs keep the smoker stable. The rust-resistant cold-rolled steel will last a lifetime of BBQ seasons or more.
Additionally, it can be easily moved. Two wheels are joined on one side, allowing you to conveniently move the smoker from place to place with ease.
FAQs About Offset Smokers
After reading all of this information, one can only assume there are still a few lingering questions. Here are a couple of the most popular frequently asked questions about offset smokers.
What Is Offset Smoking?
Offset smoking refers to an offset smoker. An offset smoker is a popular staple smoker in the BBQ world.
Meat is smoked in a lengthy horizontal chest simultaneously as charcoal and wood chunks burn in a firebox fastened to one side of the smoker.
Offset smokers are usually designed with shelves in the cooking chamber so you can cook several briskets, pork shoulders, and racks of ribs at once.
How Do You Control an Offset Smoker's Temperature?
The temperature of an offset smoker can easily be controlled by adjusting the air input and exhaust vents. Open vents increase the airflow, thus producing a hotter flame.
However, it is best to remember the temperature may fluctuate inside the temperature since the end nearer to the firebox is the hottest.
Why Are Offset Smokers Better?
Even though they are called stick burners, offset smokers are like a BBQ sauna. They distribute heat evenly throughout the whole cooking chamber.
Additionally, you can gradually filter the smoke into the chamber, exposing all of the food to similar amounts of heat and smoke. Thus you don't even have to turn pieces of meat as you smoke it.
How Much Wood Chips Do I Need for an Offset Smoker?
Though it is up to you how many wood chips you add to your smoker, we recommend 2-4 handfuls of wood chips or chunks.
This should be an ample quantity to generate the correct amount of smoke.
Are Offset Smokers Really Worth It?
In short, yes, offset smokers are worth it. They are not only beautiful to stare at, but they produce some of the most delicious smoked meats you will ever taste.
Additionally, they are perfect food cooking large quantities of food at one time, and fuel and wood chips can easily be added to the smoker without opening the cooking chamber.
Are Offset Smokers Hard To Use?
Offset smokers are not difficult to use as long as you know what you are doing. It is very easy to learn the ways of an offset smoker.
The only difficult thing about an offset smoker is maintaining consistent heat. However, newer offset smokers are designed to distribute heat evenly.
Can You Cook Burgers on an Offset Smoker?
Of course, you can cook burgers on an offset smoker. Use 80/20 ground beef for best results and cook your burgers at 250°F. When the burgers have a temperature of 160°F, the burgers are ready to eat.
Can I Use an Offset Smoker as a Grill?
Yes, you can use an offset smoker like a grill. In fact, there are three ways you can grill on an offset smoker.
You can grill food using direct heat. Construct a charcoal fire underneath the cooking grates and grill your food directly over the coals.
You can also cook food in your smoker using indirect heat. Simply make a fire in the firebox and switch the dampers open.
This will create the perfect indirect grilling environment on one portion of the cooking chamber.
Finally, as the name implies, you can smoke foods in your offset smoker. Much like indirect grilling, smoking food is essentially the same process.
However, the temperature does not exceed 275°F.
How Do You Prevent an Offset Smoker From Getting Too Hot?
If your offset smoker is becoming too hot, switch one damper to the closed position. On the other hand, if the offset smoker is cooling down at a fast rate, slide the damper back to the open position.
You can also add a few more wood chips to the firebox if necessary.
If the heat is rising too rapidly, open the firebox door. Opening the firebox door will allow the heat to escape from the pit.
Do I Need to Season My Offset Smoker?
Similar to how a cast-iron skillet must be seasoned, it's probably a good idea to season your offset smoker.
The theory behind seasoning an offset smoker is identical to seasoning cast-iron skillets.
It creates a thin, protective layer of oil that's activated by heat and polymerized to the offset smoker's surface.
Final Thoughts
Let's be honest; there is not much that's better than a cut of smoked meat smoked to perfection at a low temperature.
If you love smoked meats like brisket, ribs, or pork shoulder, it is time for you to purchase an offset smoke.
You have all the necessary information you need to choose the best offset smoker. Now you can master the technique of smoking food and become a BBQ expert.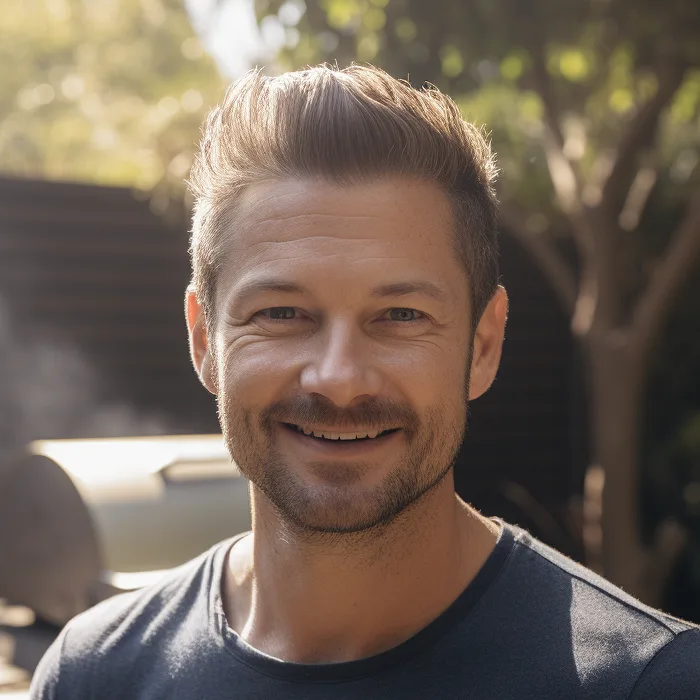 I have been smoking and grilling meat from an early age and enjoy sharing my knowledge and expertise through the hundreds of articles I have written about BBQ. I hope to make everyone's BBQ journey that little bit easier.