If you are hosting a backyard BBQ shindig to show off your new portable pellet grill or propane smoker, chances are BBQ pulled chicken is bound to be on your menu.
No doubt you need some tasty side dishes to go with your chicken, but what side dishes pair well with BBQ pulled chicken? Keep reading to find out!
What To Serve With BBQ Pulled Chicken
The sides could be the difference between your backyard BBQ party being the best or the worst party.
One of the reasons why your party may be deemed mediocre or the worst is because of the sides.
Yes, the meat is important; however, the side dishes amplify the main dish. If one side dish tastes horrible or doesn't pair well with the BBQ pulled chicken, it throws the whole party off.
Luckily your summer BBQ will be deemed the best with this list of delicious sides.
Roasted Red Potatoes
Roasted red potatoes are probably the easiest side dish to whip up. Furthermore, if you've got a lot of food in your electric smoker or natural gas grill, you can use the oven to roast the potatoes.
You can also cut the red potatoes into wedges which would fit ally well with the theme if you are serving the BBQ pulled chicken on burger buns.
Red potatoes are also inexpensive, and you can add lots of delicious spices to them.
Coleslaw
There are two types of coleslaw: mayonnaise-based and vinegar-based coleslaw.
Mayonnaise-based coleslaw is super rich and creamy, which balances out the sweet flavor of the BBQ sauce. In contrast, vinegar-based coleslaws are light and tangy.
Either way, both types of coleslaws work well with BBQ pulled chicken. The crunchy vegetables provide a nice contrast to the BBQ pulled chicken.
In addition to this, they also lighten up the heavy flavor of the BBQ sauce and help round out the smoky flavor.
You can even add the coleslaw on top of your BBQ pulled chicken. Coleslaw is also really easy to make, and if you are pressed for time, you can use store-bought coleslaw mix.
Garden Salads
Salads are the perfect way to lighten up a heavy meal like BBQ pulled chicken. In addition to this, salads are also crunchy, which adds a nice contrast to the stringy BBQ pulled chicken.
You can also customize your salad. You can use Romaine lettuce, butter lettuce, mixed greens, onion tomatoes, bell peppers, or anything you desire to make your salad.
To make it easier for your guests, you can also set up a salad bar so they can create their own salads.
Corn Pudding
Corn pudding is a versatile dish that goes well with BBQ dishes, including pulled pork, smoked pork shoulder, and BBQ pulled chicken.
Corn pudding is the perfect way to add a bit of sweetness to a tangy, savory, yet sweet meal.
Furthermore, corn pudding has a fluffy, moist texture and a slightly crisp exterior, perfect for sopping up that delicious BBQ sauce.
BBQ Baked Beans
Baked beans pair well with any BBQ dish. Plus, baked beans are easy to make from scratch.
You can also jazz up canned BBQ beans by adding sausage, molasses, brown sugar, or mustard.
Biscuits
Although it sounds weird, biscuits are actually the perfect side dish for BBQ pulled chicken.
Biscuits are buttery and flaky, which means you can split the biscuit in half, add the BBQ pulled chicken on top of it, and eat it as a sandwich.
Mac & Cheese
Everyone loves mac and cheese, so why not serve it with BBQ pulled chicken.
The creamy, delicious cheesy mac and cheese pairs really well with the savory yet smoky flavor of the BBQ pulled chicken.
Corn on the Cob
Corn on the cob is meant to be grilled. In fact, there is no BBQ party without corn, so it's best to add them to your menu before you even choose your main dishes.
Corn pairs perfectly with BBQ pulled chicken.
Simply grill your corn on your hibachi grill and spread it with softened butter, salt, and pepper, and you are ready to throw your shindig.
Baked Sweet Potatoes
Sweet potatoes are a delicious side dish that's loaded with nutrients. You can bake the sweet potatoes in the oven, or you can add them to the grill along with your other dishes.
The mildly sweet flavor and the light and fluffy texture of the sweet potatoes amplify the smoky flavor of the pulled chicken.
Grilled Vegetables
Since you will probably be using your grill, why not throw some vegetables on the grill. Eggplant, zucchini, Brussel sprouts, potatoes, tomatoes, and bell peppers are all great options that will add a healthy touch to the pulled BBQ chicken.
Simply season the vegetables, add them to your grill basket and grill them until they are nice and tender.
Fried Pickles
Fried pickles are loaded with briny vinegary flavor that helps cut to the richness of the BBQ sauce.
Plus, fried pickles are super crispy, which provides a nice texture contrast to the BBQ pulled chicken.
Mashed Potatoes
Mashed potatoes are creamy, light, and fluffy and pair perfectly with BBQ pulled chicken. Russet potatoes are the go-to potato for making mashed potatoes.
However, Yukon gold potatoes are also great for mashed potatoes.
Either way, you can add all the fixing to your potatoes like butter, heavy cream, cheese, bacon, chives, and so much more.
Steamed Vegetables
If you don't have any space left on your grill, you can simply steam your vegetables.
The vegetables will add some texture to the BBQ pulled chicken, but they will also add a nutritious flare to the entire meal.
You can steam green beans, asparagus, broccoli, or cauliflower.
If you really want to add color some color to the meal, you can use a mixture of corn, carrots, or peas along with salt, butter, and pepper.
Final Thoughts
Chicken is a deliciously savory meal all on its own. However, when you add BBQ sauce, the flavor literally explodes in your mouth the second it hits your mouth.
To have the best BBQ pulled chicken experience, you need to have the right side dishes to go along with the meat.
Luckily, you've got a long list of side dishes to choose from the next time you make BBQ pulled chicken.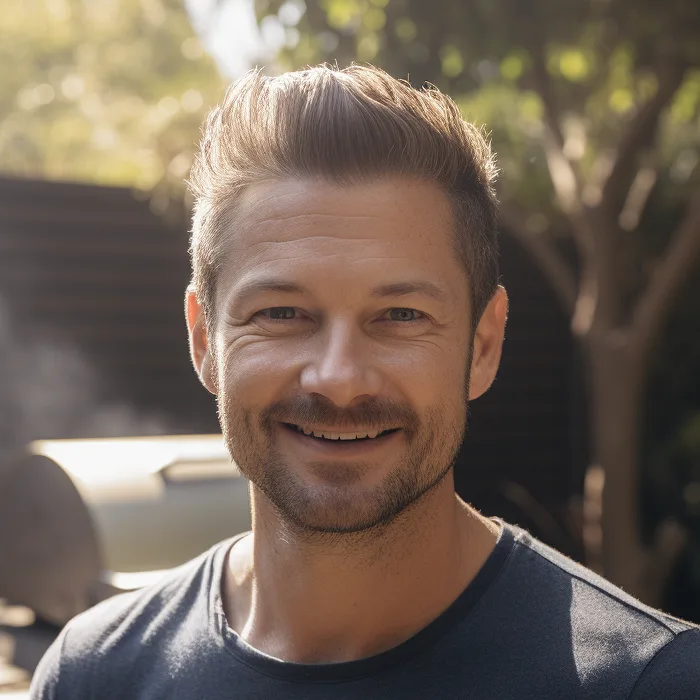 I have been smoking and grilling meat from an early age and enjoy sharing my knowledge and expertise through the hundreds of articles I have written about BBQ. I hope to make everyone's BBQ journey that little bit easier.