Smoking meat is a very popular way to cook meat. When you are going to be smoking meat, you are cooking it over some firewood.
Using this method helps combine the natural flavors of the meat, smoke from the cooking process, and whatever natural flavors are emitted from the type of wood you use.
Chicken, one of the most popular meats out there, can be cooked in a variety of ways, and this includes smoking the meat. In this article, we will list the best wood to smoke chicken with and the size of wood you can use.
Best Wood for Smoking Chicken
Maple
Maplewood is a type of wood that is very common in North America. This type of wood is often used to make furniture, kitchen accessories, cabinets, and flooring. However, it is also a type of wood that can be used when smoking meat!
Using Maplewood to smoke chicken is going to add quite a subtle taste to your chicken. It will even be a little on the sweet side for those who enjoy a milder taste to their meat.
This wood burns on the slow and hot side, so make sure you keep that in mind if you choose to smoke your chicken with Maplewood.
Hickory
Hickory is some wood often found in North America. It is hardwood used for things like flooring, cabinets, and furniture, which is common for these types of wood.
This wood is very heavy, so builders can sometimes struggle when working with it.
Smoking chicken over hickory wood, you will end up with chicken that has a moderate flavor similar to bacon.
It is on the savory side, mixing wonderfully with the natural flavors of the chicken. The best thing about hickory wood is that it is not going to overwhelm the chicken at all.
Cherry
Cherrywood is wood that comes from the cherry tree. It comes in quite a few different colors, and one other use it has, besides smoking wood, is being made for furniture as well as cabinets.
The best part is that this wood is on the cheaper side, so it is affordable for everyone!
Using cherry wood to smoke chicken will infuse it with a sweet flavor that is on the sweet side.
It blends well with the flavors of the chicken, creating a wonderful experience from the second you bite into this smoked piece of meat.
Pimento
Pimento, or Allspice, is a wood that is found in the country of Jamaica. It is used to cook jerk chicken and adds quite a bit of flavor.
The biggest problem with using this type of wood is that it is almost exclusively grown in Jamaica.
To get this wood, you would either have to get it in Jamaica, online or from shops that cater to Jamaican communities.
Should you be able to get your hands on this wood, you will find that your chicken will taste very similar to jerk chicken. It will be a worldly experience for your taste buds!
Apple
Applewood can be foundin the wood of an apple tree, as you can probably imagine. While it is not native to America, there are plenty of apple trees in America due to them being brought over and put on farms.
It's not always easy to get your hands on this type of wood, so you should not be surprised to learn that it is on the expensive side.
When you use Applewood to smoke your chicken, you end up with meat that has a fruity flavor added to it.
It's on the mild side, so do not worry about it being too overpowering.
Pecan
Pecan wood is from a pecan tree, which is where you get the popular nut pecan.
Believe it or not, it is used for furniture though it might not be the most common type of wood used to build furniture. It's also used for floors, cabinets, dowels, handles, and ladder rungs.
Smoking chicken over some pecan wood is going to give it a very interesting flavor.
It's on the savory side with a hint of nut thrown in. Not the usual taste you expect when biting into chicken, but it works!
Size of Wood
There are four different sizes you can use when smoking meat. These include the following types of sizes:
One size is wood chunks. Chunks of wood come in fist-sized chunks and, like split wood, will keep the fire going for hours. They are great for large cuts of meat.
Pellet-sized wood is specifically designed for pellet grills, so if you do not happen to have a pellet grill, then you do not have to worry about using this. However, if you do, then this is the size you will have to use if you want to use that grill.
Split-sized wood is in a log shape, and when using this size of wood, it ensures your meat will be cooking for hours. Good for large pieces of meat.
Wood that comes in the size of wood chips are smaller pieces of wood and do not burn for a long period. They are really good for smaller cuts of meat as well as poultry and fish.
Make sure that you always practice safety when cooking with an open flame. Nobody wants to cause an incident where a fire gets out of control.
Final Thoughts
And that is a wrap for all you barbeque lovers out there! These six types of wood are the best woods you can use when smoking chicken.
They all have their unique, strong points, so if you are unsure of what to use, try them all! What have you got to lose? If anything, you will have a decent amount of weight to gain!
You also know the different sizes you can use to smoke chicken. Usually, it tends to depend on the size of the meat and also how long you want to cook it, so make sure to keep those two factors in mind!
You might also be interested in the following: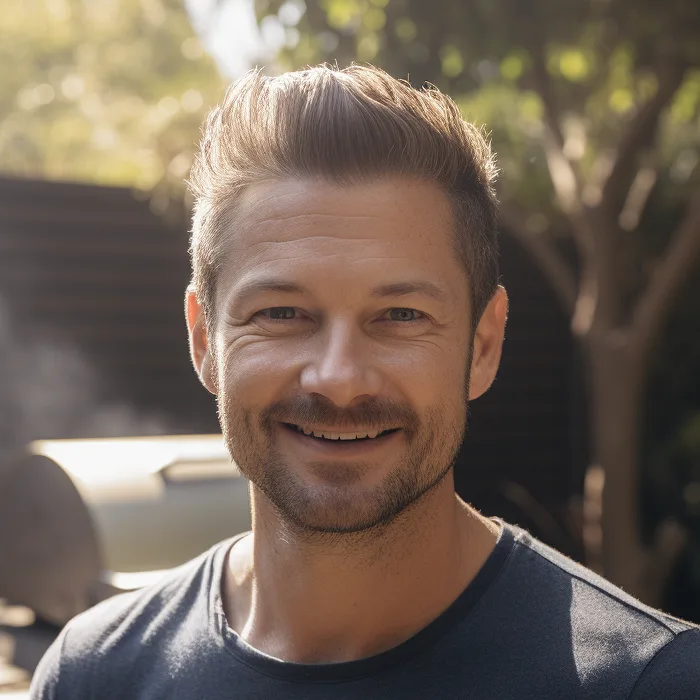 I have been smoking and grilling meat from an early age and enjoy sharing my knowledge and expertise through the hundreds of articles I have written about BBQ. I hope to make everyone's BBQ journey that little bit easier.