The pork belly cut wasn't always a popularity contest cut winner for Americans.
Butchers would ship out whole bellies by the container load to either Asia or Eastern Europe, where it was always in demand.
Instead, it rose to popularity by being featured as a menu differentiator in trendy restaurants and popular American diners.
In recent years it definitely does make the popular cuts list.
And when this happens, demand increases in restaurants and home cooking.
Home chefs wanting to impress friends and family with something different use pork belly as the perfect alternative to mundane BBQ favorites or Sunday roasts.
Understanding Your Why Before You Buy
So, are you going to impress your mates with some candied bacon for game day, or are you cooking that specially roasted pork belly for two?
Or maybe just show off your culinary skills with that crispy crackling favorite skills at a family get-together.
Maybe you are just after that high-quality lard for those perfect eggs or freshly baked bread.
Things To Consider When Sourcing Your Pork Belly
If you are going to go through the trouble of curing, smoking, air frying, and candying your bacon, you might as well ensure that you get a good quality hog.
Some other things to consider when buy pork belly is:
How much do you need – a full pork belly is usually 10 to 12 pounds in weight
How much do you want to spend – budget versus quality
How do you want it prepared – trimmed, size, rolled, seasoned, skin on or skinless, etc.
Where do you want it to come from – local or overseas?
What hog suits you best – commercial which are mainly Yorkshire hogs or Heritage hogs such as Berkshire, Duroc, Red Wattle, or Chester Whites. You could also get something exotic if that tickles your fancy, such as Spanish Iberico pork which comes from Pata Negra pigs.
Now that you understand what you are looking for, it's time to go shopping. You are often able to find a good quality pork belly from your local or specialist local butchery.
If you are one to shop around and select your own cuts, then you can ask your local butcher to prepare your pork belly according to your preference, this is a great option for you.
If you are a busy individual who barely has time to breathe, you could just order your pork belly online.
You would most likely still be able to share special instructions on how you would like your pork belly prepared.
Where To Buy Pork Belly Form
So, after doing some desktop research, I have narrowed down the following five options that will meet your preference, whether looking for local commercial, heritage, or exotic international.
Costco
With a large local footprint and online availability, they are a great option for you to pick up your pork belly from. They offer two options:
Slab option – great for turning into bacon, crispy roast, or pan fry
Sliced – great for burnt ends or poutine (fries, pork belly bit, and gravy)
You can also inspect it and choose your meat to fat ratio with this option. Costco boasts that their Kurobuta Berkshire range is the "Wagyu Beef of pork."
They offer a value for money bundle of this pork belly product which also includes some other cuts of pork, for just $99.
Snake River Farms
Snake River Farms is known for providing a high-quality Berkshire Kurobuta range of hog products.
All their pigs are purebred without any added hormones.
While the Berkshire Kurobuta range is considered fattier than the commercial Yorkshire range, it is believed to be a lot tastier.
They offer a 6lb slab at $99. They also offer customers a meat subscription bundle which provides great value for money.
Crowd Cow
Crowd Cow sells a great Heritage range of pork belly in 2.5 lb to 4 lb sizes.
They also boast that their hogs are pasture-raised on an eco-friendly farm, and they use no antibiotics or hormones.
So, you are getting organic pork belly from an environmentally friendly local farm when you buy from Crowd Cow.
Porter Road
Similarly to Crowd Cow, you get an all-natural, pastured, raised, grain-finished pork belly from a family-owned farm when you buy from Porter Road.
Their uncured pork belly comes in 2.75-3.25 lbs frozen slab sizes.
They offer free shipping for orders that are $100+. I found it admirable that Porter Road is so committed to local farmers.
All their animals are bought from farmers in Tennessee and Kentucky.
Amazon
Interestingly while researching where to buy pork belly from, I came across Iberico pork belly on Amazon.
It is advertised as "Wagyu Beef of pork" and comes as a 7lb slab at a whopping $230.
They describe this product as pigs raised on an acorn-rich diet rendering the flavor of the meat nutty and sweet.
Even though it only had 4 reviews, the rating was a full 5stars. The customers that bought this pork belly product raved about it like they had died and gone to pork belly heaven.
Cheshire Pork
Cheshire is another heritage breed pig. Cheshire Pork is extremely proud of the unique Chester White genetics that gives their pork a velvety superior marbling quality like no other pork.
They are family-owned North Carolina farms that sell wholesale and direct to the public via their online stores.
They offer a 10lb skin-on or a 10 lb skinless option shipped directly to the customer.
Final Thoughts
So, there you have it. Pork belly is readily available for all your domestic needs. It is no longer reserved for restaurants and bacon producers only.
You can easily find commercial, heritage, and exotic ranges for that special occasion or for creating your unique bacon or lard flavors at home.
I would still, however, check out your local butchery or direct to customer farms and farm markets, as you may be pleasantly surprised by the quality and price.
I hope that I have provided you with useful information on where you can buy different types of pork belly both online and locally.
You might also be interested in the following: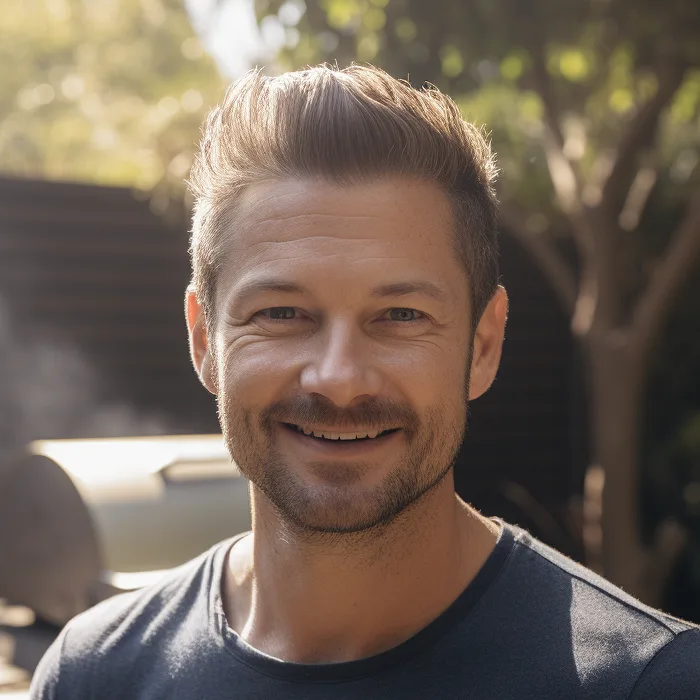 I have been smoking and grilling meat from an early age and enjoy sharing my knowledge and expertise through the hundreds of articles I have written about BBQ. I hope to make everyone's BBQ journey that little bit easier.