Brisket is God's gift to earth. Though it takes forever to cook, it will all be worth it once you cut into a slice of juicy, delicious brisket.
It's almost as if brisket will take all of your problems away.
What Is Brisket?
A brisket is a cut of meat cut of beef sliced from the lower chest area of the animal.
Though brisket is delicious when cooked properly because it has minimal amounts of fat, it has to be cooked low and slow.
Cooking it slowly gives the brisket's connective tissues ample time to break down into a tender slab of beef that is easy to slice.
Additionally, brisket also has a beefier flavor than other cuts of beef.
Does Brisket Have Other Names?
Unlike most cuts of beef, raw brisket only has one name.
Though you may see cooked brisket sold as pastrami, silverside, or corned beef, raw brisket will only be labeled brisket.
Brisket Substitutes
It is only natural to wonder whether there are any substitutes for brisket.
Unfortunately, there are no substitutes that possess the same cooking properties as brisket.
However, chuck roll is a close second if you are making a dish like pot roast.
How Does Long Brisket Take To Cook?
A brisket's cooking time depends on the methods used to prepare it. On average, a slow-cooked brisket can take about 9-10 hours to cook.
On the other hand, a pressure-cooked brisket can be cooked in as little as an hour and fifteen minutes, and a slow-roasted brisket can take about 5 hours in the oven.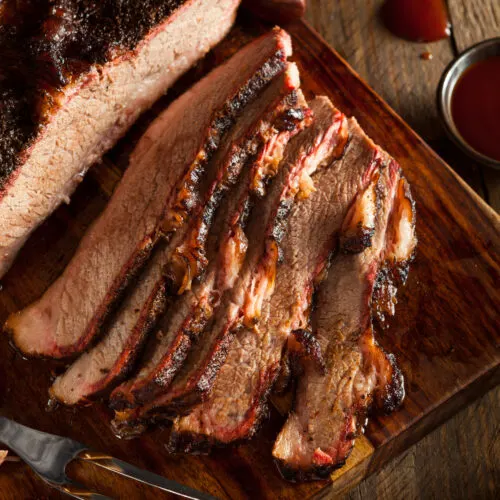 Bbq Brisket Recipe
This brisket is slow-roasted brisket, massaged with a flavorful dry rub, then cooked in the oven and served with a whiskey honey BBQ sauce.
Equipment
Whisk

Mixing bowl

Saucepot

Roasting pan with rack

Measuring cups

Measuring spoons
Ingredients
For the brisket
2

tbsp

smoked paprika

1

tbsp

garlic powder

1

tbsp

onion powder

1

tbsp

black pepper

½

tbsp

coriander

1

cup

Worcestershire sauce

1

tsp

cayenne

1

tbsp

kosher salt

¼

cup

brown sugar

5

lb

beef brisket
For the honey whiskey BBQsauce
1

small

onion, minced

¾

cup

whiskey

1½

cup

ketchup

⅓

cup

maple syrup

2

tbsp

lemon juice

2

tbsp

Worcestershire sauce

1

tbsp

Dijon mustard

1

tsp

liquid smoke
Instructions
To make the brisket, whisk the smoked paprika, onion powder, garlic powder, pepper, coriander, Worcestershire sauce cayenne, kosher salt, and brown sugar in a bowl.

Next, pour the wet rub onto the brisket, massage it into the meat, wrap it with plastic wrap, set it on a rimmed cookie sheet, and refrigerate it overnight.

To make the whiskey maple BBQ sauce, add the diced onion andwhiskey to a pot, heat the BBQ sauce over medium-high heat until it comes to a boil, and cook the whiskey onion mixture for 10 minutes.

Whisk in the ketchup maple syrup, lemon juice, Worcestershire sauce, Dijon mustard, and liquid smoke, decrease the flame to medium-low and cook the BBQ sauce for 25 minutes, periodically stirring until it thickens up.

Let the whiskey maple BBQ sauce cool completely, pour it into a fine-mesh sieve set over a bowl, then cover it with plastic wrap and refrigerate it overnight.

Arrange the oven's rack in the middle of the oven, then program the oven to 260°F.

Place the marinated brisket into a roasting pan with a roasting rack fat side up and cook it for 2-3 hours.

Flip the brisket over and cook it for another 2-3 hours until it has a temperature of 180°F.

Allow the brisket to sit for 1 hour before slicing and serving with the whiskey maple BBQ sauce.
Nutrition
Serving:
428
g
Calories:
902
kcal
Carbohydrates:
36.07
g
Protein:
53.53
g
Fat:
54.48
g
Saturated Fat:
21.42
g
Polyunsaturated Fat:
2.073
g
Monounsaturated Fat:
24.25
g
Cholesterol:
193
mg
Sodium:
1881
mg
Potassium:
1361
mg
Fiber:
1.5
g
Sugar:
24.14
g
Vitamin A:
1210
IU
Vitamin C:
9.4
mg
Calcium:
95
mg
Iron:
7.67
mg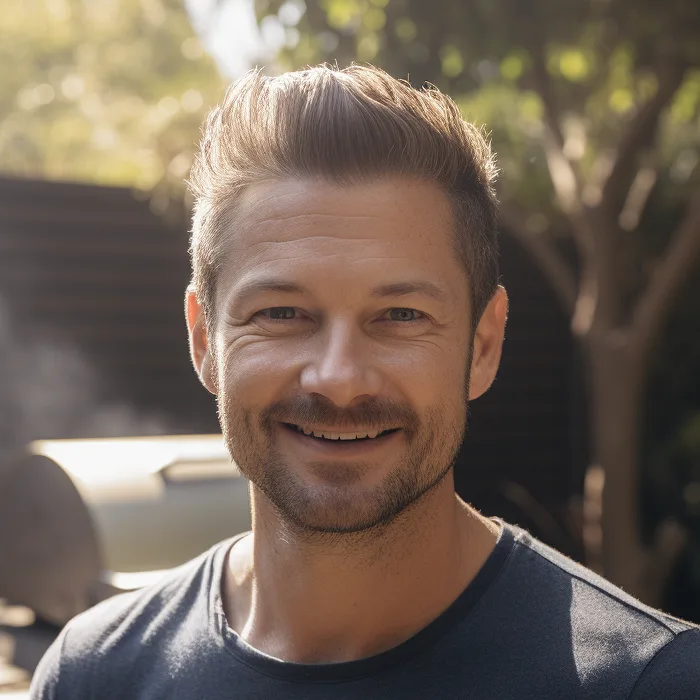 I have been smoking and grilling meat from an early age and enjoy sharing my knowledge and expertise through the hundreds of articles I have written about BBQ. I hope to make everyone's BBQ journey that little bit easier.