Chicken is probably one of the most consumed meats on the planet, and with good reason. Chicken breast tends to be the most preferred part of the bird.
However, chicken breast can quickly become bland if you do not find ways to mix it up.
That is where this BBQ grilled chicken breast recipe comes in. It is oh so good and delicious.
How Long Should I Grill Chicken Breast?
Grilling time for chicken breast varies.. It largely depends on the thickness of the breast.
On average, the grilled chicken breast should take approximately 15-20 minutes.
Though it generally takes 15-20 minutes, this is just an estimation.
The only way to tell if a chicken breast is finished cooking is to measure the internal temperature of the meat. Once it has a temperature of 165°F, the chicken is safe for consumption.
How Do I Grill Chicken Breast Without Burning It?
Everyone has burned a chicken breast at least once or twice.
The most important thing is realizing your grilling mistakes and finding solutions to prevent your chicken breast from burning.
Use these simple tips to keep your chicken breast from burning while you are grilling it.
Ensure your grill grates are clean. Starting off with dirty grill grates is a sure-fire way to achieve burned grill chicken.
Additionally, your chicken breast will also be more likely to stick to the grill.
Set a pan of water right next to the grill as the chicken cooks. The water will prevent your chicken breast from drying out.
Remove the fat from the chicken breast and coat it with oil. If you do not trim the fat from your chicken breast, it will stick to the grill.
Moreover, coating the chicken in oil serves as extra protection to prevent the chicken from sticking to the grates and ruining those beautiful grill marks.
Set up indirect and direct cooking zones when grilling chicken breast.
If you cook the chicken breast for 3-4 minutes per side over direct heat, then move it to the indirect heat zone of the grill, it decreases the chances of you burning the meat.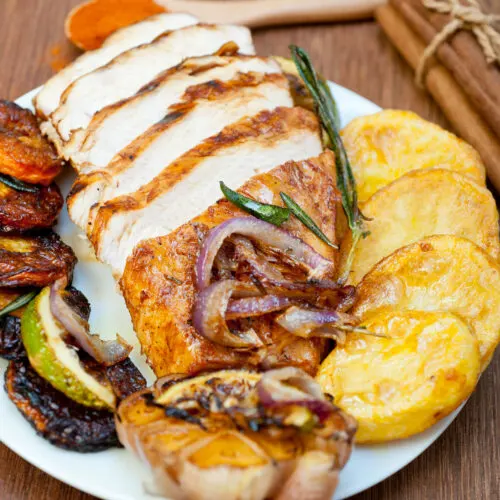 BBQ Chicken Breast Recipe
Chicken breasts are grilled to perfection and slathered with a sweet sticky rosemary-infused sauce BBQ sauce. Get ready to eat tender, juicy chicken!
Equipment
Whisk

Saucepot

Grill

Measuring cups

Measuring spoons

Non-stick foil
Ingredients
1

cup

ketchup

2

tbsp

lime juice

2

tbsp

apple cider vinegar

2

tbsp

honey

3

tbsp

molasses

1

tbsp

Worcestershire sauce

1

tsp

Dijon mustard

1

tsp

liquid smoke

1

tbsp

smoked paprika

1

tsp

cayenne pepper

1

tsp

kosher salt

¼

tsp

black pepper

¼

cup

water

1

sprig of rosemary

1

red onion cut into1/2-inch rings

1

lime, sliced

4

boneless, skinless chicken breasts
Instructions
Whisk the ketchup, lime juice, apple cider vinegar, honey, molasses, Worcestershire sauce, Dijon mustard, liquid smoke, smoked paprika, cayenne pepper, salt, pepper, and water in a small pot.

Add the spring of rosemary, 1/2 of the red onions to the sauce,and heat it over medium-high heat until it comes to a boil.

Decrease the heat to medium-low; cook it for 10 minutes, and allow the BBQ sauce to cool completely.

Add 1/2 of the BBQ sauce to a gallon-sized resealable Ziplock bag, then add the chicken breast.

Massage the rosemary-infused BBQ sauce into the chicken and let it marinate for a minimum of 1 hour or overnight in the fridge.

Remove the chicken from the marinade and program your grill to medium-high heat.

Poke holes into a sheet of non-stick foil, then arrange it on the grill with the non-stick cooking surface facing upwards.

Arrange the chicken breast, the remaining onions, and lime slices on the foil and cook it for 12-15minutes, basting it every so often with the remaining BBQ sauce.
Nutrition
Serving:
377
g
Calories:
438
kcal
Carbohydrates:
40.42
g
Protein:
54.22
g
Fat:
6.64
g
Saturated Fat:
1.41
g
Polyunsaturated Fat:
1.222
g
Monounsaturated Fat:
1.716
g
Trans Fat:
0.017
g
Cholesterol:
172
mg
Sodium:
1296
mg
Potassium:
1300
mg
Fiber:
1.2
g
Sugar:
33.66
g
Vitamin A:
1427
IU
Vitamin C:
9.4
mg
Calcium:
70
mg
Iron:
2.56
mg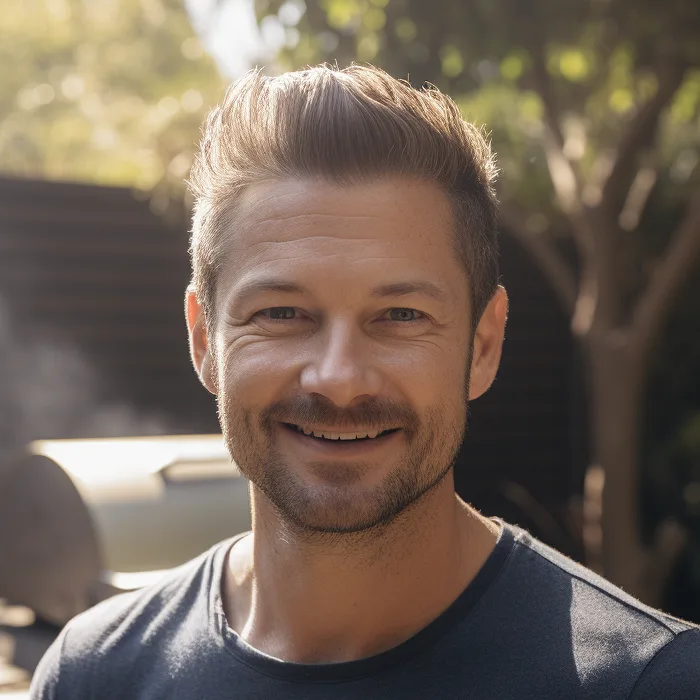 I have been smoking and grilling meat from an early age and enjoy sharing my knowledge and expertise through the hundreds of articles I have written about BBQ. I hope to make everyone's BBQ journey that little bit easier.