Is there anything better than a delicious pulled pork sandwich topped with creamy coleslaw? I think not! This sandwich is perfect for your BBQ backyard parties.
You can set and forget your pork in the slow cooker and come back hours later to find the perfect shred of delicious meat begging to be placed on a soft bun topped with slaw and devoured.
What's the Best Cut for Pulled Pork?
While a marbled cut of pork like the pork roast makes great pulled pork, pork shoulder and pork butt make the perfect pulled pork.
The shoulder and butt contain healthy amounts of intramuscular fat; thus, it is the superior cut when it comes to pulled pork.
Can I Use Pork Loin To Make Pulled Pork?
Of course, you can substitute pork loin for pork shoulder or pork butt. This pulled pork is cooked using a slow cooker.
Therefore, pork loin will transform into an extraordinarily tender and flavorful pork loin ready to be pulled.
How Long Do I Cook Pulled Pork in a Slow Cooker?
Cooking pulled pork in a slow cooker is easy. With pulled pork, you option to cook it 4-6 hours on low or 2-3 hours on high.
Additionally, you can program your slow cooker to the warm function and keep the pork warm.
Can I Over Cook Pulled Pork in a Slow Cooker?
While cooking pulled pork in a slow cooker is convenient, it is very easy to overcook pulled pork in a slow cooker.
Whether you cook your pork on low or high, be sure to set a timer and program your slow cooker to warm once the timer goes off if you are not eating the pulled pork immediately.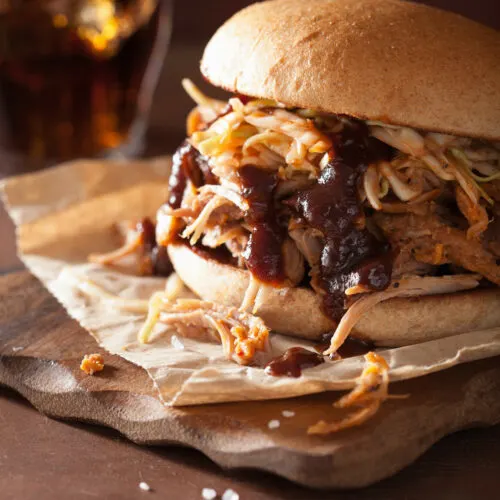 BBQ Pulled Pork Recipe
A bun filled with juicy, delicious pork and topped with creamy slaw? Yes, please! Get ready to eat the best-pulled pork you've ever eaten!
Equipment
Whisk

Mixing bowl

Cookie sheets

Measuring cups

Measuring spoons

Slow cooker
Ingredients
For the slaw:
½

cup

mayo mayonnaise

3

tbsp

granulated sugar

1

tbsp

maple syrup

2

tbsp

lemon juice

½

tsp

salt

⅛

tsp

black pepper

14

oz

slaw mix
For the pulled pork
¼

cup

BBQ dry rub

7

lbs

pork shoulder

2

bay leaves

1

onion

diced

1

tsp

liquid smoke

1

cup

low-sodium chicken stock

1

cup

water

1½

cup

BBQ sauce
Instructions
To make the slaw whisk the mayonnaise, sugar, maple syrup, lemon juice, salt, black pepper in a large bowl.

Add the slaw mix to the dressing and toss to combine, cover it with plastic wrap, and refrigerate until ready to use.

To make the pulled pork, place the BBQ rub onto a cookie sheet and press the pork shoulder into it.

Massage the pork shoulder with the remaining BBQ rub and place it into the slow cooker insert.

Add the bay leaves, onion, liquid smoke, chicken broth, and water, fasten the lid to the slow cooker, and cook on low for 6-6 1/2hours.

Transfer the pulled pork to a rimmed baking sheet or baking pan.

Remove the bone from the pulled pork and shred the meat using two forks.

Arrange the sandwich buns on a serving dish top with the pulled pork, slaw, and BBQ sauce.
Nutrition
Serving:
640
g
Calories:
790
kcal
Carbohydrates:
40.71
g
Protein:
81.42
g
Fat:
31.76
g
Saturated Fat:
9.195
g
Polyunsaturated Fat:
6.631
g
Monounsaturated Fat:
12.155
g
Trans Fat:
0.174
g
Cholesterol:
241
mg
Sodium:
1319
mg
Potassium:
1694
mg
Fiber:
3.6
g
Sugar:
17.31
g
Vitamin A:
1007
IU
Vitamin C:
16.2
mg
Calcium:
184
mg
Iron:
6.97
mg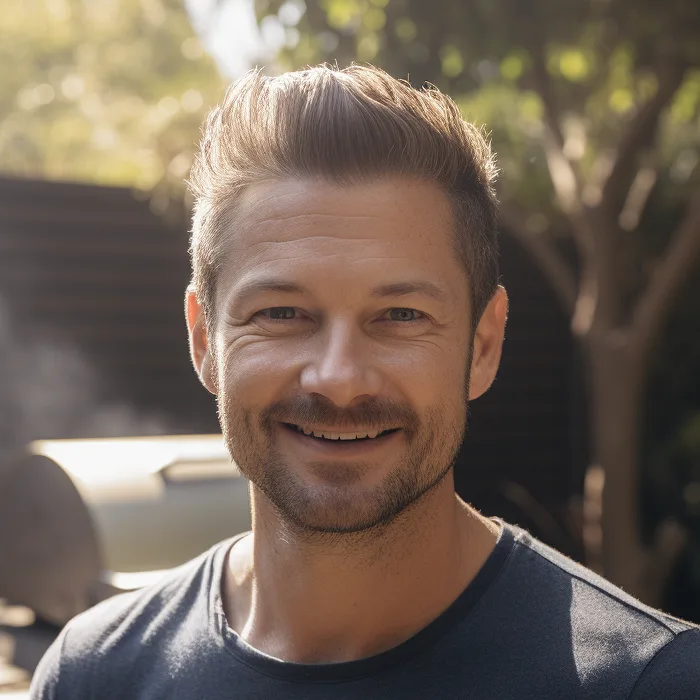 I have been smoking and grilling meat from an early age and enjoy sharing my knowledge and expertise through the hundreds of articles I have written about BBQ. I hope to make everyone's BBQ journey that little bit easier.