Meat slices used to be a well-kept secret among butcher shops and delicatessens. Now at home, chefs across the globe are finally getting catching onto the secret.
Meat slicers perfectly slice meats and add an elegant flair to any meal, even with thinly sliced cold cuts.
Best of all, meat slicers are relatively easy to use and versatile as you can slice many foods with your unit.
However, there are so many meat slicers available on the market, it's hard to know which meat slicer is the perfect slicer for you. So, first, you must understand what a meat slicer is.
What Is a Meat Slicer?
Essentially a meat slicer is just as it sounds. It's a machine designed to carve meat into slices. Meat slicers can also be called a slicing machine, deli slicer, or slicer.
Meat slicers are preferred because they require less work than slicing meat with a knife. In addition to this meat slicer also help the food retains its texture.
Meat slicers can be used to slice hot or cold meats and can cut food into thick or thin slices. However, they are almost always used to carve cooked cold meats to make deli meat.
Meat slicers can be operated manually or electrically. Moreover, over meat slicers can be used to cut cabbage, cheese, carrots, and other types of produce.
How To Use a Meat Slicer
Using a meat slicer is relatively easy. To use your slicer, open the clamp are and arrange your food into the carriage. Close the clamp and ensure the food is securely held in place.
Place a sheet of wax paper or parchment paper underneath your slicer to catch the meat slices. This will also help delicate foods such as deli meats retain their shape and texture.
According to how thick you want your meat slices to be, you may have to adjust the thickness of the slices.
The index knob is designed to manually adjust the thickness of the slices, which moves the slicer's blade toward you or away from you.
If you are unsure about how to adjust the knob, cut a test slice, then make the necessary modifications.
Plug the meat slicer into a power source and switch the meat slicer to the on position. Be careful once you turn the slicer on, as the blades will begin to rotate quickly.
Be quick about slicing meat when using a meat slicer. Although it can seem a bit frightening, slowly slicing meat will result in uneven slices.
The faster you cut the meat, the more evenly sliced pieces you will have.
The is no need to worry about this if you have an electric food slicer. Gradually move the sliding tray forward, and the blade will quickly slice through the food.
The meat will drop on the left side of your machine.
Once you gain more experience slicing meat, you can hover your hand over the space where the sliced meat comes out and catch it with your hand.
This will reduce the chances that your meat will be misshapen.
In contrast, manual sliders are easier to control. Bring the blade of the slicer down to slice into the meat and raise it back up.
Once all of your meat has been sliced, turn your meat slicer off and remove the plug from the socket. Ensure you switch the dial back the index knob to zero, so the blade sits snuggly against the slice.
This feature reduces the chances of accidentally harming yourself when using the meat slicer.
Cleaning your meat slicer is just as important as safely slicing your meat. Do not simply wipe down your food slicer; this is the quickest way for cross-contamination to occur.
Remove any residual food particles from the machine and clean the blade, tray, and pusher with a damp paper towel.
Sanitize your meat slicer to remove any excess dirt that you may not have gotten during the first clean.
What To Look For in a Meat Slicer
When purchasing a meat slicer, it is important to know that every meat slicer is not the same. Some meat slicers come in different shapes and sizes.
More importantly, they have different prices, so you must pay attention to the characteristics to find the best meat slicer.
Select a Meat Slicer That Suited to Your Needs
If you own a small restaurant, it makes no sense to purchase a meat slicer that is made for large restaurants or grocery stores.
In the same way, it is pointless to purchase a commercial meat slicer if you are using it at home.
Consider how often you will use your meat slicer and how much meat you will slice. If you intend to cut a lot of meat, then a large meat slicer may be the best option.
On the other hand, if you will not use your meat slicer frequently and will only c
Stainless Steel Blades
Blades are extremely important when it comes to meat slicers. tHey do most of the work; therefore, you should make sure you purchase a meat slicer with stainless steel blades.
Stainless steel meat slicer blades are rust-resistant and will slice through nearly any food. Furthermore, ensure your meat slicer has a built-in sharpener.
This will automatically maintain the sharpness of your blades.
Blade Size
To determine the best blade size, you must consider the size of the food you will be carving.
For example, smaller blade sizes such as an 8 or 9 are perfect if you do not intend to slice a lot of food.
In contrast, if you plan to slice large amounts of meat, a bigger blade size such as a 9 or 14 may be better, but a smaller meat slicer may be the best option for small amounts of meatn.
Type of Meat Slicer
Essentially there are 3 different kinds of meat slicers that all have their own unique functions.
Light-duty meat slicers are designed for lightweight tasks that require no more than an hour of slicing daily.
These slicers are only suited to slicing meat and vegetables. Unfortunately, light-duty slicers cannot handle cutting frozen or raw meat or cheese.
On the other hand, medium-duty slicers are built to handle more than light-duty slicers. These slicers are perfect for multiple uses per day.
Even though medium-duty slicers can handle several different kinds of meat, they cannot handle heavy use.
In fact, the blade may become damaged if you exceed the recommended usage times. This type of food slicer is also very limited as it can only be used for 30 minutes per day to slice cheese.
Lastly, heavy-duty meat slicers are the creme de la creme meat slicers within the food industry.
These slicers are most commonly found in butcher shops or meat markets because they can withstand slicing nearly any meat.
Operation
Back in the day, meat slicers were usually manually run. However, with the rise of technology came more food slicing options, thereby making it super easy to slice meats.
As a result, electric, manual, and automatic slicer are probably the most common meat slicers you will see on the market.
As you can imagine, electric meat slices are the preferred unit because all that's required is plugging in the unit and feeding the meat into the slicer. This is also the quickest method to slice meat.
In contrast, automatic meat slicers are super fast. This is because the slicer is automatic, and there is no need to slice the meat on your own.
All that's required is running the meat into the slicer and letting the machine do the hard work. In addition to this, turbo-charges automatic slices can carve up to 60 slices every minute.
Bottom Line
Unfortunately, automatic meat slicers cost the most money, which means the cost can only be justified if you intend to slice copious amounts of meat.
Safety and Sanitation
Safety is the most important factor when using a meat slicer. You can lose a finger if you are not careful. Therefore, always wear a safety glove every time you use your meat slicer.
Furthermore, purchase protective eye gear to keep meat or food particles from hitting you in the eye.
Luckily most meat slicers are designed with non-slip rubber feet to p[revent the slider from moving all over the place.
In regards to sanitation, purchase a meat slicer that is easy to disassemble without having to purchase special tools to take the entire unit apart. Ensure you clean and sanitize the blades correctly.
The 6 Best Meat Slicers
Meat slicers can make life easier. However, they can also make life harder when you are confronted with a million and one meat slicers and struggling to decide which meat slicer reigns supreme.
These are the best meat slicers available on the market.
Chefman Electric Deli & Food Slicer
The chefman electric meat slicer gives you perfect slicers. It features an adjustable control to regulate the thickness of your meat.
Whether it is cheese, bread, fruit, turkey, roast beef, vegetables, and ham, you can cut anything you can this of with this machine.
The chefman electric meat slicer is also easy to use and clean. It features quick-release technology and a dishwasher-safe food carriage.
It is powered by a 180-Watt AC motor and has an 8.6-inch serrated edge stainless steel blade that glides through any food easily.
This meat slicers blade is also removable and retractable, making the die-cast aluminum housing are easy to clean. Its sleek yet efficient design allows this meat slicer to be stored in a cabinet or on your countertop.
The chefman's meat slicer is sturdy with non-slip feet, a blade safety guard, and a food pusher that keeps the meat in place while giving you a firm enough grip to slice the meat.
The on and off switch is extra protection to make sure you remain safe while using the slicer.
Overall, Chefman's gives you a CETL approved with advanced safety technology for a long-lasting, durable meat slicer.
This meat slicer is perfect for making deli sandwiches, sliced fruit, appetizers, charcuterie boards, beef jerky, and so much more.
Ostba Meat Slicer Deli Food Slicer
The OBSTA meat slicer will trick everyone into believing you are a chef with the best knife skills.
With an adjustable thickness from 0-15 millimeters, you can thinly slice fruits and vegetables for dehydrating or up to 3/4-inches thick for ham, roast beef, and chicken or turkey breast.
Powered by 150 watts of power, this blade is super sharp and will cut through any food within a matter of seconds. In addition, the seamless design and removable features make this unit super easy to clean.
The removable ring guard cover blocks food residue from accumulating on cutting surfaces.
In addition, the blade, food carriage, slide-rod extension, and food pusher make the cleaning and sanitizing process much easier.
This meat slicer is outfitted with a safety lock and power button that must be switched on to operate the machine.
The safety lock helps decrease the chance that you will accidentally power on the meat slicer and injure yourself.
In addition to this, the non-slip suction cup feet ensure the meat slicer remains sturdy when it is in use, therefore, minimizing any potential accidents that can occur.
The universal 7.5-inch stainless steel blade is powered by 150 watts of slicing capacity, which gives you a precision cut rather than an uneven cut.
Whether it is bacon and ham to salami and meat for stirfries, the possibilities are endless with the OBSTA meat slicer. This meat slicer also comes with a child lock protection switch to make sure your family remains safe.
All in all, the OBSTA meat slicer is a perfect fit for new beginners. It will ensure you and your family remains safe while carving meat and other foods into beautiful slices of food.
Anescra 200W Electric Deli Food Slicer
Backed by 200 Watts of power, the Anescra electric meat slicer gives you fast quality slicing capacity. You can cut any food you can imagine with this meat slicer.
With not one but two 7.5-inch 304 stainless steel blades, both non-serrated and serrated blades allow you to cut through cooked or raw food while reducing the chances of cross-contamination from occurring.
This unit is so easy to clean and sanitize that ring guard technology prevents the accumulation of food residue.
Furthermore, parts of the meat slicer that are like to be the direst such as the blade and food carriage, are also detachable.
The built-in thickness knob can adjust to 3/4-inch that is wide enough to slice through vegetables you are planning to serve as a side dish.
Furthermore, its compact, durable design is constructed from solid cast aluminum. This construction material will ensure your meat slicer lasts for a long time as it is built for heavy use.
Moreover, this meat slicer is compact enough to fit on your countertop or ticked away in a cabinet.
The suction cup rubber non-slip feet make sure the meat slicer remains in position during and after use.
The recessed power switch prevents the machine from mistakenly being switched on or off and keeps food debris from damaging the switch.
All in all, the Anescra electric meat slicer gives you value for your money. With these amazing features, you will be able to slice meat effortlessly.
Beswood Electric Deli Meat Slicer
The beswood meat slicer is constructed from a premium chromium-plated carbon steel blade undergoing high-temperature treatment. This helps the meat slicer to be resistant to corrosion.
Unlike cheaper meat slicers, there is no need to sharpen the slicing blade often. Ultimately this means your meat slicing blade will remain in a durable state for a long time.
The double illuminated on and off switch is covered with 24 volts to prevent power shocking.
It is ETL and NSF certified. In addition to this, although the premium V-belt has a noticeable noise, the vibrations are reduced, which means you can focus on slicing your meat instead of being distracted by the sound.
The beswood meat slicer also features a skidproof rubber feet design to keep the machine in place while it's being used. Furthermore, it has a ring guard for added protection.
The aluminum body is also top-mounted with two stones blade sharpeners that help you maintain a sharp blade edge.
In general, the beswood meat slicer is best suited to commercial kitchens or at home if you want to slice large amounts of meat.
Kws Ms-10NS Premium Commercial 320W Electric Meat Slicer
No products found.
The KitchenWare electric meat slicer boasts a 10-inch high-quality stainless blade. It is a commercial semi-automatic silver meat slicer designed for home use or commercial kitchen use.
Powered by 320 Watts of motor power, it is perfect for carving meats, veggies, cheese, and fruits within a few seconds.
It has a thickness range beginning at 0.4-inches in thickness with is perfect for slicing potatoes.
This unit also comes with a built-in dual whetstone sharpener to keep the blade in tip-top-slicing condition.
To sharpen your blade, press the front and back button down for a few seconds. The ring guard assembly serves as extra protection to keep you safe while using the meat slicer.
The body of the KitchenWare meat slicer is crafted from aluminum alloy, which makes the meat slicer durable enough to last for many years to come and less resistant to corrosion.
The KitchenWare meat slicer has a waterproof on and off switch that is designed separately, preventing them from becoming damaged simultaneously.
Moreover, the skidproof rubber feet prevent the machine from slipping around while it's in use.
The food carriage is also removable and promotes easy cleanup. This prevents the growth of bacteria, which can occur in hard-to-reach places and make you and your family sick.
Overall, the KitchenWare meat slicer is quality at its best. This semi-automatic beauty allows you to slice foods with ease.
Cuisinart Kitchen Pro Food Cuisinart Kitchen Pro Food Slicer
The kitchen aid meat slicer features a removable 7.5-inch undulated stainless steel slicing blade. It has a cord length of 38-inches in length.
You can comfortably operate this piece of machinery without having to maneuver around other appliances in your kitchen.
Furthermore, the stainless steel carriage, blade, and food guide are all removable, which makes cleaning the unit easier.
Finally, the slicing control knob ranges from a paper-thin cut of 1/32-inch to a thick cut of 1/2-inch.
The Cuisinart meat slicer's premium coated steel and die-cast aluminum housing is simply a test of this meat smoker's durability and strength. The non-slip feet guarantee that the Cuisinart meat slicer will remain stable during operation.
All in all, the Cuisinart meat slicer is sleek yet functional. However, more importantly, this unit is easy to use, easy to clean, and easy to maintain.
Frequently Asked Questions About Meat Slicers
With all of this information about meat slicers, you must have some lingering questions about meat slicers. These are a few of the most popular questions about meat smokers.
Are Meat Slicers Worth It?
Most people would agree that meat slicers are definitely worth it. Though they may be a bit expensive for some, it is an investment into your cooking career.
But, more importantly, the precision cuts that a slicer gives you cannot be replicated by even the most skilled chef, who is a knife skills expert.
Can I Slice Raw Meat on a Meat Slicer?
Yes, you can slice raw meat with a meat slicer. Nevertheless, you need to make sure no cross-contamination occurs between uncooked and cooked foods.
Moreover, you need to ensure that your raw meat is still sold. If your meat is too soft, it will result in uneven slices.
How To Keep Meat From Sticking to the Meat Slicer?
Meat sticking to a meat slicer is fairly common. However, it is fixable. Simply wet the blade with a damp cloth a spray bottle, then slice your meat, stopping evet so often to rewet the blade.
Wetting the blade will make it easier for you to slice foods into uniform cuts.
Can I Use a Meat Slicer To Cut Cheese?
Of course, you can use a meat slicer to slice cheese. In fact, any food that can be sliced using a mandoline can be sliced using a meat slicer.
So whether it is cheese, potatoes, carrots, or meat, meat slicers can even cut any food you wish to cut with a knife.
Final Thoughts
Meat slicers are God's gift to earth. It makes life easier for those who struggle with precision cuts.
However, with so many meat slicers on the market, it can be difficult to determine the best choice.
Luckily you've got all the information you need about meat slicers to make an informed decision.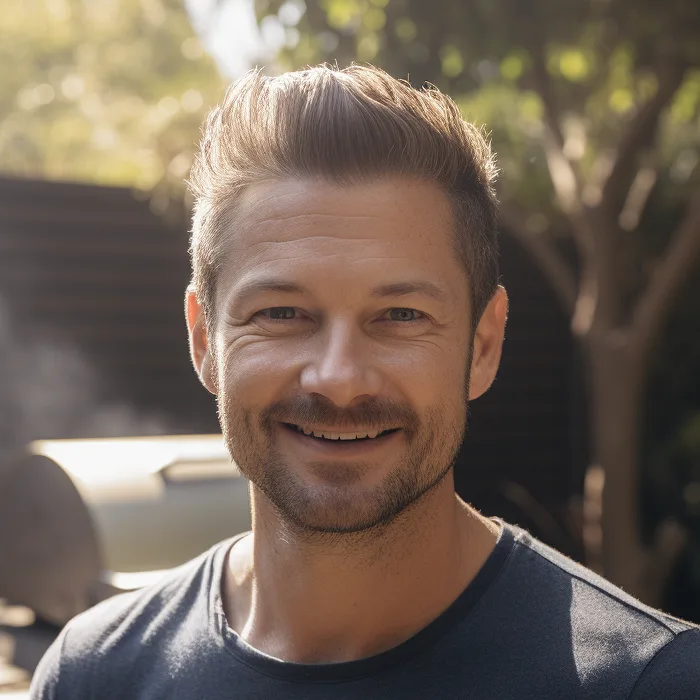 I have been smoking and grilling meat from an early age and enjoy sharing my knowledge and expertise through the hundreds of articles I have written about BBQ. I hope to make everyone's BBQ journey that little bit easier.