Chinese BBQ pork, commonly known as Char Siu pork, is a delicious dish filled with exquisite flavors.
This Chinese BBQ pork is savory with a hint of sweetness, delicious, and tender. It pairs perfectly with rice or noodles.
What is Chinese BBQ Pork?
The word Char and Siu translates to fork and roasted. This terminology relates to the way the pork is cooked. Just like BBQ, meat is threaded onto a long fork and cooked over a fire, hence the name Chinese BBQ pork.
Most Char Siu is prepared in the Cantonese way using pork shoulder or pork tenderloin.
How To Make Chinese BBQ Pork
Though the name sounds complicated, making char sui pork is fairly simple.
This version of Char Siu is cooked in the oven, making it that much easier.
First, the pork is marinated in a combination of honey, brown sugar, hoisin, apple cider vinegar, garlic, ginger, 5 spice powder, and several other spices and flavorings 1-2 days to allow the flavors to intensify.
The Char Siu pork is then roasted in the oven until it is perfectly cooked and served with the remaining BBQ sauce on the side.
Do I Have To Add Red Food Coloring To My Char Sui Pork?
Char Sui pork is most recognized for its beautiful red color on the outside of the mead.
Though some recipes call for red food coloring, this Chinese BBQ pork does not.
If you want to add a few drops of red food coloring to ensure you get the distinctive color associated with Chinese BBQ pork, you can.
Additionally, you can also use red fermented tofu. However, this ingredient may be hard to find.
You may have to visit an Asian specialty store or search for it on Amazon.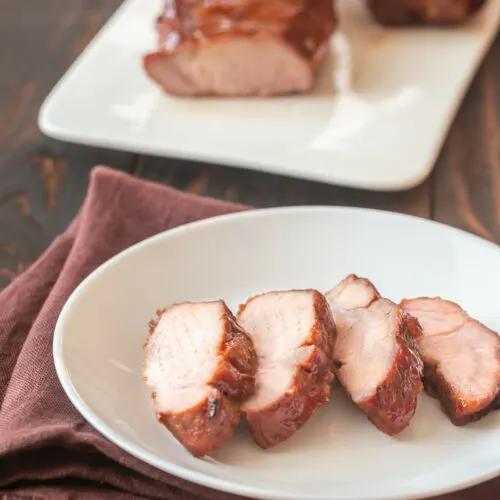 Chinese Bbq Pork Recipe
This Chinese BBQ Pork is marinated in a sticky sweet and salty sauce and baked to perfection.
Equipment
Whisk

Saucepot

Measuring cups

Measuring spoons

Rimmed cookie sheet

Wire rack
Ingredients
1

cup

Hoisin sauce

½

cup

brown sugar

½

cup

honey

3

tbsp

soy sauce

2

tbsp

coconut aminos

¼

cup

cider vinegar

¼

cup

Chinese rose wine

2

tsp

Chinese five-spice

2

tbsp

garlic paste

2

tbsp

ginger paste

2

tsp

cornstarch

3

lb

boneless pork shoulder orbutt
Instructions
Whisk the Hoisin sauce, honey, brown sugar, soy sauce, coconut aminos, apple cider vinegar, Chinese rose wine, Chinese five-spice, garlic paste, ginger paste, and corn starch in a bowl.

Slice the pork shoulder or butt into 3 even pieces, then placeit into a gallon-sized resealable bag.

Pour half of the Chinese BBQ sauce over the pork, massage it into the pork, and allow the CharSiu pork to marinate in the fridge for up to 24or 48 hours.

Program your oven to 350°F. Cover a cooking sheet with foil, then arrange a wire rack on top of the cookie sheet.

Remove the pork from the BBQ sauce place it onto the wire rack.

Cook the Chinese BBQ pork for 25 minutes, turn it over, and cook it for additional 25 minutes until the pork has a temperature of 145°F.

Place the remaining Chinese BBQ sauce into a saucepot over medium-high heat and allow it to come to a boil.

Decrease the flame to medium-low and allow the Chinese BBQ sauce to cook for 10 minutes until it thickens.

Remove the Chinese BBQ pork from the oven and program your oven to broil.

Brush the pork with the remaining BBQ sauce and broil it for 4-5minutes until the sauce begins to caramelize and char.

Turn the Chinese BBQ pork over and paste it with more sauce and broil it for an additional 4-5 minutes.
Nutrition
Serving:
354
g
Calories:
573
kcal
Carbohydrates:
64.24
g
Protein:
44.96
g
Fat:
14.47
g
Saturated Fat:
4.791
g
Polyunsaturated Fat:
2.148
g
Monounsaturated Fat:
6.055
g
Trans Fat:
0.086
g
Cholesterol:
137
mg
Sodium:
1127
mg
Potassium:
1148
mg
Fiber:
1.5
g
Sugar:
53.44
g
Vitamin A:
15
IU
Vitamin C:
2.5
mg
Calcium:
74
mg
Iron:
3.66
mg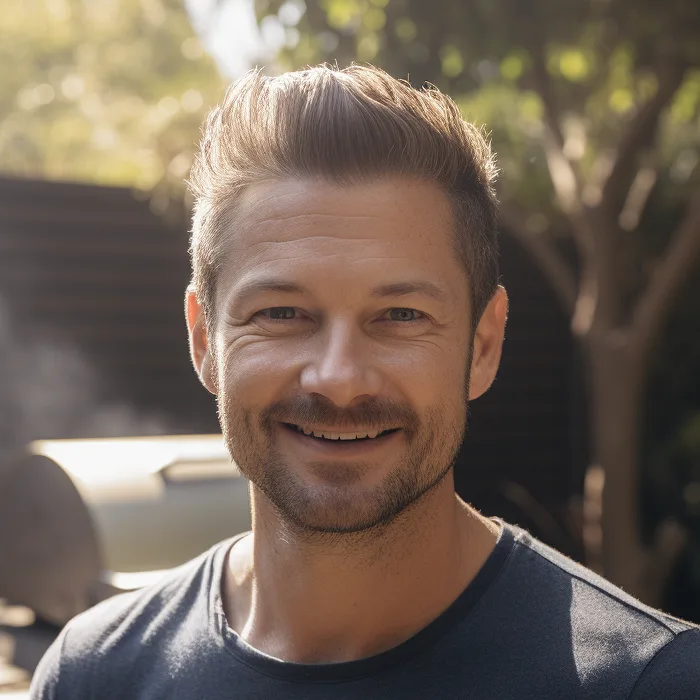 I have been smoking and grilling meat from an early age and enjoy sharing my knowledge and expertise through the hundreds of articles I have written about BBQ. I hope to make everyone's BBQ journey that little bit easier.