While most BBQ experts claim to be in love with charcoal, there is a vast majority of grillers all over the world that swear by the almighty charcoal briquettes.
Fuel sources such as propane become insubordinate in the eyes of these folks as charcoal briquettes are the only reliable way to fire up the grill.
However, most of these devoted briquette fans will tell you that not any old charcoal briquette will do.
What To Look For in Charcoal Briquettes
To purchase the right charcoal briquettes, you must know what characteristics to look for.
If you do not know what characteristics to look for, you run the risk of purchasing a bad bag of briquettes.
Burn Time
The burning time of briquettes depends on what dish you intend to grill.
Since you have to ignite the charcoal, you do not have as much leeway as you would with other cooking methods.
Running out of briquettes before you finish grilling your food is a huge issue that no one wants to experience.
Therefore choosing a briquette with a longer burning capacity will guarantee you have enough fuel to grill your foods.
Charcoal briquettes have a longer burning capacity due to their uniformity.
In addition to this, manufacturers usually give consumers an estimation of burn times. However, burn times depend on the size and shape of your grill.
Burn Temperature
Everyone knows that grilling food requires intense flames.
Because most grills are not insulated, temperature fluctuations in the charcoal have a direct impact on the cooking processor.
Even though you can study the temperature changes of charcoal, most people opt for briquettes because they generate a uniform amount of heat throughout the burn cycle.
Ash Production
It does not matter whether you are using lump charcoal or briquettes; it will produce ash.
Charcoal briquettes typically use more fillers and additives, which means they produce more ash.
In some instances, ash can have a positive effect as it can temper the burn and insulate the coals, which gives you a lower temperature and longer burn time.
However, some grills, like ceramic grills, cannot cope with high levels of ash.
Bottom Line
If you have a larger grill, ash will not be a huge factor to consider when purchasing briquettes.
Ease of Lighting
Even though instant light charcoal is convenient, instant light briquettes should be avoided at all costs.
This charcoal is coated in a layer of accelerants that can impart an oily flavor to your food.
In addition to this, there are also potential health risks associated with the fumes released by the briquettes after it is lit.
Most briquettes are relatively easy to light. However, briquettes with thinner edges are the easiest to light.
The Best Charcoal Briquettes
If you ever browsed your local grocery store's grilling section, you know just how many charcoal briquette brands there are.
In addition to this, they all claim to be the best safest briquettes on the market.
However, there's no point in standing around and staring at bags of charcoal when you've got the 7 best charcoal briquettes at your disposal.
Royal Oak Chef's Select Premium Hardwood Lump Charcoal Briquettes
This 40 lb. bag of premium lump charcoal you can grill or smoke anything you dream of.
Made from American oak and hickory hardwood, the royal oak chef's charcoal briquettes do not contain additional ingredients.
Furthermore, unlike other charcoal briquette brands, the royal oak chef's charcoal briquettes generate minuscule amounts of ash.
These charcoal briquettes are so versatile that they can be used in ceramic or non-ceramic grills and traditional grills.
Overall, these briquettes are perfect for high and low temperatures cooking methods.
Therefore, you can sear foods such as steaks and salmon or smoke a brisket for 8 hours with these briquettes.
Duraflame Cowboy Brand Natural Hardwood Briquettes
The duraflame cowboy natural hardwood briquettes provide you with 14 pounds of natural hardwood charcoal briquettes to suit all your grilling needs.
Made using a hardwood blend, these briquettes are designed to impart an authentic wood flavor to any food that you grill.
Furthermore, the pillow-shaped briquettes also fuel the heating capacity.
In general, if you desire a charcoal briquette that lasts for hours and provides you with an even heating system, this is the optimal choice.
Free of coal, chemicals, and additional fillers, the duraflame natural hardwood briquettes are a great option.
Kingsford Original Charcoal Briquettes
This well-known brand of charcoal briquettes gives you 12 pounds of cooking abilities.
The Kingsford original charcoal briquettes are ready to cook in 15 minutes which is 25% faster than other briquette brands.
The sure-fire groove and the edges help the charcoal briquettes to ignite quicker.
Overall crafted in the USA from 100% natural North American ingredients and real wood, the Kingsford original charcoal briquettes are so easy to use that even a dummy could light them.
B&B Charcoal Slow Burning Oak Charcoal Briquettes
Weighing in at 17.9 pounds, the B&B slow-burning charcoal briquettes burn extremely hot.
This allows your foods to cook faster and seal in the signature BBQ flavor we all know and love.
Made from 100% natural oak, it infuses your meats such as pork, beef, and chicken with a smoky flavor.
With a recipe that features no harsh chemicals, you can be sure that you are cooking your food with safe charcoal briquettes.
All in all, the B&b slow-burning oak charcoal briquettes are perfect for BBQ experts who frequently participate in BBQ competitions.
Whether you are a pitmaster or an avid barbecuer during the hot summer nights, B&Bs charcoal briquettes are an excellent option.
Olivette Organic Charcoal Briquettes
Olivetette's organic charcoal briquettes are manufactured from recycled olive pulp, olive pruning branches, and olive pits.
In fact, it is USDA certified and free of chemical additives.
In the end, you can use these briquettes without any guilt as they are a sustainable, environmentally-friendly source of fuel for your next grilling session.
As strange as it sounds, these charcoal briquettes are also smoke-free.
Even when they are burning, they will not release harmful chemicals that put your health at risk. These versatile yet efficient charcoal briquettes are easy to light and can burn for up to 5 hours.
Furthermore, the Olivette organic charcoal briquettes have a reliable heating capacity that's 50% higher than regular wood.
More importantly, the briquettes will not spark or release volatile ash.
All in all, if you want a healthy yet affordable grilling experience while enjoying the pleasant scent of olive wood perfume, this is the best option for you.
Not only will there be no chemicals, but you will reap a tastier, more flavorful barbecued food.
Motherland Goods Original Charcoal Briquettes
Produced from a natural, sustainable ingredient, coconut husk, these charcoal briquettes are 100% pure and natural.
On average, these charcoal briquettes are ready to go in 15 minutes which is 25% faster than most charcoal brands.
Free of fillers and additives, you can put your fears to rest about being exposed to cancer-causing carcinogens.
Best of all, these briquettes are reusable, which means they are better energy savers than wood chips.
Simply splash the charcoal briquettes with water, allow them to dry, and reuse them as you normally would.
Overall, whether you want to infuse steaks, burgers, chicken, vegetables, brisket, rib, and kebabs with rich smoky flavor, this is the best option for you.
If you are an environmentally conscious individual, motherland original charcoal briquettes will help you to grill foods to perfection in a clean, safe way.
Jealous Devil All Natural Hardwood Charcoal Pillow Briquettes
The jealous devil all-natural hardwood charcoal pillow briquettes come in a 20-pound box which is more than you would usually get from the standard charcoal briquette bag.
Moreover, you get twice the size of the normal amount of briquettes to give you a hotter burn for a longer time.
Crafted from 100% natural, pure quebracho hardwood, these charcoal briquettes contain minuscule amounts of starch extracted from vegetables.
Free of harmful toxins such as borax and nitrates, they generate little to no ash.
Furthermore, the briquettes will not spark, pop, or snap, preventing you from getting burned.
All in all, if you want a pronounced delicious flavor, the jealous devil natural charcoal briquettes are the perfect option for you.
Not only will they prevent acrid, unpleasant smoke, and nasty chemical aroma, but they also come in a resealable box, so you do not have to find a separate container to store your charcoal briquettes in.
The History of Charcoal Briquettes
Believe it or not, charcoal production has existed since the prehistoric age.
Nevertheless, it was not until the 1920s rolled around that charcoal briquettes emerged into the mainstream market.
Henry Ford was the visionary who uncovered the mystery of how to produce briquettes by converting wood scraps into charcoal.
Ford eventually established a charcoal plant to manufacture briquettes and called the organization Ford Charcoal.
Later this same company shed its old name and was renamed as a tribute to Ford's friend Edward G. Kingsford.
Ford Charcoal was renamed Kingsford Products Company and became one of the top producers of briquettes in the US, and it is still a well-known brand today.
What Are Charcoal Briquettes?
Essentially, charcoal briquettes are objects produced from scrap wood and sawdust that is burned into carbon.
The carbon is pressed with a starch binder and ground coal, then cast into the signature briquette shape.
This uniform shape allows the briquette to evenly heat your grill.
In addition to this, briquettes burn slowly due to the compressed carbon, which makes it even harder for oxygen to infiltrate it.
Moreover, manufacturers also use additives to increase the burning capabilities and decrease overhead costs.
The most popular additives include borax, coal dust, petroleum binders, wood scraps, and sawdust.
In addition to this, these additives can also produce acrid smoke when they are first ignited. For this reason, you must select your charcoal briquettes carefully.
Benefits of Using Charcoal Briquettes
Charcoal briquettes have definitely made a name for themselves.
After all, when one hears the word charcoal, most people automatically assume briquettes.
One of the reasons briquettes are so popular is because of their uniform size and shape.
This also briquettes to be a reliable uniformity no matter which bag you purchase.
In addition to this, you always get the same quantity of consistent heat every time you use it.
Furthermore, briquettes can easily be added to a chimney starter and can be arranged using different techniques.
Since briquettes are compact and compressed, they will not become crushed or damaged in the bag and will not leave a trail of dust.
The biggest advantage of briquettes is that they burn longer, which is ideal for smoking meat.
This is primarily because they burn from the outside rather than combusting all at once.
Briquettes are widely available and easier to purchase than other briquettes. However, there are also some drawbacks to charcoal briquettes.
They do produce more ash, take longer to ignite, and cannot be used if they fall apart.
Nevertheless, there is also the controversy of the additives used to produce briquettes that leaves some to believe they are toxic and others to believe they are natural.
What Are Charcoal Briquettes Composed Of?
Although many people are skeptical about the additives in briquettes, most people do not realize that they actually serve a purpose.
On its own, charcoal lacks plasticity, so it requires a binding agent to remain in its solid state.
Every element of the charcoal fastens itself to the binder, and then pressure is applied to the components to produce briquettes.
In addition to binders, there are also other additives that are added to boost combustion and extend the burn life of the briquettes.
The specific additive also directly hinges on the quality and price of the briquettes.
Bottom Line
The ingredient lists of briquettes usually feature a binder, visual ash agent, press release agent, heat source, fillers, and an ignition aid or accelerant.
Binder
Starch is the ideal and most efficient binder for charcoal briquettes.
Starch can be extracted from everyday food products such as rice, wheat, and potatoes.
Starches extracted from these items will burn. However, starch is expensive; therefore, many briquette producers search for cheaper alternatives.
The most popular alternatives to traditional starch include molasses and clay.
Although clay is the cheaper option, it does not improve the burning efficiency of the briquettes.
Unfortunately, the more clay that's added to briquettes, the more ineffective it will be.
On the other hand, molasses, a by-product of manufacturing sugar cane, serves as a binding agent for the briquettes.
However, molasses does release an acrid odor when it is ignited.
Manufacturers also use wood tar and pitch for binder. However, burning those to cook foods doesn't sound very appetizing at all.
Optimally quality charcoal binders will feature natural plant-derived binders such as potato or corn starch.
Heat Source
The heat source is responsible for the fire. Charcoal briquettes burn more efficiently if they are produced with larger quantities of heat fuel.
To achieve this, producers usually use charcoal fines and anthracite coal.
Wood charcoal is typically derived from hardwood or softwood. Hardwood is the top choice because it burns better than its counterparts.
On the other hand, softwood does have a higher burning rate, but it does generate more ash.
It's important to note that a few species of softwood, such as pine, contain large quantities of resin.
Resin produces a nasty smoke that causes some individuals to fall sick.
Where the wood was sourced from is also worth investigating as well.
For example, if the wood was sourced from forest thinning or a sawmill, it would be in a raw, unprocessed state.
In contrast, woods can also be derived from recycled composites like varnished construction, also known as furniture scraps.
Nevertheless, these materials receive chemical treatments, and no one wants to eat food that is covered in a layer of preservatives.
Anthracite coal has the highest levels of carbon. Boasting an 86 – 97% carbon profile, it can achieve the largest amounts of heat among all of the coals, which allows it to burn for longer periods.
Coal is a by-product yielded from the decomposition of dead animals and plants that transpires over millions of years.
Some people assert that producers burn the coal in an oxygen-starved environment to remove all its volatile gases before it is added to the briquettes.
The exact same method is used to produce charcoal.
Nevertheless, some individuals view charcoal as a natural fuel source and have no issue preparing food with it.
In contrast, some individuals do feel unsettled because they believe coal will release mercury, a hazardous chemical to human health.
Even though coal can be used in stoves, most people do not cook over it.
Bottom Line
Ultimately, if briquettes have more natural hardwood charcoal fines and little to no coal, the more superior the briquettes will be.
Ignition Aid or Accelerant
Since briquettes are compressed, they are not blessed with the capacity to combust in short bursts.
For this reason, producers must use ignition aids or accelerants to increase the combustion quality.
The most popular additive of this nature is sodium nitrate.
Also referred to as Chilean saltpeter and white gold, sodium nitrate is an ingredient used to manufacture fertilizer and explosives.
This type of additive is also used as a preservative in processed meats like hotdogs and bologna.
Since fertilizer and explosives are not appetizing, some companies have decided to exclude sodium nitrate from their briquette formula.
Some companies have opted to use sawdust as an ignition aid.
Even though sawdust can be derived from hardwood or softwood, hardwood is the superior option.
Visual Ash Agent
Ever noticed a few minutes after you lit your briquettes, they are converted from a dark color to a white color.
This is a clear indicator that they are ready to use. This white substance is known as the visual ash agent.
The most common visual ash agent is limestone, a sedimentary rock containing calcium carbonate.
The same chemical is also found in shellfish or baking powder.
Though it sounds unnatural, combining calcium carbonate with briquettes makes them dense and heavy.
Even though limestone technically adds no energy benefits, it decreases the burning efficiency because of the ash the briquettes produce.
Some briquette experts assert that limestone to the formula produces a watered-down briquette as it creates a heavier product than normal charcoal.
However, charcoal will produce more heat than briquettes.
In addition to this, some individuals also assert that the visual ash agent is an unnecessary ingredient, as you can tell the briquettes are ready to use when they are hot.
Fillers
Similar to limestone, fillers do not have any beneficial heat content to the briquettes, and fillers only create extra ash.
However, it is a technique producers use to reduce cost without affecting the briquettes' weight, volume, and density.
It only creates extra ash content. It is a way for manufacturers to decrease cost while maintaining the volume, density, and weight of their
Nevertheless, adding too many fillers can decrease the quality of the fillers. The most popular fillers are dirt, sandy soil, and crusher fines.
It is important to note that top-quality charcoal briquettes do not have as many fillers then low-quality briquettes.
Press Release Agent
The most common press release agent is borax or sodium borate.
Borax is a flour-like white mineral that's used to produce detergents, insecticides, and cosmetics, in addition to a host of other products.
Borax helps the briquettes release from their mold.
The quantity of borax used to make briquettes is usually minuscule.
However, borax is only needed if producers use rapid high-pressure briquette devices.
However, if manufacturers use manual pressing instructions, borax is typically excluded from the recipe.
If they use manual pressing machines, they usually don't add borax to the mix.
Despite the European Union and Canada have outlawed the use of borax due to its severe impact on human health, there are no safety laws regarding borax in the United States.
However, the quantity of borax used is relatively small and is only harmful in large doses.
Lump Charcoal vs. Charcoal Briquettes
If you are a veteran griller, you know that there are many sources of fuel available on the market.
One of the most controversial BBQ debates in the world is whether lump charcoal reigns supreme over charcoal briquettes and vice versa.
Charcoal briquettes are a great option as they burn longer.
Briquettes allow you to choose whether you want to quickly cook up a steak or burners or smoke a brisket low and slow for long periods of time.
How Do You Make Charcoal Briquettes?
Typically, two techniques are used to produce charcoal briquettes: the kiln technique, also known as the batch method, and the retort process, also known as the continuous method.
Excluding how companies carbonize the wood and convert it to charcoal, both methods are relatively similar.
Carbonizing wood involves burning the wood in an oxygen-deprived climate until all of the volatile components evaporate from the wood. The result yields lightweight burnable charcoal.
The kiln method involves collecting residual wood from timber mills and burning them in concrete kilns lined with refractory, known as a Missouri kiln, for two days.
After the burning process, the carbonized wood cools down for 7 days.
As a result, lump charcoal is produced in the original shape of the wood before it was processed. Pieces less than an inch are grounded into charcoal fines and sold to intermediary operations, which make it into briquettes.
This technique carbonizes the wood before it is grounded to particle volume. The drawback of this method is that it does have an extended cooling time.
Orin Stafford created the retort method and the fixed drawback method. Manufacturers source wood scraps and sawdust from sawmills, then crush the wood into sawdust and carbonize it with the connecting sawdust.
This process decreases the cooking and cooling time due to increased surface area.
After the grinding process, the sawdust is laced into a large drum dryer to decrease the moisture profile from 50% to 25%.
Next, the dried sawdust is added to a five-story oxygen restricted retort and baked individually at temperatures ranging from 525F to 1200F.
Baking the sawdust removes the combustible gases leaving behind the charcoal fines.
The charcoal fines are combined with additives like limestone, coal, or starch then pressed into the signature briquette shape.
At this stage, the briquettes are still damp. The briquettes will then be dried for 3-4 hours to decrease the moisture content to 5% moisture content.
The briquettes will then harden, be bagged, and shipped to retail stores. The retort technique is efficient and accurate when it comes to briquette production.
In addition to this, it is also cost-efficient as manufacturers can recycle the combustible gases to power the dryers and function as a part of the system.
In contrast, the kiln technique generates large quantities of particulate emissions, also known as white smoke, released from burning wood.
However, manufacturers do face pressure to reduce emissions as governmental agencies can find them.
Since installing smoke burners is expensive, it is not a popular method of producing charcoal briquettes.
Bottom Line
Nevertheless, both production methods are an environmentally friendly way for sawmills to get rid of their waste and reduce its potential to become a fire hazard.
How To Light Charcoal Briquettes
Lighting charcoal briquettes is a relatively easy process, but it is useful to know your options. Before you light your briquettes, you must clean your grill well by removing the cooking grates and cleaning any ash and dirt.
In addition to this, you should also switch the grill vents at the base of the grill to stimulate airflow and help the briquettes burn better.
One of the easiest, simplest, and convenient methods to light briquettes is by using a charcoal chimney starter.
This cylindrical device allows you to add newspaper and briquettes to the chamber and light the newspaper, which will ignite the charcoal.
This method is also preferred as it makes lighter fluid necessary and is a healthier and safest way to light briquettes.
To light your briquettes, crumple a couple of newspapers and place them into the bottom of the chimney starter.
Place the briquettes onto the grill's lower grate and light the newspaper with a lighter or match.
Let the briquettes burn for 15-20 minutes until they take on a white or gray appearance.
Another option to light charcoal briquettes is by using an electric charcoal fire starter.
This chemical-free method is designed to lay on top of the charcoal and heats them to a temperature that is hot enough to ignite the charcoal.
Arrange the briquettes in the center of the grill in an even layer, then place the electric starter on top of the coals and add more briquettes on top of it.
Plug the electric starter in and let it run for 10-15 minutes until the charcoal is white or grey in color.
Remove the electric starter by using the handle and hang it in a safe place until it cools completely.
Using lighter fluid is the traditional way to light charcoal briquettes, but just because it's traditional does not mean it's safe.
Charcoal lighter fluid is probably the riskiest method to light charcoal.
The most important rule of using lighter fluid is not to add additional lighter fluid once the coals have already been ignited.
The lighter fluid will be vaporized by the fire and result in a flare-up which may cause you to get burned.
To light your briquettes using charcoal lighter fluids, place the briquettes in a pile in the center of the grill.
Pour the lighter fluid over the charcoal in an even layer and let it sit for a minute before igniting it with a match.
The final way to method is simply to use instant light charcoal briquettes.
These briquettes are pre-coated with a substance that's similar to lighter fluid. Therefore there's no need to use additional tools to light your briquettes.
Arrange the instant light charcoal into a pile in the center of the grill and light one portion of the briquettes.
The fire will spread to the other charcoal briquettes, and you will be ready to grill in no time.
FAQs About Charcoal Briquettes
With all of this information about charcoal briquettes, you must have some questions.
These are the most common questions that are asked about charcoal briquettes.
Which Charcoal Briquettes Are Best?
While we can recommend charcoal briquettes, it depends on your grill, and you know your grill better than we do.
Your experience will also determine the best charcoal briquettes.
If you have a ceramic grill, lump hardwood charcoal is probably the best option.
However, if you have a kettle grill, you have more flexibility when choosing charcoal briquettes.
If you prefer a wood-fire flavor, lump charcoal briquettes are the best fuel option.
Can I Use Old Charcoal Briquettes?
Unfortunately, when briquettes are beyond their prime, they will not ignite no matter how hard you try to light them.
Frustrating, I know. However, they become unlightable because the lighter fluid they are produced with evaporates.
Charcoal is very porous and can easily absorb moisture from its environment.
The charcoal briquettes could have also been exposed to moisture and absorbed from the atmosphere.
In the same manner that wet wood will not light, wet charcoal briquettes will not ignite.
Therefore, if your briquettes have been exposed to water, they may not light.
Does Lump Charcoal Burn Quicker Than Briquettes?
On the one hand, lump charcoal can burn harder than charcoal briquettes, and it can infuse lovely flavors into food.
On the other hand, briquettes do give you a consistent bun. The truth is you will never know which one is better until you test out both lump charcoal and charcoal briquettes.
How Many Times Can I Use Charcoal Briquettes?
Typically most individuals add about 2-3 times the amount of charcoal briquettes they need.
Most of the briquettes will be partially charred or remain in an unburned state.
Even though most people let the briquettes burn out or discard them before they reuse the grill.
However, you can save your unused briquettes and place them on top of fresh charcoal briquettes the next time you want smoky, grilled food.
Final Thoughts
Many people find charcoal briquettes to be the end-all-be-all when it comes to fuel for the grill. After all, it is a reliable source of fuel that burns longer.
Now that you are on the briquette bandwagon, you can reap the benefits of this amazing source of fuel.
Best of all, you now have the 7 best charcoal brands to help enhance your grilling experience.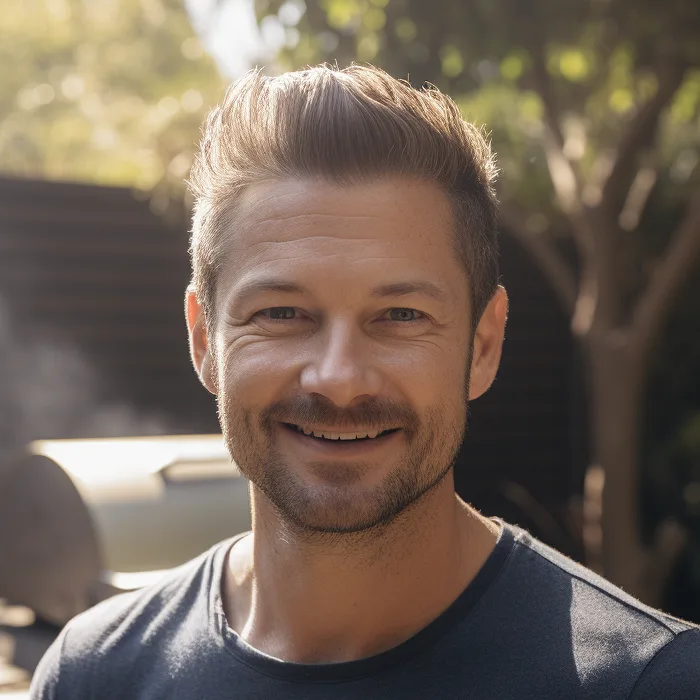 I have been smoking and grilling meat from an early age and enjoy sharing my knowledge and expertise through the hundreds of articles I have written about BBQ. I hope to make everyone's BBQ journey that little bit easier.