Salmon is a beautiful piece of food. However, I believe we can all attest to tasting a piece of salmon that was dry as chalk.
No one likes dry salmon, but this BBQ salmon is moist and flavourful. This recipe takes grilled salmon to a whole new level.
It is basted with a wet BBQ marinade and grilled alongside flavorful slices of lemon, tomatoes, and garlic.
Nevertheless, before we jump into the recipe, let's address some of the most common grilling questions about salmon.
Do You Have to Flip Salmon on the Grill?
It's only natural to wonder if you should flip salmon on the grill. We flip chicken, pork, shrimp, scallops, and so much more.
In short, the answer is no. Since the BBQ salmon is not being prepared in a seasoned cast iron skillet or a portable grill designed with thin grates, the chances of the salmon sticking to the grill increase by tenfold.
The general grill rule for salmon is to grill it skin-side down without flipping it.
Can I Grill Skinless Salmon?
Of course, you can! Skin-on salmon fillets are not always available, but that does not mean you can't enjoy grilled salmon.
The trick to grilling skinless salmon fillets is to place the side of the salmon where the skin was removed towards you.
How Do You Know if Salmon Is Cooked?
The most effortless way to tell whether your salmon is finished cooking is to use the best kitchen tool: your hands.
Lightly press down on the salmon fillet with your finger.
Alternatively, you can also use a fork if you don't want to use your fingers.
Grilled salmon is cooked when the flesh separates easily, and white threads are running through the salmon.
Additionally, you can also use a knife. Gently insert the tip of the blade into the thickest part of the salmon fillet and keep it there for three seconds.
Remove the knife and touch the knife with your fingertips. If the blade is warm, the salmon is completely cooked.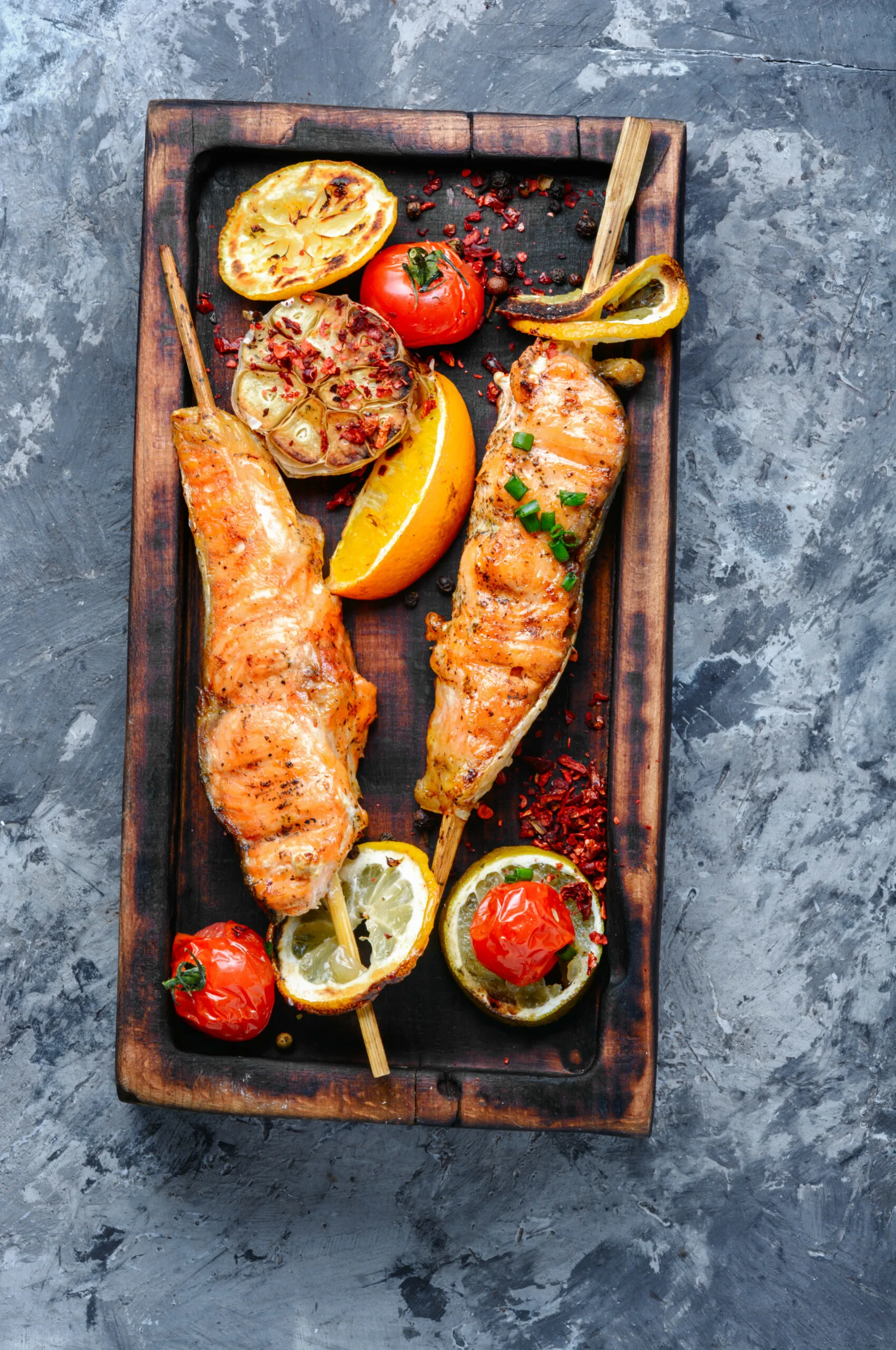 Grilled Bbq Salmon Recipe
Salmon fillet marinated in a wet bbq rub and grilled to perfection with lemon slices, garlic, and cherry tomatoes.
Ingredients
8

salmon skin-on fillets

2

tbsp

olive oil

1

tsp

sea salt

1

tbsp

brown sugar

1

tsp

smoked paprika

1

tsp

garlic powder

1

tsp

onion powder

¼

tsp

cayenne pepper

1

tbsp

lemon pepper

1

tsp

crushed red pepper flakes

3

tbsp

fresh lemon juice

1

sliced lemon

½

cup

cherry tomatoes

1

garlic bulb

cut in half
Instructions
Program your grill to about medium heat and brush the grates until they are clean.

Whisk the olive oil, sea salt, brown sugar, smoked paprika, garlic powder, onion powder, cayenne pepper, lemon pepper, red pepper flakes, and lemon juice in a bowl.

Pat the salmon fillets dry with paper towels and slice each fillet in half lengthwise using a sharp knife.

Brush the salmon fillets with the marinade and insert the soaked skewers into each fillet.

Place a sheet of heavy-duty aluminum foil onto your grill with the nonstick side of the foil facing you.

Add the salmon fillets, lemon slices, cherry tomatoes, and garlic pieces flesh side down to the grill.

Add the cover to the grill and cook the salmon for 12 minutes.

Remove the lid from the grill and baste the salmon with the remaining marinade.

Cook the salmon for an additional 2 minutes until it is opaque.
Nutrition
Serving:
361
g
Calories:
457
kcal
Carbohydrates:
5.78
g
Protein:
65.85
g
Fat:
17.5
g
Saturated Fat:
3.064
g
Polyunsaturated Fat:
2.986
g
Monounsaturated Fat:
6.773
g
Trans Fat:
0.011
g
Cholesterol:
146
mg
Sodium:
532
mg
Potassium:
1243
mg
Fiber:
0.6
g
Sugar:
2.95
g
Vitamin A:
734
IU
Vitamin C:
20.3
mg
Calcium:
36
mg
Iron:
1.69
mg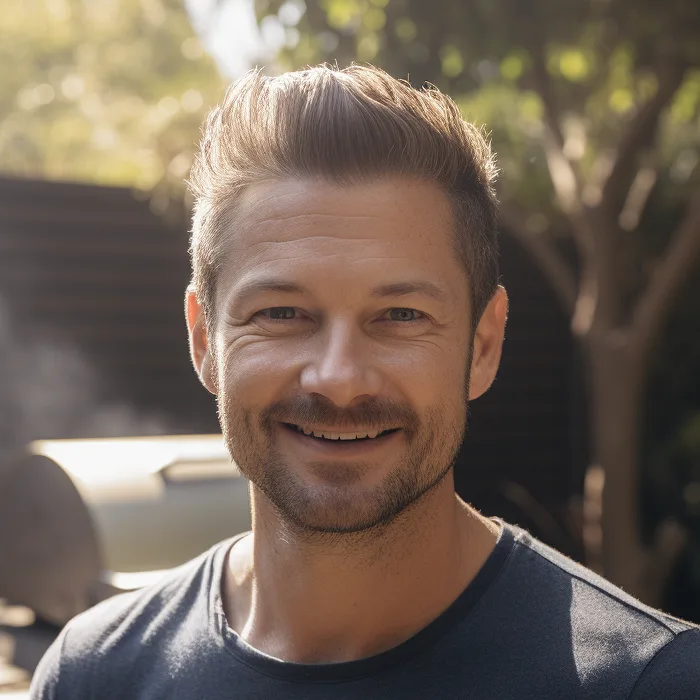 I have been smoking and grilling meat from an early age and enjoy sharing my knowledge and expertise through the hundreds of articles I have written about BBQ. I hope to make everyone's BBQ journey that little bit easier.