Vacuum sealers are heaven-sent. These versatile machines can preserve the crunchy texture of chips, or they can extend the shelf life of the delicious dinner you prepared last night.
In fact, vacuum-sealed meat can last about two years in the freezer before it's cooked.
Vacuum sealers are designed to remove all of the oxygen from the surrounding environment inside a bag or jar.
The container is then sealed, forming a protective barrier that prevents air from entering back into the food.
What To Look For In A Vacuum Sealer
Whether you are looking to save money or interested in buying food products in large quantities a vacuum sealer will serve you well.
However, there are a few key characteristics you should look for in a vacuum sealer.
Easy To Use
Though life is not easy, the purpose of a vacuum sealer is to make your life easier.
There is nothing worse than purchasing a vacuum sealer only to have it make your life harder.
Most vacuum sealers are not difficult to use. However, ease of use still factors into the equation. Look for a vacuum sealer with controls that are easily visible and clearly labeled.
This allows you to discern which buttons perform specific actions.
Hot Tip
Additionally, ensure you purchase a vacuum sealer that locks on its own. Otherwise, you will have to press down on the machine until it has sealed the food.
Controls
Vacuum sealers typically feature an automatic control, manual control, or both.
While purchasing a vacuum sealer with both automatic and manual controls is optimal, opt for manual control if you cannot source one with both controls.
Manual controls provide you with more control, while their counterpart is known for its lack of control.
Depending on the buttons you push, automatic control instantly sucks the air out and seals the food. Manual control gives you the freedom to choose when to halt vacuuming and seal the bag.
Automatic controls seem like the best choice. However, vacuum sealing food items such as bread, cookies, or cakes using the automatic feature may crush the food rather than vacuum sealing it.
Vacuum sealers with manual control allow you to physically stop the machine and prevent the food from being crushed.
Power
The next critical feature to ensure your vacuum sealer has is power. Generally speaking, vacuum sealers with greater power capacity usually have stronger motors.
More power guarantees better protection for your food. The job of a vacuum sealer is to remove air. Exposure to air causes food to spoil.
A vacuum sealer with greater power sucks more air out of the food, which extends the shelf life of your food.
Essentially power could be the difference between a food lasting two months and a food lasting eight months.
One way to decipher how much power the machine has is the price. If the price is more than the average price, the vacuum sealer will have more power. This is because it was manufactured with better parts.
Bottom Line
Opt for more power as long as it aligns with your budget.
Durability
A vacuum sealer is no different from anything else you buy. So, it comes as no surprise that it should be durable. A durable vacuum sealer helps you save money.
There is no point in purchasing a vacuum sealer only to have to purchase a new one a few months down the line. Inspect the vacuum sealer to see what material it is constructed from.
Select a vacuum sealer that is constructed from stainless steel instead of plastic. It will last longer.
Seal
Seals are just as important as any other part of a vacuum sealer. Inadequate seals can accelerate the spoilage of foods you invested time and money into preserving.
Make sure the vacuum sealer you are selecting has a large sealing bar, multiple sealing wires, and a strong seal bar.
As you can imagine, a large sealing bar gives you a more compact seal which ultimately decreases the chances of the food spoiling before you use them.
Vacuum sealers without a proper seal are prone to freezer burn. As a result of this, the bag becomes unsealed, and freezer burn occurs.
Multiple sealing wires allow the vacuum sealer to create several seals simultaneously. For example, if a machine has three sealing wires, it will create three seals on a bag every time you seal it.
If one seal becomes undone, the other two seals will keep the food vacuum-sealed.
Strong seal bars heat up faster. This will help you avoid common problems associated with vacuum sealers.
Stronger seal bars heat up so fast that they seal through wrinkles in the bag as wells as minuscule drops of food or water.
Cost
As much as we would all hope and love to experience the finer things in life, that is not always the case. The same applies to a vacuum sealer.
At the same time, it's critical to buy a quality vacuum sealer you do not want to exceed your budget.
Furthermore, factor the price of vacuum sealer bags into your budget. Although bags seem inexpensive, they can become expensive in the long run.
The best way to account for bag expenses is to verify whether or not generic bags are compatible with the vacuum sealer.
Generic bags are usually cheaper than manufacturer bags. This saves you a few dollars along the road since you will purchase vacuum sealing bags over and over again.
Warranty
Though most people tend to opt-out of the warranty, however, it is crucial you opt in. The warranty comes in handy, especially if you are spending big bucks on a vacuum sealer.
Spending money on a vacuum sealer only to have it break down six months later is utterly frustrating, especially if you do not have the warranty.
You will have to spend more money on a new vacuum sealer. However, you can contact the company with the warranty and have them fix it if the warranty still covers it.
Best Vacuum Sealers
There is no doubt you will be met with thousands of vacuum sealers that claim to be the best. Though this is not the case, we have narrowed your options down to the five best vacuum sealers.
Food Saver Vacuum Sealer
The food saver vacuum sealer is simple at its best. All that's required is placing the bag into the open end of the machine.
The vacuum sealer will remove the air, seal the bag and stop on its own once it is completed.
Most vacuum sealed foods last for 1-2 years in the freezer. However, food vacuumed with this machine can be stored in the freezer for three years.
That's right, three years, and it will still be as fresh as the day it was sealed.
Food saver's vacuum sealer is not limited to food. Ever packed liquids or creams in your suitcase opened your bag and found they spilled all over your clothes.
The food saver vacuum sealer allows you to can vacuum seal liquids or creams. This a guaranteed way to prevent liquids or creams from spilling when you travel.
Furthermore, you can vacuum seal important documents such as the deed to your house or photograph.
This allows your documents and pictures to be protected from water damage and mildew. You can even create your own refreezable ice packs with this vacuum sealer.
The food saver vacuum sealer is also easy to clean. It was designed with a patented removable dishwasher-safe drip tray.
Excess liquid and debris accumulate in the drip tray that can simply be tossed in the trash.
With a cord length of 24 inches, the food saver vacuum sealer was designed with cutting-edge technology that uses 40% fewer sealing bags than the average vacuum sealer.
This vacuum sealer also comes with a hose attachment that seals and marinates food within a few minutes. You can also seal jars with this vacuum sealing machine.
Though it requires specialized food saver jars that are sold separately, you can preserve fruits and vegetables for salads.
You can also easily use this jar sealing feature to store soups, apple sauces, jams, and so much more.
Furthermore, all food saver bags are safe for sous vide cooking. You can safely simmer any cut of meat and end up with a tender, moist dinner.
This machine is so easy to use. All you have to do is close and lock the lid, fill the bag. Place the open end of the bag into the vacuum sealing compartment, then press the vacuum and seal button.
Overall, from soups to sauces, meat, veggies, and cheeses, you can seal them all with this machine.
Whether you are looking to prep foods for the entire week or buying in bulk, the food saver is the vacuum sealing machine for you.
Entrige Vacuum Sealer Machine
Built with a separated design, the entrige vacuum sealer allows you to remove the upper lid and safely clean the machine with ease.
The vacuum sealer's compact size and lightweight design allow it to be virtually store anywhere.
It is also easy to travel with. This vacuum sealer can fit 12-inch with bags and is compatible with non-manufacturer bags. You will be saving extra money if you can find cheaper generic bags.
With two sealing modes and one-touch operation, this machine is designed with practicality in mind.
You can select the dry function for solid foods such as bread or the moist function for poached, simmered, steamed, or sous vide foods.
This vacuum sealer is easy to use. Entrige's vacuum sealer has a fully automatic vacuum sealing system.
It has LED indicator lights and an electric plug-in. The control center is located on the upper panel, which creates the best vacuum sealing experience.
Though stainless-steel panel is the highlight of this design, it does take a little work to maintain. You can get away with cleaning it occasionally. However, the manufacturers of this vacuum sealer recommend cleaning it after each use,
Entrige's vacuum sealer is lab tested. The materials used to construct this sealer passed EU RoHS and REACH dual assessments.
Additionally, they also have ETL, ISO, CE certifications as well as a quality inspection report.
There's never enough space in the fridge or freezer, no matter how large the unit is.
The great thing about Entrige's vacuum sealer is its airtight bag sealing also allows you to save space in your fridge and freezer.
Best of all, these sealing bags are reusable and waterproof. The food-safe and durable materials it's made allow the bags to be reused over and over again.
Not only will these bags save you money, but your foods will stay fresh for a substantial amount of time.
Bottom Line
Overall, this vacuum sealer was made to save you money. It allows buying in bulk, marinating, and cooking to become easier, cheaper, and faster. With adequate maintenance, the Entrige vacuum sealer will serve you for years to come.
Potane Vacuum Sealer Machine
Other bargain vacuum sealers usually feature3 mm heating wires and motors constructed from cheap materials.
The Potane vacuum sealers are designed with 7 mm heating wires and a brushless motor. It is no wonder why they have a 2-year no-hassle return guarantee.
Furthermore, this vacuum sealer has an 8-in-1 preset and smart control operation. It has four operation modes and four vacuum sealing modes.
It automatically senses and vacuums the item depending on the kind of food it is.
Its slanted top design is built with efficiency in mind. It prevents moisture from being pulled out of the food while vacuuming certain items like meat.
This design also makes sure the entirety of the vacuum sealer bag can be used.
This vacuum sealer is safe for use. It is ETL tested and certified by nationally recognized testing laboratories.
While other vacuum sealer brands have a 1–3-year warranty, potane proudly flaunts its five-year warranty. In fact, they have 24/7 customer service and promise to solve any issues within an 8-hour time frame.
All in all, this is definitely a trustworthy vacuum sealer. With a five-year warranty, the potane vacuum sealer is the perfect vacuum sealer guaranteed to last for a long time.
NutriChef Sealer
The nutrichef vacuum sealer is a completely automatic system that can be easily plugged into an outlet.
The control panel for this vacuum sealer is conveniently located on the top of the machine, and it is outfitted with soft-touch digital buttons and LED indicator lights.
With the standard two sealing modes, you can select dry sealing for solid goods such as cookies or select moist sealing for foods cooked in a liquid.
Nutrichef has tested its vacuum sealer to ensure that foods last five times longer than foods stored in Ziploc bags or containers. This depends on the food items you are vacuum sealing.
This vacuum sealer is equipped with a complete starter kit.
Nutrichef's sealer also comes with a wine stopper cork, five medium vacuum bags that are 7.8 x 11.8-inches in size, and an extra-long vacuum bag roll that is 7.8 x 79.0-inches.
In addition to this, it comes with a vacuum sealer and air suction hose. Best of all, the bags and rolls are 100% reusable and waterproof.
The nutrichef vacuum sealer is also lightweight and compact.
Though it can be placed on any countertop, it is important to note that its best stored on stain-resistant counters that do not absorb spills.
Overall, this smart device provides a smart service. Nurtrichef's vacuum sealer is the complete package. It's an ideal solution for saving time and money.
Geryon Vacuum Sealer Machine
The Geryon has the standard two sealing modes, which allow you to vacuum seal dry and moist foods. Additionally, if you snack a lot during the day, you can also reseal bags containing snacks.
This machine is super easy to use. With automatic vacuum sealing operation, it is designed with soft-touch digital buttons and LED indicator lights.
The control panel is for the geryon vacuum sealer conveniently located on top of the upper lid.
With a separated design, you can easily remove the top lid to clean the sealer. It is important to note the manufacturer recommends cleaning the sealer after every use to prevent bacteria from accumulating.
The Geryon is outfitted with a complete starter kit.
It includes an air suction hose, five heat-sealing bags, one roll, an instruction manual, a vacuum sealer, and the attractive promise of a manufacturer's lifetime support.
The Geryon vacuum sealer comes with specially designed multi-layer sealer bags. These bags are also BPA free which ensures the safety of all users.
Additionally, the sealing bags are also sous vide safe. You skip searing meat in a frying pan or grilling over an open flame.
Though it's taking the easy way out, a mess-free and juicy cut of meat is the way to go.
Overall, this machine is simple to use and easy to clean. With resealable bags, this machine is perfect for those that eat a lot of snacks.
FAQs About Vacuum Sealers
Let's be honest. There is a lot of information about vacuum sealers to digest. It's no surprise that you still have a few questions about vacuum sealers that need to be answered.
What Foods Should Not Be Vacuum Sealed?
Though most foods can be vacuumed sealed, there are some foods that should never be vacuumed sealed.
These foods include raw mushrooms, fresh bananas, raw garlic and onions, soft cheeses, freshly cooked vegetables, and whole apples. These foods will be destroyed by vacuum sealing rather than
Are Vacuum Food Sealers Worth the Money?
Of course, they are! With a vacuum sealer, you can buy in bulk, vacuum seal them and freeze them for up to 2-3 years.
Though some vacuum sealers are expensive, the savings you receive will outweigh the cost in no time.
Best of all, if you cook in bulk, you can save food for another day rather than tossing the food in the trash because it spoiled before you got the chance to eat it.
Does Vacuum Sealing Prevent Freezer Burn?
Yes, vacuum sealing prevents freezer burn. It also safeguards against dehydration. Freezer burn transpires when water comes into contact with food.
The vacuum bag acts as a barrier to keep air out so moisture cannot escape from your food.
Can You Use Regular Bags in a Vacuum Sealer?
Unfortunately, not any bag is compatible with a vacuum sealer. Regular bags allow oxygen to enter and will not stand up to vacuum sealing.
For this reason, you should ensure your vacuum sealing bags are specifically labeled barrier bags.
Is It Safe To Vacuum Seal Food?
Vacuum sealing is safe for foods. In particular, it is compatible with frozen foods.
However, it is important to note when defrosting frozen vacuum-sealed foods, it's best to do it in the refrigerator.
The refrigerator decreases the rate at which bacteria grows. Therefore, perishable vacuum-sealed food items should never spend time outside of the refrigerator for more than 2 hours above 40 degrees.
Can You Vacuum Seal Liquids?
Liquids, soups, stew, marinades, or any liquid can be vacuum sealed.
It is best to use a suction or clamshell vacuum sealer with liquids. Additionally, you can also use vacuum sealing jars.
Can You Vacuum Seal Ziploc Bags?
In theory, yes, you can vacuum seal Ziploc bags. In fact, zip lock bags can be sealed and unsealed several times. However, zip loc bags are not the best option for long-term vacuum sealing storage.
It would be best to invest in vacuum sealing bags or rolls for long-term storage as they have a stronger seal.
Final Thoughts
Vacuum sealers are convenient at their best. They are time and money savers and allow you to accomplish all of your food-related goals.
They do meal planning and preparing and preserving food, and buying in bulk super easy. Happy vacuum sealing!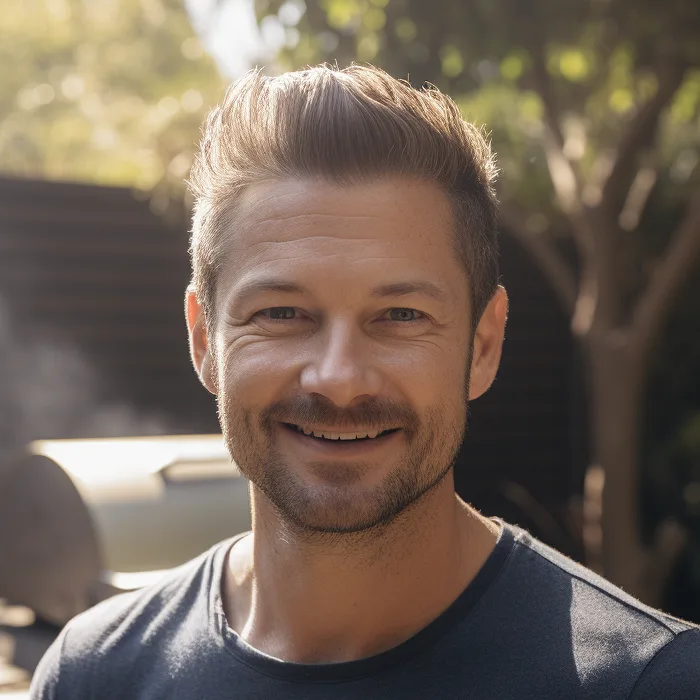 I have been smoking and grilling meat from an early age and enjoy sharing my knowledge and expertise through the hundreds of articles I have written about BBQ. I hope to make everyone's BBQ journey that little bit easier.