Ever cooked the perfect porterhouse or ribeye steak and tried to cut it with a regular knife. It's no doubt it ruined the entire steak experience.
You probably ended up with butchered rugged pieces of steak rather than beautiful clean-cut pieces of steak.
Trust me; there is nothing better than slicing into a ribeye or porterhouse steak with absolutely no resistance from a knife or meat.
The key to achieving a steak with no resistance starts with selecting a tender cut of steak.
The other key to perfecting the steak experience is a proper steak knife. Steak knives make it easier to slice the meat.
A proper steak knife also plays a critical role, making it much easier to cut the meat.
It is no wonder why steak experts recommend investing in a quality set of steak knives, especially if you consume them often.
However, before you make a transaction, you must know what to look for in a set of steak knives.
What To Look For In A Steak Knife
The amount of steak knives available on the market is almost incomprehensible. Not only are there way too many brands, but they all differ in price.
Price
Steak knives can either be super expensive or very inexpensive. The price largely depends on what materials the blades are constructed from.
For this reason, before adding the most expensive, extravagant, or most economical bargain steak knives to your cart, it is important to consider how much you will use this item.
This will allow you to choose a comfortable price range.
If you are a steak aficionado and entertain dinner guests regularly, investing in a quality steak knife set might be the best option.
On the other hand, if you eat steak once in a blue moon or on special occasions, you may be better suited for an economical option.
Blade Material
The steel used to construct a steak knife is extremely important. Traditionally, steak knives were constructed from high carbon steel.
High carbon steel is a strong material that can be manipulated to create a sharp edge. Additionally, it is also very easy to sharpen.
Modern steak knives are usually crafted from stainless steel. This is most the recommended blade material to look for in steak knives.
Multiple theories describe which material is the best for steak knives. However, one idea we can be sure of is none of these materials can compare to steel.
Steak knives can be manufactured from tempered blades, carbon blades, or cold steel varieties.
Each blade material comes with its own unique advantages. Many connoisseurs recommend purchasing a steak knife made from cold steel.
Other experts prefer tempered blades because they are probably the easiest steak knife to clean. In contrast, other experts are in favor of high carbon blades.
High carbon blades have a light feel, making the steak slicing experience much better.
Everyone knows that stainless steel has gained popularity for its capacity to resist rust.
Rust resistance is one of the most important factors to look for in steak knives, especially if you want your steak knives to last for a long time.
Furthermore, stainless steel is extremely durable. It also supports the structure as well as the rigidity of the knife.
Though stainless steel is the best material for steak knives, be sure to avoid low-grade stainless steel. Low-grade stainless steel is predisposed to corroding easily.
As a result, unattractive rust marks will develop, in addition to the edge of the bland dulling quickly.
Even though there seems some uncertainty, experts have reached a consensus about one particular blade material. Steak knives with a ceramic blade should never be purchased.
Yes, they are a low-cost option, but ceramic blades are not durable. Most experts agree that you should avoid ceramic blades, which are not as durable. They will not last for many years to come.
Blade Type
Similar to the debate about which steak is king, there is an ongoing debate about whether serrated or non-serrated steak knives are the best.
Though the decision is ultimately up to you to be impartial, you must examine both blade types before coming to a final decision.
Serrated Blades
The biggest difference between serrated blades and non-serrated blades is their small saw-like teeth called serrations.
Steak knife experts favor this particular blade because the serrations cut through the steak, in particular, a rare steak easily.
Moreover, serrated blades maintain their sharp edge a little longer than non-serrated blades.
Ever cut into a steak and hear the screeching sound of the blade running across the bottom of the plate. This is common with non-serrated blades.
Bottom Line
If you cannot stand the screeching sound, a serrated-edged steak knife will be the best option for you. Serrated-edged steak knives never make full contact with the bottom of the plate. This allows you to maintain your peace while you are eating your delicious steak.
Non-serrated Blades
Those in favor of on serrated edge blades often claim that serrated edge knives do not produce the ideal clean-cut.
They believe individuals are lured under the guise that serrated blades are sharper than non-serrated blades.
However, serrations do not automatically make a blade sharper.
Serrated blades tear or saw through the meat. Though they come into contact with the bottom of the plate and make a screeching sound, non-serrated blades produce the ideal clean cut.
Non-serrated blades have a straight-edged blade that glides through the meat instead of sawing it into jagged pieces. As a result, you end up with smooth, clean pieces.
Additionally, you can also easily sharpen straight-edged knives. Its sharp edge allows you to glide through the meat with ease.
When looking for a non-serrated edge blade, opt for one that has a smooth, sharp nonpareil blade.
It would be best if you can find a knife that combines both of these features it would.
Forged Blades
As previously mentioned, the price of steak knives largely depends on the materials it's made from. The other price point factors in how it is made.
Stamped and forged steak knives tend to be on the pricier side.
Stamped knives are carved out of a sheet of steel. On the other hand, forged knives are manufactured by heating a thick piece of steel.
The steel is then pounded with a hammer into the shape of a blade.
The forging process produces a fuller knife that retains a sharp edge longer.
In addition to this, the process requires more work, so forged knives are usually more expensive than other steak knives.
However, it is worth noting that forged blades are definitely worth it.
Bottom Line
The debate of which steak knife blade type reigns supreme continues to forge on. However, the truth is, all of these blades can do the job well. It all boils down to a matter of preference.
Blade Size
Like the blade type depends on your preference, blade size also depends on your preference.
Most experts will recommend a smaller blade since it is deemed to be more effective at slicing a steak.
If you opt for a shorter blade, go with a blade about 4-5 inches in length.
Not only are shorter blades are easier to take care of, but they are more maneuverable than longer blades.
Instead of sitting in a restaurant with your friends fumbling with your knife, you will be able to comfortably slice your steak.
A larger knife may be harder to handle. However, if you want to opt for a larger blade, keep in mind, they are approximately 7 inches in length.
Larger blades are no doubt a beautiful piece of cutlery that can be the highlight of a table on a special occasion.
Depending on your preference, it would be best to consider what features are most important to you. This will allow you to choose a blade size that is right for you.
Fit of the Knife
The fit of the knife indicates how well each element of the knife works to create the entire picture. In this case, the fit is a synonym for craftsmanship or the aesthetic profile of the knife.
Asking yourself whether or not the knife looks high-quality steak knife is an example of this.
You would not purchase a torn or tattered picture. If there are visible openings between the handle and the blade, do not purchase the knife.
The tiniest opening or misalignment will allow water to seep into the handle and destroy the handle.
Complete Tang
Tang is another element of a good steak knife. It refers to a segment of the blade that extends into the blade's handle.
Bargain steak knives usually have a partial tang. This means the blade ends at the point where the handle begins.
A partial tang can break off if you place a lot of pressure while cutting food.
One characteristic of a top-notch steak knife is a complete tank. This decreases the chances of the blade breaking off at some point in the future.
Additionally, the extra weight will provide added security since you will feel more comfortable with it.
The goal is to achieve balance when selecting a steak knife. Complete tang knives give you more balance because the blade is inserted into the handle.
When you hold it will feel more balanced.
Handles
Select steak knives with handles that you actually like. Some individuals favor wooden handles, while others favor brushed aluminum.
This is an important feature since you want to select handles that you are comfortable with.
Hot Tip
Additionally, you can also purchase a steak knife holder to store your knives and put your new knives on display for all to see.
The Best Steak Knives
With thousands, if not millions of steak knives on the market, it is an overwhelming journey to find the perfect set of steak knives that are just right.
We have narrowed your options down to the top five best steak knives. However, the rest is up to you.
Sky Light Steak Knives
No products found.
Sky light's steak knives feature non-serrated blades. This cutlery's straight-edge blade allows the user to smoothly cut clean slices of steak without creating tears or ridges on the meat.
Additionally, these steak knives can also be used to cut other foods.
This knife was specially crafted to slice bone-in steaks.
With an upward curved tip, this knife is perfect for separating the delectable meat of a porterhouse or Tomahawk steak from the bone without any resistance.
Sky light's steak knives are forged from top-notch German stainless steel. The forging process creates a sharp, durable, corrosion and stain-free steak knife.
This razor-sharp blade has a 17° angle on both sides. Both the peak sharp and straight edge is perfect for effortlessly slicing foods, and the food will not stick to the blade.
Best of all, this knife is easy to clean as well as resharpen.
Sky light's steak knives have a complete tang with an ebony wooden ABS handle.
This ergonomically designed knife has a protective bolster guard triple-riveted handle.
This provides you with a secure, safe, slip-resistant, comfortable grip.
Coated with a military-grade high polymer, the handle is very impermeable to heat, cold, and moisture. Best of all, this knife is dishwasher safe.
Furthermore, these steak knives are hand polished over a 60-day period by seasoned craftsmen.
It is nitrogen-cooled, creating a blade with heightened hardness, flexibility, and rust resistance.
Sky light gives you a one-year warranty. If your steak knife is defective, you can send it back within 30 days and get a full refund.
This knife is perfect for those who enjoy steaks and want to test drive a set of steak knives. You can try it risk-free and send it back if you are not satisfied.
Amazon Basics Premium Steak Knife Set
The amazon basics premium steak knife set contains eight quality steak knives equipped with triple-riveted handles. The blade is forged from a sheet of stain-resistant steel.
Boasting micro-serrated edges, this knife never has to be sharpened. That's right, a knife that requires no sharpening! It is by far the best characteristic of this knife.
The entire blade is about 9 inches in length with a complete tang that supports weight distribution and balance.
The visible blade is about four ¾ inches in length and 1 inch in width.
Unfortunately, this knife cannot be placed in the dishwasher. This full bolster knife can only be hand washed.
Additionally, this knife is not limited to cutting slices of perfectly cooked steak. You can also easily slice a firm tomato with this knife.
Overall, with a knife that never beds sharpening, we all could use a set of the Amazon basics premium steak knives.
Home Hero Steak Knives Set
This 8-piece steak knife set has sharp serrated stainless-steel blades that are ideal for cutting steak.
The blades are glazed with a durable nonstick veneer that prevents food from adhering to the blade.
Best of all, the coating will not affect the delicious taste of your food.
Some knives rust after a single wash, but you do not have to worry about that with home hero steak knives.
Constructed from rust-resistant stainless steel, these steak knives will remain spotless with every wash.
Additionally, it is dishwasher safe. Make sure you place the steak knives on the top rack to avoid any mishaps.
Home hero's steak knives will not break or bend. Rather than being made from fragile materials, the handles are created from super sturdy polypropylene handles.
The handle is also coated with a protective covering to ensure the user has a firm, easy, comfortable slicing experience.
The home hero steak knife will slice through a ribeye or porterhouse like butter.
Best of all, the home hero is customer-oriented. If you are not happy with your steak knife set, they will issue a complete refund without asking those annoying questions.
In general, if you are fed up with steak knives that butcher your steak rather than cutting it into clean slices, this is the knife for you.
With customer satisfaction as a top priority, home hero's steak knives are the perfect deal for those that are purchasing their first set of steak knives.
Chicago Cutlery Fusion Steak Knife Set
With a full lifetime warranty, this 6-piece steak knife set features a 4.5-inch blade. Chicago cutlery drew inspiration from Asian influences when designing this knife set.
It has cushion grip handles that are sturdy in addition to giving you a non-slip grip.
It is forged from high-carbon stainless steel to produce a sturdy, tough blade that can withstand stains, rust, and pitting.
The forged design and the full metal tang also support weight and balance, which is a tell-tale sign of a quality steak knife.
This knife was created for optimal sharpness with a signature 26-degree taper grind edge, allowing you to make accurate cuts and easily sharpen the blade.
To maintain the condition of these steak knives, you must hand wash them and dry them immediately.
Overall, the Chicago cutlery knife set has a sleek Asian-inspired steak knife perfect for new and old steak aficionados.
Emojoy Steak Knives
Emojoy Steak knife set is an 8-piece serrated set that is extremely resistant and durable.
Using cutting-edge technology, these knives are crafted from imported Thyssenkrupp high-carbon German steel.
The surgical rust-resistant steel blades are very sharp. In fact, they are hand-sharpened to 16-18 degrees on both sides and proficiently heat treated.
Boasting a whopping 5 inches of razor-sharp blade, this knife lets you create clean straight cuts.
Featuring a stunning pakkawood handle coated with a traditional triple-rivet polymer, the handles can handle a lot of stress. Some would even say this knife has industrial-grade strength.
Though the emojoy steak knives are not dishwasher safe, they can be cleaned by hand washing them.
This is a low-maintenance steak knife that holds a sharp edge for a substantial amount of time. Better yet, when your knife becomes dull, you can easily sharpen it.
Emojoy's steak knives are designed with a forged bolster that gives the knife a weighty balance.
Its fully exposed tang allows you to visibly see that this blade is fabricated from one sheet of steel.
In general, emojoy's steak knives are a vital tool for seasoned and amateur steaks experts. They are essential for the steak experience.
FAQs About Steak Knives
Now that you have tapered your options to the top 5 steak knives, there must be a few lingering questions. These are the most popular questions about steak knives.
What Is the Purpose of a Steak Knife?
A steak knife is a razor-sharp dinner or table knife designed to carve a steak into smaller bite-sized pieces.
Steak knives are most often serrated with wooden handles. In addition to this, they are the only sharp knife found on the modern dinner table.
What Is the Difference Between a Dinner Knife and a Steak Knife?
A steak knife is a separate specialized knife that is not included in a dinnerware set. Dinner knives are a part of the flatware set.
Moreover, steak knives are about 8¼-9 inches long and have a sharp tip and serrated edge designed to cut thick cuts of meat.
Steak knives are usually not provided if the meat is roasted as they can be sliced with a regular dinner knife.
Can You Sharpen a Serrated Steak Knife?
Most people tend to stay away from serrated blades because they think they are harder to sharpen. However, serrated steak knives can and ought to be sharpened.
They are easy to sharpen. The best thing about serrated knives is they do not need to be sharpened often.
Since the jagged teeth of a serrated knife does the majority of the work, the blade encounters less abrasion.
For this reason, the blade remains sharper a little longer. However, this same feature makes serrated knifes a little harder to sharpen than a straight-edged blade.
The great thing is the evolution of blade sharpening tools has made serrated knives easier to sharpen than they used to be.
As long as you sharpen your steak knives every few months, your knives will remain in tip-top shape.
Additionally, if you consume a lot of steaks, you can you're your serrated knife set to a professional to be sharpened once a year.
What's the Price of a Steak Knife Set?
The cost of a steak knife varies. Cheaper models start can starts as low as $2-4 dollars, while expensive models can cost up to $200 or more.
The price of a steak knife depends on your budget.
Are Expensive Steak Knives Really Worth It?
Expensive steak knives are worth it as they are made from better materials than their cheaper counterparts.
However, if you cannot afford them, a cheaper steak knife set will work just as well.
Where Should a Steak Knife Be Placed on the Table?
First off, setting the table depends on the number of courses and the food being served.
Generally, steak knives are placed to the right of the dinner plate with the sharp edge positioned facing toward the plate. Essentially it takes the position of the dinner knife.
Do Steak Knives Have Teeth?
Though there are different kinds of steak knives, you will most often see steak knives with a serrated edge.
They are the most popular steak knives since they quietly slice through the fibers of a steak with ease.
How Do You Sharpen Non-serrated Steak Knives?
Sharpening non-serrated steak knives is an easy process, especially if you have a whetstone.
All that's needed is to run the knife's edge from the tip to handle on a whetstone at 15 to 20 degrees using slight pressure.
Repeat this process multiple times until a shine forms on the edge of the blade. Remember to keep your whetstone moist with oil or water.
What's the Etiquette for Slicing a Steak?
As ludicrous as this idea sounds, there is a proper way to slice a steak. It is as simple as slicing a steak one bite at a time.
Hold the steak knife in your right hand with your index finger lying protracted against the back of the knife.
Hold the steak down with a fork in your left hand and slice a bit using a zigzag action.
What's the Best Steak Knife Handle Material?
Wood is one of the oldest and best steak knife materials. Wood has a strong, durable composition with an aesthetically pleasing profile.
Additionally, it also gives you a good grip on the handle when cutting materials.
Final Thoughts
You will be met with many different options on your search for the perfect set of steak knives.
Remember sharp edges, blade type, material, handles, tang, price, and fit play a critical role in the knife's quality.
Steak knives make the steak experience better, so purchase a high-quality set of steak knives.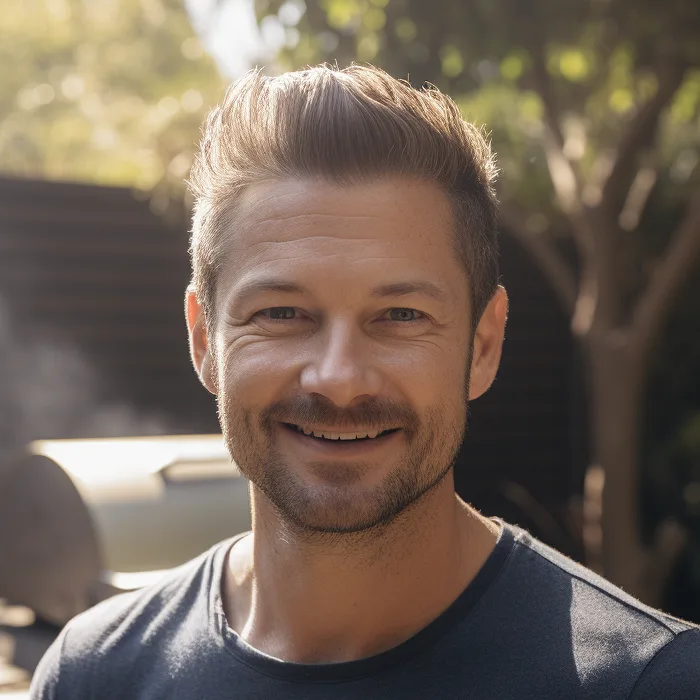 I have been smoking and grilling meat from an early age and enjoy sharing my knowledge and expertise through the hundreds of articles I have written about BBQ. I hope to make everyone's BBQ journey that little bit easier.