You want to keep your knives as good as possible, a knife with loads of wear and tear is only going to hinder your performance in the kitchen.
Instead of buying a brand new knife set, honing steel can save your knives from damage as a result of everyday use, and get them back to working as good as new.
What To Look For in Honing Steel
Shape
Honing Steel can come in a variety of shapes, styles, and materials that can all be beneficial for your knives.
The most popular shape is a rod with a handle at the end, however, there are honing steels that come in the form of a block you can set on the counter.
What shape you choose depends on your preference, what really determines how well it will work is the material.
Materials
While honing steel is a typical name for this tool because of early creations, in today's world you can find honing steel in a variety of materials.
Of course, steel is still the most popular, however, other popular materials include ceramic and even diamond.
These can determine how much metal is removed from the knife, the effort it will take to hone your knife, and how long the steel will last before you have to repurchase it.
Honing Versus Sharpening
Another thing you may encounter on your journey to finding the best honing steel is the names given to individual products.
Titles that mention sharpening may mislead consumers to believe that they aren't purchasing honing steel, instead, they would be sharpening their knives.
While these two tools are related, they are not the same thing.
Be wary of product descriptions that specifically mention honing even when sharpening is mentioned in the title, because you may end up with a piece of equipment that is different than what you expected.
Best Honing Steel
J.a. Henckels Zwilling
This stainless steel honing tool comes with a good-sized 10-inch rod, perfect for use with knives both small and large.
One of the highlights of this product is that instead of the rod being a perfect cylinder, like other honing rods, this one comes in the shape of an oval, which is designed to get the same results as other similar products with less effort.
This product does mention sharpening in its title, but when you look closely into the description, you can see that instead of sharpening, it realigns the blade of your knife, actually making a honing rod.
This detail is incredibly important because we're looking to hone, not to sharpen.
Other important details of this product to consider include the design of the handle.
This bonded polypropylene handle is designed to give the user comfort while using it, as well as featuring a curved design to accommodate all sizes and shapes of hands, making it a versatile choice.
Tuo Honing Steel
If you're looking for a good quality honing steel that takes regular steel to a new level, then this is the choice for you.
Constructed by high-carbon steel, a material that allows for more durability and resistance against wear and tear, the TUO Honing Steel will be a purchase you can use again to get your money's worth without having to spend an arm and a leg.
Similar to the choice above, this steel also features a handle that's comfortable to grip, with the addition of being ambidextrous so both right-handed and left-handed people can use the same equipment.
The handle is also made from a material called PakkaWood, which is important to keep in mind because that material makes this honing steel not safe for dishwashers – hand wash only!
Even though you won't be able to toss it in the dishwasher, this product will give you a smooth blade on knives of every shape, size, and function.
All for a price point under $30, it's a perfect choice for every chef that cares about keeping their knives at peak performance.
Shun Classic Combination Honing Steel
This stainless steel tool doesn't come with just one but two sides to perfectly horn all of your knives.
One side is classic and smooth, described as being designed for everyday use, whereas the other is micro-ribbed, better suited for care that takes place less often when your knives need some extra TLC.
Another unique feature about the Shun Classic Combination honing steel is the angle of the rod itself.
Whereas with most honing steels, you would expect it to be relatively straight with the expectations of some curvature, this product has a built-in angle guide, to help you guide the rod down every single knife you have, no matter how specialized it may be.
This honing steel is another one you're going to want to keep out of the dishwasher, though!
To keep this tool perfect and able to use for years to come, hand washing is best, seeing as this is another option with a PakkaWood handle.
F. Dick Packinghouse Steel – 10″ Smooth Polished Model
Rather than using stainless steel like many other honing steels out there, this one uses polishes steel. What's the difference you may ask?
Instead of having small grooves as you may see in honing steels that use the stainless option, this one is more smooth, meaning it won't remove as much metal from your knives as other materials would.
What's another reason to choose this steel over the rest? Its handle is bright orange- and that's just for aesthetics!
The stand-out color is designed for use in a work kitchen environment for high-visibility and comes with an ambidextrous design so all employees will be able to utilize this piece of equipment when they're at work.
Wusthof Classic Honing Steel
Another alternative to stainless steel is the Wusthof Classic Honing Steel, made without steel but instead, high carbon.
The benefits to using high carbon over stainless are the durability that it has, it can withstand more usage and more wear than a typical stainless steel rod, making it the best option if you have a lot of knives to care for or you work in a high capacity kitchen.
This honing steel also includes features such as multiple bolsters, the rear acting as a counterbalance when holding the knife to ensure precision and ease when tending to your knives.
The second bolster then allows for you to get a better grip on the handle, giving the user even more control over the tool as they're using it.
As far as heavy-duty honing steel's go, this one is one of the best out there. It's designed for high usage, so you don't have to skip out on tending to all of your kitchen equipment out of fear you may damage the steel.
And with the company being in business since the early 1800s, it's safe to say their quality has followed them through the years.
Zwilling J.a. Henckels Professional S
Maybe 7''-9'' is a little too small for the jobs that you have to do in your kitchen.
Knives can come in a wide variety of shapes and sizes, and having a honing rod that's too small may make it difficult to properly care for all of the knives you have in your collection.
Thankfully, this steel by Zwilling J.A. Hanckles measures in at 12 inches, perfect for the biggest of knives.
In addition to its size, another key feature of the design of this honing steel is the way the handle has been created.
As seen in similar products, the handles of these tools are typically smoothed and curved, but this one adds texture for a better way to grip the rod and gain full control over the motions of fixing up your blades.
Not to mention, when you purchase this honing steel, you're guaranteed a lifetime warranty.
If anything should go wrong while using it, you're sure to have your back covered and you're never without all your necessary equipment.
F. Dick Multiron
A higher price point for a more prestigious honing steel, the F. DICK Multiron is an oval rod that allows for more surface area of your blades to be covered each time you use it, meaning a faster and easier way to hone your knives.
Not only that, but this product comes with two sets of grooves to use depending on the result you want.
One side is much thinner, allowing for less metal to be removed from the blade itself while still keeping it sharp, whereas the other is intended for more metal to be removed.
While this steel may seem a bit pricy at first, it's well worth your money.
In addition to the steel itself, a bonus knife by Curel is included with your purchase to add to your collection of kitchen utensils.
You can also feel confident in your decision to purchase this fine piece of equipment because if you're not completely satisfied or anything goes wrong with your new honing steel, there is a full warranty against any defects.
Ergo Chef Crimson Series
A lightweight, budget-friendly option to properly care for all of your blades in the kitchen, the Ergo Chef Crimson Series honing steel is made from hardened carbon steel, meant for long-lasting durability and a smooth result each time you use it.
This steel is specifically designed to be used time and time again without worrying about damaging or filing down your knives too much.
Instead it will consistently restore them to the state they were once in and keep everything cutting through meats, vegetables, and everything else you'll be chopping as if they were brand new.
Another unique feature about this specific honing steel is that the rod itself is magnetized, which attracts the metal particles from your knife.
This is an exceptionally handy feature because it prevents said particles from spreading to your food or even your mouth while using this product.
Met Lux Honing Rod
If you're looking for a reliable honing steel that has different options in terms of how big it is, then the Met Lux Honing Rod may be just what you're looking for.
Contrary to others on the market, you can choose between 8 inches, 10 inches, or 17 ½ inches to cater to all of your knife care needs, which is especially handy depending on what sized blades you have in your kitchen.
Unlike many other products we've seen so far, this rod is made of ceramic instead of steel.
Ceramic is the optimal material to frequently realign your blades in between uses, it won't take away too much of your knife's surface, but will return it to optimal use.
This honing rod is also perfect for use at home! A shock absorption handle made of nylon will ensure that you can perfectly hold this tool without dropping your knife in the process, and can easily rest it on a table or counter while maintaining balance.
Nobel Home & Chef Honing Rod
If you're looking for professional quality in your own home's comfort, then this is where you should look.
This honing rod by Nobel Home & Chef comes in two sizes, 10 inches, and 12 inches, and features a variety of safety features to ensure your well-being while properly caring for each and every knife you use.
Created from hardened carbon steel, this product is designed for use over a long period of time, so you won't have to worry about when you'll have to replace the steel or even any of your knives!
The material used is also designed to prevent rusting, which is a must for tools that are being used for the food you and your family consume.
However, to ensure you don't remove too much of the metal from your blades while using this specific rod, it's recommended to use this less often than other steel. Instead of between each use, save honing for a special occasion.
With that being said, even though you're not realigning your metal as often, you'll still be able to cut through rough materials life meat with ease.
Should I Start Honing?
In short, this tool's sole purpose is to keep your knives sharp for a great cut every time you use them.
Instead of sharpening your knives, it realigns the blades, making sure that a knife that is already sharp stays sharp.
The beauty of using honing steel is that you can use it as often as you'd like, some owners prefer to hone their knives after each use while others like to treat it as a once-in-a-while chore.
Either way, it's a simple, yet effective, method of making sure that your knives don't lose their edge earlier than they have to.
Different Kinds of Honing Equipment
When you start your shopping journey to find the right honing steel for you, you might find many names out there to reference these tools.
So what's the difference, if there even is one, and what should you look out for to fit your needs?
If you want to make sure that you're not losing too much metal on your blades, the best-recommended materials out there are ceramic and high carbon steel.
Both of these are durable to withstand the motions of fixing your equipment while being gentle enough on knives to simply realign where there are imperfections.
Similarly, there are a number of different shaped, such as typical cylinders and rods that have more of a convex, curved style to them.
Honing steel with more shape tends to allow the knife to glide over the steel with ease, and with less friction comes less metal lost or shaved down.
One of the last things you should consider before purchasing honing steel is what you need it for and how often you'll use it.
If you're planning on using it after every time you use your knives, you might want to consider purchasing steel made from material that's made to last, such as high carbon steel.
However, stainless steel may be a better option for those who don't think that sharpening each knife will be such a routine chore.
As well as the types of knives you have and how much variation you have in between styles and purposes, the length of the rod itself may be a make or break factor in your decision.
For those who have nothing more than a standard knife block, you may be able to get away with something modest like a 7-8 inch steel rod.
Hot Tip
For the longer knives, like butchers, chefs, and carving, for example, a longer rod only makes sense to have handy. This will keep all knives in perfect condition to cut through things such as meats and fish without having to struggle through the flesh.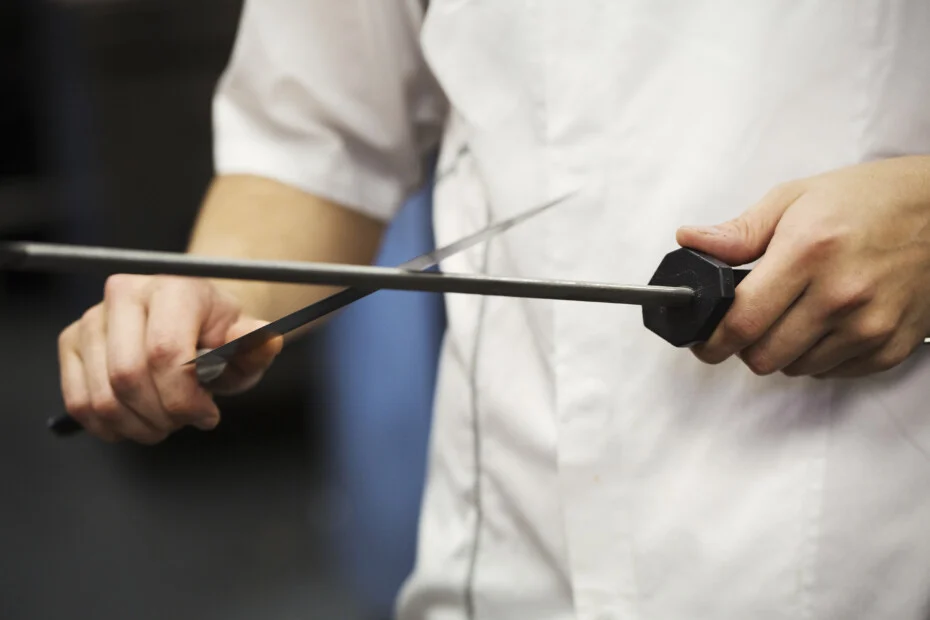 When To Use a Honing Steel
When to use a honing steel depends on two things: how often you would like to freshen up your knives and when the recommended frequency of use is suggested by the manufacturer of your steel.
As seen in some of the products above, there are certain steels that were designed often.
For those who work in a professional kitchen or tend to cook at home rather frequently, it would be best to consider looking into treating your knives at least once a week, if not daily.
However, for those who tend to either cook less frequently or use specialty knives on only certain occasions, you can get away with only honing knives once a month, or whatever length of time has passed since you've needed to use your most professional tools.
Bottom Line
At home chefs are recommended to go no longer than 5 months by most to wait in between sessions of honing, so keep that in mind when you're putting time aside to properly care for all of your kitchen equipment.
Do Honing Steels Wear Out?
As with any other piece of equipment frequently used, especially in the kitchen, honing steels do, in fact, wear out.
However, depending on the material your honing steel is made of, you may be able to get a longer life out of it than you would with a cheaply made version of the tool.
For example, ceramic honing steels as well as high carbon stainless steel has been known to last much longer than traditional stainless steel.
As with most other products out there, the quality of your tools can predict how long you'll be able to use them and how effectively they will perform.
With that being said, there are a few factors to keep in mind when deciding whether it's time to replace your honing steel or not.
Whether you hone your knives after each use or not is a good question to begin with, because as you can assume, the more often you use it, the faster you're going to need to replace it.
Other things to consider are how long it's been since you bought your steel in the first place, because if it's been a decade that's gone by since the initial purchase, it may be time to find something new.
How Do You Clean a Honing Steel?
This is an important question to consider because since you're using it on the knives you use to cook food that will be eaten by others, cross-contamination is something you should always have in mind.
However, how to clean honing steel can vary depending on which brand and material you have purchased.
Some honing steel on the market doesn't require any fancy cleaning techniques. Throwing it in the dishwasher with whatever else you have to clean is completely okay, and there's no reason not to.
However, there are always going to be food preparation tools that strongly advise to keep them away from such methods of cleaning.
Even though many companies say that it's okay to use a dishwasher, and this may be okay from time to time, professionals agree that it's best to avoid the dishwasher anyways.
The high water pressure and extra chemicals can be damaging to your best equipment, and if you want to ensure that the best care is being given to your honing steel, an excellent method is to stick to traditional handwashing.
Bottom Line
It is also important to note that giving a quick wipe down with a sanitary cloth is appropriate between uses, especially when you have multiple knives to tend to, but this is not a sustainable method and should be followed up with a proper cleaning once all of your knives have been honed.
Final Thoughts
Honing knives is the best and most effective way to not only get the most life out of the knives you have but to also make sure you always get the best cut out of them.
No matter the dish, a knife is almost always required, and it only makes sense to treat these tools with the importance they deserve.
While most honing steel on the market is designed to present itself as if it's the best, it's not always the case.
Looking out for what your specific needs are and the key aspects found in quality honing steel is important, and not as intimidating as it may seem at first.
Now that you have all the knowledge you need, you're ready to care for your knives and get the best cuts of meat you could dream of.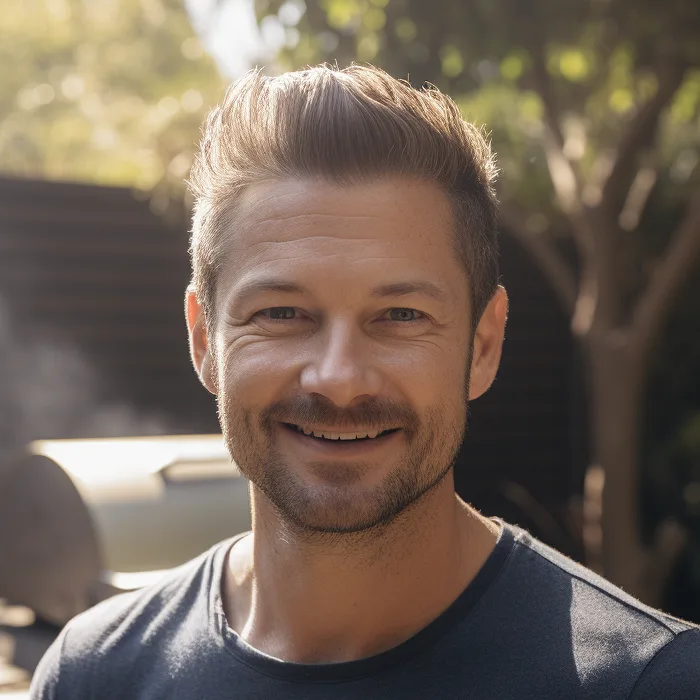 I have been smoking and grilling meat from an early age and enjoy sharing my knowledge and expertise through the hundreds of articles I have written about BBQ. I hope to make everyone's BBQ journey that little bit easier.