Houston has become famous for its BBQ meat over recent years.
The smoke-infused, charred meat glazed with just the right amount of oil, is enough to make your mouth water.
Here are the best places to go for BBQ in Houston.
Best BBQ in Houston
Gatlin's BBQ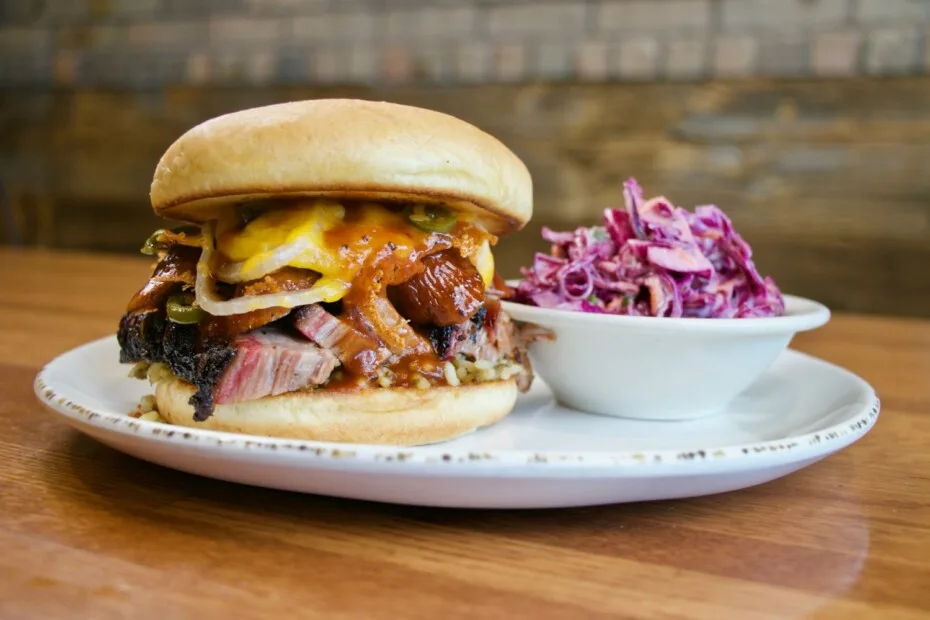 At Gatlin's BBQ, you will be astounded by the true essence of messy BBQ.
You will be taken towards beef ribs, kitchen sandwiches, and briskets covered in sauces that will leave you in a food coma.
During the pandemic, they introduced an advanced pickup system that sends you a code upon the completion of your order.
All you have to do is enter the code in the machine, follow the steps, and you can take away your meat.
3510 Ella Blvd, Houston, TX 77018
+1 713 8694227
7:00 am – 6:00 pm, Monday – Thursday. 7:00 am to 6:00 pm, Friday – Saturday. Sundays are closed. Breakfast timings are 7:00 am – 10:00 am.
Pinkerton's Barbecue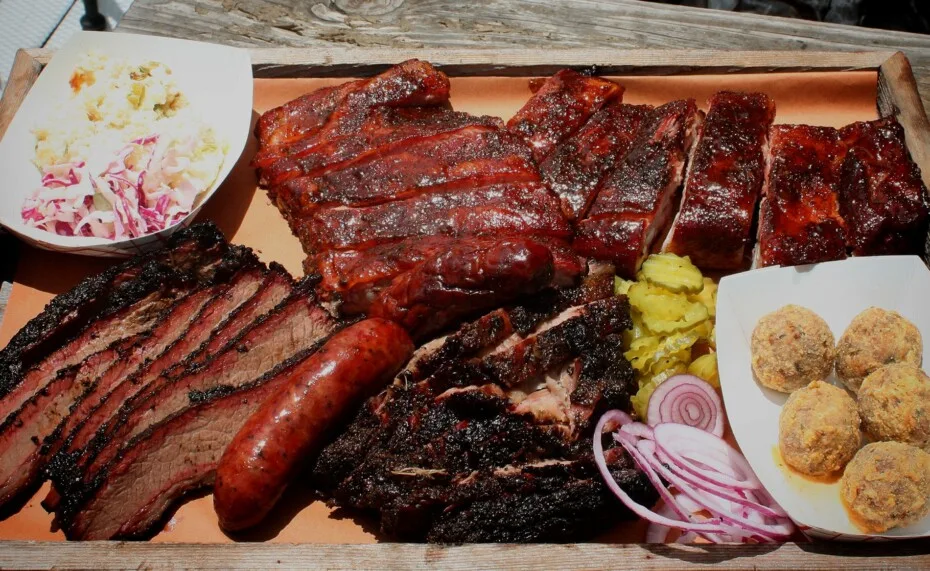 As the name suggests, Pinkerton's Barbecue serves you the perfect Smokey flavored BBQ with the right pink color on the inside and a soft glazed brown color on the outside.
Their specialty is that it is not just the main meats that will leave you devouring for more, but the sides are just as wholesome.
They have rice with a sprinkle of jalapeno and cheese, smokey duck, and beans!
1504 Airline Dr, Houston, TX 77009
+1 713 8022000
11:00 am– 9:00 pm, Wednesday – Thursday. 11:00 am– 10:00 pm, Friday – Saturday. 11:00 am- 9 pm, Sunday.
Tejas Chocolate & Barbecue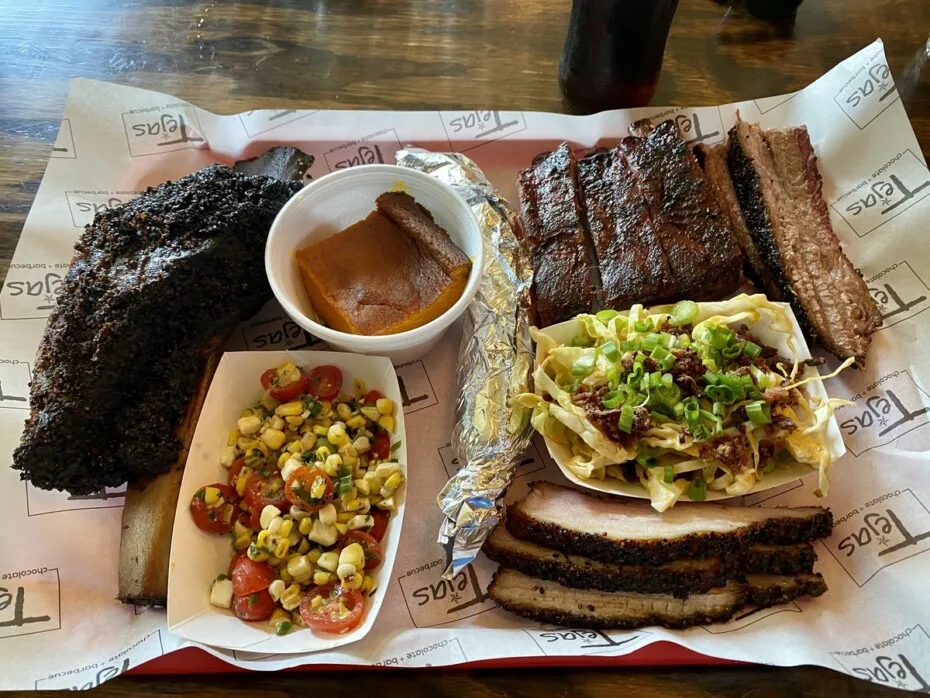 Have you ever felt the need to gobble down some sweet chocolates after you have had a hearty, spicy meal of smoke-flavored meat?
We're sure the smoke-infused sauces will have tempted you for those sweet delights.
Well, worry no more. Both of them can be found at the same place, thanks to Tejas Chocolate & Barbecue.
The simple flavors of salt and pepper on your meat are just what you need to order from this place.
200 N Elm St, Tomball., TX 77375
+1 8327610670
11:00 am – 6:00 pm, Tuesday – Friday. 11:00 am – 5:00 pm, Saturday. Mondays and Sundays are closed.
Feges BBQ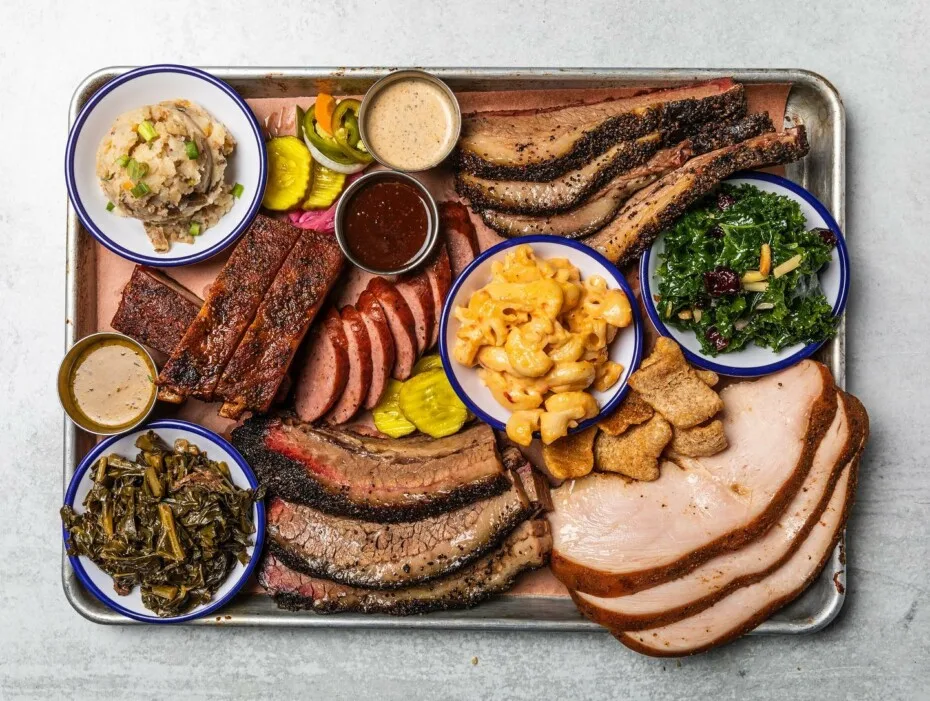 If you are looking to eat inexpensive BBQ in bulk amount, go to Feges BBQ. They have many portions available in just 3 dollars.
With pickles, salad, greens, and more for sides, Feges provides great quality, fantastic quantity, and delicious taste at a fraction of the cost.
Eat as much as you want until your cravings are satisfied.
Greenway Plaza Suite C/210, 3., Houston, TX 77046
+1 8324096118
11:00 am-2:00 pm, Monday — Friday.
Roegels Barbecue Co.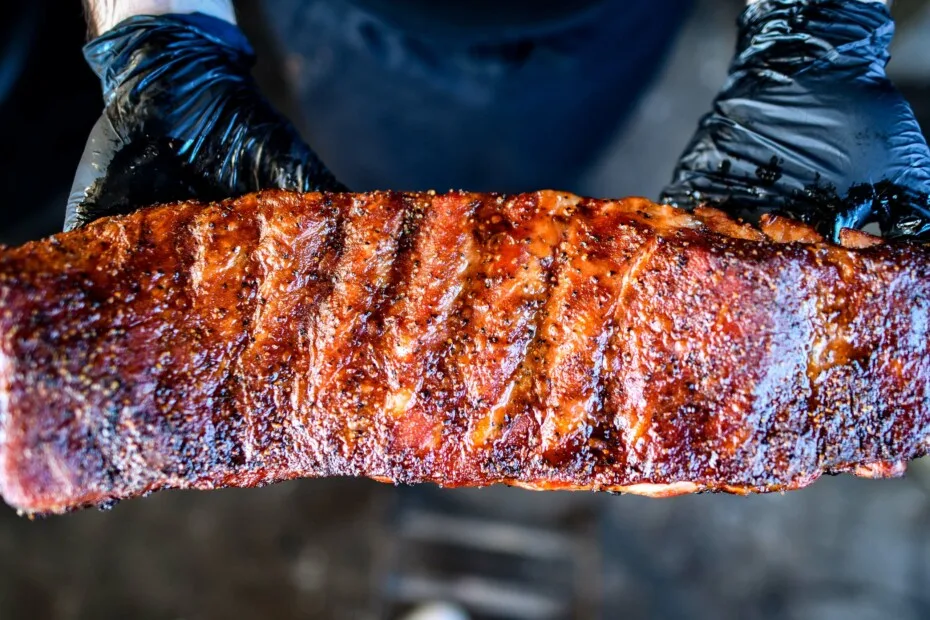 Roegels Barbecue Co. is your match for the perfect BBQ spot if you are looking for some Texas-style meat.
They believe in the old belief of the conventional BBQ, less sauce but more meat.
If you are looking forward to having a delicious meat-infused delight for dinner, go here.
You will be treated to some delicious charred tomatoes and greens on the side to wrap up your meal
2223 S. Voss Rd., Houston, Texas, 77057
+ 1 713 9778725
11:00 am – 3:00 pm, Sunday– Tuesday. 11:00 am – 6:00 pm, Wednesday – Saturday.
The Pit Room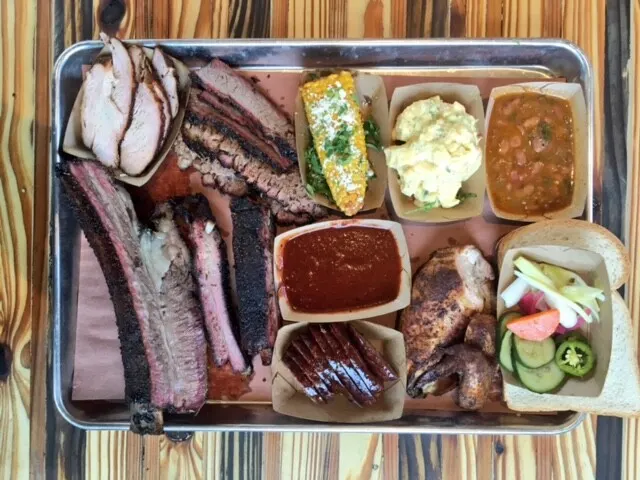 If you cannot decide between having a conventional-style BBQ or the modern style, visit The Pit Room. They have the dishes to please both sides.
The slow-cooked favorites in chicken, turkey, and beef mixed with salt and pepper for the sake of old ties.
But also, breakfast tacos with brisket drippings, turkey shavings, and chicken pieces, along with jalapeno-infused chips for your modern taste.
1201 Richmond Ave., Houston, Texas, 77006
+1 2818881929
11:00 am – 9:00 pm, Monday – Sunday.
Blood Bros. BBQ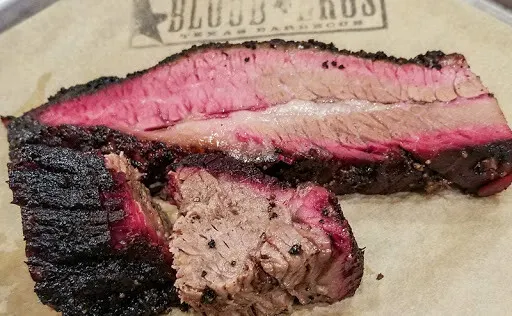 As we have mentioned earlier, Houston's BBQ is not the mundane flavored smokey meats. If you do not believe us, visit Blood Bros. BBQ.
They have the unique style of infusing Chinese, Vietnamese, and other diverse cultures in their sauces to give the smokey meats an extra pinch of taste.
All their meats are 100% locally sourced too!
5425 Bellaire Blvd., Bellaire, Texas, 77401
+1 713 6647776
11:00 am– 3:00 pm, Wednesday-Sunday. 6:00 pm – 10:00 pm, Thursday. Mondays and Tuesdays are closed.
Ray's BBQ Shack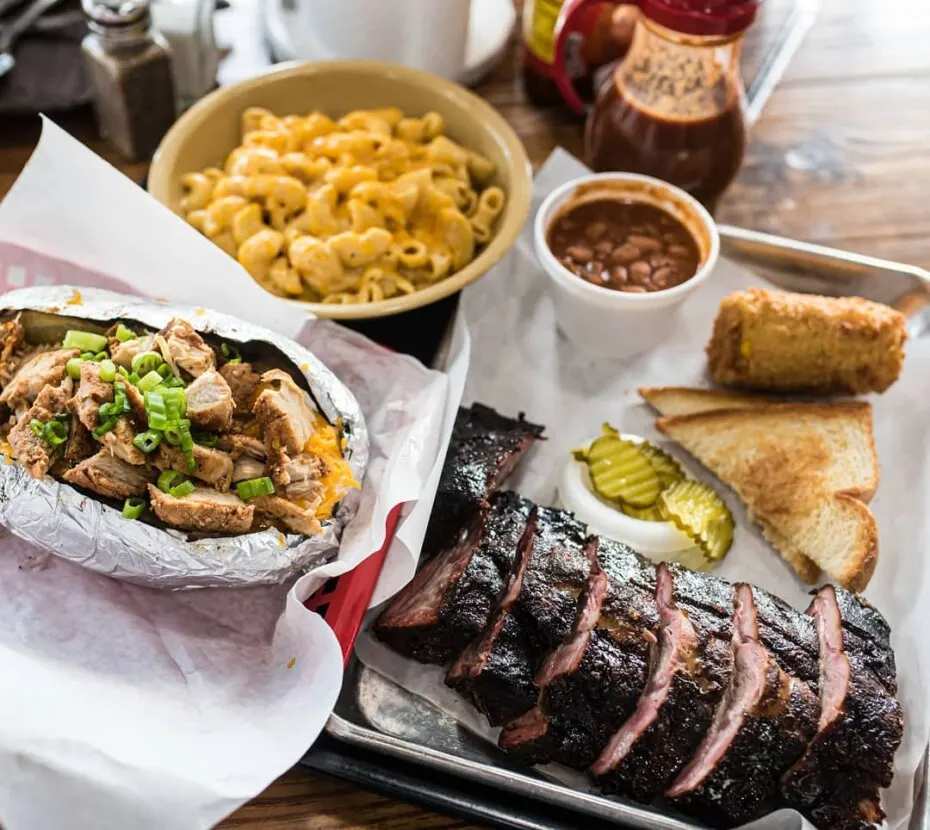 Ray's BBQ Shack can be easily ignored this small place if one does not give it much notice while pumping gas in their car at the gas station.
But you would be making a grave mistake.
They have delicious sides in the form of mac n cheese, corn on the cob, green beans, and messy rice.
Accompanied with the main star, slow-cooked briskets for 14 hours, you will be in for a treat.
It is one of the best BBQ places in Houston and locals love it.
3929 Old Spanish Trail, Houston, TX 77021
+1 7137484227
11:00 am– 8:00 pm, Monday – Saturday. Sundays are closed.
Truth BBQ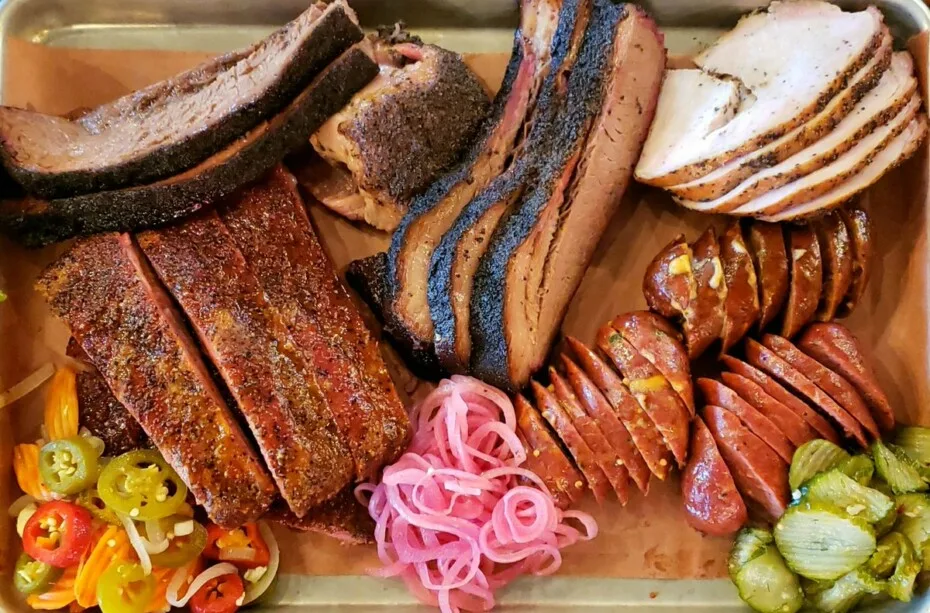 Truth BBQ has the perfect place for an aesthetically styled meal.
They have the right portions of your Smokey-flavored meat, with generous portions of sides accompanying your wholesome dish.
The meat is cooked for 18 long hours before it is presented to your platter.
The right amount of crispiness and the right color with good taste is just what you need.
110 S Heights Blvd., Houston, Texas, 77007
+1 832 835 0001
11 am– 4:00 pm, Tuesday – Sunday. Mondays are closed.
Killen's Barbecue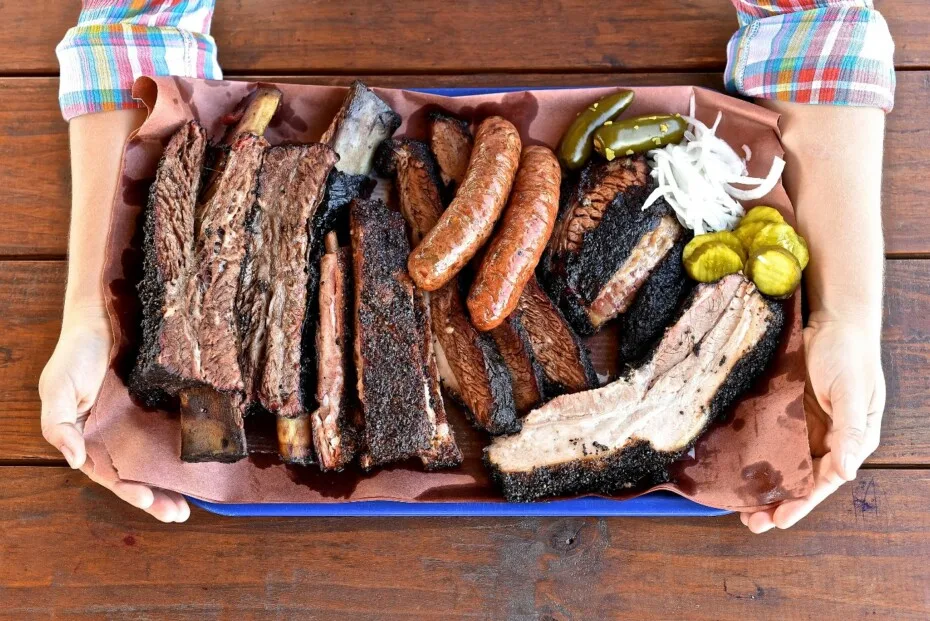 If you are looking for the best-smoked beef ribs in town, go to Killen's Barbecue.
They have the best Smokey-flavored, glazed ribs that are just tender enough to fall off the bone and do wonders in your mouth.
The place was built with a purpose, to maintain the soul of BBQ, and it has done just that ever since. Don't forget to check this out!
3613 Broadway, Pearland, TX 77581
+1 2814852272
11:00 am – 6:00 pm, Tuesday – Sunday. Mondays are closed.
Central Texas Bar-B-Q
Look no further than the hidden gem Central Texas Bar-B-Q for some good old classic BBQ.
Their spacious location has friendly staff, lots of seating, and a big board with daily offerings. Get brisket, sliced pork, turkey, and ham by the pound, plate, or stuffed into a sandwich.
Their loaded baked potato with all the trimmings is also a great option – top it with the meat of your choice and wash it down with a gallon of sweet tea.
8101 Airport Blvd #39, Houston, TX 77061

Monday – Friday 10 AM – 3 PM

+ 1 713-641-3360
Lonestar Sausage & BBQ
Low and slow is the motto at Lonestar Sausage & BBQ, a Houston joint carrying on its family BBQ traditions. Everything here is homemade, from their spice blends to awesome side dishes.
Try out their mile-high sandwiches, like the "Belly Buster" stuffed with two types of meat or the Lonestar Sausage Sandwich on a lightly toasted bun.
Fatty brisket is moist and flavorful, and their ribs are fall-off-the-bone tender with sauce on the side, so you can add as much as you like.
13712 Walters Rd Suite #140, Houston, TX 77014

Tuesday – Saturday 11 AM – 7 PM

+ 1 281-836-6988
Burn's Original BBQ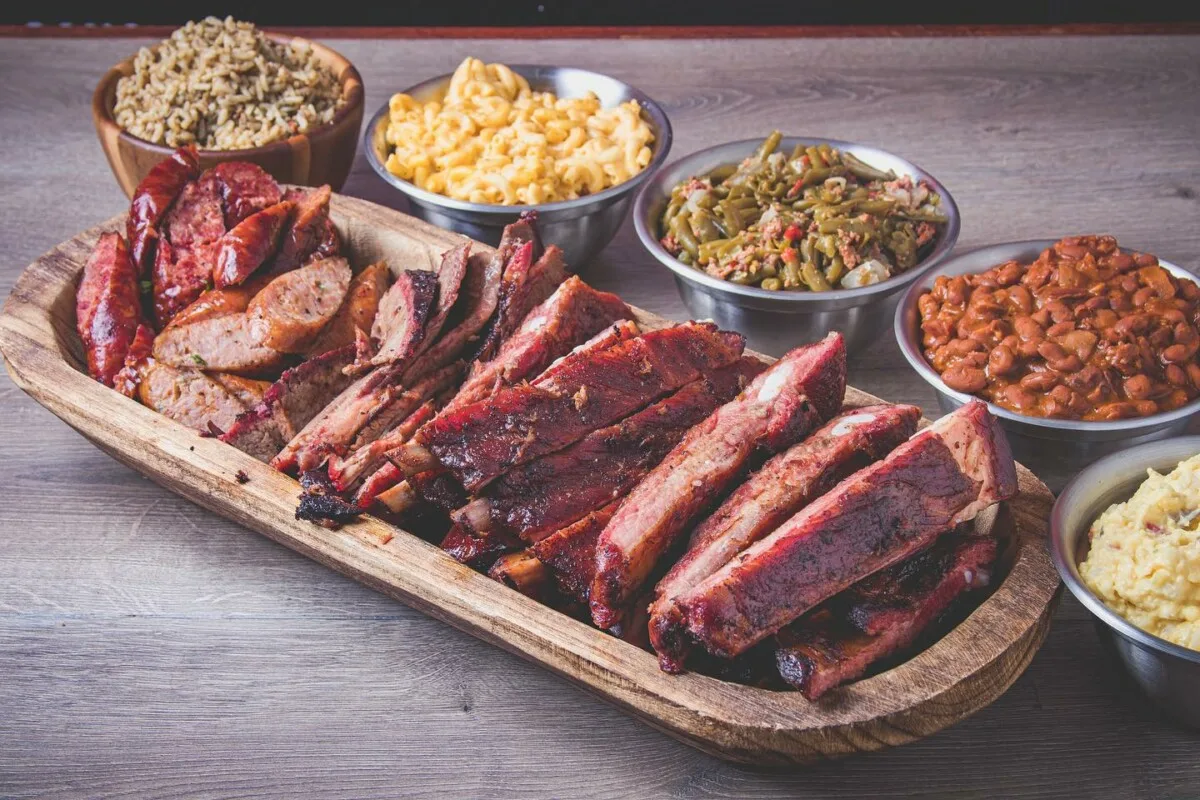 Burn's Original BBQ is a well-known spot with a few locations around Texas, including 2 in Houston. This is their flagship location, a cozy spot with wooden picnic tables and great servers.
If that was enough to convince you, this place was also approved by the one and only Anthony Bourdain!
Come see what Tony was talking about – choose from sandwiches or plates of ribs, sliced beef, links, or chopped beef, alongside their famous dirty rice and mac & cheese.
8307 De Priest St, Houston, TX 77088

Tuesday – Saturday 11 AM – 7:30 PM

+ 1 281-999-5559
Triple J's Smokehouse
Keeping Northeast Houston satisfied since 1994, Triple J's Smokehouse has a reputation to maintain. Feast on some of the best ribs, chicken, and brisket brushed with their house-made BBQ sauce.
Try out the local favorite, the "Ravens Bowl" – crispy, fresh fries topped with chopped beef and loads of cheese.
Triple J's might be a small spot, but they've got a big following; you'll want to add it to your list so you can see what the hype is all about.
6715 Homestead Rd, Houston, TX 77028

Wednesday – Saturday 11 AM – 6 PM

+ 1 713-635-6384
Corkscrew BBQ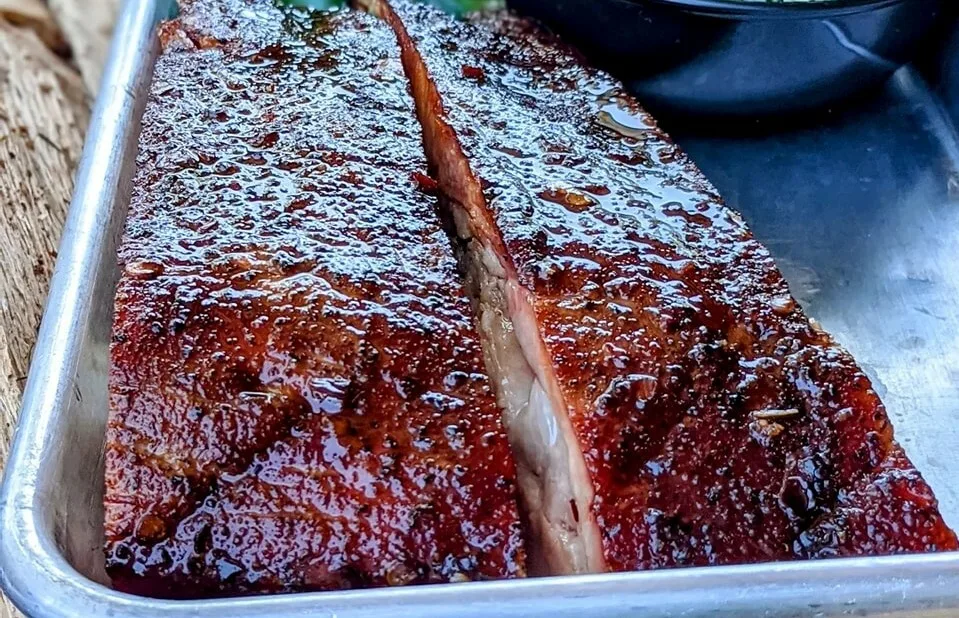 If you wanna avoid disappointment, you better show up bright and early at Corkscrew BBQ before they sell out!
You'll probably encounter a line, but this family-run spot cooks up food that is well worth the wait. The brisket gets a lot of attention here, cooked to the perfect tenderness with a nice smoke ring.
Smoked turkey is a popular item, too, and the ribs are equally worthy. On the sweet side, Corkscrew's daily cobblers are in a league all of their own.
26608 Keith St, Spring, TX 77373

Wednesday – Saturday 11 AM – 4 PM
Fainmous BBQ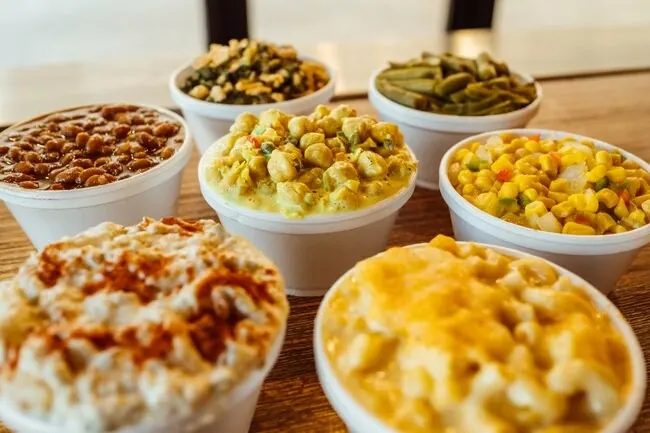 Tennessee meets Texas to create a flavor explosion at Houston's Fainmous BBQ. This joint has a crisp, modern feel with minimal art on white walls and counter service.
Folks here are friendly and happy to point out some popular dishes; this includes the hesrty spinach casserole.
You'll be thinking about their brisket for days, and the TNT sandwich is the best combo of pulled pork inspired by Tennessee flavors and Texas-style brisket. Don't forget the pineapple tea or house-made lemonade!
1201 Oliver St #50, Houston, TX 77007,

Monday – Saturday 11 AM – 8 PM

+ 1 713-728-9663
JQ's Tex Mex BBQ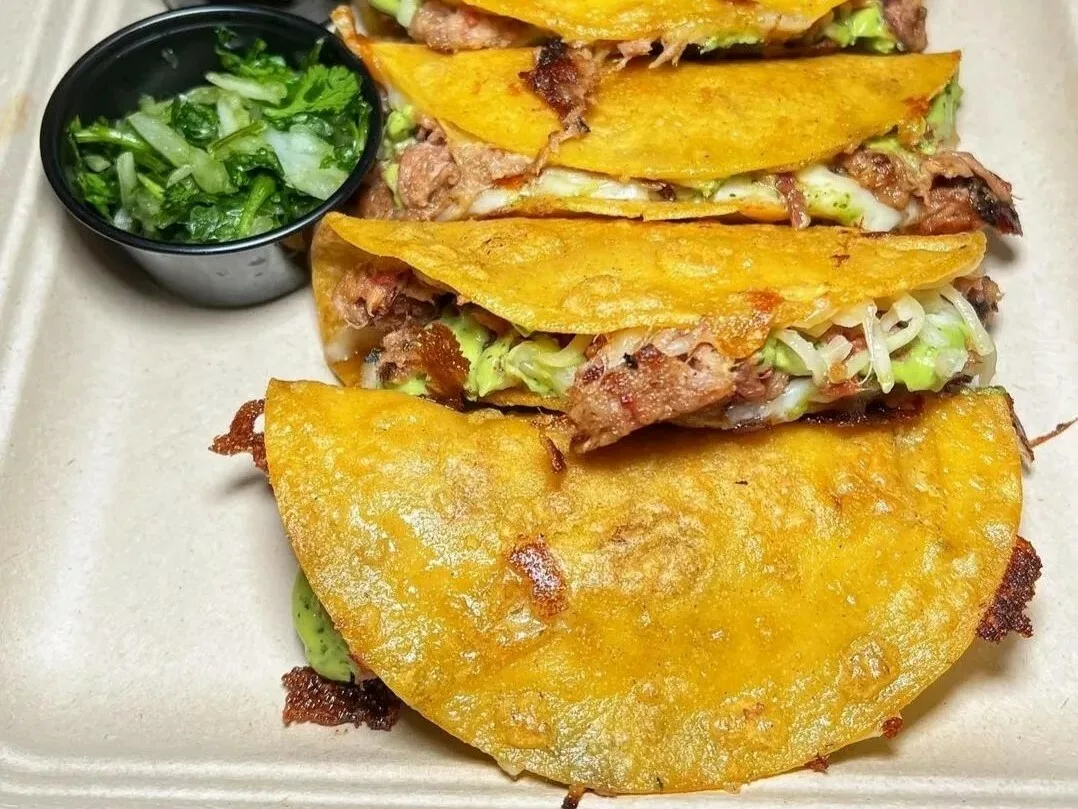 JQ's Tex Mex BBQ shines the spotlight on Chicano-style 'cue, and you'll have to pre-order to get a taste.
Tacos are the name of the game, and the star player is the smoked brisket birria quesitaco that'll keep you coming back.
Everything else is top-notch and bursting with flavor, too – the smoked barbacoa tacos, carnitas, or spicy mango habanero sauce. If you've been looking for the best Tex-Mex BBQ in Houston, this is it.
7622 Lumber Jack Drive, Houston, TX 7740

Sunday 2 – 4 PM
Brooks' Place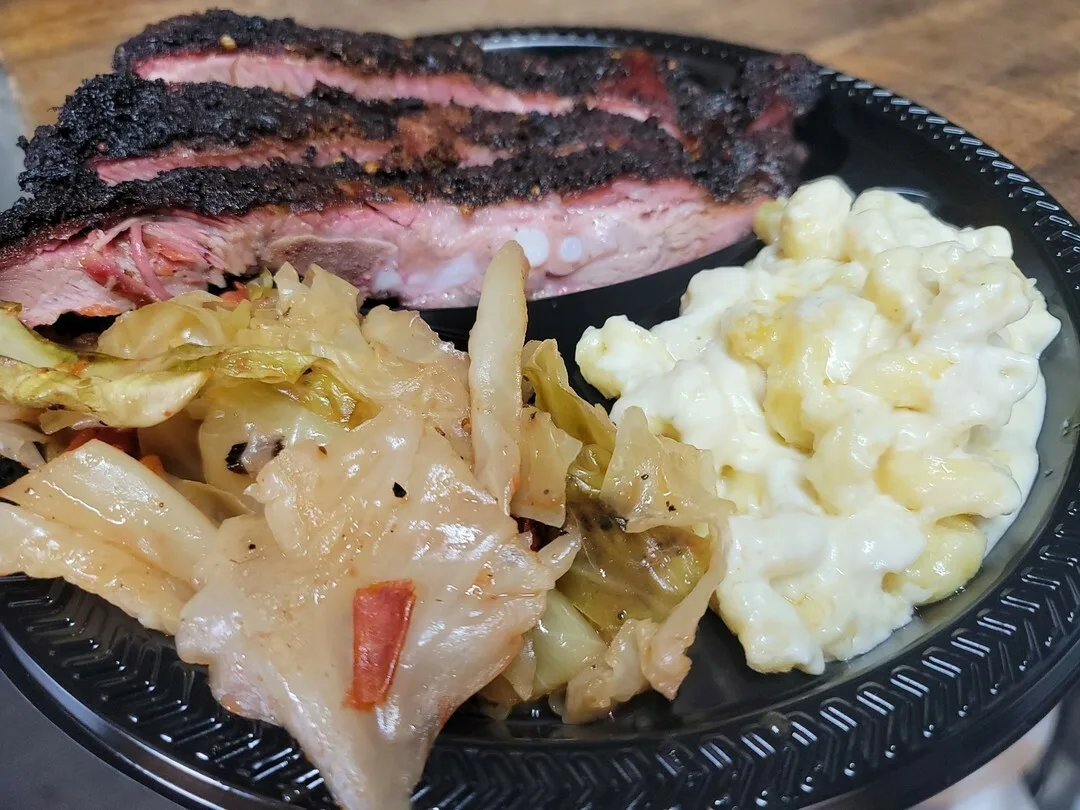 Brook's Place is a small window-service BBQ joint set up in a parking lot, smoking away some delicious meats and ready to serve you.
Their brisket is succulent, and the ribs and pulled pork pack loads of flavor – only made better by their tangy, delicious BBQ sauce.
They'll hook you up with classic sides like mac & cheese, potato salad, and fresh green beans. They put time and effort into making quality Texas-style BBQ, and the owner is super-friendly to boot.
18020 Farm to Market Rd 529, Cypress, TX 77433

Wednesday – Saturday 11 AM – 4 PM

+1 832-893-1682
Lenox Bar-B-Q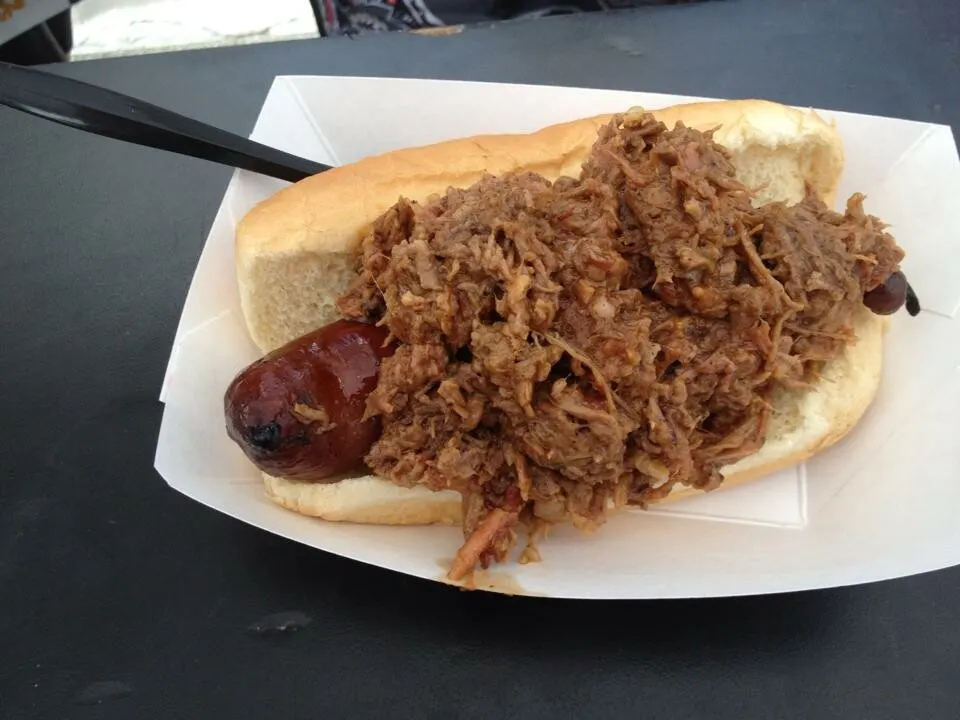 In East Houston, you'll find the folks at Lenox Bar-B-Que who have been in the biz for over 60 years. Safe to say, they know what they're doing!
Delicious, juicy smoked turkey, whole chicken, tender brisket, and pulled pork are all worthy choices.
If you're feeling for a Po-Boy, try out their chopped beef brisket or jalapeno cheddar options with pickles, onions, and BBQ sauce.
The macaroni salad and baked beans are great sides, but try out their Charro beans for something a little different and extra flavorful.
5420 Harrisburg Blvd, Houston, TX 77011

Monday – Friday 9:30 AM – 2 PM; Saturday 9:30 AM – 12 PM

+ 1 713-926-2649
Demeris Bar-B-Q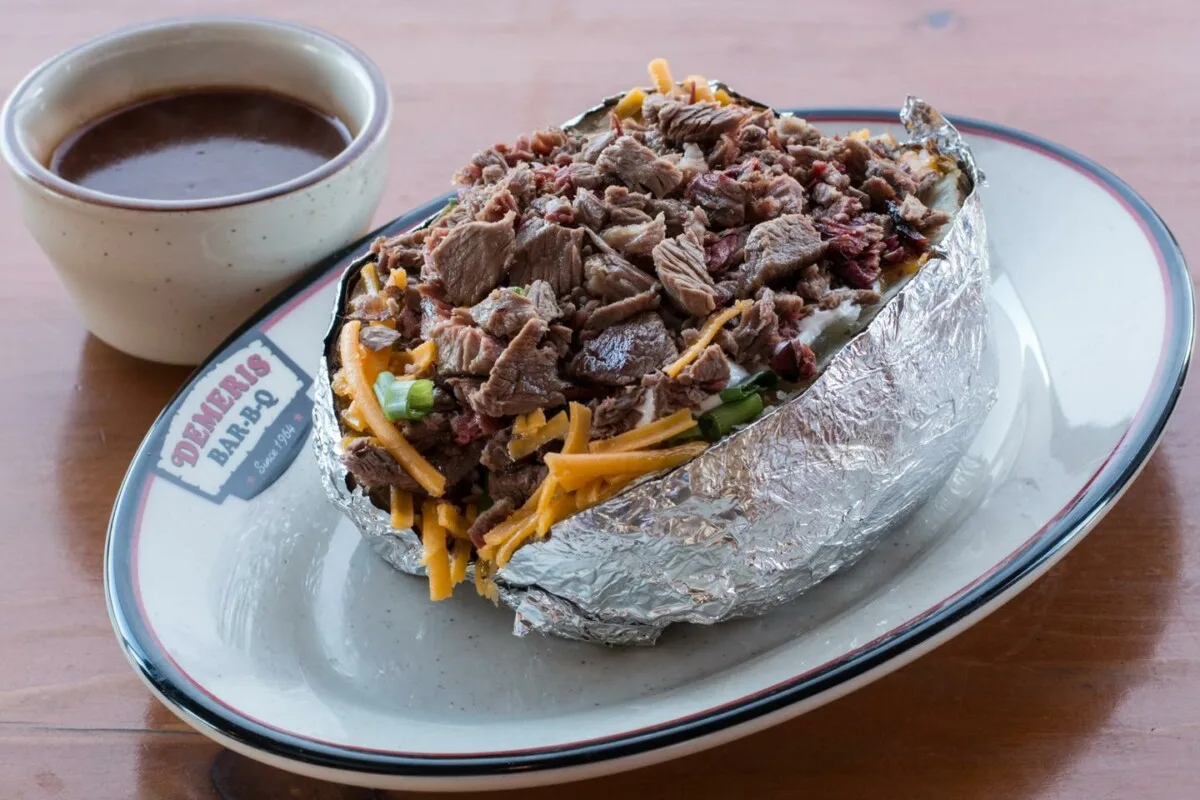 Another longtime establishment, Demeris Bar-B-Q has been around since 1964 with amazing hickory smoked meats. This location is the newest, with a large dining room with lots of seating.
They've got a pretty extensive menu, so you're bound to find something that suits you. Daily specials offer great deals on all-you-can-eat Ribs and the popular B-Man Frito Pie.
Dinner portions pile up meats like pulled pork, brisket, or spare ribs with 2 sides – the frijoles a la Charra and Jalapeno corn are highly recommended!
1702 W Loop N Fwy Ste A, Houston, TX 77008

Daily 11 AM – 9 PM

+ 1 713-681-7204
You might also be interested in: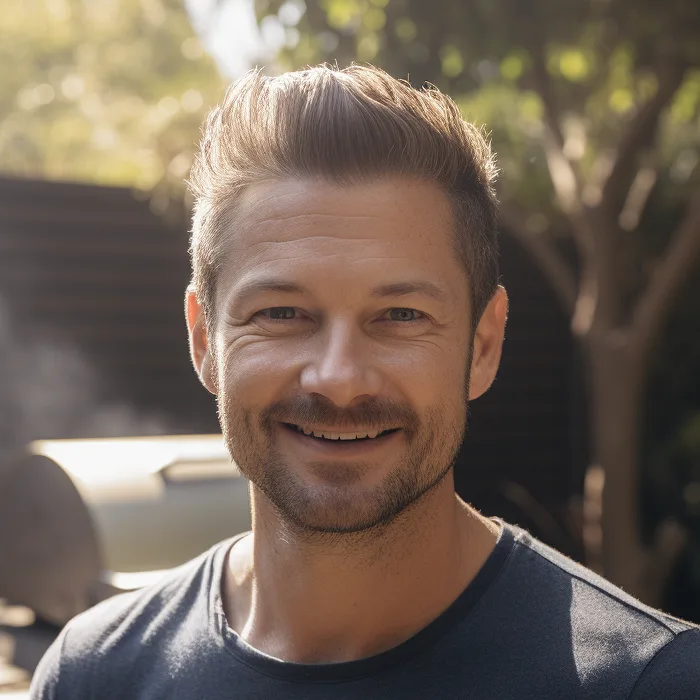 I have been smoking and grilling meat from an early age and enjoy sharing my knowledge and expertise through the hundreds of articles I have written about BBQ. I hope to make everyone's BBQ journey that little bit easier.