Barbecue, you are put into a mouth-watering, glazy dream of charred meat and flavored smoke atmosphere when you hear the words.
If you are from Texas, you know BBQ doesn't get any better than that.
There are so many options for smoky meats, juicy beef, and glazed chicken.
For your convenience, we have narrowed it down to the top 10 best BBQ spots in Austin.
Best BBQ Spots in Austin
La Barbecue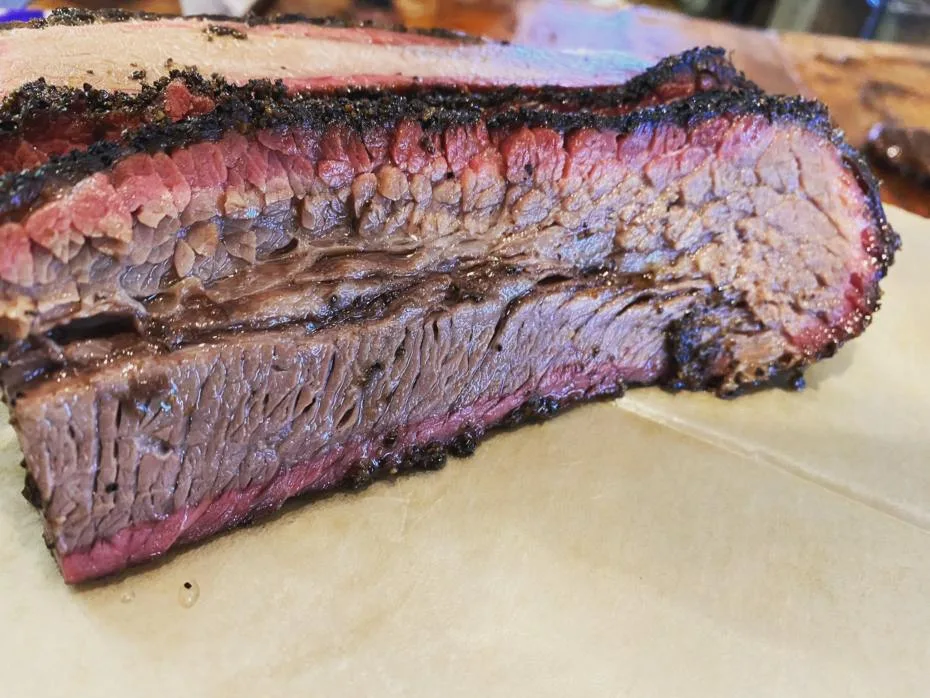 La Barbecue serves one of the best BBQ dishes that are bound to get your stomach satisfied but wanting more.
Beef briskets, sausages, and beef ribs combined with cheese are some of the few mains. Their sides include the usuals.
You can always find refreshments to drink while you are chatting it up with your friends as you wait.
You will almost always find a long line outside. But they have a beautiful patio right next to the restaurant that is filled with smoky flavored air.
2027 E Cesar Chavez, Austin, TX — 78702
+1 5126059696
11:00 am — 6:00 pm, Wednesday — Sunday.
Terry Black's BBQ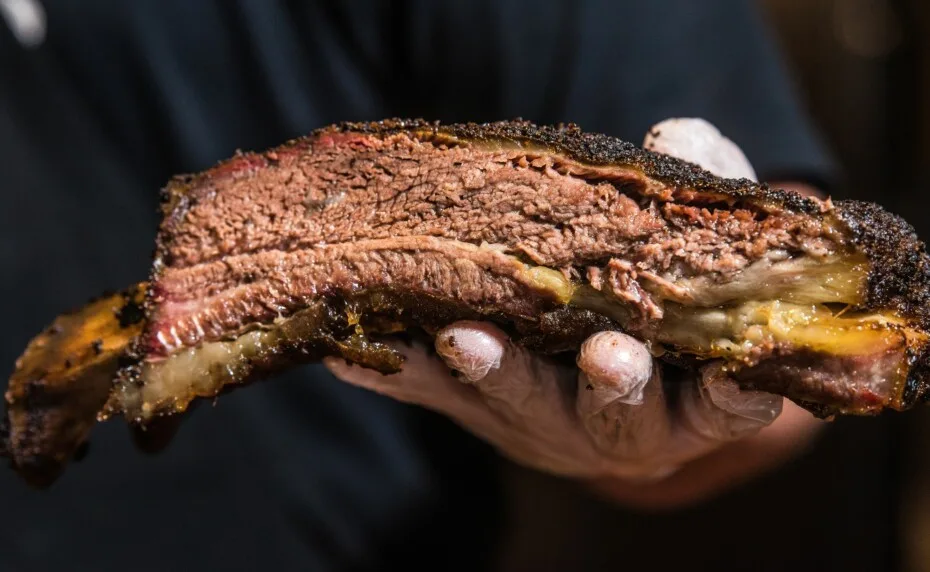 If you are looking for something that speaks the old Texas meat, then Terry Black's BBQ should be your next dining option.
They also have the delicate meat of turkey, rolled-up sausages, and beef in the form of ribs and mince.
If you would like to try something different, their menu has plenty of sandwiches.
They are quite popular too and are served with different sides.
1003 Barton Springs Rd., Austin, Texas, 78704
+1 512 3945899
11:00 am–9:00 pm, Monday – Thursday, and Sunday. 11:00 am –9:30 pm, Friday and Saturday.
Kerlin BBQ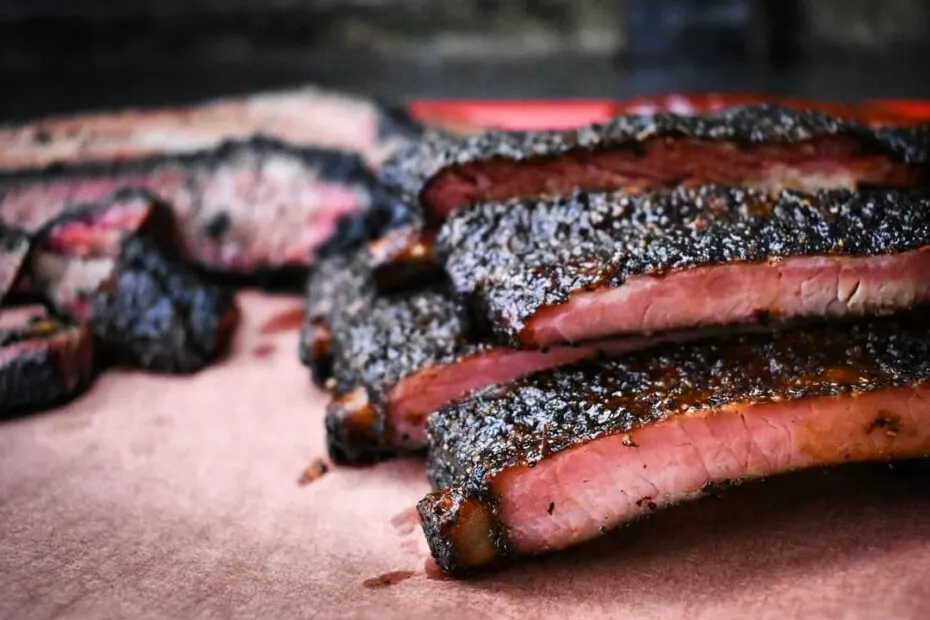 A place that is built on an empty plot does not gather much attraction unless it is Kerlin BBQ.
The specialty of this place is that it is open until the food stock lasts.
The food there is exceptional, and every dish is a star.
The kolaches, which is a combination of smoked meat dripping with sauces and sides, melted with stringy cheese, is a standout.
But, smoked sausages on a platter or the prime Angus brisket can also compete with the kolaches.
2209 East Cesar Chavez St., Austin, Texas, 78702
+1 512 4125588
11am-3pm, Monday – Sunday.
Valentina's Tex Mex BBQ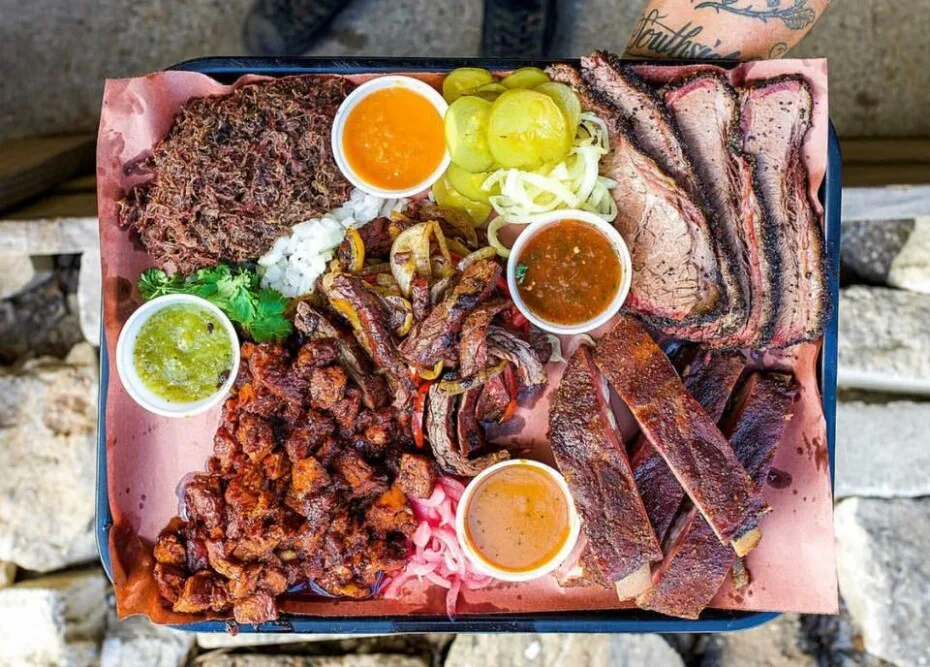 If you are seeking out an adventure and want to try something besides the traditional seating, Valentina's Tex Mex BBQ is the place for you.
Placed in the outskirts of Austin, they have infused the taste of Mexican food in the Texas meat.
The showstopper has to be the tacos. They are served with the smoky popular Valentina meat.
The fusion of Mexican flavor and Texas meat might not make sense at first. But the crowds lining up their food truck tells a different story.
11500 Menchaca Road, Austin, Texas 78748
+1 5122214248
​​7:30 am – 8:00 pm, Wednesday – Friday. 7:30 am– 6:00 pm, Saturday and Sunday. Monday & Tuesday are closed.
Leroy and Lewis Barbecue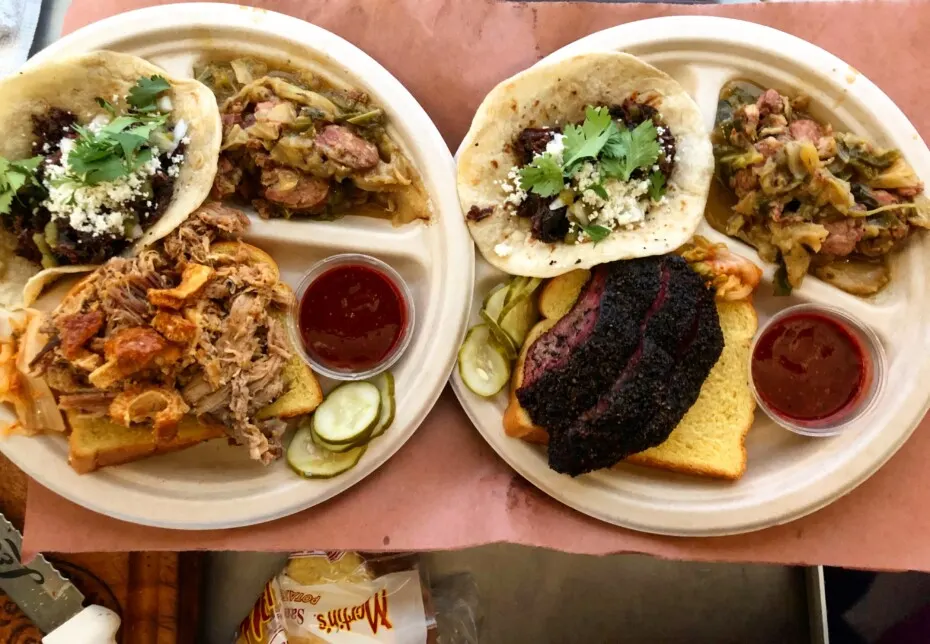 Leroy And Lewis Barbecue have managed to keep it modern while also keeping in touch with the outdoor BBQ style.
You will find their casual seating to involve picnic tables propped up on the grass. The modern-styled chalkboard menu has all the favorites.
They have the best burgers in town cooked in the steamy flavors of smoke and glaze.
That BBQ meat topped with the cheddar is just as American as it can get. Smoked beef cheeks are also worth the hype.
121 Pickle Rd., Austin, Texas, 78704
+1 5129459882
11:00 am – 9:00 pm, Wednesday – Sunday.
Franklin BBQ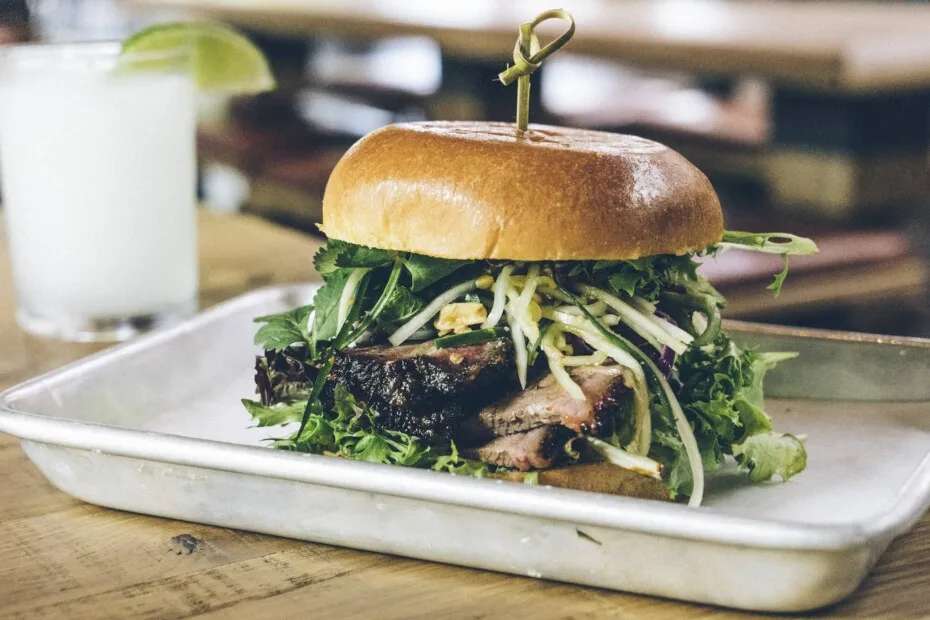 This is one of the oldest spots in town. The fact that Franklin BBQ is still going strong makes you think about the exceptional dishes they have been serving.
It is famous all around the world, which is why you will find a mixed audience in the waiting line—an experience itself.
However, the waiting can be daunting. You will have to wait hours in line, but the hot plate of briskets they serve will be worth your time!
900 East 11th St., Austin, Texas, 78702
+1 512 6531187
11:00 am– 3:00 pm, Tuesday – Sunday. Mondays are closed.
Black's BBQ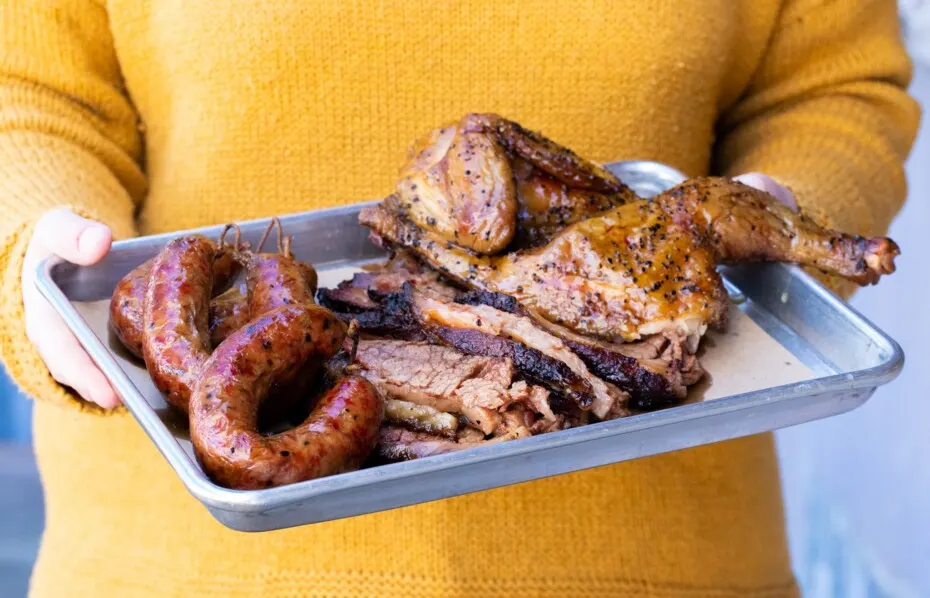 Another oldest spot for BBQ includes Black's BBQ. It may not have inaugurated in Texas, but it surely has made its home in Austin.
The most famous of their meat dishes are the fatty beef brisket. It will give you all kinds of calories, but it is what the meat lovers out there would recommend.
They also have the sausages with sides, juicy chicken, and mighty turkey breasts for your tantalizing taste buds. For dessert, try out the peach cobbler.
3110 Guadalupe St., Austin, Texas, 78705
+1 512 5240801
11:00 am – 9:00 pm, Sunday–Thursday. 11:00am – 10:00pm, Friday–Saturday.
Micklethwait Craft Meats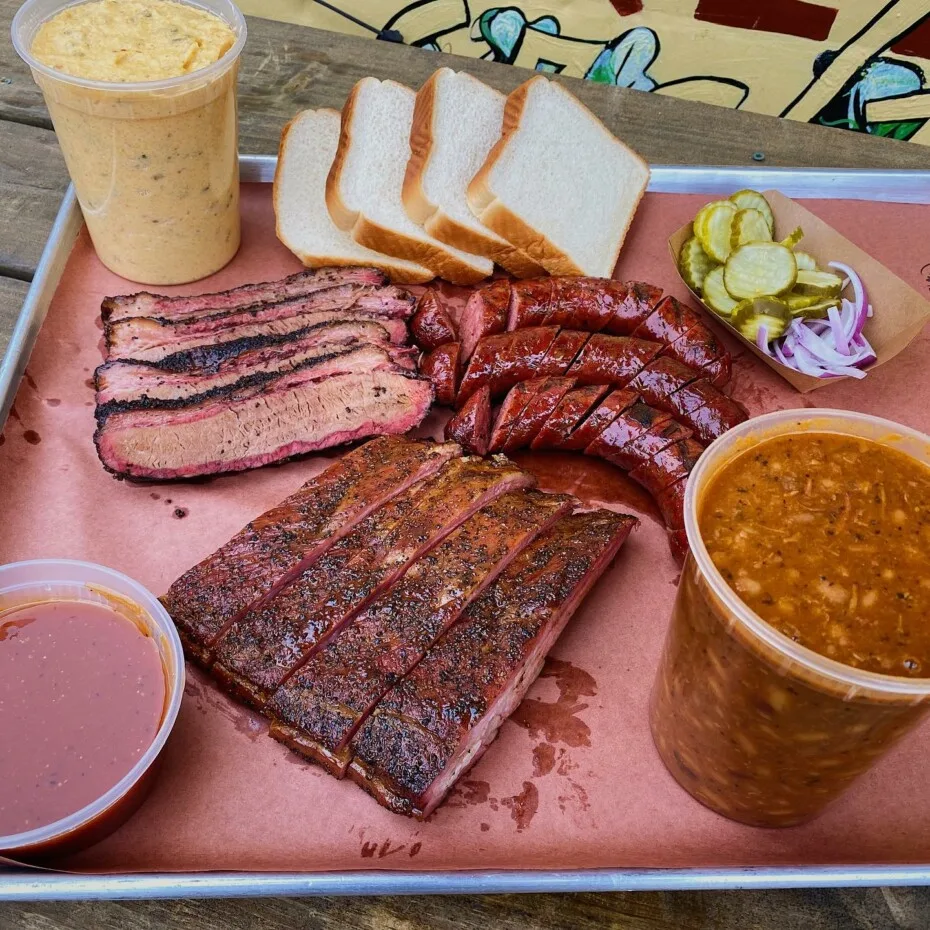 A vintage spot serving BBQ out of a trailer, Micklethwait Craft Meats is what you need when in a search for smoked meat at a cozy place.
It cannot get any more aesthetic for your Instagram.
A popular item on their menu, the sausages are a must. The options of meat in these hot, mouth-warming sausages vary daily.
You might get duck with rosy cherries. Or you might get lamb sausages that are covered with the essence of tangerines just to give you that extra zest. Try your luck.
1309 Rosewood Ave., Austin, Texas, 78702
+1 512 7915961
11:00 am–2:30 pm, Tuesday – Saturday. 11:00 am –3:00 pm, Sunday. Mondays are closed.
Stiles Switch BBQ and Brew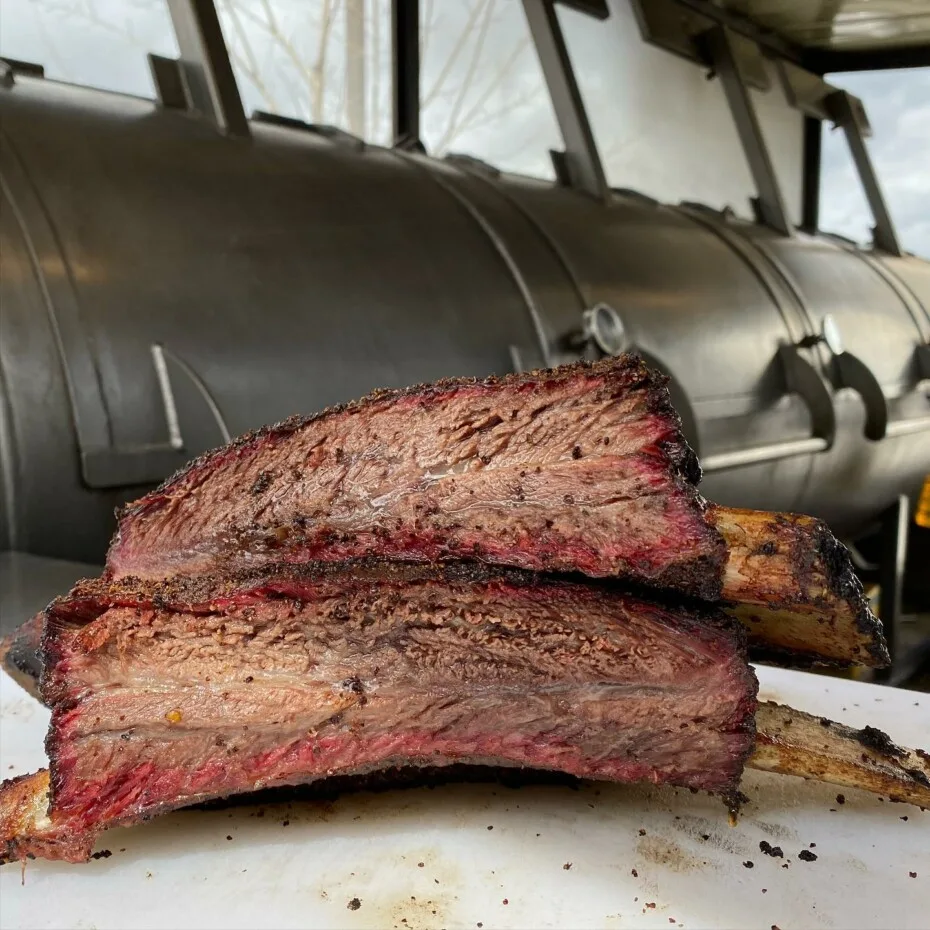 Slow-cooked meat has its own taste. The saying, patience is the virtue, serves right for this meat.
You can find the best one at Stiles Switch BBQ and Brew.
You will have to check their website for what is available on a specific day, but you will be in for a treat no matter when you go.
The trio of sausages is their specialty that comes in mild, spicy, or jalapeno cheddar to savor your tastebuds.
6610 North Lamar Blvd., Austin, Texas, 78752
+1 512 3809199
11 am –8:00 pm, Tuesday – Thursday. 11:00 am –8:30 pm, Friday – Saturday. 11:00 am –8:00 pm, Sunday. Mondays are closed.
Cooper's Old Time Pit Bar-B-Que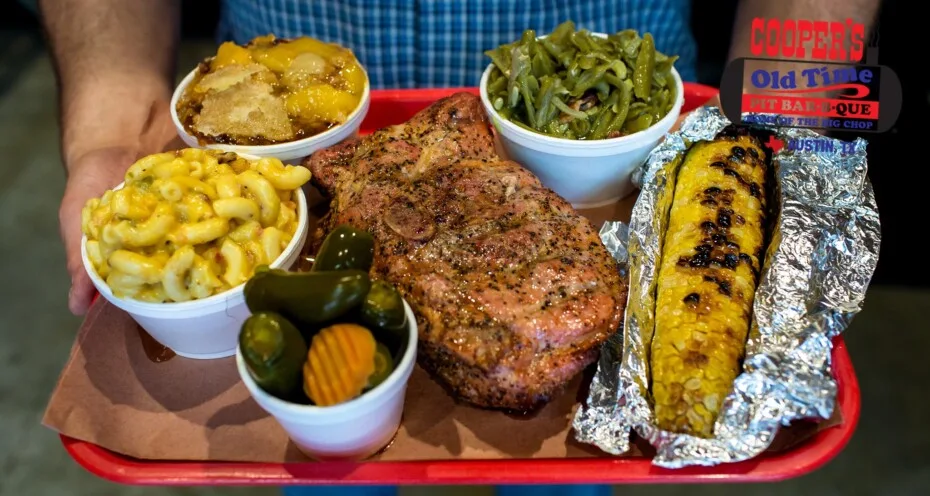 A cozy place that screams the likeness of BBQ is Cooper's Old Time Pit Bar-B-Que.
It has all the flavors that you like to indulge in when one is craving BBQ.
It may seem like a historical place, but the meat served here is an art.
Their famous dish is the Big Chop, and as the name suggests, it will leave you in a meat coma (not a bad thing!!).
You can also find sausages, grilled chicken, tender beef ribs as some of the meat options.
217 Congress Ave, Austin, TX 78701
+1 512 4744227
They are open from Monday to Sunday: 11 am – 10 pm.
Sam's Bar-B-Que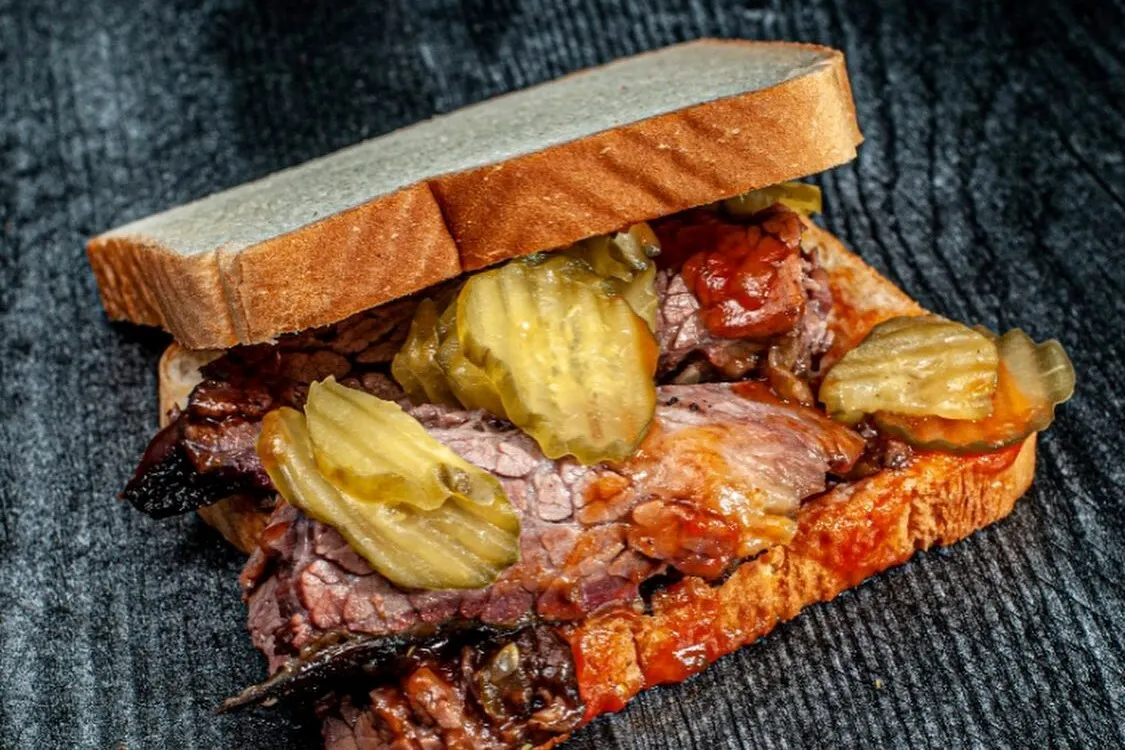 If there's a sink in the dining room, you bet you're about to have some good food!
Legendary Sam's Bar-B-Que is an old-school joint filled with nostalgic décor, simple booths, and picnic tables.
The cheerful staff will help you make the most of your visit, too! Get your hands on the brisket sandwich – perfectly sliced, tender meat served with pickles.
True fans will know the mutton is worth the hype, with some mac 'n' cheese on the side, of course.
2000 E 12th St, Austin, TX 78702

Sunday & Monday 10 AM – 8 PM; Wednesday – Saturday 10 AM – 10 PM

+ 1 512-478-0378
Distant Relatives
If you haven't heard of Distant Relatives, check 'em out asap – and thank us later!
This small but mighty food truck has a reputation for serving up flavorful combos like tender slices of brisket with smoked mustard butter or pulled pork with the perfect tangy-sweet tamarind molasses BBQ sauce.
Don't pass up the burnt ends with black-eyed peas, pickled okra, or coconut-creamed spinach. That is, if you get there early enough to have your pick, that is!
3901 Promontory Point Dr, Austin, TX 78744

Wednesday – Sunday 12 – 8 PM

+ 1 512-717-2504
Moreno Barbecue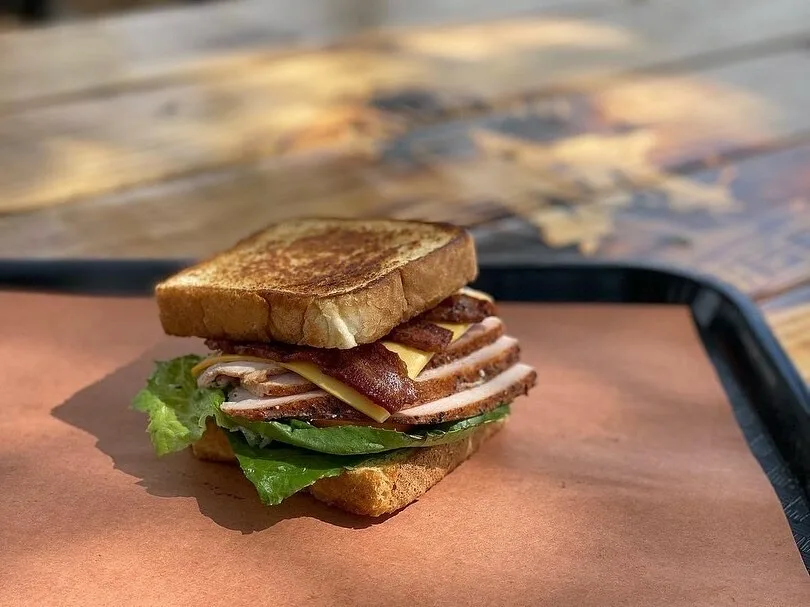 Moreno Barbeque grabs your attention with its sleek, modern design and minimalist vibe, but the 'cue will keep you coming back.
Grab a picnic table outside under the shady trees and feast on some of the best brisket and spare ribs around.
The pork belly tacos burst with flavor, and the brisket gouda mac is a delicious version of a classic. The banana pudding is the perfect ending – and a steal of a deal!
5608 Menchaca Rd, Austin, TX 78745

Wednesday 11 AM – 3 PM; Thursday – Saturday 11 AM – 4 PM; Sunday 9 AM – 3 PM

+ 1 512-808-8271
Slab BBQ & Beer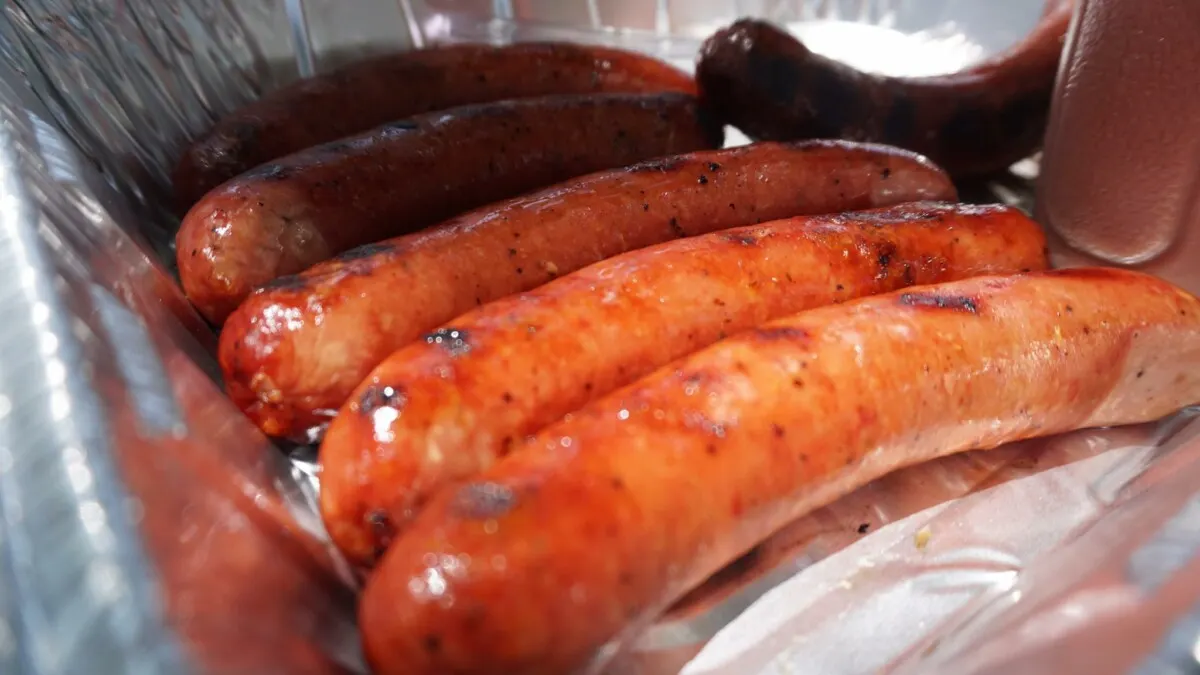 Suppose you're craving a juicy B.B.Q. sandwich, then ogle the impressive menu at Slab B.B.Q. Grab one single or double or a combo if you need a good fill.
The Texas Trill combines the trusty Texas Trinity with onions, pickles, jalapenos, and sauce for a perfect bite.
Can't go wrong with the Notorious P.I.G., either – pulled pork, mustard slaw, and the extra jalapenos are a must. Get any sandwich on a white bun or tortilla, but our fave is their jalapeno cheddar bun.
9012 Research Blvd C4, Austin, TX 78758

Monday – Saturday 11 AM – 8 PM; Sunday 11 AM – 6 PM

+ 1 833-752-2100
Rollin Smoke
The holy grail after a night out on Sixth Street, Rollin Smoke is here to save you. This heroic food truck has been around for a while, and locals know it's some of Austin's best – day or night.
Their popular Playboy Sandwich combines tender brisket, juicy pulled pork, and jalapeno cheddar pork sausage for a flavor explosion.
Pair it with their smoked mac and cheese and a Topo Chico to wash it down – you can't go wrong.
1108 E 12th St, Austin, TX 78702

Sunday, Wednesday & Thursday 11 AM – 9 PM; Friday & Saturday 11 AM – 10 PM

+ 1 512-705-5499
Brown's Bar-B-Que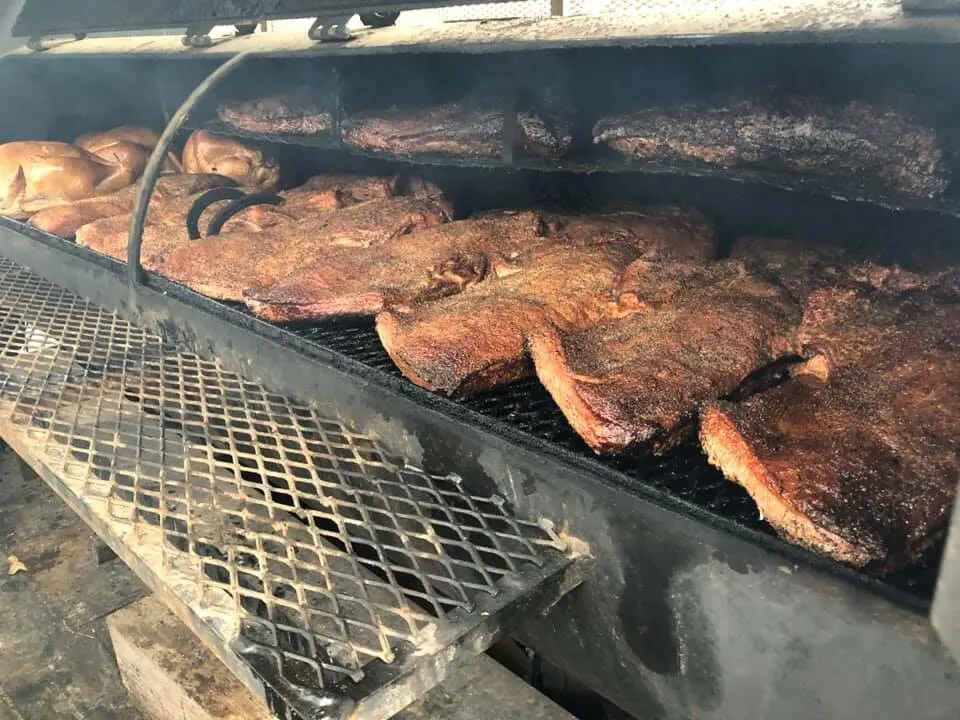 Another one of Austin's favorite food trucks, Brown's Bar-B-Que, has a short but sweet classic menu.
Get your fill by digging into meats by the pounds, like smokey pork ribs, brisket, and juicy pulled pork.
You can also slap any of 'em between two pieces of bread or wrap it all up for the perfect handheld.
Whichever you choose, try it with green beans and potato salad for an awesome BBQ trio.
1901 S Lamar Blvd, Austin, TX 78704

Tuesday – Saturday 11 AM – 7 PM; Sunday 11 AM – 5 PM

+ 1 512-517-8520
County Line on the Hill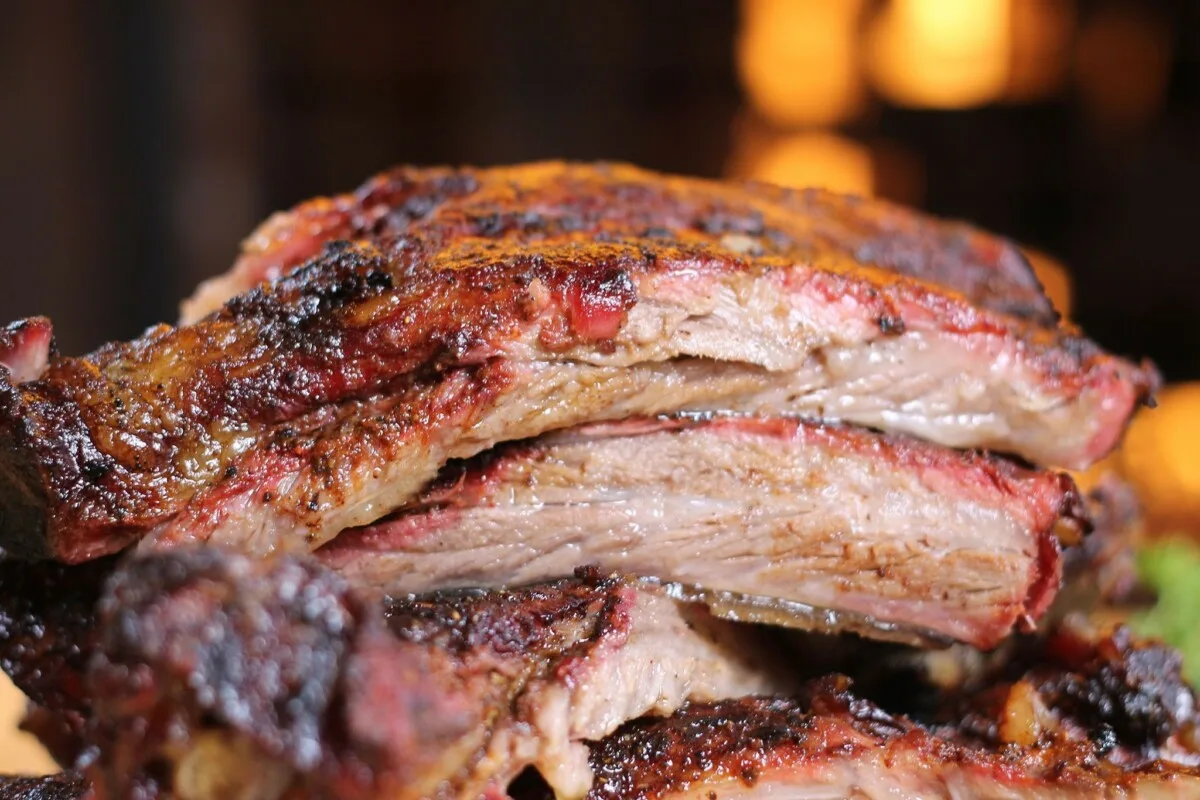 Run out of an old speakeasy, County Line on the Hill is the original location of the Austin fave.
The atmosphere inside the dining room takes you back in time, while the patio offers some beautiful stretching views.
They've got a full menu, with both lean and marbled 2nd cut brisket, peppered turkey breast, and their County Line sausage. Opt for the 2, 3, or 5 meat combo to try out more than one.
6500 Bee Caves Rd, Austin, TX 78746

Monday – Thursday 11:30 AM – 9 PM; Friday & Saturday 11:30 AM – 9:30 PM

+ 1 512-327-1742
Whitfield's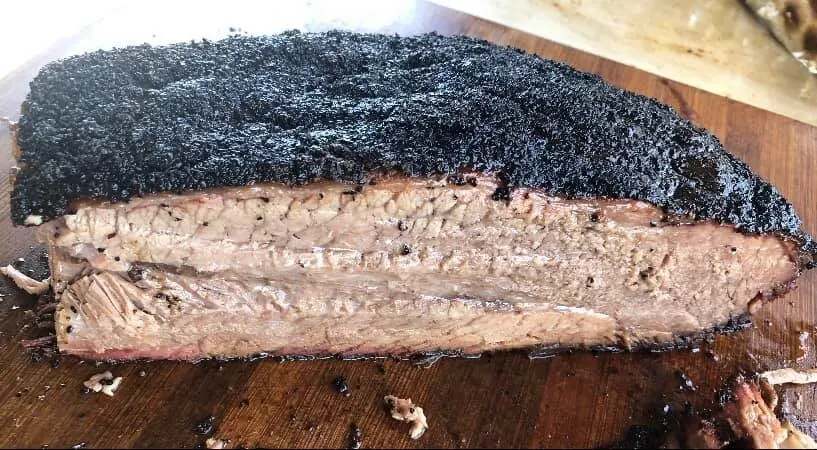 Juicy brisket is synonymous with Whitfield's, and it's well worth a visit. From the outside, their plain white trailer and small covered area are the perfect reminders not to judge a book by its cover.
Once you dig into that juicy, perfect brisket, jalapeno cheddar sausage, or pork spare ribs, you'll see the food speaks for itself!
The tasty pickled strawberries are in a category all their own, and the Black Garlic BBQ sauce will be your new bestie.
8901 Brodie Ln, Austin, TX 78748

Friday 11:30 AM – 7 PM; Saturday 11:30 AM – 5:30 PM; Sunday 11:30 AM – 4 PM
Lambert's
Downtown Austin's upscale spot Lambert's cooks up creative dishes and on-point BBQ.
Each Smokehouse option combines unique flavors, like their smoked & grilled baby back ricks with BBQ sauce, cashew lime slaw, and quick pickles.
Jalapeno cheddar sausage is paired up with the perfect spicy mustard, and the prime brisket comes with soft buttermilk bread, pickles and onions.
It's a great place to meet up with friends for great eats, drinks, and live music!
401 W 2nd St, Austin, TX 78701

Daily 11 AM – 10 PM

+ 1 512-494-1500
Iron Works Barbecue
Iron Works Barbecue serves up some awesome 'cue; you can take Jay Leno's word for it!
Their bright red building has a chilled-out interior, with vintage décor and simple seating.
Come hungry and grab a plate of beef brisket, chopped beef, or pork ribs with some sweet cream corn and pinto beans.
They've also got a great sampler option that gets you brisket, sausage, and a beef rib so you can taste the best of the best.
100 Red River St, Austin, TX 78701

Monday – Saturday 11 AM – 9 PM

+ 1 512-478-4855
You might also be interested in: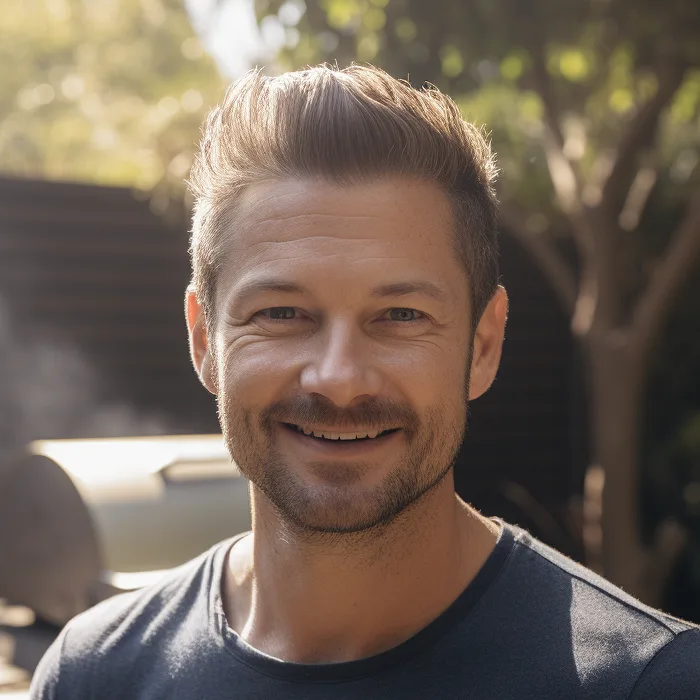 I have been smoking and grilling meat from an early age and enjoy sharing my knowledge and expertise through the hundreds of articles I have written about BBQ. I hope to make everyone's BBQ journey that little bit easier.