Dallas, the home of cowboys, is celebrated for its rich culture.
Famous for its largest art district, amusement parks, German cake, and much more, one cannot forget the main highlight of this Texan city, the exceptionally delicious Barbecue.
From juicy slabs of brisket to succulent and tender ribs, Dallas is the finest place for Barbecue.
We believe it is a sin not to eat Dallas' Barbecue at least once in your lifetime.
So let us take you on a delightful ride to the 10 best barbecue places in Dallas.
Best BBQ in Dallas
Lockhart Smokehouse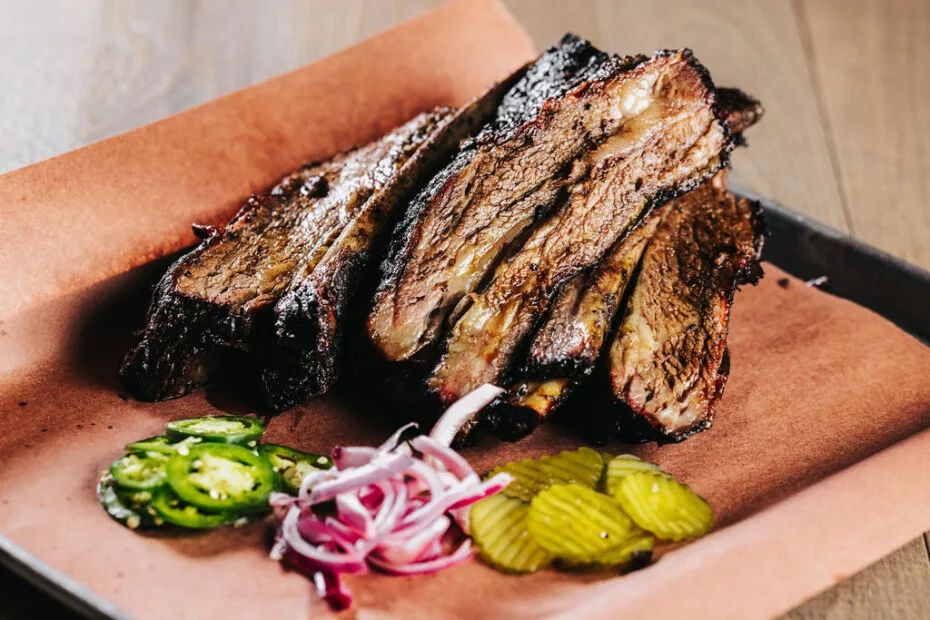 If you are looking for something to awaken your tastebuds, Lockhart Smokehouse has got you covered.
Their popular Kreuz sausages are the show's star, along with their magical deviled eggs packed with flavourful meat.
At Lockhart Smokehouse, you can easily satisfy your hunger for scrumptious Barbecue.
400 W Davis St, Dallas, TX 75208, United States
+1 214 9445521
11:00 am – 9:00 pm, Monday- Sunday.
Off the Bone Barbecue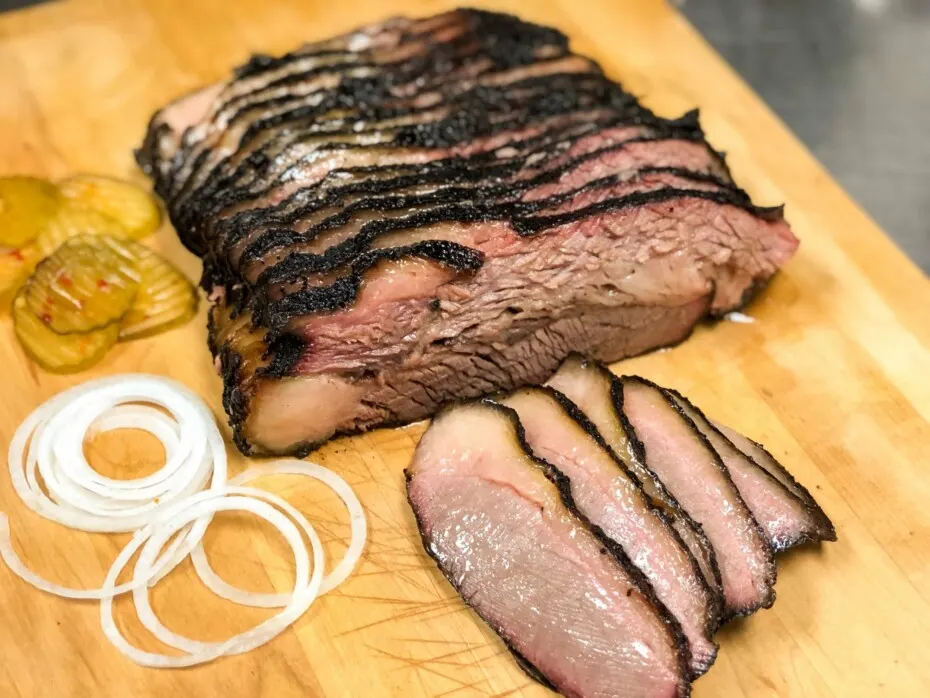 Just as the name suggests, if you are looking for premium ribs that slide right off the bone, this is the place to be.
Off the Bone is a traditional barbecue restaurant with a gourmet twist.
Its specialty is the wonderful melt-in-your-mouth peanut-smoked ribs.
This place is the true meaty heaven. So, what are you waiting for, and head down to off the bone for their legendary ribs?
You don't want to miss out on the hype.
1734 Botham Jean Blvd, Dallas, TX 75215, United States
+1 214 5659551
11:00 am – 4:00 pm, Monday – Wednesday. 11:00 am – 7:00 pm, Thursday – Saturday. Sundays are closed.
Terry Black's Barbecue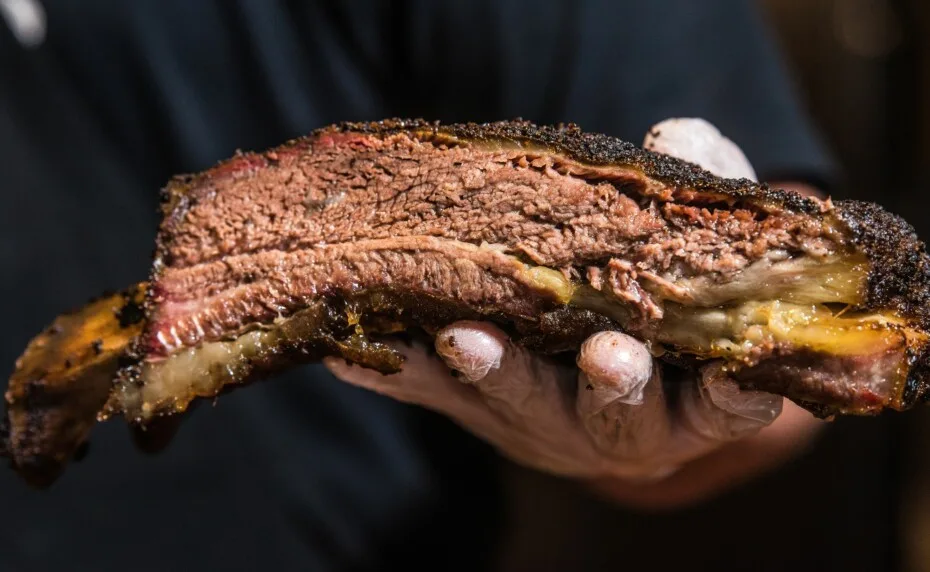 One cannot imagine going to Dallas and not trying the amazing Terry Black's Barbecue.
Eating here feels like eating at an old western Saloon.
Not only the atmosphere but also the food is reminiscent of the good old Wild West.
Here, you will get a hearty serving of all types of pit-smoked protein, you name it, juicy briskets, saucy sausages, tender ribs, pork chops they have it all!
3025 Main St, Dallas, TX 75226, United States
+1 4693990081
11:00 am – 9:00 pm, Monday- Thursday. 11:00am – 9:30 pm, Friday- Saturday. 10:00am – 9:00pm, Sunday.
Pecan Lodge
Craving for more barbecues? Just cannot get enough of smoky charred beef?
Well, you and I are on the same page. Pecan Lodge can satisfy the hungry foodie.
Pecan Lodge has something for everybody with its vast range of smoked meats to its delectable peach cobbler.
Their specialty is 'the hot mess,' which is shredded beef brisket blanketed with a generous serving of cheese and garnished with butter and green onions.
It truly is the winning item on their menu.
2702 Main St, Dallas, TX 75226, United States
+1 2147488900
11:00am – 8:00pm, Monday- Sunday.
Cattleack Barbeque
This spot is one of a kind. The reason is that it is only open for two days a week but do not despair, Cattleack Barbeque has the finest branded meats to offer, they believe in quality over quantity.
So, it is safe to say that they have lines forming outside their restaurant.
Everyone wants to get a taste of their exquisite smoked and charred meats. After all, it is the top-tier barbecue spot in Dallas.
3628 Gamma Rd, Farmers Branch, TX 75244, United States
+1 972 8050999
10:30 am – 2:00 pm, Thursday – Friday.
Baby Back Shak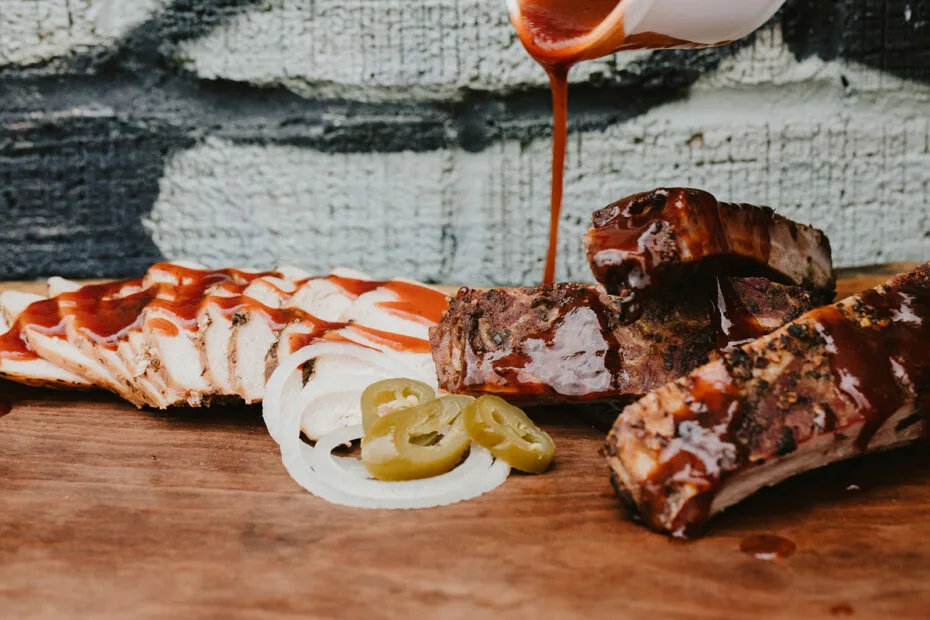 You know a place is good when they win an award for the best ribs in Dallas.
Baby Back Shak might seem out of the ordinary, but that's their specialty.
The owner of this remarkable restaurant lived in Tennessee as well as Memphis and then Dallas.
Three cities celebrated for their Barbecue combined into one flavourful offering is what Baby Back Shak is all about.
Plus, they have a unique Shak Rub that gives their meat its original taste.
1800 S Akard St, Dallas, TX 75215, United States
+1 2144287427
11:00 am – 5:45 pm, Monday- Thursday. 11:00am – 6:45 pm, Friday- Saturday. Sundays are closed.
Ferris Wheelers Backyard & BBQ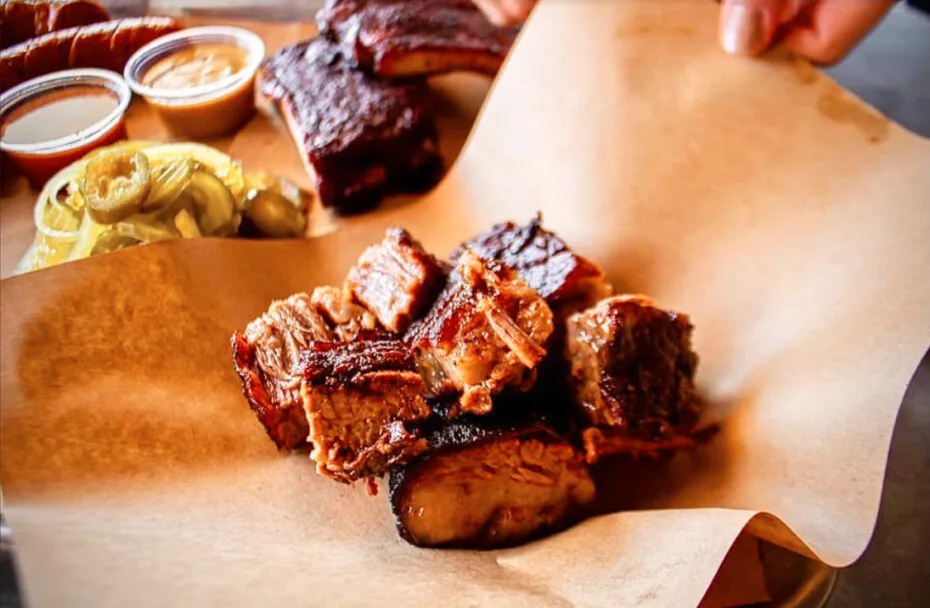 A place completely out of the box, Ferris Wheelers Backyard and BBQ, combines a colorful environment and amazing Barbecue.
Their specialty is the communal style of dining where everyone can get to know each other, devour delicious meat and enjoy the view of the Ferris wheels.
It just does not get any better than this.
1950 Market Center Blvd, Dallas, TX 75207, United States
+1 2147414141
11:00am – 10:00pm, Monday- Sunday.
Slow Bone BBQ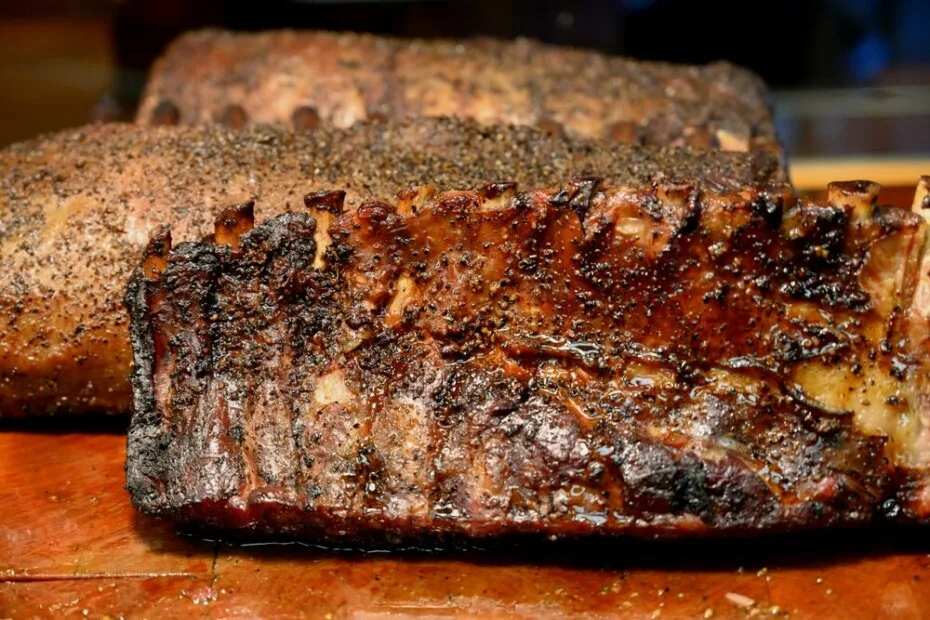 An inclusive spot for meat lovers as well as vegetarians, Slow bone BBQ offers a variety for all kinds of foodies.
Their meats are slowly smoked and cooked to perfection.
Slow bone is not your traditional Barbecue spot; they have a unique menu with specials every single day of the week!
Plus, only four of their sides consist of meat. So, any vegetarian out there should have this spot on their radar.
2234 Irving Blvd, Dallas, TX 75207, United States
+1 2143777727
11:00 am – 2:30 pm, Monday – Sunday.
Lakewood Smokehouse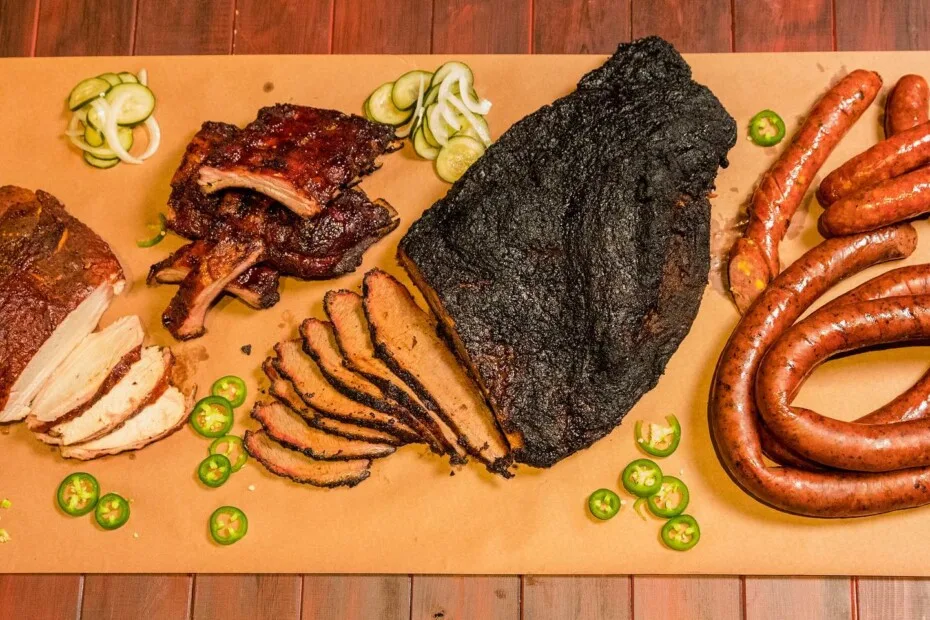 A giant establishment with even bigger portion sizes, Lakewood Smokehouse, is not here to play.
The food, environment, and bar are the epitome of the perfect barbecue spot.
Lakewood has a laid-back atmosphere where you can enjoy your company and food to its fullest.
They have a large menu and countless options to choose from, making it one of the best spots.
Their smoked burgers and brisket cheesesteaks are some of the best items on their menu.
1901 Abrams Rd, Dallas, TX 75214, United States
+1 9726777906
11:00 am – 8:30 pm, Monday – Sunday.
18th & Vine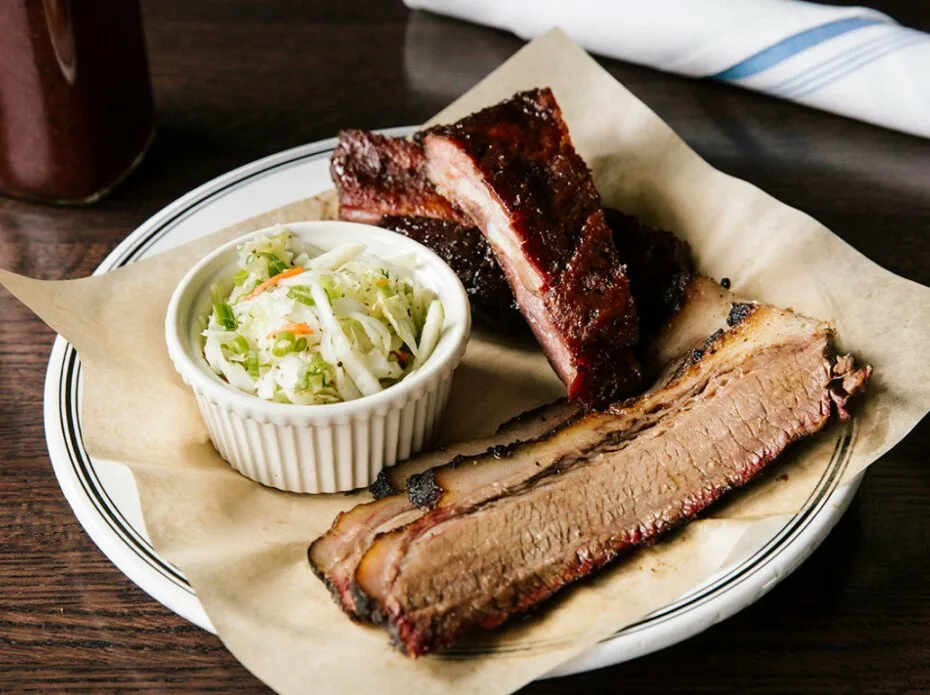 A fancy twist to the traditional Barbecue, 18th & Vine focuses on the finer things in life.
They offer private dining while everything served is plated in a very delicate and beautiful manner.
But do not confuse this with tiny portions, 18th& Vine is a firm believer in serving quality and quantity to barbecue fanatics.
The taste is simply exquisite.
4100 Maple Ave, Dallas, TX 75219, United States
+1 2144438335
11:00 am – 8:30 pm, Sunday- Thursday. 11:00 am – 9:00 pm, Friday – Saturday.
ONE90 Smoked Meats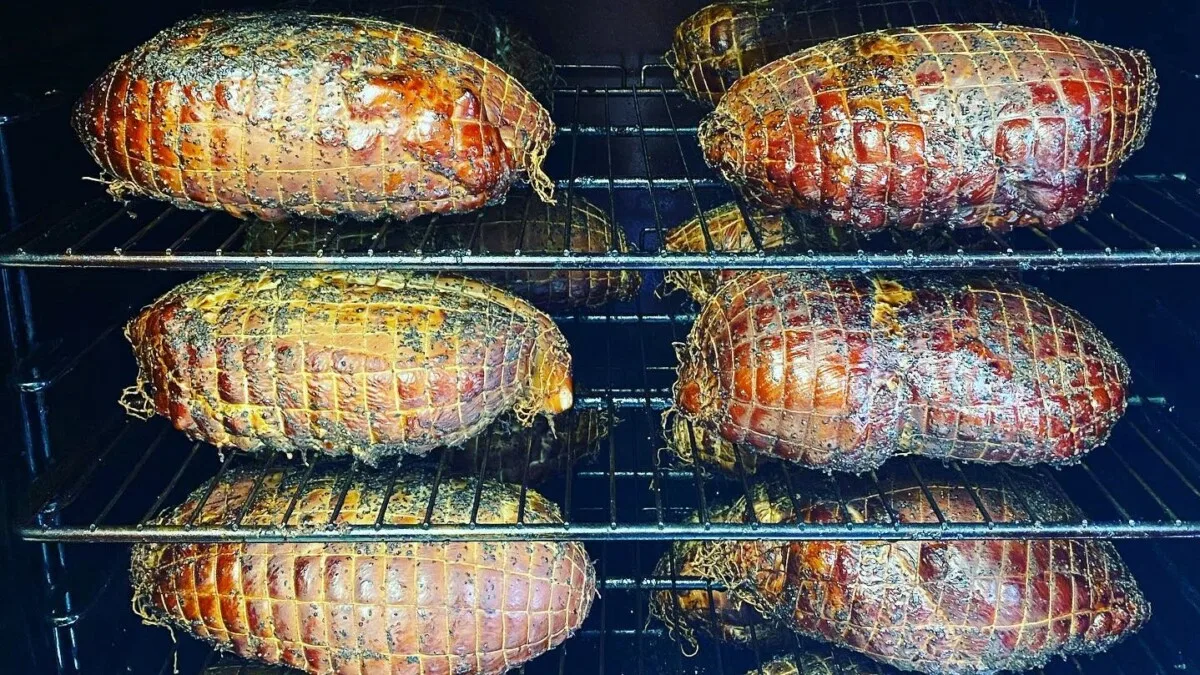 Specializing in traditional Texas BBQ, One90 Smoked Meats is one of East Dallas' best BBQ joints.
Chow down on their juicy ribs, pulled pork, and, of course, tender brisket.
The shaved beef tenderloin sandwich gets a special mention, too, as well as the cheesy, spicy goodness that is their chili mac.
You'll have to keep an eye out for their location – it can be a little tricky to find, but it's worth looking for!
10240 E NW Hwy, Dallas, TX 75238

Tuesday – Saturday 11 AM – 8 PM; Sunday 11 AM – 5 PM

+ 1 214-346-3287
Sammy's Bar-B-Q
Sammy's Bar-B-Q welcomes you into their rustic building with a big, bright dining room and spacious patio.
Folks here are super friendly, and it's a nice low-key spot to enjoy a great meal.
The plates offer good bang for your buck, with generous portions of sliced or chopped brisket, ribs, and pulled pork to get you started.
Aunt Glenda's potato casserole is one for the books, and other sides like BBQ beans and mac & cheese make the 'cue even better.
2126 Leonard St, Dallas, TX 75201

Monday – Saturday 11 AM – 3 PM

+ 1 214-880-9064
Loro
If you're looking for a delicious departure from the classic BBQ – this is it!
Asian smokehouse Loro is a little different than the other joints on this list – but you'll be rewarded for stepping outside the box.
Here, smoked beef brisket is blended with Thai herbs and chilis for a flavor pop, and the char siew pork belly with homemade hoisin and red onion.
The flavor gets kicked up even more with their oak-smoked beef brisket sandwich, paired with papaya salad, peanuts, and chili aioli.
1812 North Haskell Ave, Dallas, TX 75204

Sunday – Thursday 11 AM – 10 PM; Friday & Saturday 11 AM – 11 PM

+ 1 214-833-4983
Smokey Joe's BBQ
Longstanding establishment Smokey Joe's BBQ has been serving Dallas since 1985.
No strangers to the top Dallas BBQ roundups; they've got delicious 'cue and tons of loyal customers.
Kick off your experience with their popular chopped brisket sandwich – a Lil smokiness and lots of tenderness.
Folks rave about the sloppy fries: 1 or 2 types of meat of your choice, fresh fries, cheese, chives, jalapeno, and sour cream.
If you're there on weekends, grab a peach cobbler before they're all gone!
6403 S R L Thornton Fwy, Dallas, TX 75232

Tuesday 11 AM – 7 PM; Wednesday & Thursday 11 AM – 8 PM; Friday & Saturday 11 AM – 9 PM; Sunday 11 AM – 5 PM

+ 1 214-371-8081
Sonny Bryan's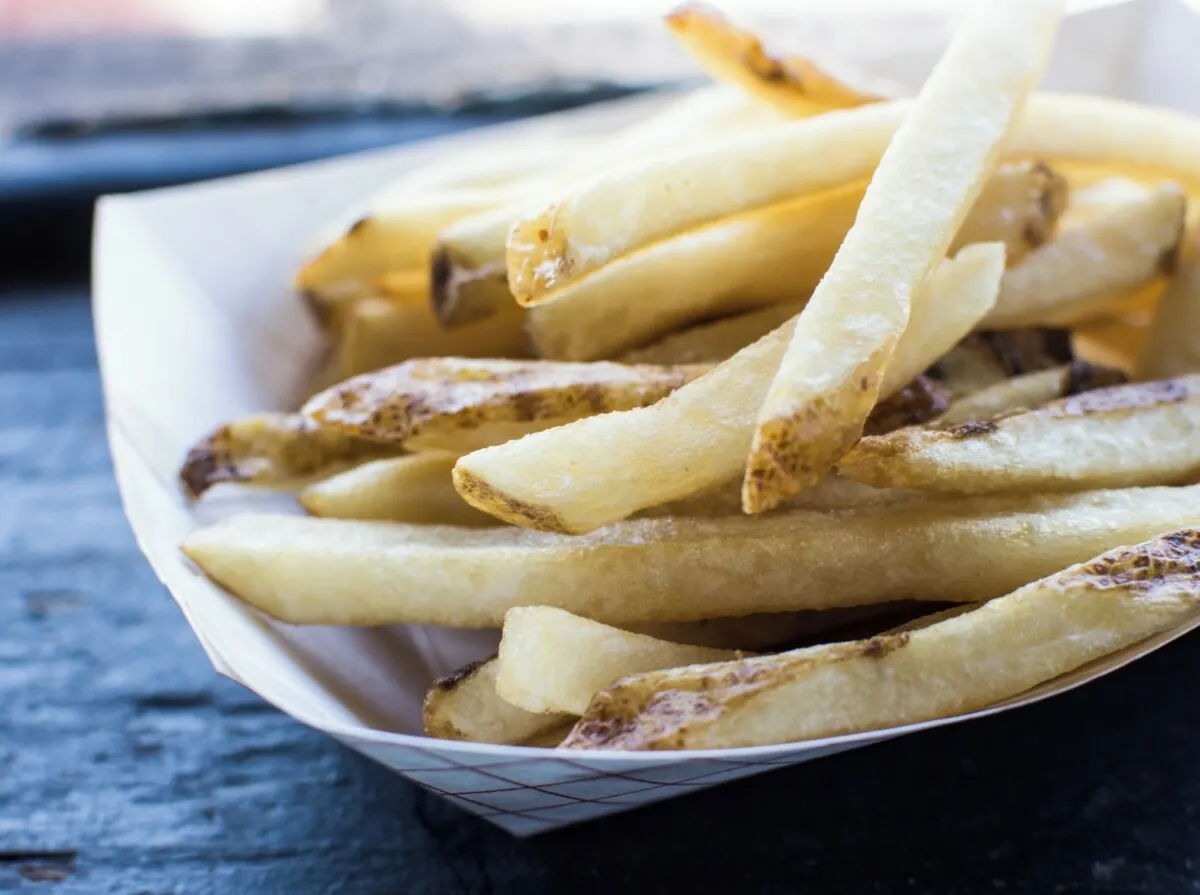 If we're talking about Dallas icons, Sonny Bryan's has got to be on the list.
Serving up barbecue since way back in 1910, they're open 24 hours a day, so you can swing in anytime.
Chopped brisket and spicy jalapeno sausage top the list, but their brisket Frito pie is worth sampling, too!
They've got a few locations, and it's a good spot to try if you're craving late-night BBQ.
2202 Inwood Rd, Dallas, TX 75235

Open 24 Hours

+ 1 214-357-7120
Mesquite BBQ Since 1959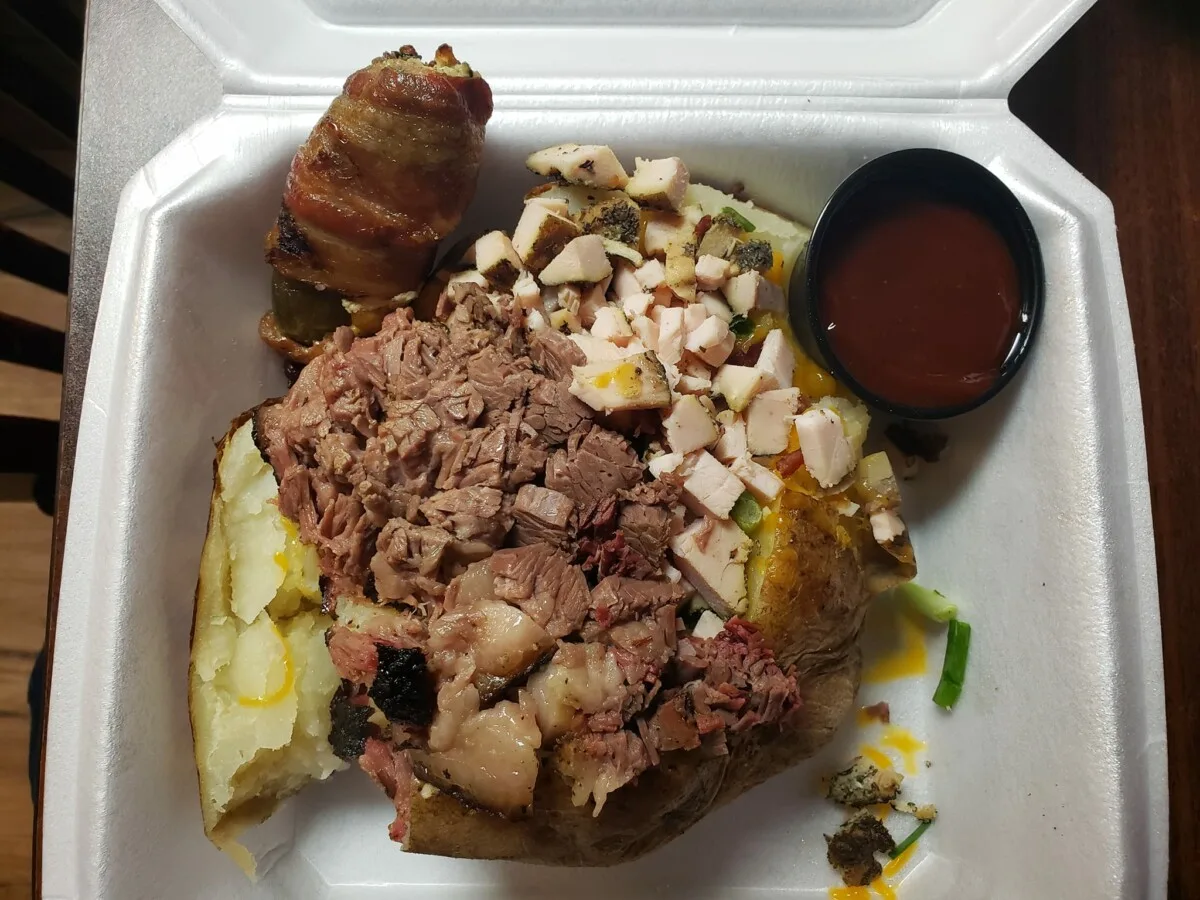 A down-to-earth joint with counter service, head to Mesquite BBQ since 1959 for some great Texas BBQ.
The smoke ring on their brisket is worth admiring before you dig in, and their "Chop Chop" will satisfy the lovers of extra smoky BBQ.
Get your comfort food fix with the Mac Attack, a pint of mac n cheese, bacon, and sliced meat – heaven!
They've got lots of options here, including vegetarian and kids' menus, so everyone can get in on the deliciousness.
145 E Davis St, Mesquite, TX 75149

Monday – Saturday 10:45 AM – 8 PM

+ 1 972-285-6573
Intrinsic Smokehouse & Brewery
Craft beer and BBQ make for a great match at Intrinsic Smokehouse & Brewery.
The meat here is cooked daily, so once it's done – that's it for the day! Slow-smoked brisket is a sure winner, and the full rack of ribs will keep you busy.
For something lighter, grab one of their cheesy brisket flatbreads.
Grab a few friends and enjoy live music and a social atmosphere while you chow down.
509 W State St, Garland, TX 75040

Monday 12 – 6 PM; Tuesday, Wednesday, Thursday & Sunday 11 AM – 9 PM; Friday & Saturday 11 AM – 10 PM

+ 1 972-272-2400
Smokey John's Bar-B-Que & Home Cooking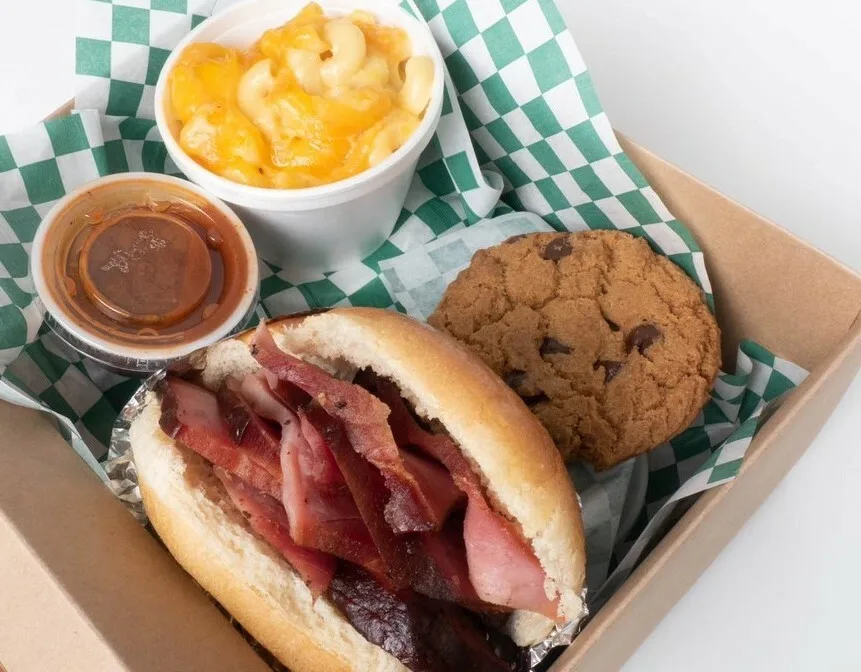 Smokey John's Bar-B-Que & Home Cooking serves up some of the best hickory-smoked BBQ around, with friendly service to match.
The BBQ plates are a good intro if it's your first time; grab the Pound of Smoke for a little taste of everything.
Pick your sides, like candied sweet potatoes, mac & cheese, collard greens, and cabbage, and soak it all up with their delicious cornbread.
Leave a little room for their Butter Bomb cake!
1820 W Mockingbird Ln, Dallas, TX 75235

Monday – Saturday 11 AM – 7 PM

+ 1 214-352-2752
Oak'd BBQ
Head to Oak'd Handcrafted BBQ for superb 'cue in a spacious location.
They've got some awesome smoked meats sold by the 1/2 pound, including melt-in-your-mouth Wagyu brisket, pork butt, and beef ribs.
If you're feeling for a handheld, The Texan sandwich is stacked with pork rib, house-made bacon, and shredded onion rings on a fresh brioche bun.
Check 'em out for their daily happy hour from 3-6 PM, and try the smoked shredded brisket fry tower!
5500 Greenville Ave Ste 1300, Dallas, TX 75206

Daily 11 AM – 9 PM

+ 1 214-242-8671
TEN50 BBQ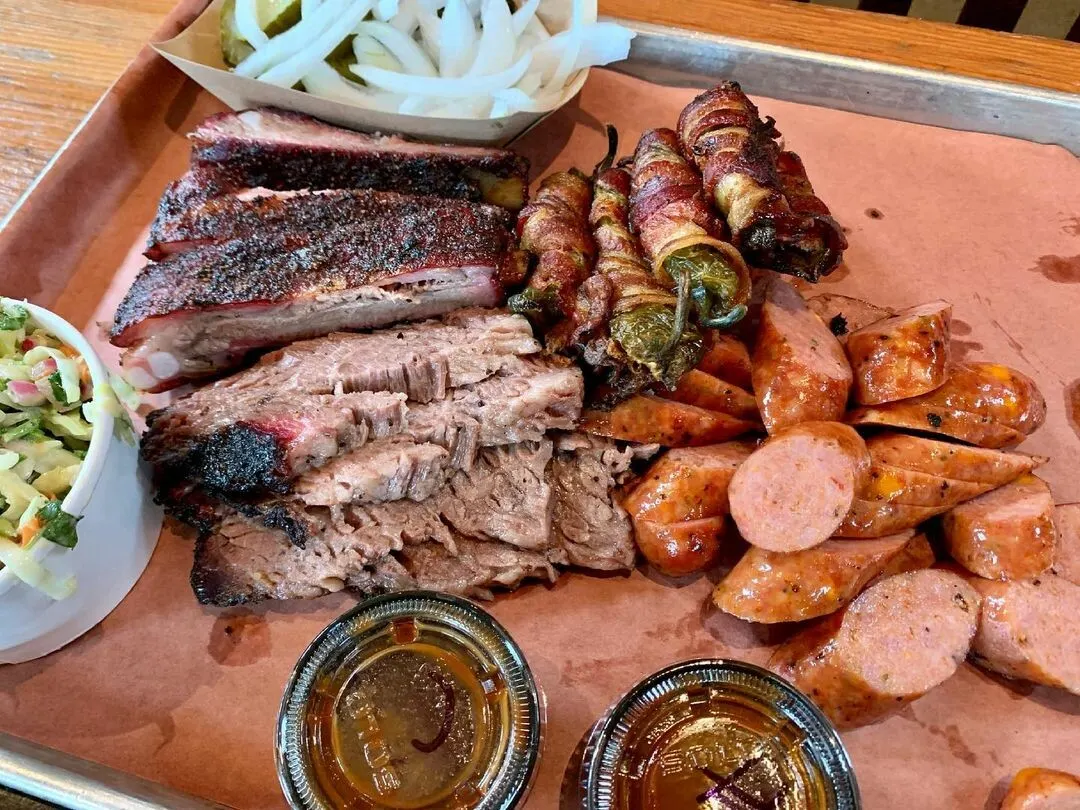 Ten50 BBQ is serious about its craft, and the Pitmasters put in the work to produce some quality meats cooked low and slow.
Melt-in-your-mouth prime brisket should top your list, alongside the juicy pulled pork and smoked chicken.
They're not playing around with the sides, either – fill up on brisket baked beans, five cheese mac, hand-cut fries, and Southern yeast rolls.
1050 N US 75-Central Expy 1000, Richardson, TX 75080

Monday – Thursday 11 AM – 9 PM; Friday & Saturday 11 AM – 10 PM

+ 1 855-783-1050
You might also be interested in: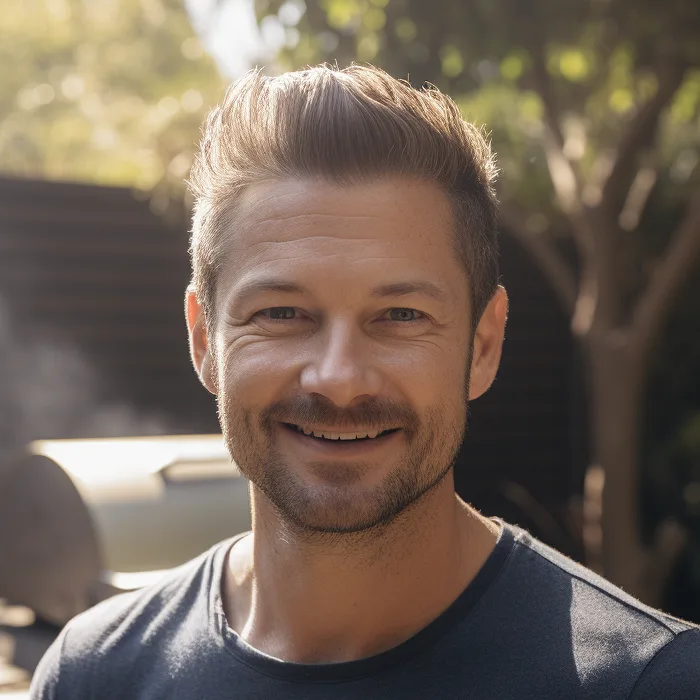 I have been smoking and grilling meat from an early age and enjoy sharing my knowledge and expertise through the hundreds of articles I have written about BBQ. I hope to make everyone's BBQ journey that little bit easier.