Texas has a history of serving the best BBQ meats.
Back in the day, the Texan cowboys came to BBQ joints to get some leftover smoked meat from the butcher shop, and this poor man's food became so well known that Texas BBQ became iconic.
If you're in Texas and looking for the best succulent BBQ, here is our list of Texas's top 10 best BBQ.
Best BBQ in Texas
Terry Black's Barbecue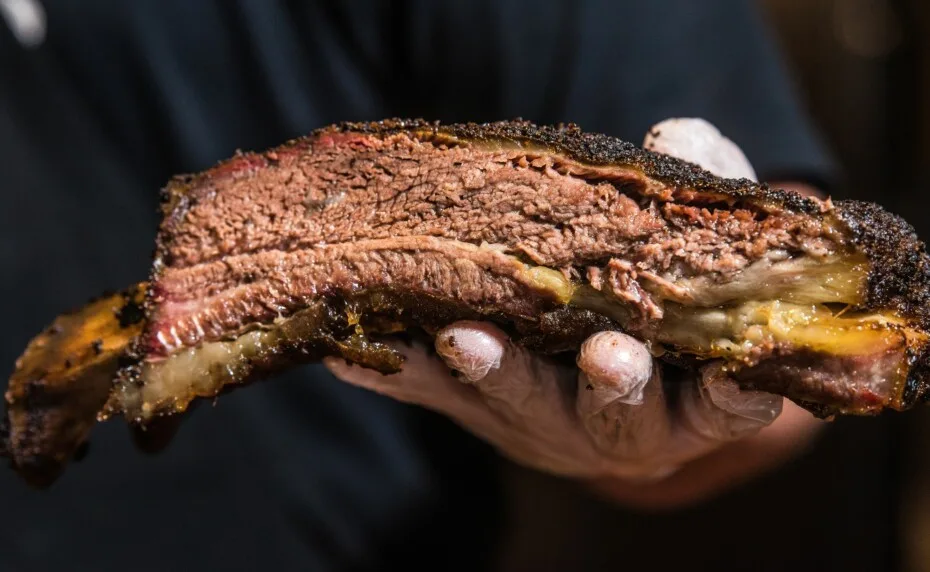 Terry Black's Barbecue is a spacious restaurant that is a casual stop for locals and travelers to get the best pit-smoked meats and homemade sides from famous 4th-generation pitmasters.
The restaurant is always crowded, especially at the weekends, no wonder it is extremely popular. They serve juicy BBQ that is spicy, crispy on top, and tender inside.
The space is huge with room to seat more than a hundred people at once and is always bustling with customers.
The Jalapeno Cheese Sausage and Beef Ribs are a must-try at Terry Black's Barbecue.
The creamed corn and Mexican rice on the side is also very delicious and compliment the BBQ meats.
1003 Barton Springs Rd, Austin, TX 78704, United States
Thursday, 11 AM –9 PM. Friday and Saturday, 11 AM –9:30 PM. Wednesday – Sunday, 11 AM –9 PM
+1 5123945899
Snow's BBQ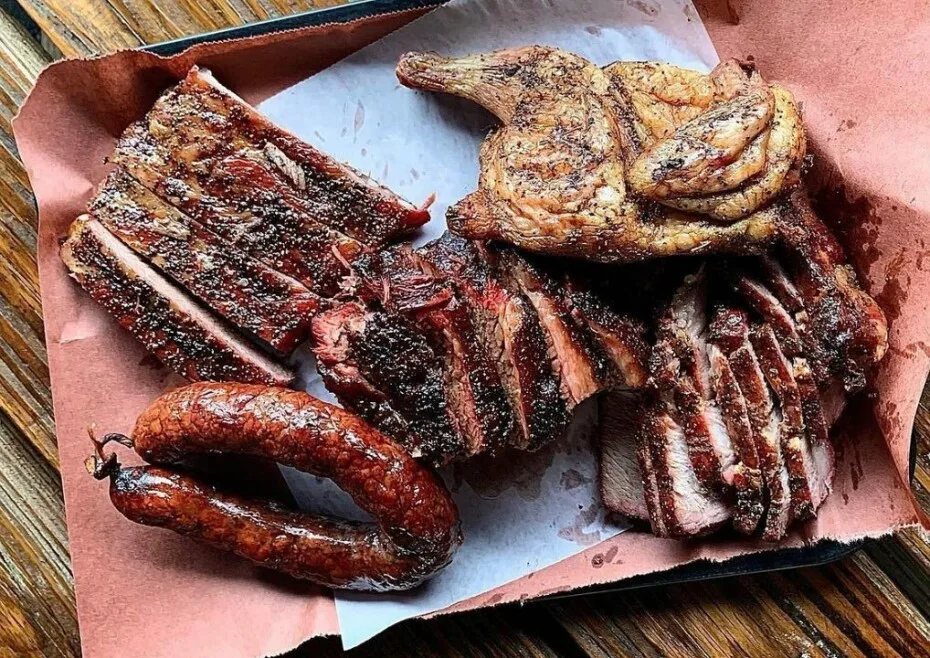 Snow's BBQ is a rural smokehouse well-known for serving acclaimed ribs, brisket, sausage, pork & chicken on Saturdays only.
The BBQ meats have the authentic North Carolinian taste, and everything on the side is simply wow. The BBQ restaurant starts at 8 AM, and that is when all the customers rush in.
The pitmaster, Ms. Tootsie, handles the pits herself with precision and a certain flare.
It is both calming and very impressive to see her adjust the flames. She also walks around and greets the customers, taking photos with them.
The place is a must-visit with friends and family who are BBQ fans and love some good traditional BBQ.
516 Main St, Lexington, TX 78947, United States
Saturday, 8 AM – 12 PM
+1 9797734640
Franklin Barbecue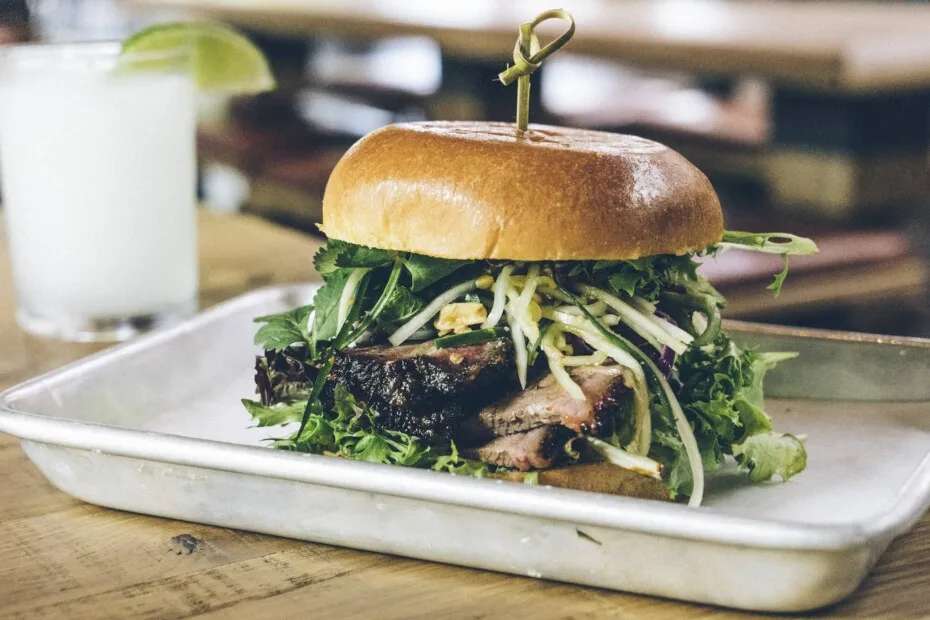 Franklin Barbecue has long lines that start early in the morning for brisket, pulled pork & other smoked meats at this bustling spot in Austin.
Early birds come to the restaurant at 7 AM and get in line to get some good food. Soon people start cracking beers and start great conversations.
You can meet some great people from all over the world.
It is recommended not to eat breakfast when you come here and get as early as you can.
The atmosphere is incredible, and everything tastes great. Prices are very affordable, and meal portions are huge.
You may end up eating lots of good food and spend a great day chatting with people. The team is also willing to show you around the smoker when you finish your meal.
900 E 11th St, Austin, TX 78702, United States
Tuesday – Wednesday, 10:30 AM –2 PM. Friday – Sunday, 10:30 AM –2 PM
+1 5126531187
Lockhart Smokehouse BBQ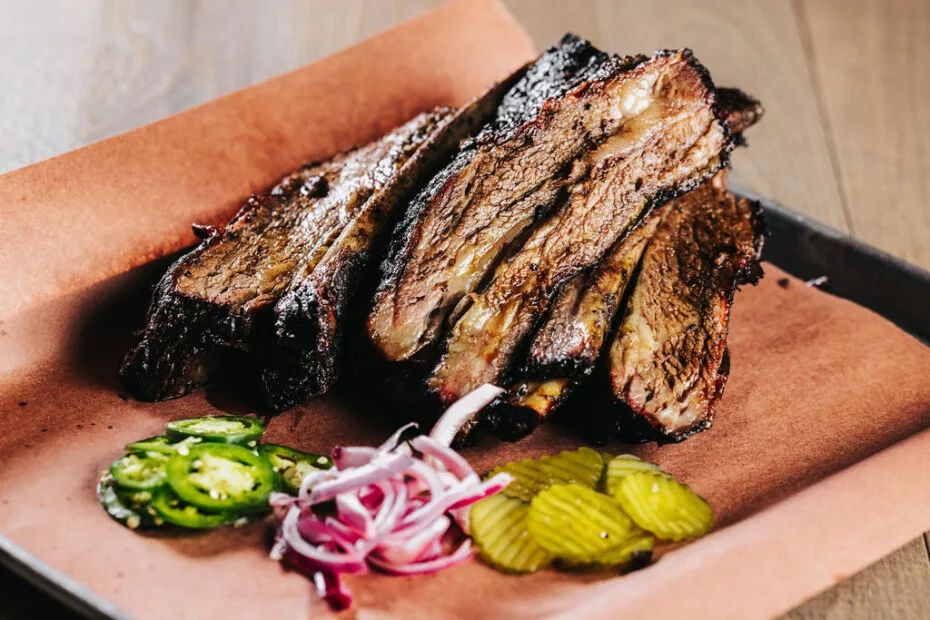 Lockhart Smokehouse BBQ is a busy counter-serve joint that serves Texas-style smoked BBQ casually on butcher paper with local beers in a laid-back setting.
The customers say the BBQ feels like Grandmas.
They have the best BBQ ribs, brisket, mac n cheese, habanero sausage, turkey, and smoked chicken. The bar has a good selection of local beers.
This is a no-frills restaurant, and everything is served casually in a simple setting, but the BBQ tastes great.
The smell in the air stays with you for the rest of the day, and if you have BBQ for lunch, the meals will keep you full for the day.
400 W Davis St, Dallas, TX 75208, United States
Monday – Thursday, 11 AM –9 PM. Friday, 11 AM –10 PM. Saturday – Sunday, 11 AM –10 PM
+1 2149445521
Tyler's Barbeque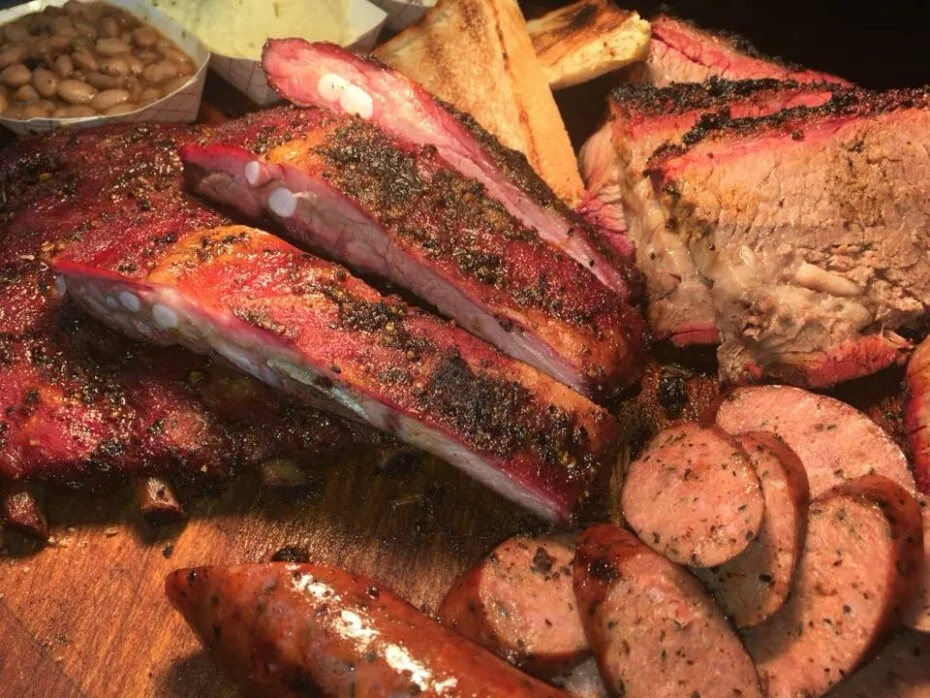 Tyler's BBQ is a little red house down the road that serves dry-rub ribs, brisket, smoked meats, and savory sides that are prepared in-house.
They run out of BBQ meat very quickly on a busy day, so getting there early or calling before heading out is recommended.
The staff makes sure that everyone is happy with their meal. The owner often comes out to check up on customers.
Try their excellent BBQ meats with their signature spicy BBQ sauce, and don't forget to order the Frito pie.
Tyler's BBQ is a must-try if you are driving across the country or traveling to Olsen Blvd.
You can meet amazing folks here, enjoy your meal and get a BBQ brisket sandwich packed to eat on the way.
3301 Olsen Blvd, Amarillo, TX 79109, United States
Tuesday – Friday, 11 AM –7 PM. Saturday, 11 AM –6 PM
+1 8063312271
Killen's Barbeque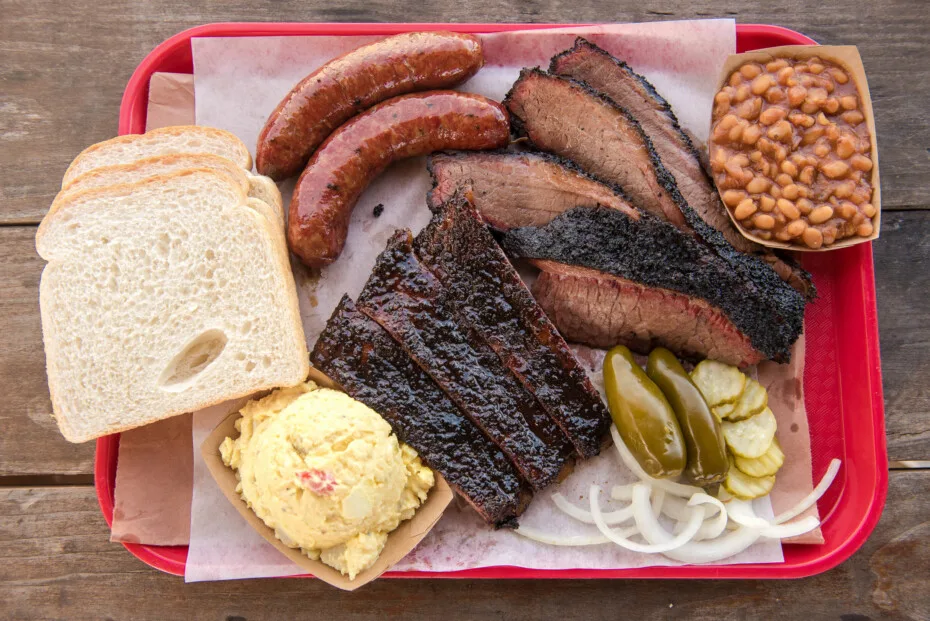 Killen's Barbeque is a smoke shack that opens on Saturday and Sunday for some special BBQ ribs and brisket. It is one of the best places in Pearland to grab BBQ meats and delicious desserts.
The pork belly burnt ends, beef ribs, and brisket are melt-in-your-mouth delicious, and the creamed corn side compliments them.
Carrot cake and bread pudding are a must-order desert. The carrot cakes are served warm and taste yummy.
When you go to Killen's Barbeque, make sure you take your appetite because of the serve BBQ by the pound.
If you want to have a great time with friends, this is one of the BBQ places that serve huge portions, perfect for a night out with friends.
3613 E Broadway St, Pearland, TX 77581, United States
Tuesday – Sunday, 11 AM –6 PM
+1 2814852272
Cattleack Barbeque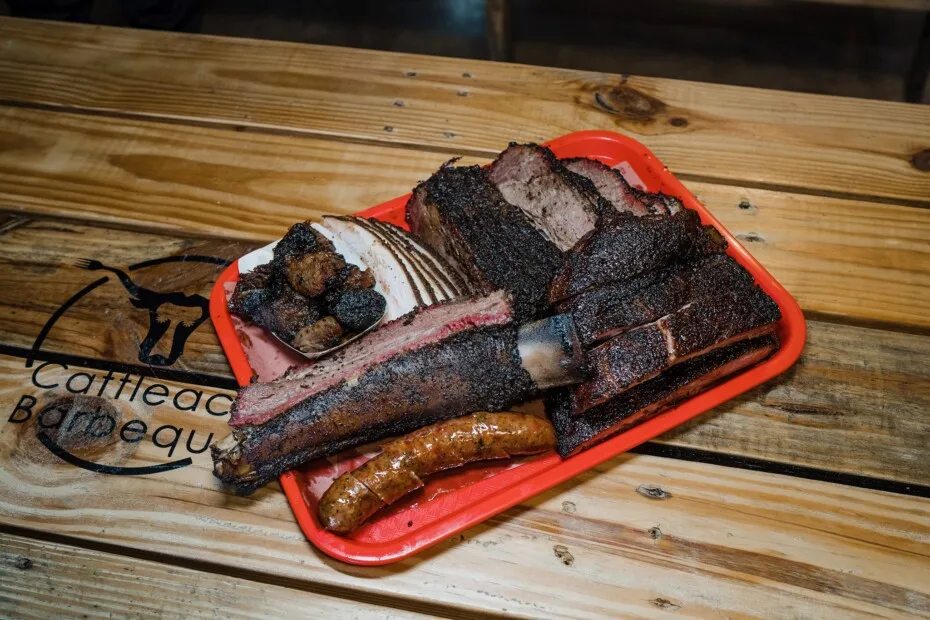 Cattleack Barbeque is a laid-back eatery that serves a variety of BBQ smoked meats for lunch on Gamma Road.
The family-owned restaurant has been around for many years, and they are only open on Thursday and Friday to serves delicious BBQ to a long line of waiting customers.
It is recommended to get there at least one hour ahead. Everything is high-quality and delicious.
If you can't decide what to try, then order the Toddzilla that lets you taste everything they have.
13628 Gamma Rd, Farmers Branch, TX 75244, United States
Monday – Thursday and Sunday, 11 AM –9 PM. Friday and Saturday, 11 AM –10 PM
+1 972 805 0999
Pecan Lodge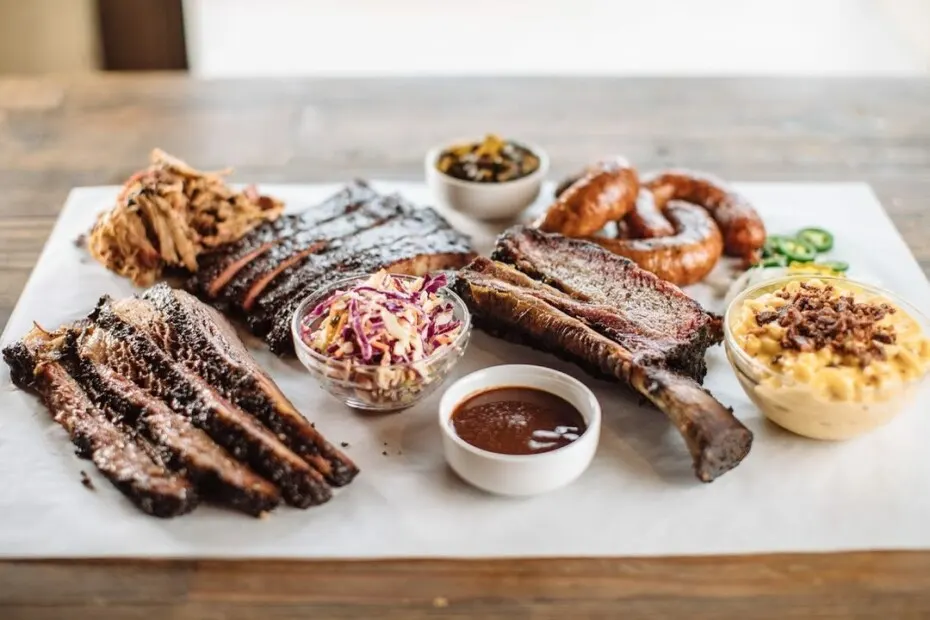 Pecan Lodge is a casual eatery serving smoked meats, sides & desserts with great beer & wine.
Pecan Lodge is one of those spots where you end up eating twice more than what you normally do because everything tastes delicious, and you are having a good time.
The brisket and Pitmaster sandwich is heavenly. However, the traffic can be a turn-off, so be prepared to struggle a little for a great BBQ later.
2702 Main St, Dallas, TX 75226, United States
Tuesday – Thursday and Sunday, 11 AM –8 PM. Friday and Saturday, 11 AM –9 PM. Monday, 11 AM –3 PM
+1 214 748 8900
Miller's Smokehouse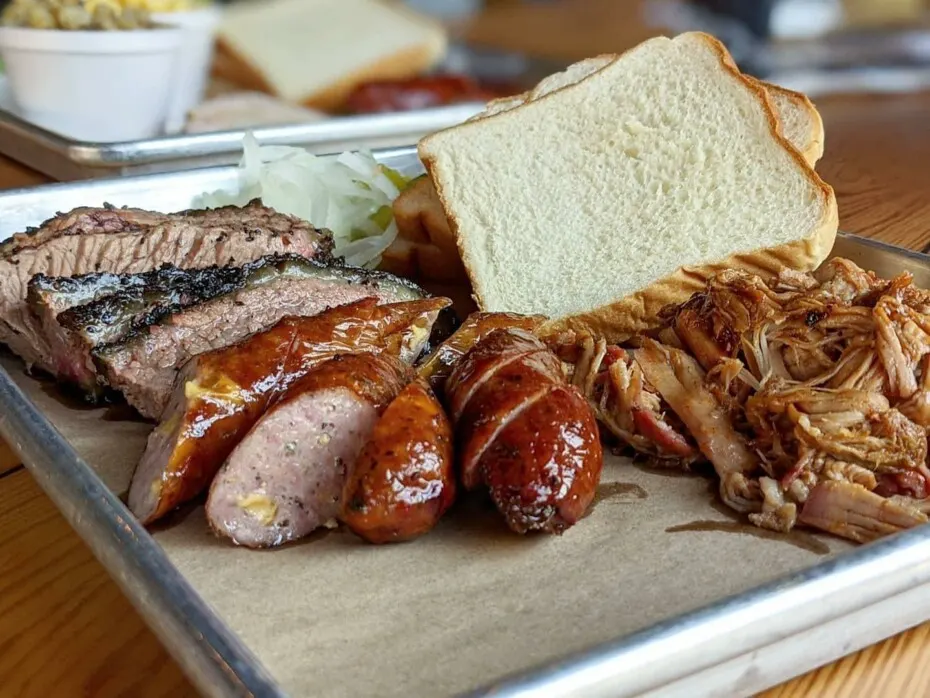 Miller's Smokehouse is a casual BBQ eatery that serves brisket, sausage & ribs with classic sides, delicious desserts & craft beer.
The BBQ meats taste amazing, and they often run out of them quickly. Everything tastes great, the sides are fresh and delicious as always.
The buttermilk pie, sopapilla cheesecake, and banana pudding are delicious desserts.
300 E Central Ave, Belton, TX 76513, United States
Friday – Saturday, 7:30 AM –8 PM. Monday – Sunday, 7:30 AM –3 PM
+1 2549395500
Hard Eight BBQ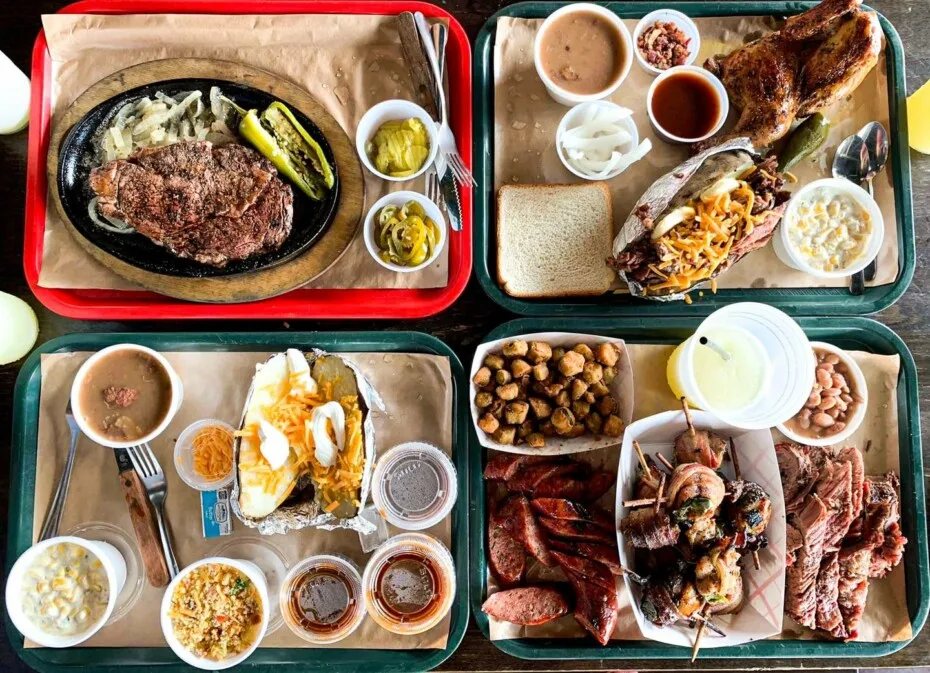 Hard Eight BBQ has a varied selection of BBQ meats, and everything tastes delicious.
It is recommended to try the BBQ brisket and pulled pork. The shrimps and ribs also taste delicious.
The meat comes out in huge portions. If the weather is nice, ask for outdoor seating, and you'll love the experience.
5300 TX-121, The Colony, TX 75056, United States
Monday – Thursday and Sunday, 10:30 AM –9 PM. Friday and Saturday, 10:30 AM –10 PM
+1 972 625 8888
Rejino Barbecue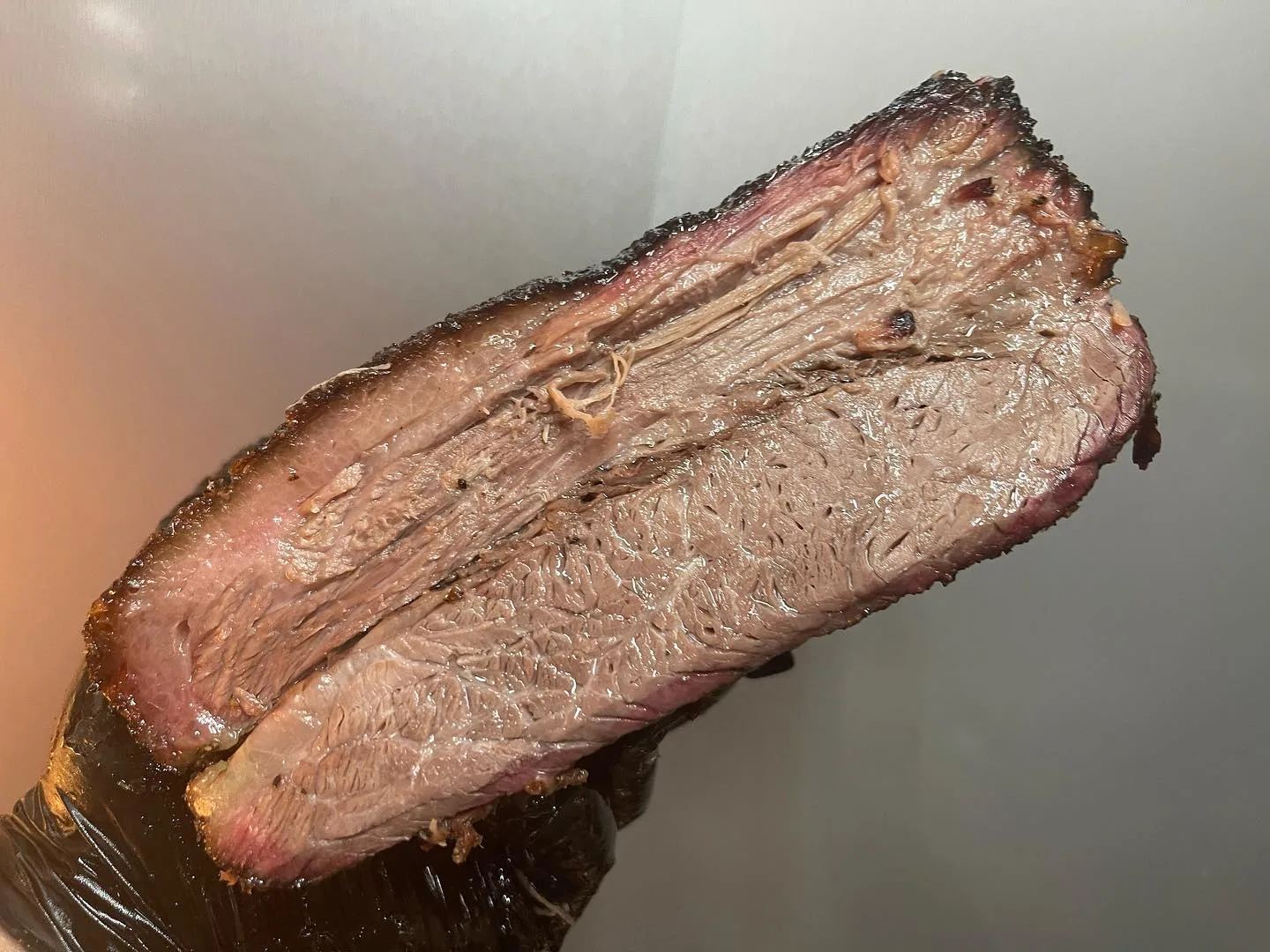 Rejino Barbeque only opened in 2017, but once you taste their cooking, you'll agree that age is just a number.
They have both a mobile trailer and a permanent location with an outdoor seating area, good music, and friendly vibes – a great weekend hangout spot for cold drinks and juicy barbeque.
Their menu features meats by the pound, plate, and a variety of fully loaded sandwiches.
Fan favorites include their tender brisket, smokey pulled pork, and the "Monster Potato" – baked potato topped with meat, ribs, and a jalapeno popper.
If you've got space, finish off with their pecan cream pie.
514 8th St, Olton, TX 79064
Thursday-Saturday 11-5 PM
+1 806-200-0810
Burnt Bean Co.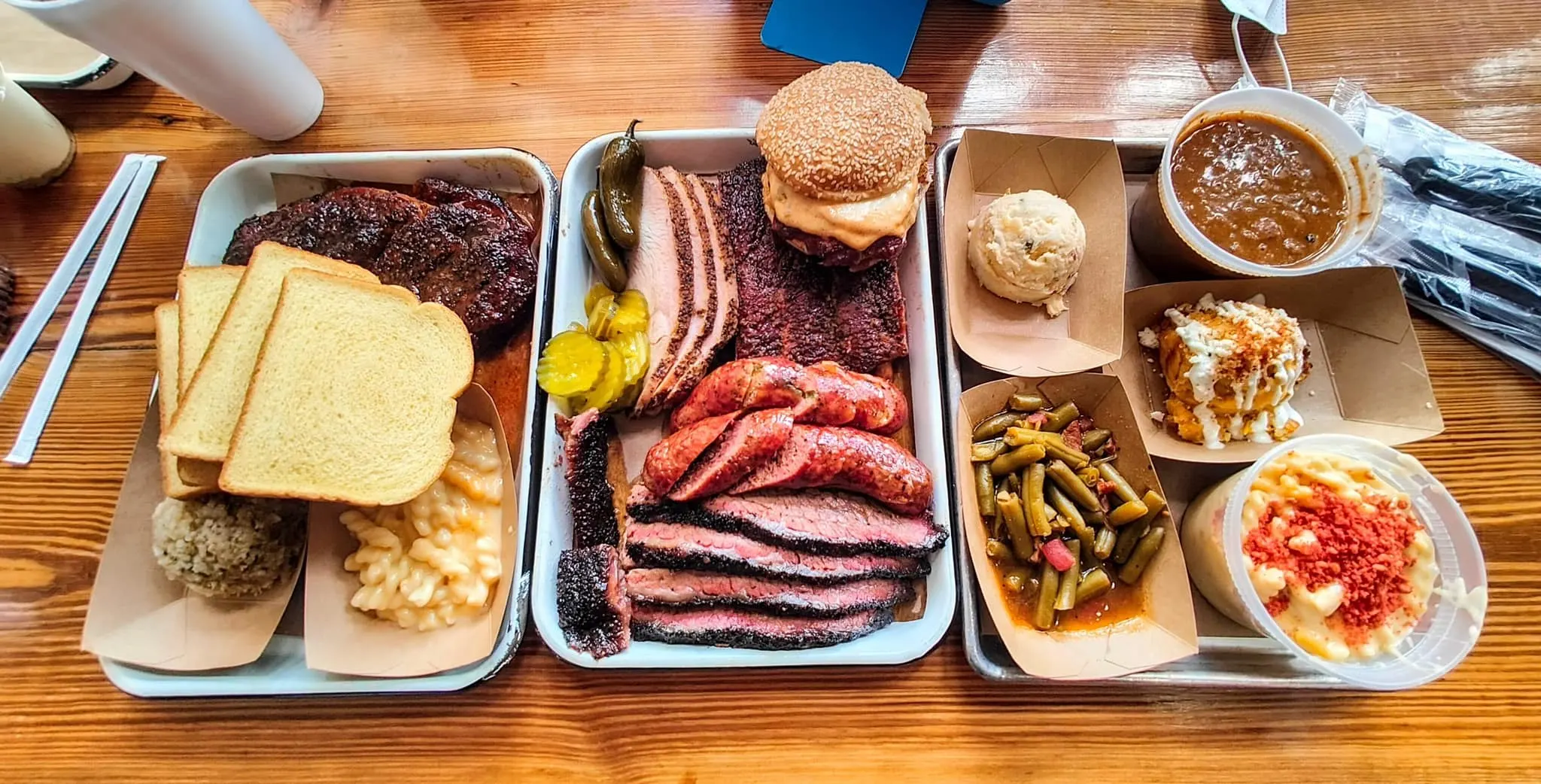 Folks at Burnt Bean Co. joke about being mistaken for a coffee shop, but they get down to some serious barbeque business.
Pitmasters Ernest "The Pope of BBQ"Servantes and Dave "Super Dave" Kirkland offers an inventive menu of BBQ classics with a twist.
Tender brisket or jalapeno cheddar sausage star alongside sides like hot Cheeto queso mac and famous bacon ranch taters.
A weekend-only and Sunday breakfast menu kicks it up a notch with their Brisket Huevos Rancheros, or the "Hangover" – tortillas, Menudo, and a pound of barbacoa. Get there early!
108 S Austin St, Seguin, TX 78155
Thursday-Sunday 8 AM-3 PM
Panther City BBQ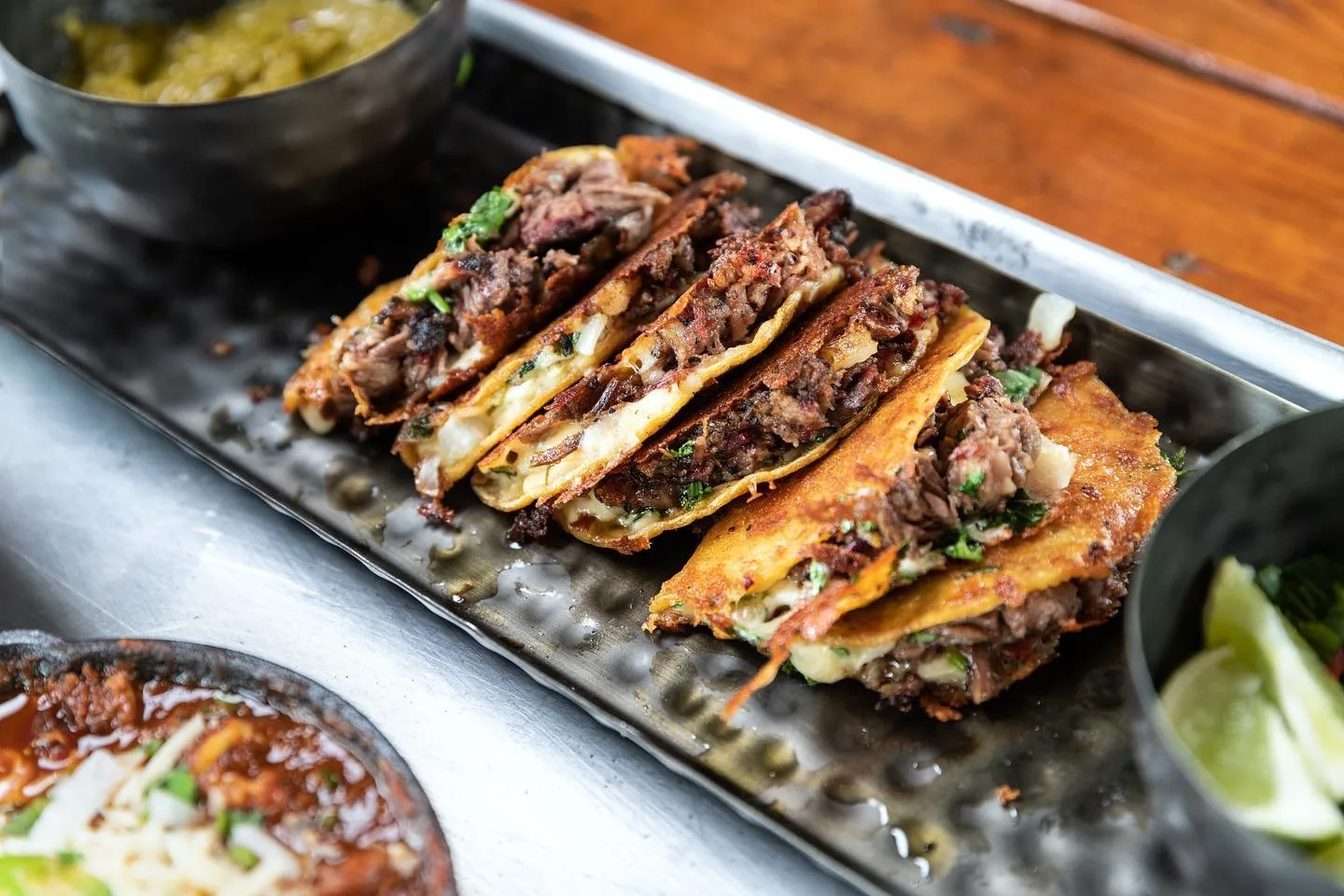 Panther City BBQ has been a Fort Worth favorite since 2014, serving up oak-smoked meats in a relaxed outdoor setting.
Black Angus Prime Brisket is the star here, but everything is smokey-delicious and pairs perfectly with classic sides like creamed corn and collard greens.
Don't skip their famous pork belly poppers, either – pork belly and cream cheese stuffed into half a jalapeno, wrapped in bacon, and smoked one more time.
You'll be planning your second visit after the first bite.
201 E Hattie St, Fort Worth, TX 76104
Thursday-Sunday 11 AM-7 PM
+1 682-499-5618
Hurtado Barbecue
Starting out with food trucks and pop-ups, Hurtado set up a permanent location in downtown Arlington in 2020.
Open 7 days a week, this Tex-Mex BBQ has people lining out the door for their succulent, slow-cooked meats. Try the Texas Trinity platter or the El Jefe, which adds on pulled pork and burnt ends.
Elotes and Poblano Mac n' Cheese add Mexican flair, while Twinkies and Cornbread keep it local.
Their Arlington location is a great place to grab a cold beer and chow down on some great barbecue.
205 E Front St, Arlington, TX 76010
Daily 11 AM-5 PM
+1 682-323-5141
Blood Bros. BBQ
Started by 3 childhood friends, the global flavors incorporated at Blood Bros BBQ set this Houston BBQ apart from the rest.
The features are mouth-watering, from Thit Nuong Pork Belly Banh Mi to Guava Glazed Pork Ribs and Devil Dust Chicharonnes.
Brisket, jalapeno cheddar sausage, and pulled pork are all equally impressive, served alongside fan-favorites like brisket fried rice, potato salad, or even some of their refreshing watermelon salad for a change.
5425 Bellaire Blvd, Bellaire, TX 77401
Wednesday-Sunday 11 AM to sellout
+1 713-664-7776
LJ's BBQ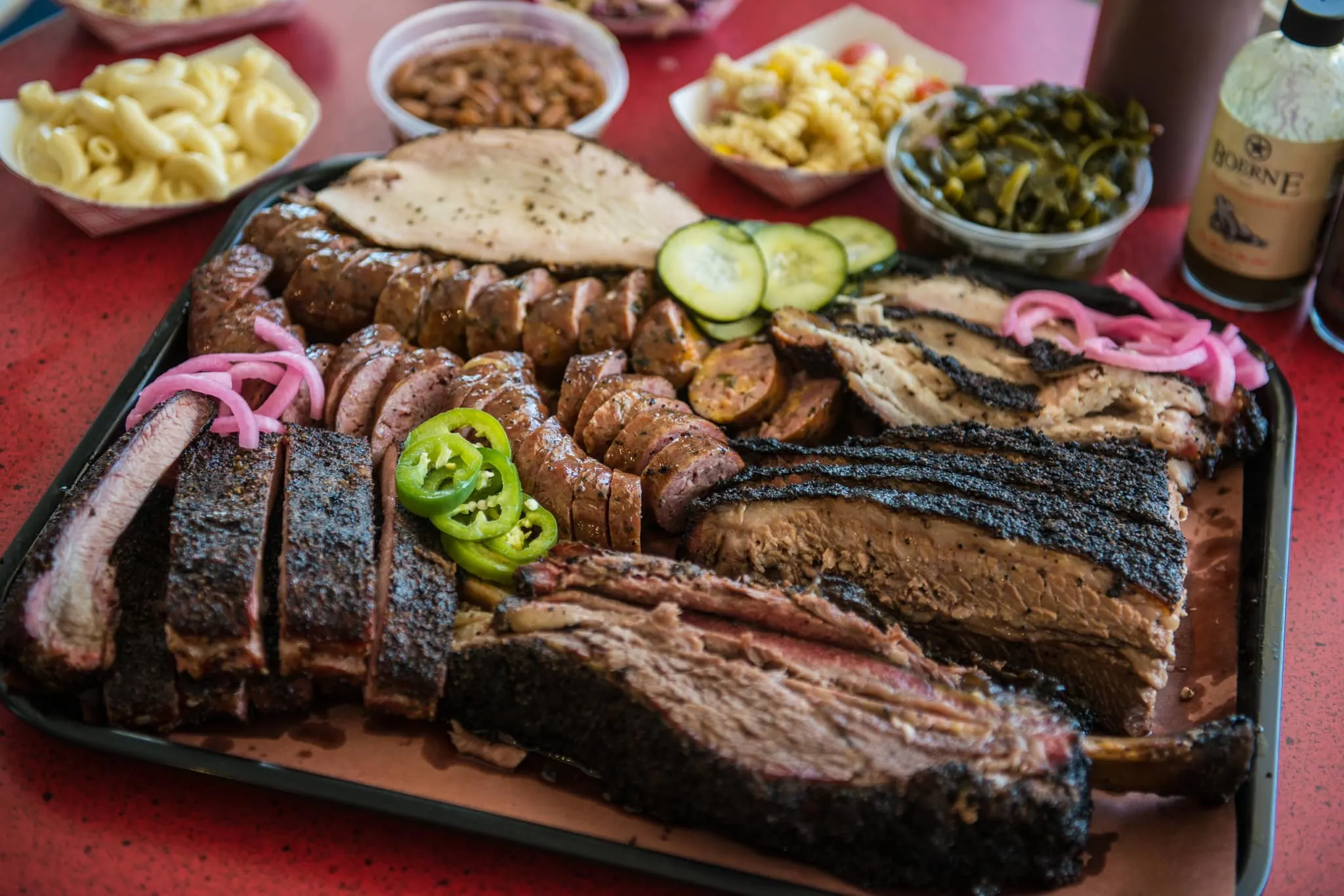 Pretty plain from the outside, you might think LJ's looks like nothing special – but you'd be dead wrong. The focus is on delicious meats and comforting sides – no extra frills required.
Regulars will attest its smoked turkey is the best around, and they've also got mouth-watering brisket, sausage, ribs, and more.
Enjoy with buttermilk & bacon potato salad and collard greens, or dig into their legendary mac 'n' cheese. This low-key joint is a family-friendly spot and well worth the trip to Brenham.
1407 W Main St, Brenham, TX 77833
Wednesday-Saturday 11 AM-3 PM
+1 979-421-8292
Evie Mae's Pit Barbeque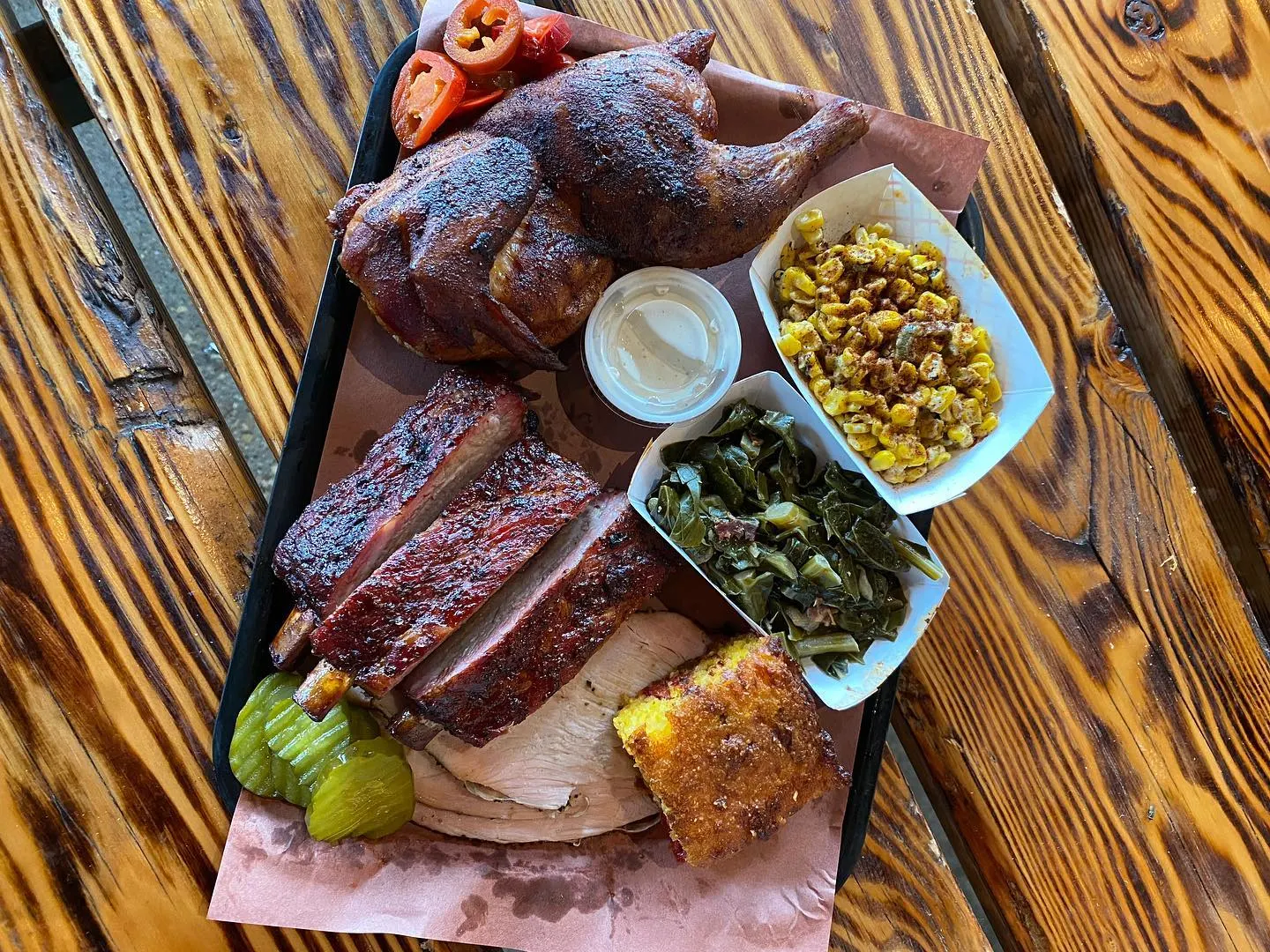 A family-run business, Evie Mae's, began with a homemade smoker and a mission to create gluten-free meals.
Now a clean, spacious permanent location with indoor picnic seating, they have a full BBQ menu and dedicated followers.
True to their original mission, most items here are gluten-free. Their tender ribs, perfectly seasoned brisket, and burnt ends will quickly explain why there's a lineup outside well before they even open.
Try out their green chile cheese grits and jalapeno cornbread, and save space for daily desserts like the sweet potato pie.
217 US-62, Wolfforth, TX 79382
Wednesday-Saturday 11 AM to sellout
+1 806-782-2281
Vera's Backyard Bar-B-Que
Vera's has been around for 65+ years and has some unusual bragging rights: they're the only restaurant in Texas still licensed to pit-cook cow head barbacoa.
Pitmaster Armando "Mando" Vera is dedicated to the art of barbacoa, introducing customers to cow tongue, cheek, and the ultimate delicacy: the eye.
Wrapped up in corn or flour tortillas and topped with your choice of house-made salsas and pico de gallo, these rich dishes are literally one-of-a-kind in Texas.
2404 Southmost Rd, Brownsville, TX 78521
Friday 6AM-2PM; Saturday & Sunday 5AM-2:30PM
+1 956-546-4159
Truth Barbeque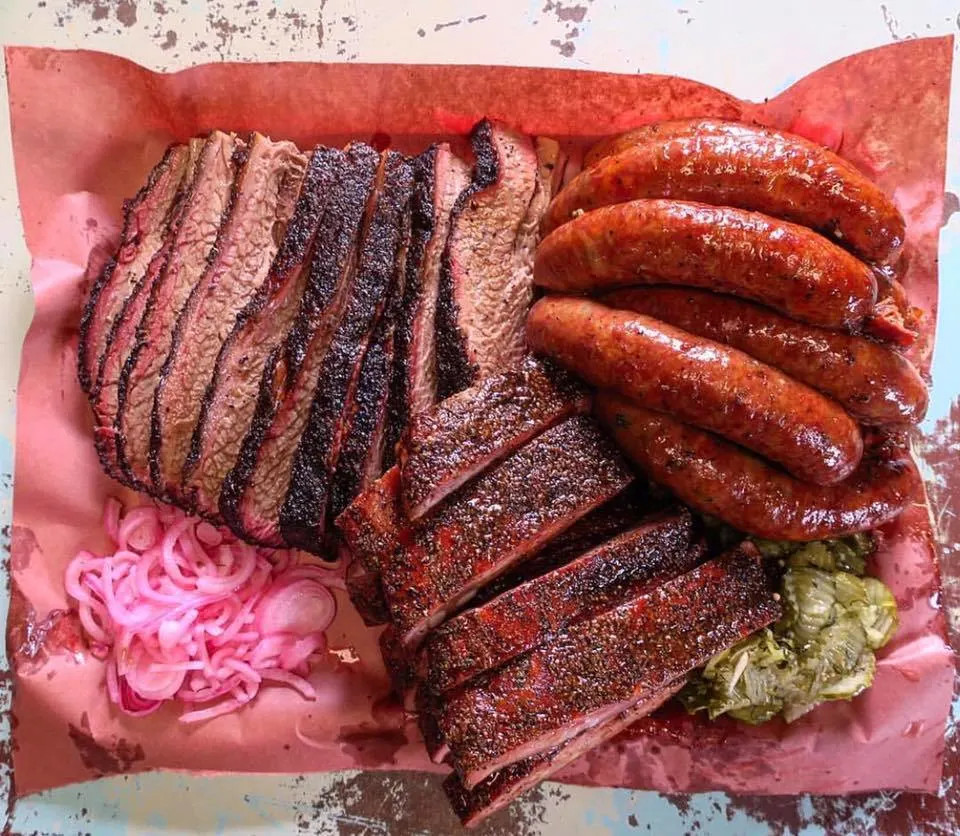 Since 2017, Truth's Pitmaster and owner Leonard Botello IV has brought his technique for perfect Central Texas-style barbeque to the table.
Committed to top-quality eats, everything is made fresh daily in-house at their laid-back location.
The brisket is what really put Truth on the map – smoky, perfectly peppered, and downright delicious. Side options include popular tater tot casserole, corn pudding, and potato salad.
Botello also shakes it up with items like Carolina Whole Hog (Saturdays only), Brisket Boudin, and an offering of truthfully tasty desserts.
110 S Heights Blvd, Houston TX 77007
Tuesday-Sunday 11 AM to sellout
+1 832-835-0001
Interstellar BBQ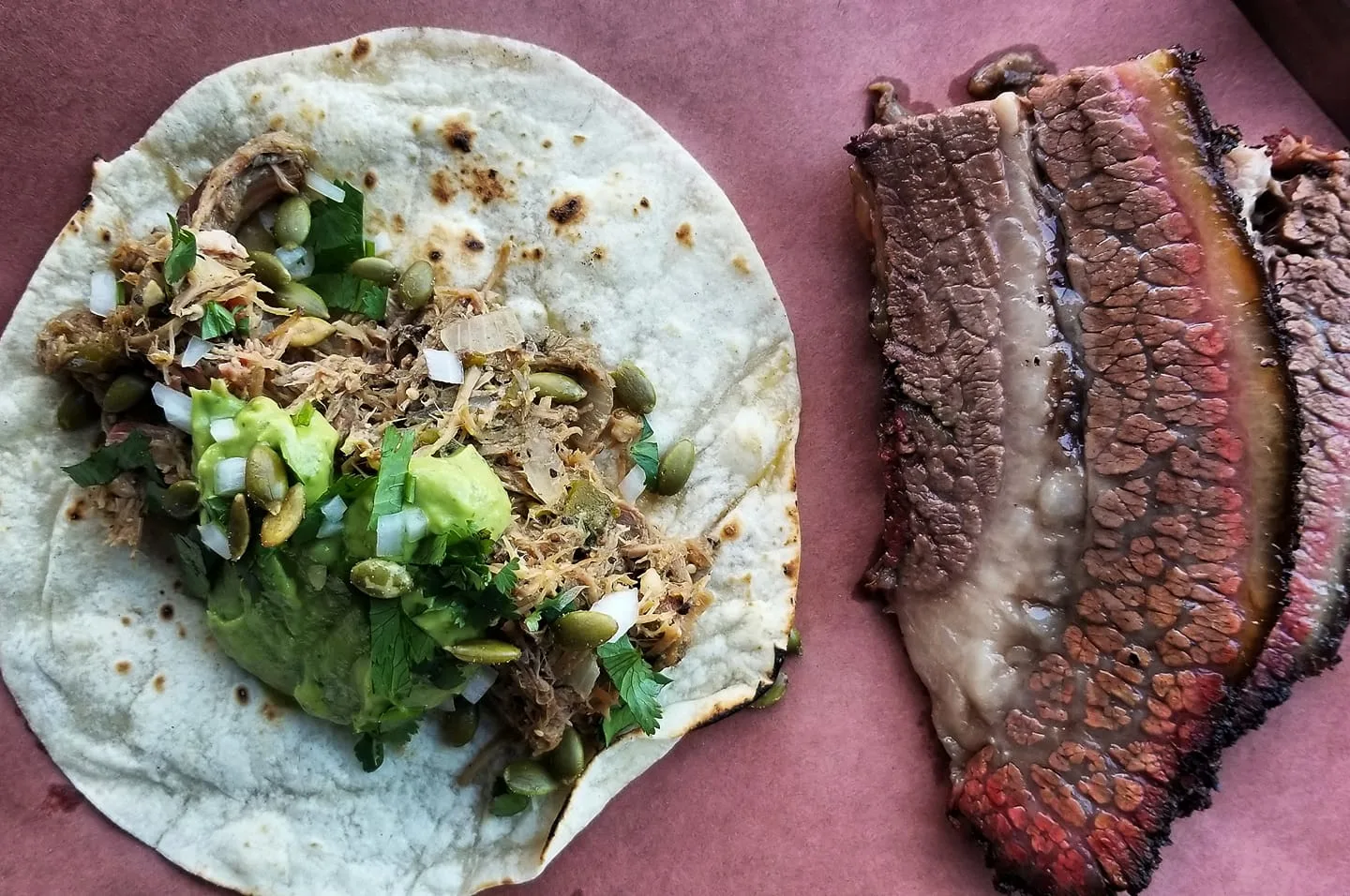 InterStellar is King of the long game – one batch at a time, low and slow tilit's perfect.
As the name implies, the food is out-of-this-world delicious, with their moist, fall-apart brisket getting high praise.
They also offer juicy jalapeno popper sausage, ribs, beef kielbasa, pulled pork, and turkey.
BBQ beans are complimentary with every plate, with add-on sides like jalapeno slaw or the highly addictive smoked scallop potatoes.
Bonus feature: free beer in the line while you wait.
12233 Ranch Road 620 N, Suit 105, Austin TX 78750
Wednesday-Sunday – 11 AM to sellout
+1 512 382-6248
Goldee's Barbecue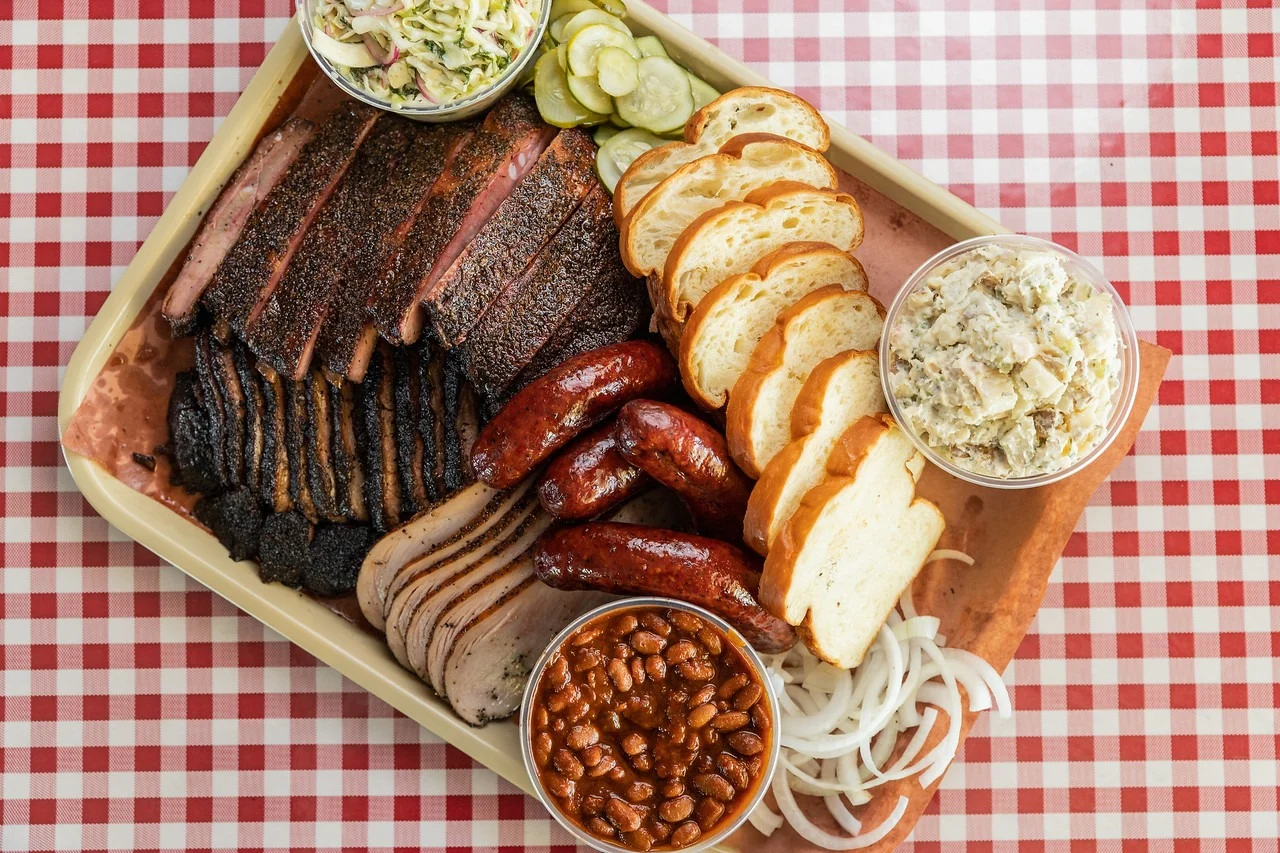 Goldee's Barbecue keeps it clean and simple with everything they do, from its straightforward menu to minimal decor.
Service here is quick and friendly, with a focus on ensuring customer satisfaction. Three of the 5 owners have trained with some of the best pitmasters since 2013 – and it shows.
Their flavorful turkey is some of the best around, and the smokey brisket gets bonus points for its tenderness.
Sides like fluffy bread by the loaf, pinto beans, and jalapeno cheese grits only make it better – and their banana pudding is the cherry on top.
4645 Dick Price Road, Fort Worth, TX 76140
Friday-Sunday 11 AM-3 PM
Leroy & Lewis Barbecue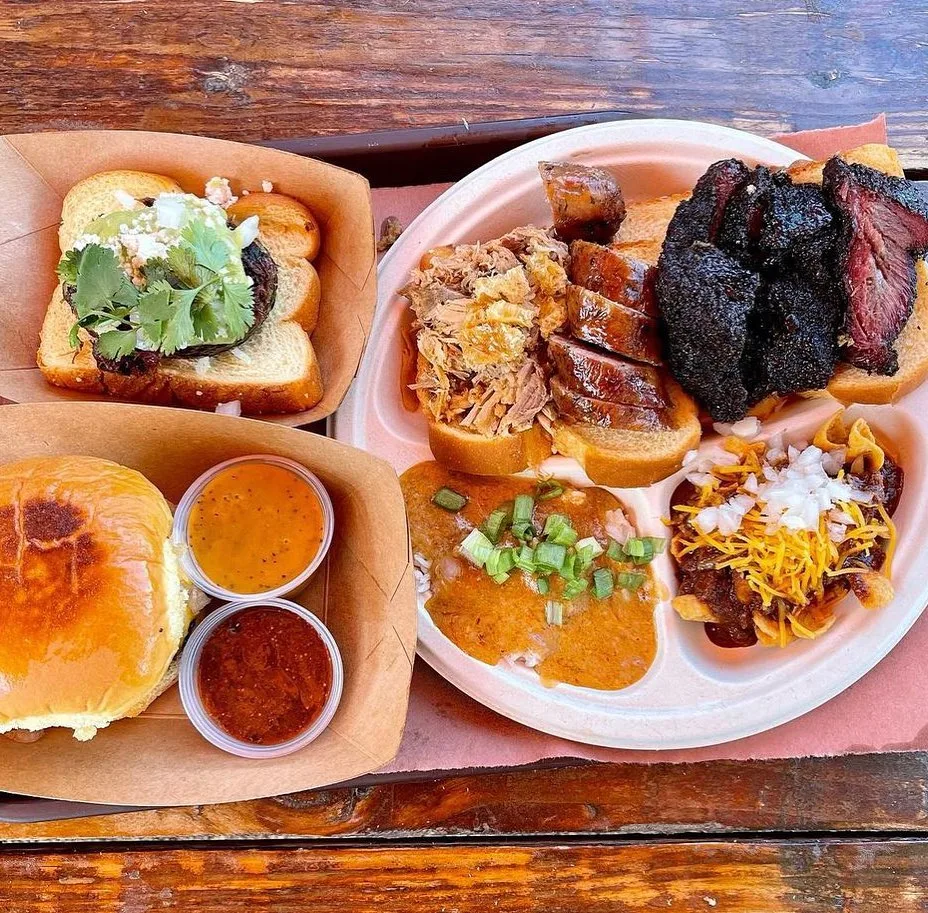 Leroy & Lewis pride themselves on inventive "New School Barbecue" with a focus on sourcing meat and produce from local ranches and farms.
Their menu features Akaushi Brisket and tender Beef Cheeks, alongside some innovative options like the house-made Kimchi or their "Barbacado" – 1/2 an avocado topped with barbacoa and the fixings.
Commitment to quality brings repeat customers, and pitmaster Evan LeRoy always has something new and inventive in the works.
Perfect for weekend hangouts, their food truck is parked in a spacious outdoor area with picnic tables and shade.
121 Pickle Rd, Austin, Texas 78704
Wednesday-Sunday 11 AM-9 PM
+1 512-945-9882
Convenience West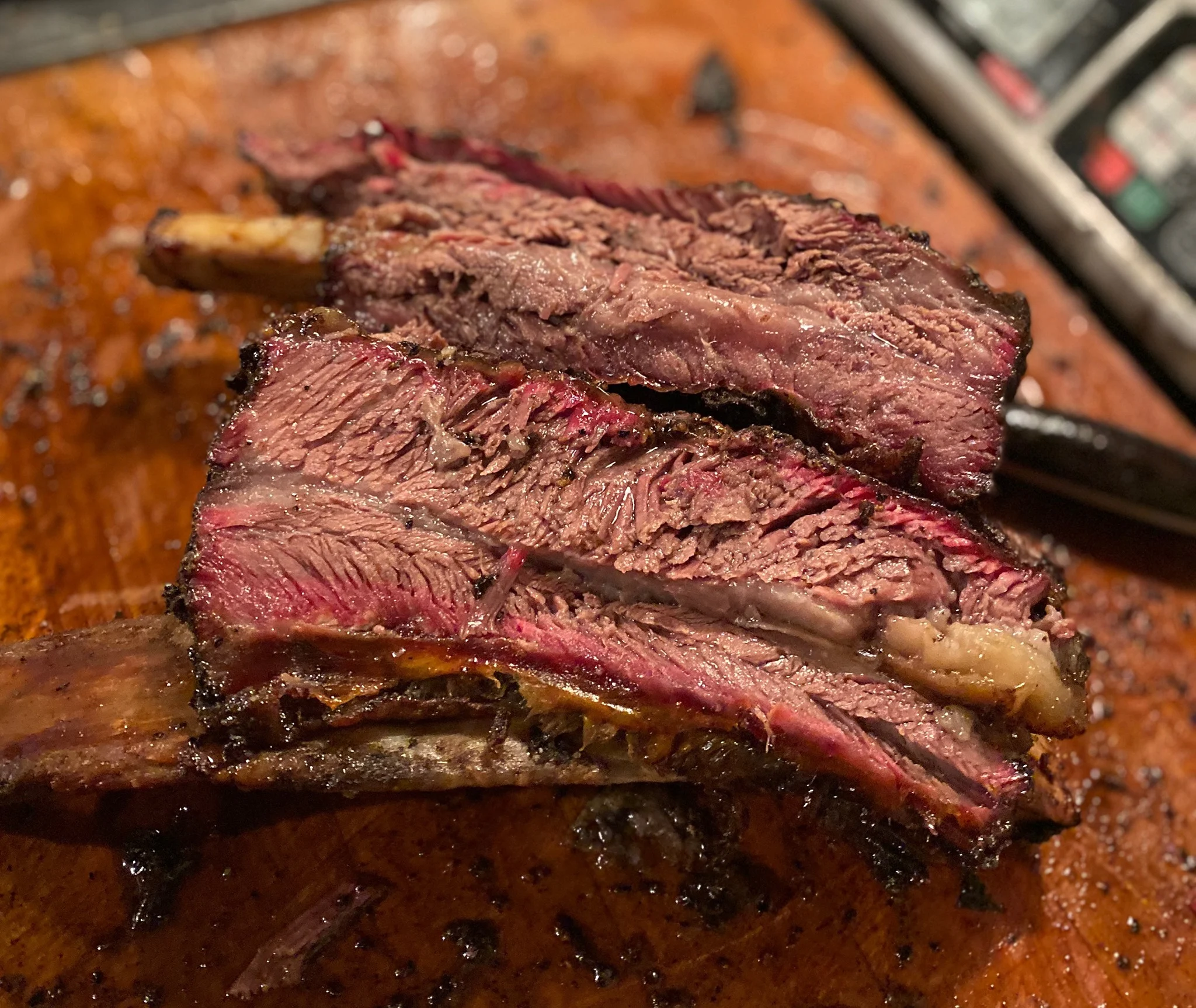 For a Far West Texas BBQ fix, Convenience West is the only way to go.
This gas station turned restaurant is known for its juicy chicken, tender brisket, and some tasty, inventive dishes and sides.
Flavor and freshness are top-notch here, so try out gems like brisket tacos with sour cream and fresh cilantro or their hearty sausage Frito pie.
One of their most famous sides is the delicious Fire Roasted Carrot Dip, served with Fritos for scooping. Eat outside in booth seating, or order ahead and enjoy your BBQ to go.
1411 West San Antonio Street, Marfa, TX 79843
Friday & Saturday 5 PM to Sellout
La Barbecue
Specializing in Central Texas BBQ, La Barbecue owner LeAnn Mueller focuses on savory rubs and locally sourced meats cooked patiently for 16 hours.
Brisket, ribs, and pulled pork are crowd-pleasers, alongside their comforting brisket chili and a long list of loaded sandwiches.
LeAnn's dad Bobby is the OG of this joint, and the Bobby Dawg is a tribute to him: jalapeno sausage, brisket, beans, Cheese, mustard, and more piled onto a fresh hotdog bun.
2401 E Cesar Chavez, Austin TX 78702
Wednesday-Sunday 11 AM-6 PM
+1 512-605-9696
Teddy's Barbecue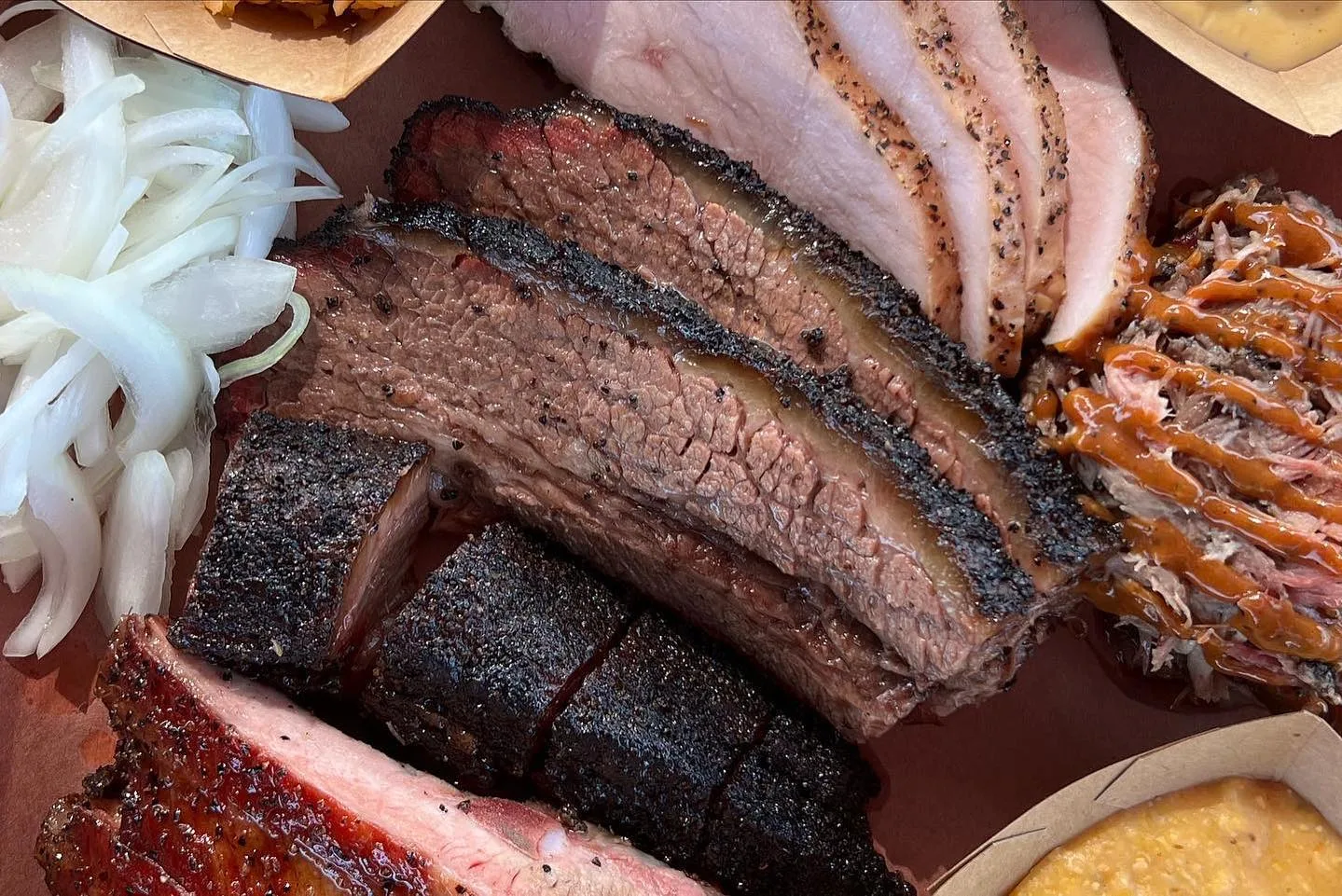 Another well-known favorite, Teddy's Barbecue, is run by pitmasters Paul Rios and brothers Joel & Jesse Garcia.
Their indoor location is relaxed and welcoming, with daily specials to keep it interesting. Everyday options that top the must-try list include sliced pork belly, moist or lean brisket, and juicy jalapeno sausage.
Wrapped up in fresh homemade flour tortillas is best– get 'em before they're gone.
2807 Texas Boulevard North, Weslaco, TX 785596
Thursday-Saturday 11 AM-4 PM; Sunday 8 AM-2 PM
+1 956-532-6124
You might also be interested in: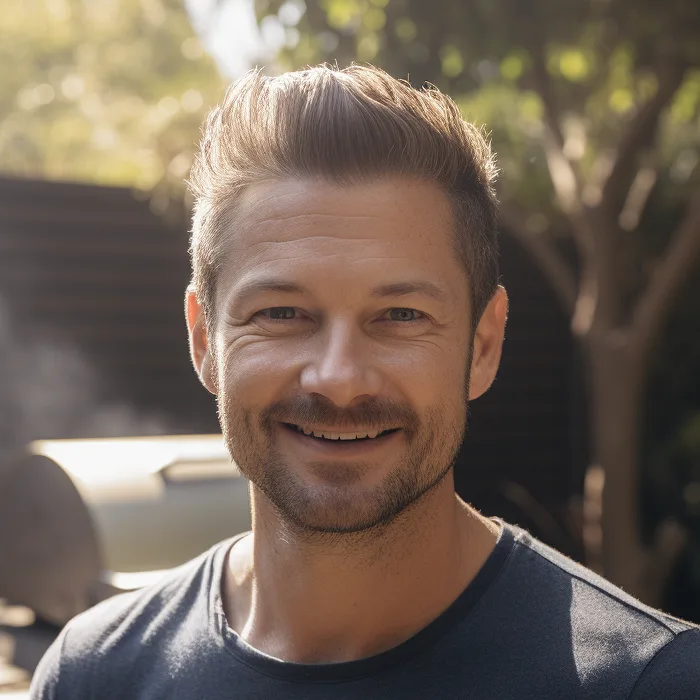 I have been smoking and grilling meat from an early age and enjoy sharing my knowledge and expertise through the hundreds of articles I have written about BBQ. I hope to make everyone's BBQ journey that little bit easier.