Although North Carolina is known for its serene beaches and luscious strawberry farms, many people forget that this state serves some of the best BBQ in the entire country.
Half of the state has a different BBQ style with a thin vinegar sauce, while the other half prefers a ketchup-based sauce giving it a sweet and sour kick.
If you're in the state for some good BBQ, here is our list of the top 10 best BBQ in North Carolina that you should visit.
Best BBQ in North Carolina
The Skylight Inn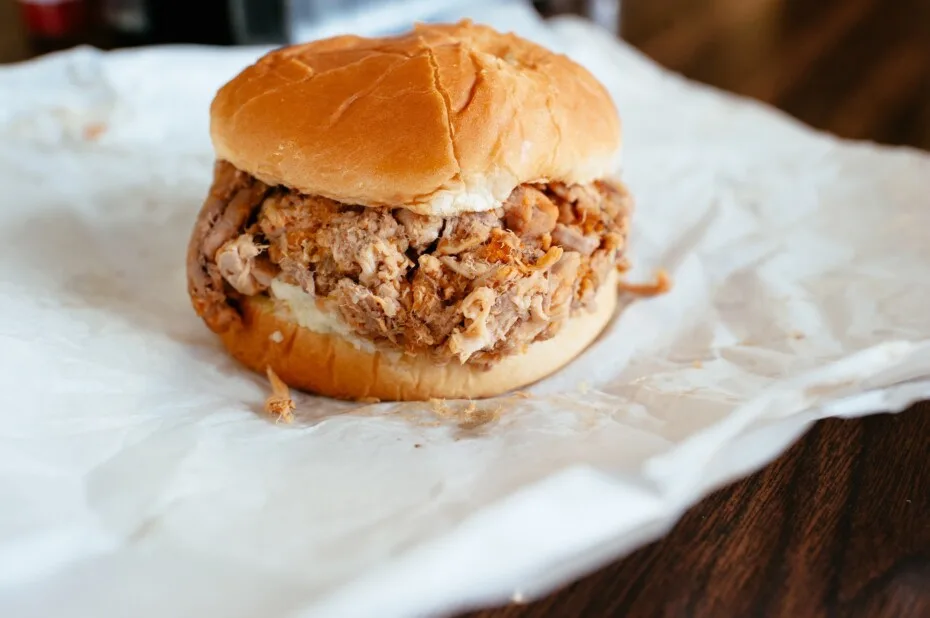 The Skylight Inn is one of the oldest BBQ joints in North Carolina. It was established in 1947.
The no-frills setup seats hundreds of people and sells authentic Carolina-style BBQ and classics on Lee St, in Ayden.
The East-cackalacky style BBQ meat is marinated in vinegar pepper sauce. The whole hog BBQ and burnt ends that have bits of crispy skin taste great.
The place is popular among locals and is also bustling with tourists.
4618 Lee St, Ayden, NC 28513, United States
Monday – Saturday, 10 AM – 7 PM
+1 252 746 4113
Red Bridges Barbecue Lodges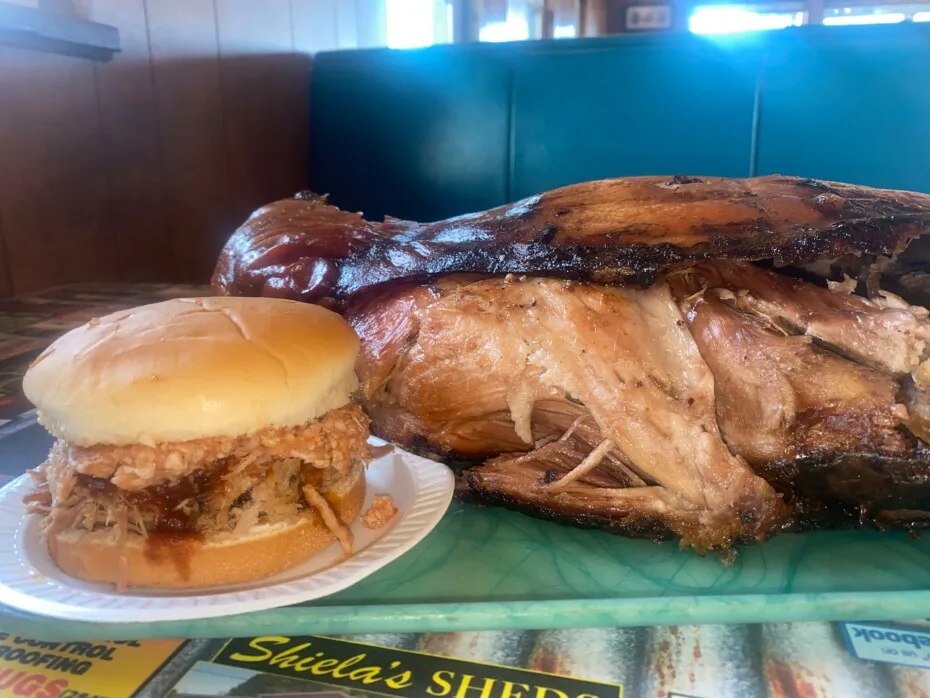 Red Bridges Barbecue Lodges is a venerable restaurant that serves pit smokes BBQ meats with excellent sides, such as its iconic hush puppies.
The history of this BBQ joint dates back to 1960.
For so many years, this place has earned a reputation for serving Carolina-style BBQ that is served with a smile.
The wait staff is friendly and keeps a check on you.
They keep the sweet tea flowing and give the best service you can ask for, even when the establishment is exceptionally busy.
The meals come in huge portions, and they ask you to pack your food for a takeaway before you even ask.
The atmosphere is old, and people are very humble. The interior feels like it hasn't changed much since the '60s.
The perfect place to have lunch or dinner if you want some good old BBQ and spend some quality time with family or friends.
2000 E Dixon Blvd, Shelby, NC 28150, United States
Wednesday – Saturday, 11 AM –7 PM. Sunday, 11 AM –3 PM
+1 704 482 8567
Parker's Barbeque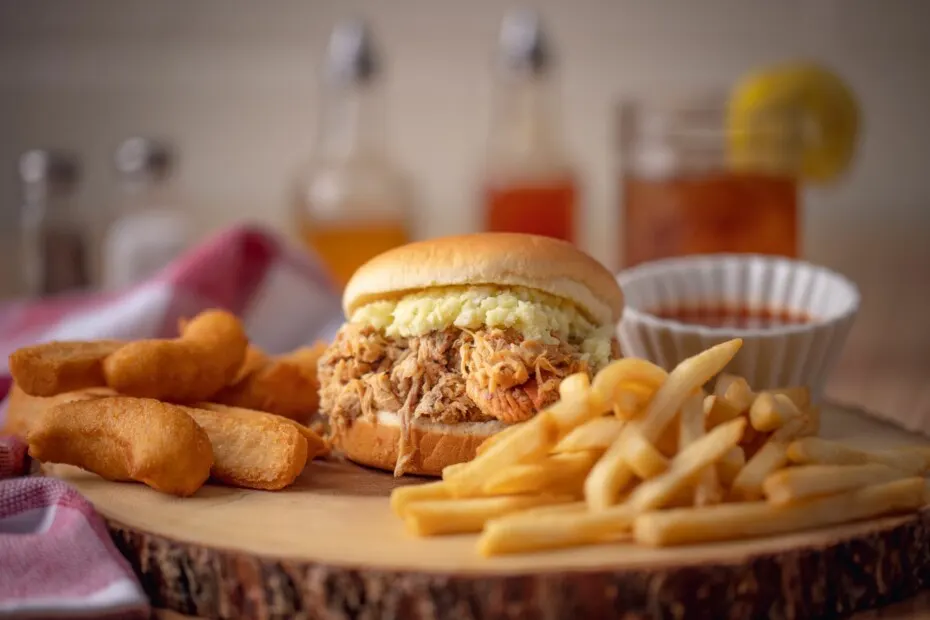 Parker's Barbeque is a no-frills hub to find North Carolina-style BBQ meats, seafood, and smoked chicken in family-style large portions.
The customers say that Parker's BBQ also serves the best-fried chicken they have ever eaten.
The vinegar-based sauce marinated brisket and ribs are cooked in wooden smokers for long hours, giving it its authentic NC flavor and smell.
The buffalo wings also taste delicious with Bleu cheese dressing.
The prices are very reasonable, and the food tastes like home cooking. The food is carried out almost instantly.
They ask you if you want to take away the cold leftovers to freeze them when you go home.
2514 US-301, Wilson, NC 27893, United States
Monday – Sunday, 9 AM –7 PM
+1 252 237 0972
Haywood Smokehouse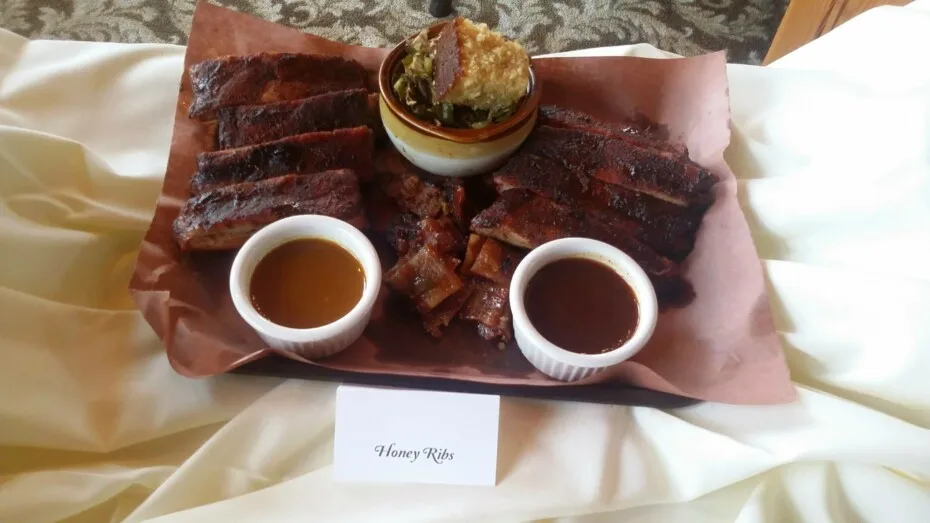 Haywood Smokehouse has been selling St. Louis style BBQ ribs, succulent pulled pork, and moist brisket the same way for years.
The taste is delicious and exceptional every time. Haywood Smokehouse makes you feel like you are in Texas.
A smoked turkey is also a delicious option. Unfortunately, they run out of BBQ meats quickly, so calling before going for a meal is recommended.
The strawberry chipotle sauce tastes great with food and is a must-try with BBQ meat.
403 Haywood Rd, Dillsboro, NC 28725, United States
Wednesday – Saturday, 11 AM –8 PM
+1 8286319797
The Pit Authentic Barbeque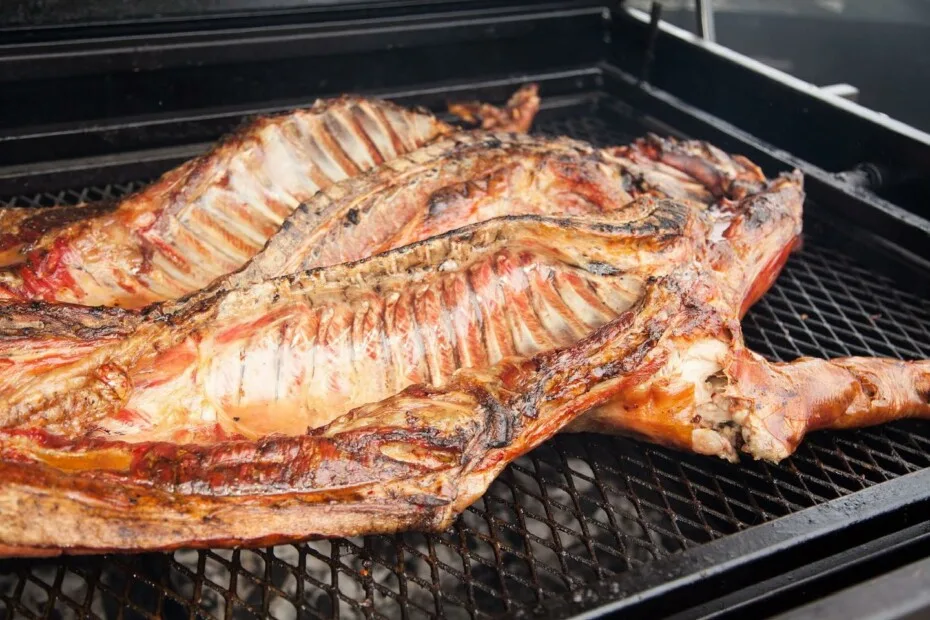 The Pit Authentic Barbeque serves pit-smoked free-range pork and Texas-style brisket with classic staples on a butcher paper in a laid-back setting.
For a casual day out, this place has everything a BBQ fan needs.
The local farms support their magical food. They have local spirits options and gourmet desserts on their menu as well.
The service is very fast, and the wait staff is friendly.
The traffic outside gets busy, so they offer free valet parking right out front.
328 W Davie St, Raleigh, NC 27601, United States
Friday and Saturday, 11 AM –10 PM. Sunday – Thursday, 11 AM –9 PM
+1 919 890 4500
Smokey's BBQ Shack
Smokey's BBQ Shack is a no-nonsense spot that serves BBQ platters & sandwiches with Southern sides. It is one of the best BBQ places located in the Triangle.
The staff is friendly, has a good sense of humor, and they make your day.
The food comes out quickly, even when the restaurant is busy. The taste is consistently delicious, which is the reason why the locals love this place so much.
The place has an iconic 'hole in the wall' atmosphere that is casual and fun.
Ask to be seated on picnic tables in the back if the weather is nice.
Try to get there early for lunch because the place gets filled up quite quickly.
10800 Chapel Hill Rd, Morrisville, NC 27560, United States
Tuesday – Saturday, 11 AM –3 PM
+1 9194691724
Backyard BBQ Pit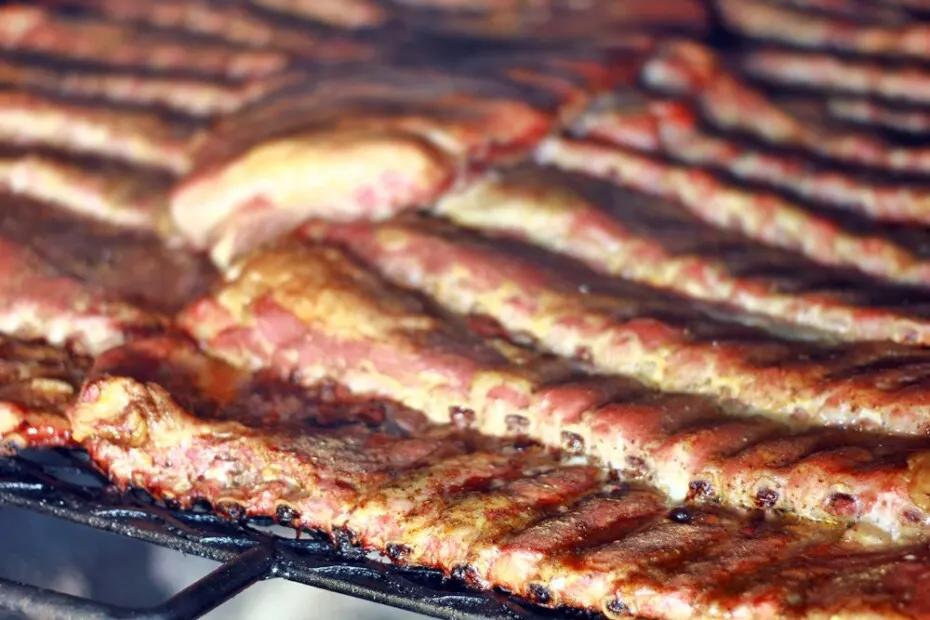 Backyard BBQ Pit is a roadhouse serving old-school BBQ smoked in an oak and hickory wooden smoker.
If you live in Durham or are visiting Durham, this place is a must-visit.
The North Carolina BBQ is fall-off the bone delicious and served with excellent sides.
The staff may take a few minutes to seat you because it is usually very crowded. The wait is worth it, though.
The rib plate with Mac and cheese is delicious, the ribs and brisket are slathered in rich BBQ sauce that gives off a delicious flavor.
Sweet yams are like a dessert and a must-try after eating spicy BBQ.
5122 NC-55, Durham, NC 27713, United States
Monday – Friday, 12 PM –7:30 PM
+1 919 544 9911
Ole Time Barbecue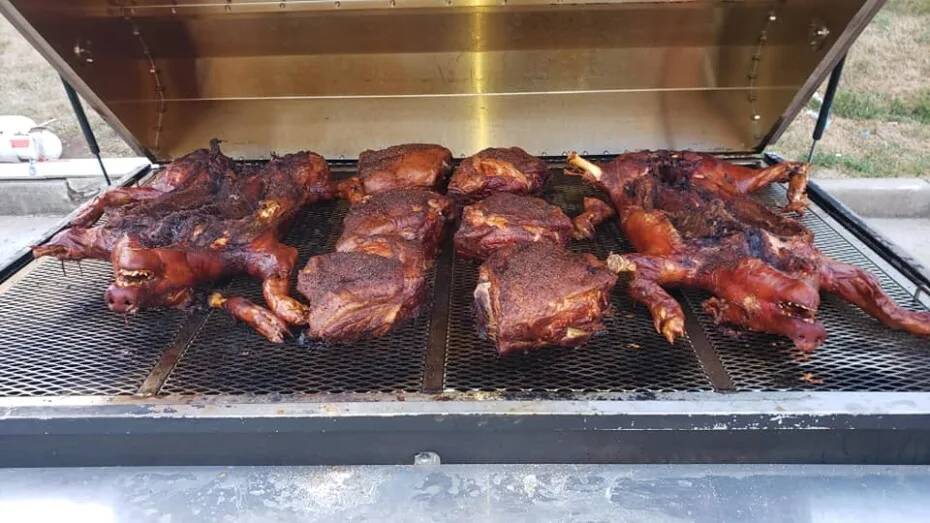 Ole Time Barbecue is a down-home BBQ joint that serves delicious BBQ meats and offers tailgate-party platters to go. It is Raleigh's hidden gem.
The place looks very unamusing from the outside, but the vibe is different as soon as you come inside.
The place is full of great people and delicious food, It's a small place that serves no-nonsense BBQ casually on butcher paper.
They also have one of the best fried chicken, and Carolina-style BBQ is no wonder the best.
6309 Hillsborough St #1148, Raleigh, NC 27606, United States
Monday – Saturday, 6 AM –8 PM
+1 919 859 2544
Grady's Barbecue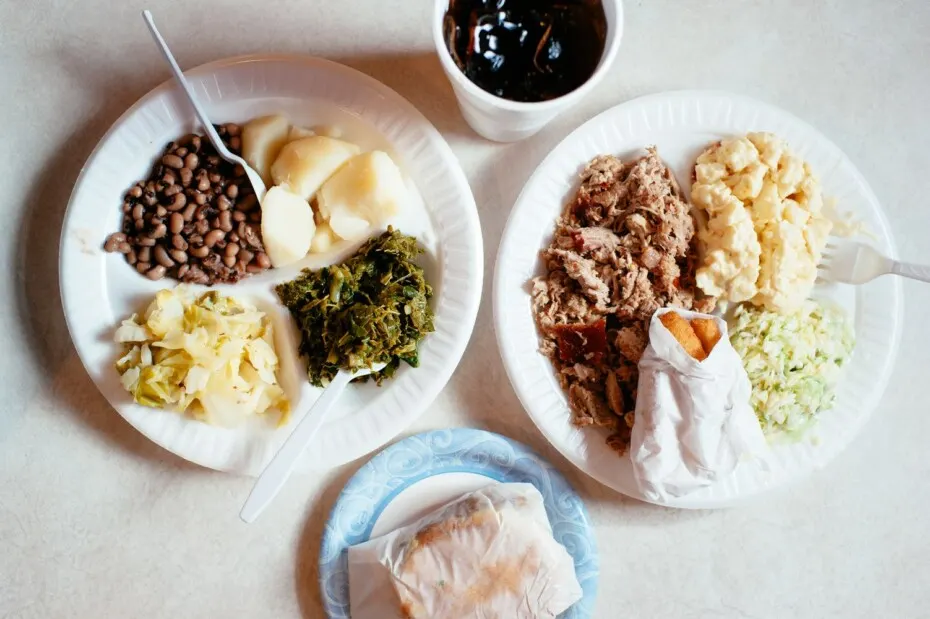 Grady's Barbecue is an unassuming roadside restaurant serving BBQ classics in an old-fashioned setting.
At Grady's, you can find great whole hog BBQ. It is cooked and chopped the old-fashioned way so you can get a mix of some tender and crispy bits.
Hospitality is the country's hidden treasure, and you will notice it a lot while eating at Grady's.
The couple that runs the place has been doing it for decades.
The restaurant is an old-style building with paneled wood on walls, and the smokehouse is in a separate building.
3096 Arrington Bridge Rd, Dudley, NC 28333, United States
Saturday, 10 AM –4 PM. Wednesday – Friday, 10 AM –3 PM
+1 919 735 7243
Sam Jones BBQ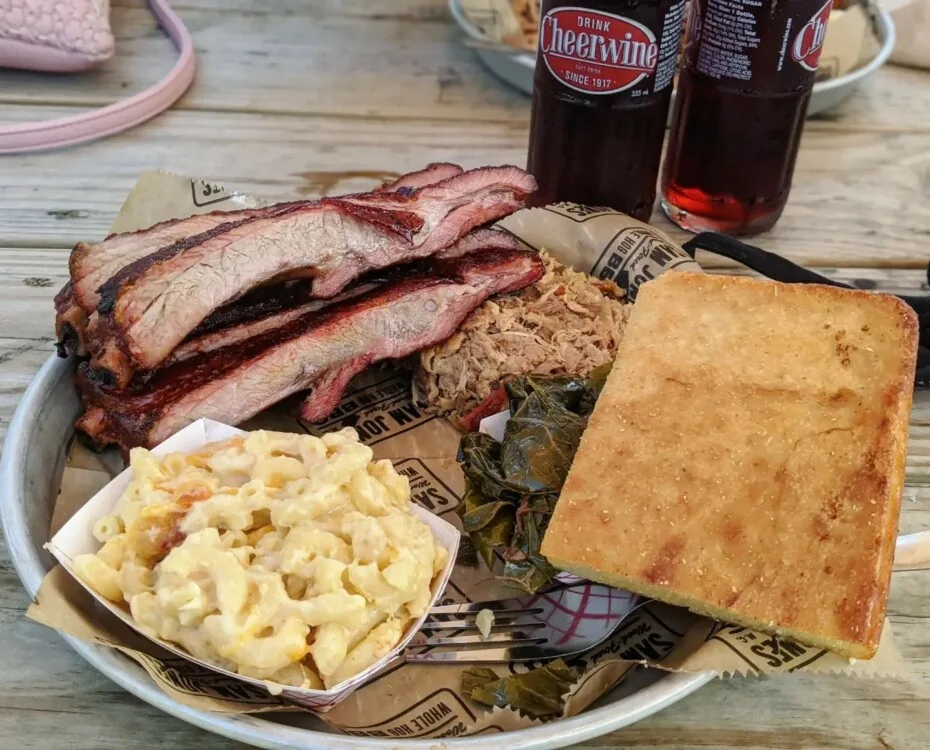 Sam Jones BBQ is a time-tested, family-owned BBQ joint that serves wood-fired BBQ plates with delicious sides that are also cooked in-house and craft beers.
The design of the building is very cool, and as soon as you come inside, you can smell the smoke from sizzling BBQ.
The food comes out quickly, and the Great Sam Jones stops by to ask you about food.
They are also willing to give you a tour of the smokehouse if you would like to take a peak.
715 W Fire Tower Rd, Winterville, NC 28590, United States
Monday – Saturday, 11 AM –9 PM. Sunday, 11 AM –8:30 PM
+1 2526896449
Jon G's Barbecue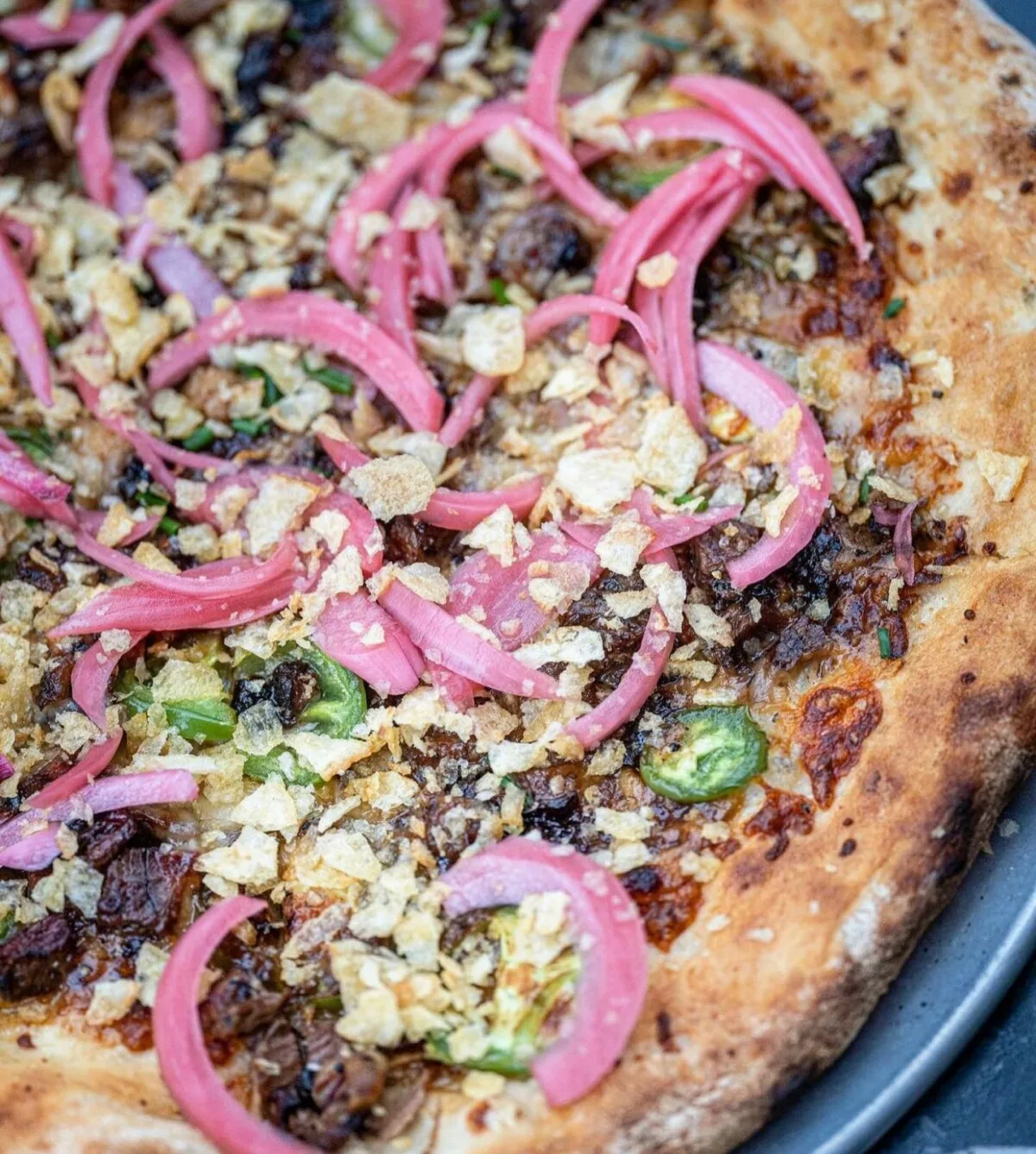 Jon G's Barbecue is a hidden gem in small-town Peachland well worth the visit! This Texas-inspired BBQ joint started as a food truck and expanded to a brick-and-mortar location.
They only open on Saturdays, and two things are certain: there'll be a line, and they'll sell out! Go early to sample tender brisket tacos, pulled pork by the pound, or their awesome house-made Queso Texicano sausage. Brown sugar-smoked beans sweeten the deal, and their Jalapeno cheese grits add extra heat.
116 Glenn Falls St, Peachland, NC 28133

Saturday 11 AM – 4 PM

+ 1

704-272-6301
Clyde Cooper's Barbeque
For some award-winning BBQ, look no further than Raleigh's own Clyde Cooper's Barbeque. After 76 years in the same spot, they've got a new location with the same comfy booths and delicious food.
You can look forward to melt-in-your-mouth beef brisket dipped in au jus, famous sliced BBQ, and chopped BBQ chicken served with hush puppies, pork skins, and coleslaw. Toss on some of their house-made vinegar sauce or hot sauce for a perfect bite. 327 S Wilmington St, Raleigh, NC 27601
Tuesday 11 AM – 4 PM; Wednesday 11 AM – 4:30 PM; Thursday – Saturday 11 AM – 5 PM

+ 1 919-832-7614
Midwood Smokehouse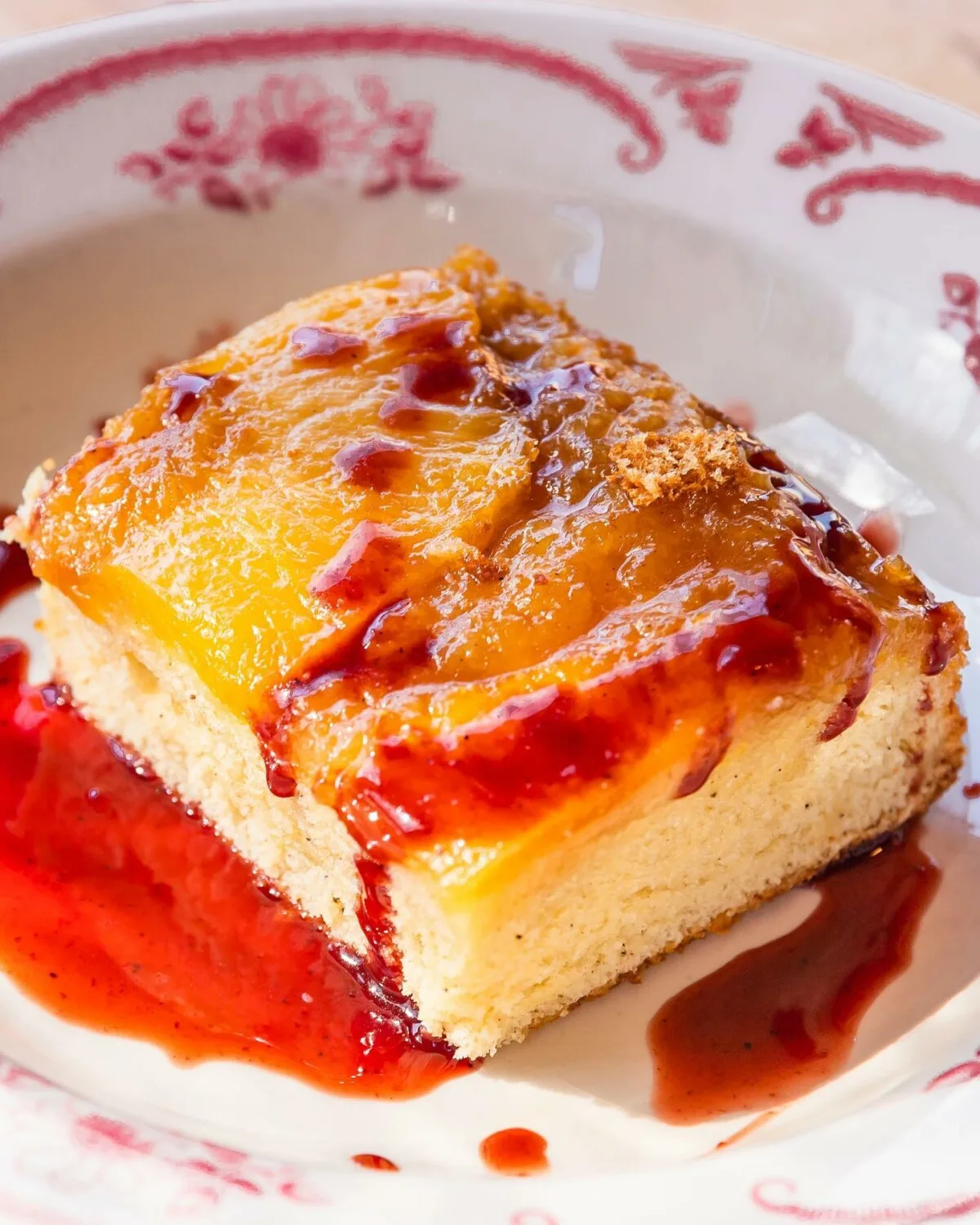 Midwood Smokehouse has a few locations around NC, including 3 in Charlotte alone. They keep the standard high and offer up tasty apps like bacon-wrapped jalapenos and Miguel's queso (add the homemade chorizo, trust us!).
Fill up on sandwiches stuffed with brisket or BBQ pork, or opt for a juicy Angus beef burger. The classic BBQ plates come in small with 1 side or large with 2 sides and your choice of meat, including smoky sweet burnt ends, succulent smoked chicken, or good ole Carolina pork.
1401 Central Ave, Charlotte, NC 28205

Sunday – Thursday 11 AM – 9 PM; Friday & Saturday 11 AM – 10 PM

+ 1 704-295-4227
Picnic Barbecue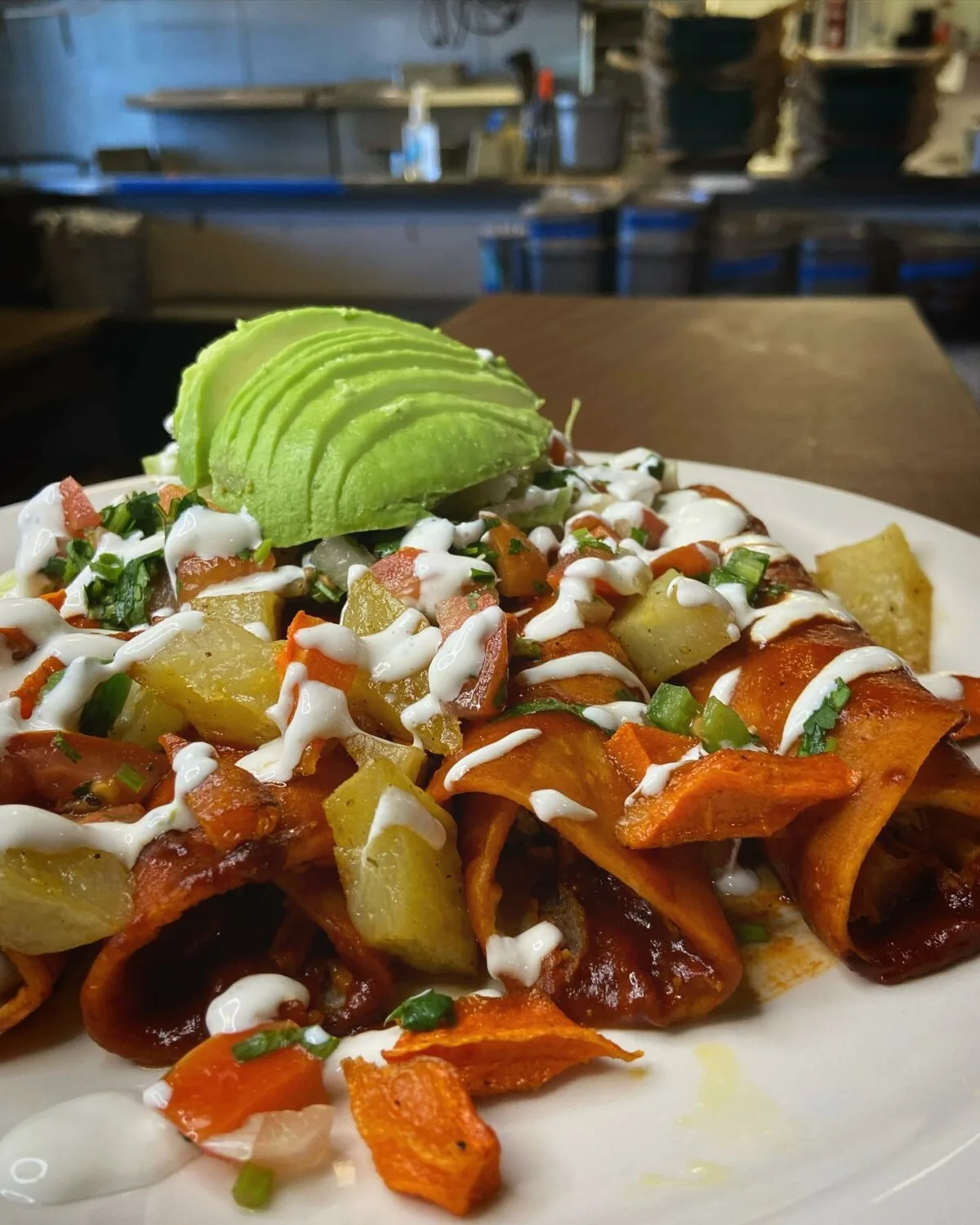 A lot of folks visit Picnic Barbecue for its most famous dish: smoky, lean, and tender whole hog. But it doesn't end there; Picnic serves up all kinds of 'cue and has options for everyone.
Dig into ribs, flavorful brisket, or pulled pork with house specialty pimento mac and cheese or braised collards. The chocolate chess pie is the way to finish it off if you've got a sweet tooth.1647 Cole Mill Rd, Durham, NC 27705
Wednesday – Monday 11 AM – 8 PM

+ 1 919-908-9128
Sweet Lew's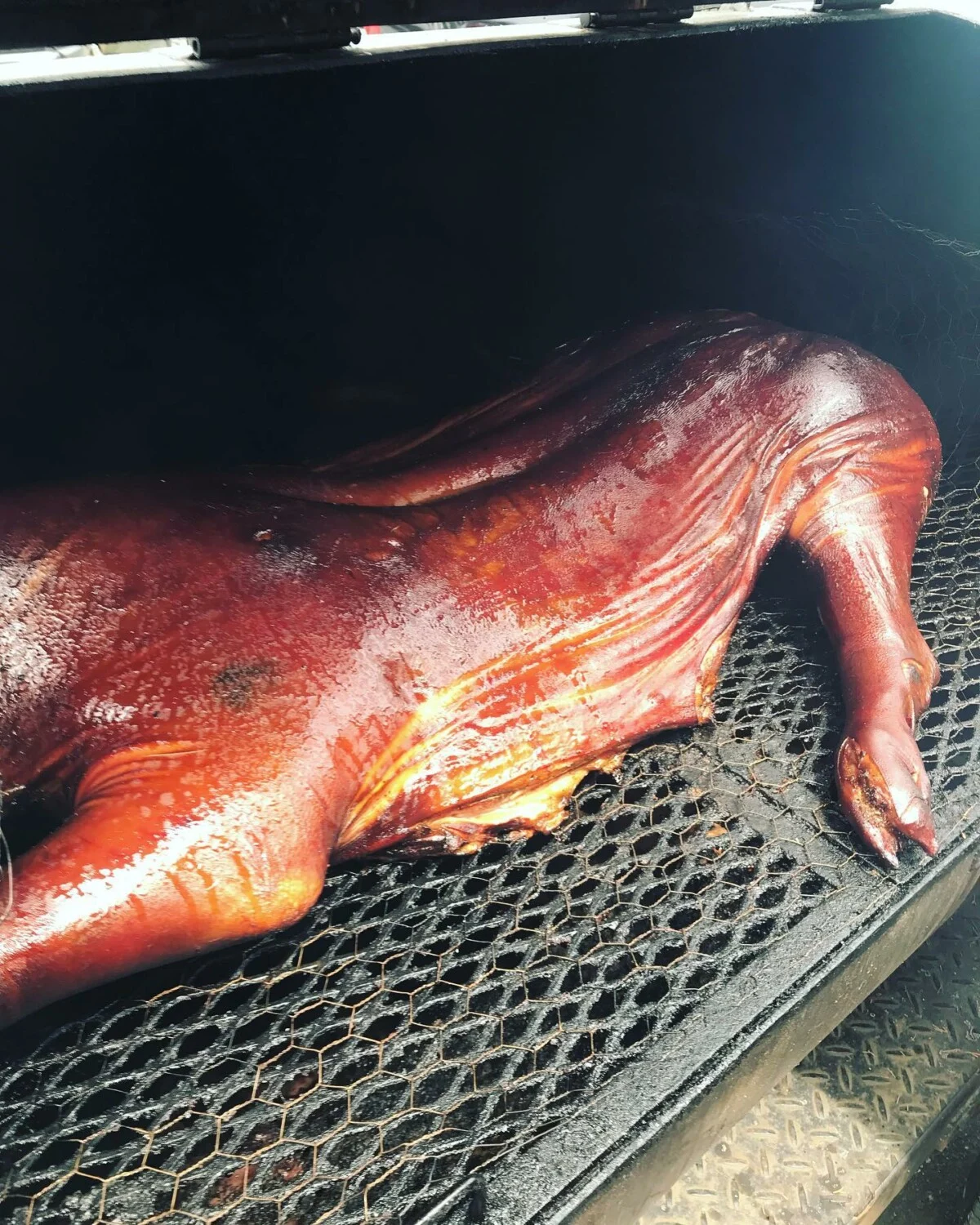 Sweet Lew's BBQ is the spot if you're looking for some real NC barbecue. Run out of an old service station in Charlotte, Sweet Lew's is a laid-back joint with good smoky 'cue.
It's also home to Charlotte's only true smoker – you'll note the difference! Smoked beef brisket with mustard sauce is a must, and the perfectly seasoned chopped pork is top-notch. Of course, it wouldn't be an NC joint without some classic hash served over fresh rice.
923 Belmont Ave, Charlotte, NC 28205

Tuesday – Saturday 11 AM – 9 PM; Sunday 11 AM – 6 PM

+ 1 980-224-7584
Chop Shop Bbq & Grill
Chop Shop BBQ & Grill is another great Raleigh joint on the list that started as a food truck. They now have a location connected to a gas station, where you can enjoy dine-in, take-out, and even drive-thru.
Chow down on pulled pork or chicken salad by the pound or flavorful smoked chicken. Their Brunswick Stew, made with a special recipe, hits the spot, and the Southern classic Banana Pudding should be top of your list to try.
210 E. Six Forks Rd, Raleigh, NC 27609

Tuesday – Friday 12 – 8 PM

+ 1 919-896-8101
The Improper Pig @ Rea Farms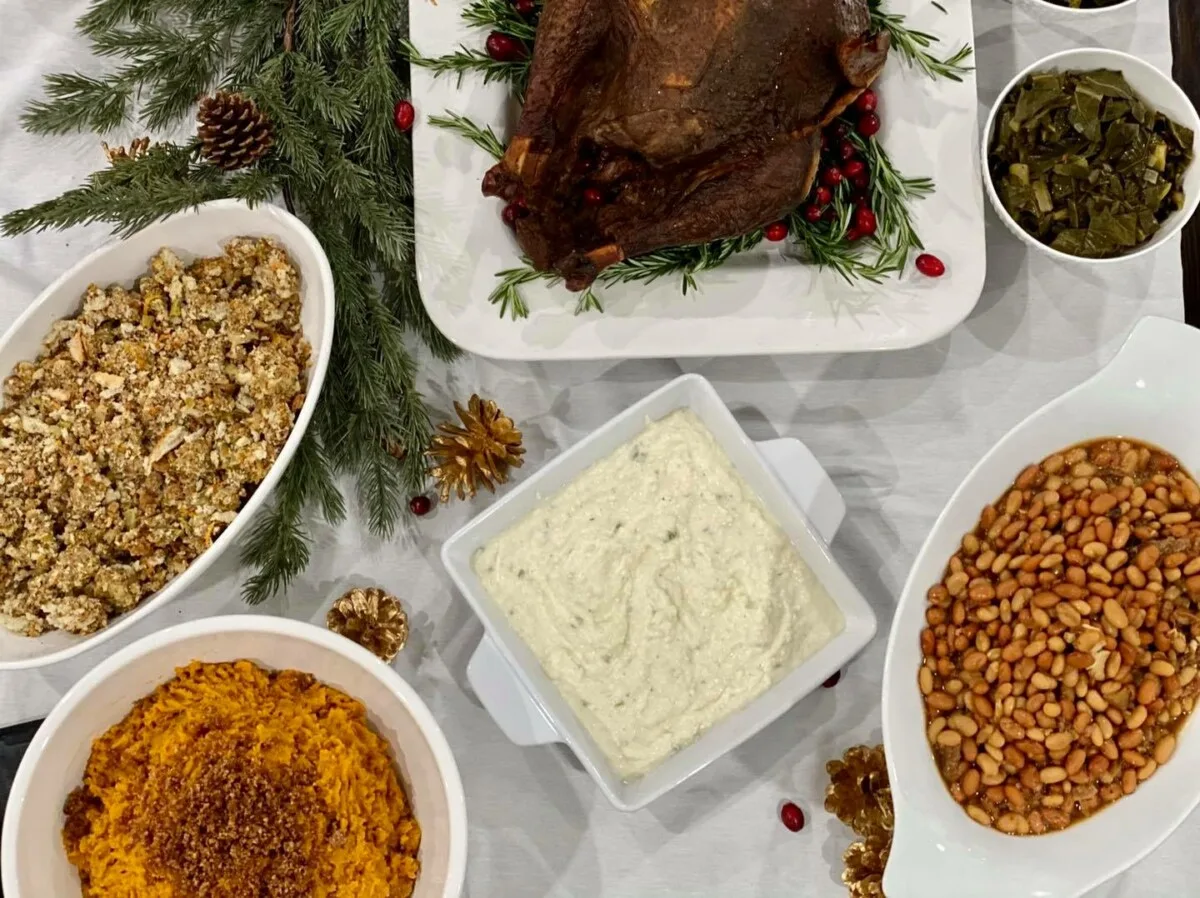 Serving up NC BBQ with a little flare, The Improper Pig has two locations: one in Fort Mill, SC, and this joint at Rea Farms in Charlotte. Tuck into hickory smoked meats like chicken, St. Louis-style ribs, pulled pork, and even tofu if you're feeling adventurous.
Grab classic sides like sweet potato casserole and jalapeno cheese grits, or turn it up with gourmet sides like mac and cheese or crunchy Asian slaw.
9855 Sandy Rock Pl A, Charlotte, NC 28277

Monday 4 – 9 PM; Tuesday – Thursday 11 AM – 9 PM; Friday & Saturday 11 AM – 10 PM; Sunday 11 AM – 8 PM

+ 1 704-714-7878
Noble Smoke
This Noble Smoke location is spacious, with lots of seating and industrial-style décor. They frequently sell out of items at this popular Texas-style spot – fair warning! Try out the chopped pork or juicy pulled BBQ chicken with some smoked turkey for good measure.
You've got loads of side options like hush puppies, the (highly-recommended!) succotash, and pan-fried corn. The folks here also offer a Pitmaster Experience where you can hang out for the day and learn the tricks of the trade.
2216 Freedom Dr. Charlotte, NC 28208

Sunday – Thursday 11 AM – 9 PM; Friday & Saturday 11 AM – 10 PM

+ 1 704-703-5252
Pik N Pig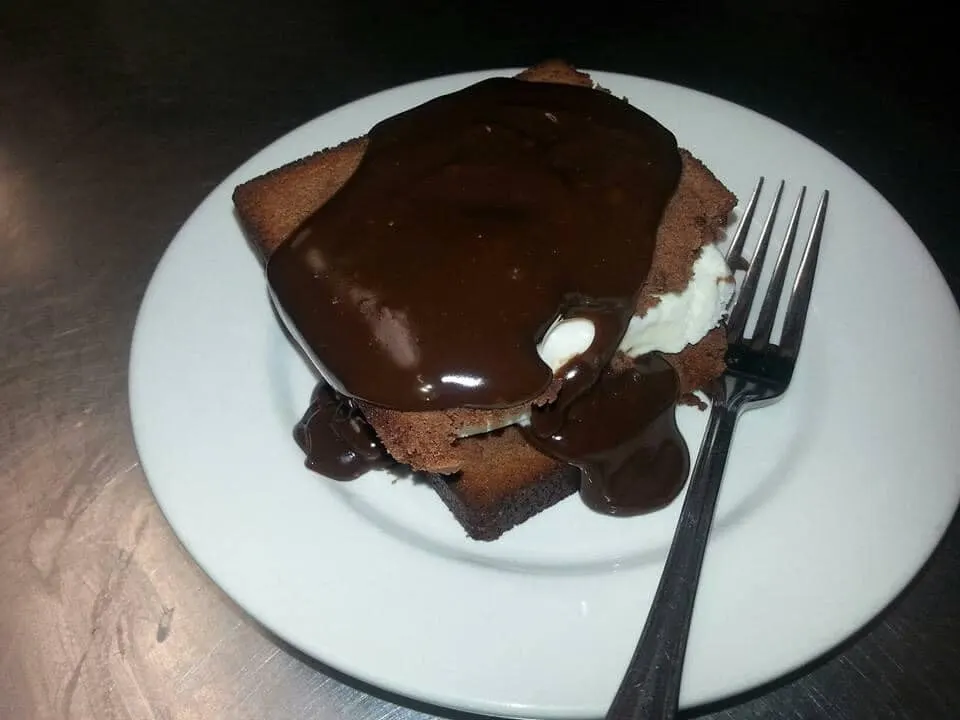 Maybe one of the coolest locations on the list, The Pik n Pig, is set up right next to an airfield in small-town Carthage. Their hickory smoked chicken is one of the top sellers, alongside the brisket and pork chops seasoned with a house-made rub.
If you're sharing, the sampler platter gets you all the variety for 2 people to sample. Popular with pilots and motorists alike, it's a great spot to kick back and enjoy planes flying in and out.
194 Gilliam McConnell Rd, Carthage, NC 28327
Little Richard's Smokehouse BBQ
Little Richard's Smokehouse BBQ has been serving up Lexington-style 'cue since 1991. Masters of hickory smoking, the folks here go low and slow with their pork shoulders smoked for 16 hours.
Try their smoked meat combo for a taste of 2 or 3 meats, ranging from chopped BBQ and brisket to smoked sausage and baby back ribs. The house-made sauce they drizzle on top is some of the best around, so don't miss out.
916 S State St, Yadkinville, NC 27055

Monday – Saturday 11 AM – 9 PM; Sunday 11 AM – 2:30 PM

+ 1 336-679-7064
Wilber's Barbecue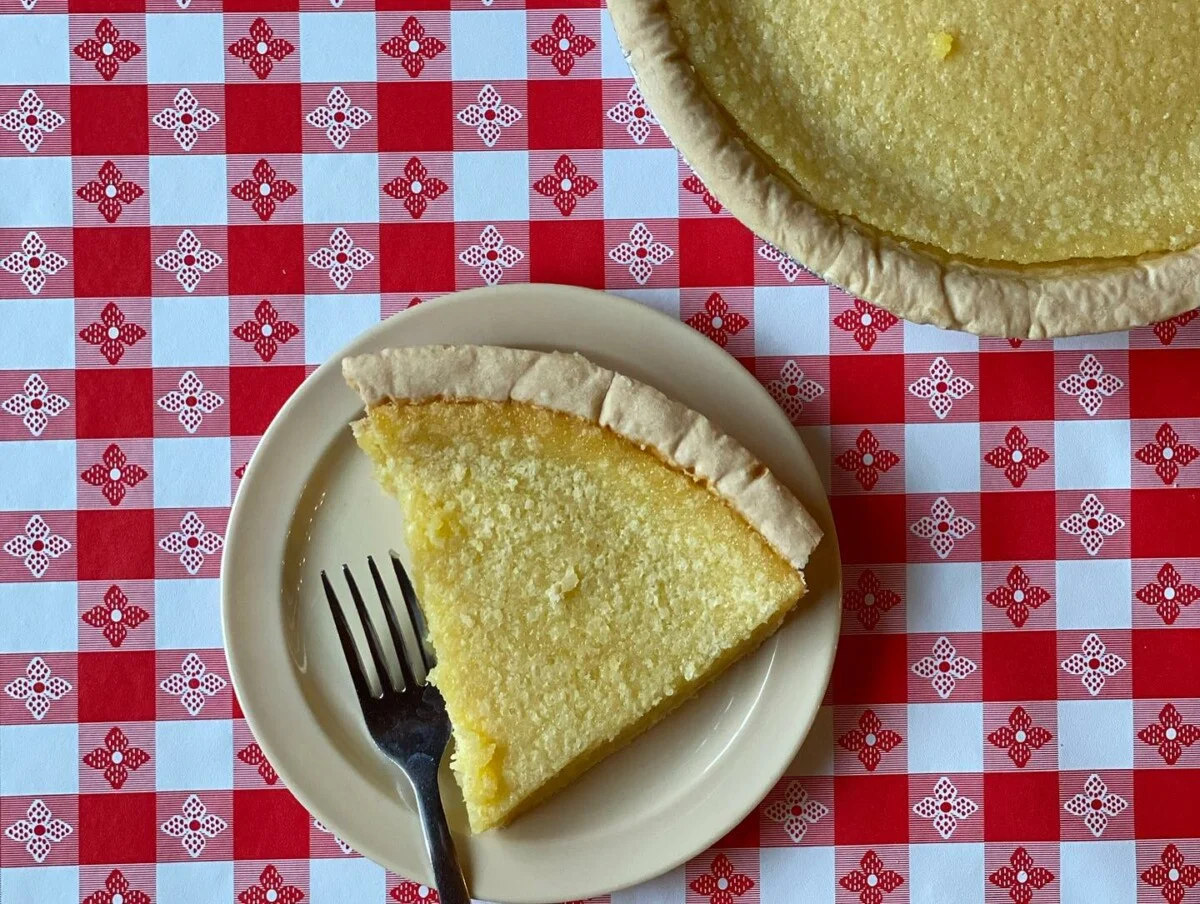 Wilber's Barbecue keeps the crowd coming with their famous whole hogs, using an open pit to cook 'em low and slow over oak coals. This mom-and-pop style restaurant has a relaxed ambiance and fast, friendly service.
The whole hog is the star of the show, but the hush puppies served up with gravy and the Brunswick stew aren't too far behind!
4172 US-70, Goldsboro, NC 27534

Wednesday & Thursday 11 AM – 7 PM; Friday & Saturday 11 AM – 7:30 PM; Sunday 11 AM – 3 PM

+ 1 919-778-5218
Bear's Smokehouse Barbecue
Downtown Asheville's Bear's BBQ is a lively modern spot with counter service and friendly staff. They serve up some amazing BBQ but get bonus points for offering gluten-free and vegan options – so everyone can dine together.
Try the smoky burnt ends, perfectly pulled pork, or a full rack of ribs. The sides are all worthy – but don't skip on the iconic BBQ beans.
135 Coxe Ave, Asheville, NC 28801

Monday – Thursday 11 AM – 9 PM; Friday & Saturday 11 AM – 10 PM; Sunday 12 – 9 PM

+ 1 910-491-9500
Redneck BBQ Lab
If the name didn't grab your attention, the food at Redneck BBQ Lab definitely will! The lab creates all kinds of goodness, like spicy jalapeno mac and cheese, potato salad with homemade pickles, and fresh cornbread with a touch of sweetness.
Saucy burnt ends will convert you, and their Fat Redneck sandwich piled high with brisket, pulled pork, and collards on a fluffy roll is an experience all on its own.
12101 NC-210 B, Benson, NC 27504

Sunday – Thursday 11 AM – 7 PM; Friday & Saturday 11 AM – 8 PM

+ 1 919-938-8334
Buxton Hall Barbecue
Buxton Hall Barbecue focuses on reviving East Carolina BBQ, served with some classic Southern sides to fill you to the brim. Locally sourced meat and a long smoke over hickory, oak, and cherry make for some mouth-watering pork.
Top choices include the whole hog pulled plate with crunchy pickles and your choice of 2 sides or some classic BBQ hash. The chicken comes light-smoked or dark-smoked, and the Carolina hot sandwich is a delicious, saucy meal.
32 Banks Avenue, Asheville, NC 28801

Sunday – Thursday 11:30 AM – 3 PM; 5:30 – 9 PM; Friday & Saturday 11:30 AM – 3 PM; 5:30 – 10 PM

+ 1 828-232-7216
Prime Barbecue
Knightdale's very own Prime Barbecue continues to impress patrons with its quality meats. A modern building with tile and wood finishing, it's a great place to pull up a chair and dig in.
Choose from chopped or sliced brisket, pulled pork with slaw, turkey breast, or house-made sausages with the perfect snap. Get a helping of the sweet potato salad, or go big with the loaded baked potato topped with butter, sour cream, cheese, and fresh scallions.
403 Knightdale Station Run, Knightdale, NC 27545

Tuesday – Friday 11 AM – 4:30 PM; Saturday 11 AM – 5 PM

+ 1 919-373-8067
You might also be interested in: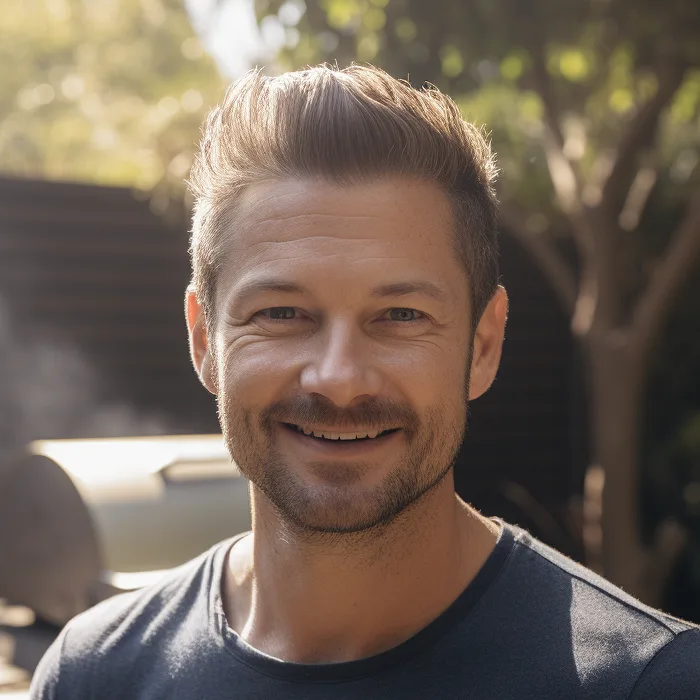 I have been smoking and grilling meat from an early age and enjoy sharing my knowledge and expertise through the hundreds of articles I have written about BBQ. I hope to make everyone's BBQ journey that little bit easier.