There's nothing like biting into a juicy slab of BBQ ribs. The smoky, grilled flavor of BBQ is hard to beat.
This BBB rib recipe is hands down the best BBQ rib recipe of all time! Made with a dry rub, you won't even need barbecue sauce.
Types of Bbq Ribs
Though this recipe uses pork ribs, there are several varieties of pork ribs on the market. The two most popular kinds of ribs are baby back ribs and spareribs.
Baby back ribs are fabricated from the region where the ribs and the back of the animal converge.
Additionally, compared to other types of ribs, baby back ribs are short and lean, which indicates the name.
Even though baby back ribs may be short, they still possess a healthy amount of tender meat surrounding the bone.
On the other hand, spareribs are fabricated from the lower portion of the ribs. Spareribs are generally fashioned into St. Louis style ribs.
Moreover, spareribs are fattier and more flavorful.
How To Prep Ribs
Like any delicious food worth eating, preparing ribs takes a bit of groundwork before you start the cooking process.
Ribs have a thick membrane, also known as the silver skin, located on the back of the rack that must be detached before cooking it.
Failing to the membrane will alter the tenderness of your rib as it turns into a hard, chewy mess once cooked.
Luckily you can ask your local butcher to remove the silver skin before purchasing it.
In the event that you end up with a rack of ribs with the silver skin still attached, you can remove it yourself.
However, I must admit this requires a bit of patience as the silver skin may not come in one piece. Sometimes it can be tough to remove.
To remove the silver skin from your ribs, arrange the ribs on a level surface with the flesh side down.
Run a sharp knife under one side of the silver skin above the bone.
Maneuver your fingers under the silver skin, then pull the membrane until it begins to loosen and release.
Use a paper towel to remove the remaining silver skin and toss it in the trash.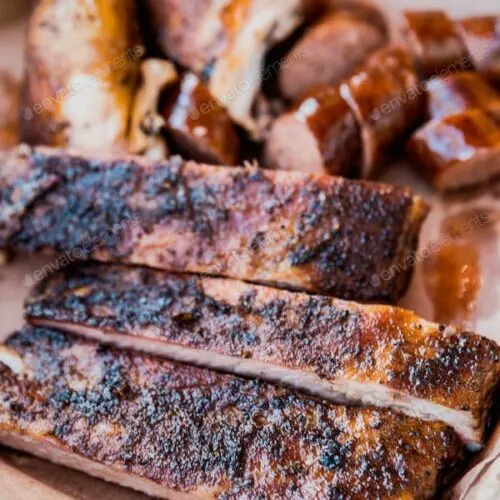 Bbq Ribs Recipe
This BBQ rib recipe is for those who prefer sauce-free ribs. These ribs are super delicious and very easy to prepare!
Equipment
Whisk

Mixing bowl

Grill

Tongs
Ingredients
2

tbsp

brown sugar

2

tbsp

granulated sugar

2

tbsp

smoked paprika

1

tsp

kosher salt

1

tbsp

onion powder

1

tbsp

garlic powder

1

tsp

black pepper

1

tbsp

chili powder

1

tsp

coriander

1

tsp

mustard powder

½

tsp

cayenne pepper

1

rack of baby back ribs
Instructions
Program your grill to 225°F, then remove the silver skin from the rack of ribs.

Whisk the brown sugar, granulated sugar, smoked paprika, salt, onion powder, garlic powder, black pepper, chili powder, coriander, mustard powder, and cayenne powder in a bowl.

Generously season the rack of ribs with the dry rub and massage it into the ribs.

Allow the ribs to marinate for 30 minutes or overnight in the refrigerator.

Arrange the rack of ribs bone side down on the grill, then close the lid and cook the ribs for 4-5 hours until they reach your desired temperature.

Allow the baby backribs to rest for 5-10 minutes before carving.
Notes
If your grill has four burners, only use the outside burners.
Nutrition
Serving:
275
g
Calories:
618
kcal
Carbohydrates:
10.26
g
Protein:
52.3
g
Fat:
41.53
g
Saturated Fat:
15.51
g
Polyunsaturated Fat:
1.93
g
Monounsaturated Fat:
17.7
g
Trans Fat:
2.28
g
Cholesterol:
174
mg
Sodium:
592
mg
Potassium:
807
mg
Fiber:
1.8
g
Sugar:
5.69
g
Vitamin A:
1605
IU
Vitamin C:
0.4
mg
Calcium:
42
mg
Iron:
5.77
mg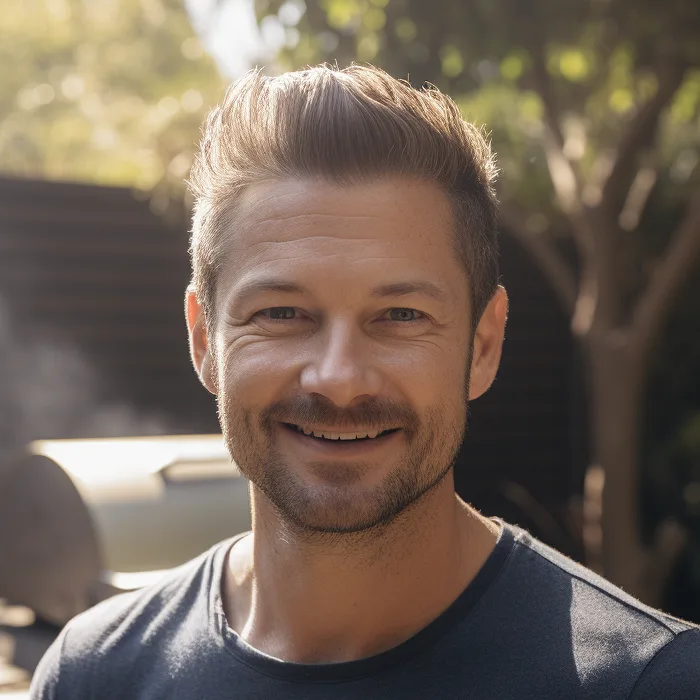 I have been smoking and grilling meat from an early age and enjoy sharing my knowledge and expertise through the hundreds of articles I have written about BBQ. I hope to make everyone's BBQ journey that little bit easier.