Infrared thermometers are in high demand these days.
Everyone from doctors to chefs are using them to measure the temperatures of both people and food, ensuring that everything is working as it should be.
A quality thermometer can keep both you and your family safe from food-borne bacteria, so investing in a good one, whether for work or home, is important.
As BBQ fans, an infrared thermometer is crucial in getting an accurate surface reading of pizza ovens and grills without getting too close.
What To Look For in an Infrared Thermometer
Depending on whether you need an infrared thermometer for cooking, checking for fevers, or both, here is what you should look for.
Temperature Range
The first thing you should be looking at when you're shopping for a thermometer is the range of temperatures that it can read.
While most thermometers, including the one on this list, have wide ranges that are suitable for almost every practical purpose, your requirements may be a bit more specific.
You should never have an issue with this, but it's something that you need to check before buying, as getting the wrong range can make your thermometer useless.
Practical Application
When it comes to reading temperatures, there are three different applications to look for: reading human temperatures, reading inanimate objects, reading food.
Each of these three types of readings requires different thermometers. You can't use an IR thermometer to read food and vice versa.
The differences between a meat probe and an infrared thermometer are obvious, but it can be less clear when you're looking for one that can measure humans.
In this case, you need to look for models designed specifically for reading internal animate temperatures, as ones that are designed for surface readings will not produce accurate internal results.
There are two thermometers on this list that can be used for reading human temperatures, but if you're shopping for yourself, you need to make sure you're buying the right type.
Accuracy
Accuracy is always important when it comes to infrared thermometers, no matter what you're using them for. However, it can be a matter of both health and legality for businesses.
Lens Type
There are three different Lenses that your thermometer can potentially come with: no lens, Fresnel lens, or a mica lens.
No Lens
Thermometers that don't come with any lens are less accurate and have less range than both other alternatives.
However, this type is also far cheaper than buying either a Fresnel or mica lens model.
That being said, there are plenty of thermometers for around $20 that do include a lens of some kind, so there's very little reason to invest in one that has none.
Fresnel Lens
Fresnel Lens thermometers use a plastic lens that is more durable than the mica alternative but also offers a smaller range of readable temperatures.
This is one of the more common lens types you're going to come across, specifically in non-specialized models.
Mica Lens
Mica Lens have a wider potential temperature range than Fresnel lens thermometers but are significantly more fragile due to being made from glass.
If you are going to get a mica lens, it's important that you look after your thermometer and don't let it take any hard bumps or bangs; otherwise, the lens may crack, rendering the entire device inoperable and requiring you to purchase a new one.
The Best Thermostats on the Market
Etekcity Lasergrip 1080
The first infrared thermostat that we're looking at is built more for field and home work than specifically measuring people's temperature.
In fact, the device isn't made for reading humans at all, which is easily this thermostat's biggest drawback.
Despite that, it has a 4.5-star rating with over 15,000 total reviews on Amazon, making it both a bestseller and a piece of hardware that can back up its manufacturer's claims.
Provided you're not using this device for human resource work, it is one of the most versatile infrared thermostats on the market.
It can measure the surface temperature of items between -58 degrees and 12 degrees Fahrenheit as well as supporting Celsius readings.
Boasting half a second response time, the Etekcity Lasergrip comes with a laser pointer that helps you get a pinpoint accurate reading of whatever it is you're measuring.
The device also has a backlit LCD screen with an auto-off function that helps you save battery when you're not using it, as well as a battery indicator so you know when you're running out of juice.
This is a great tool for measuring items' external temperature for records for anyone in a professional setting, such as the food industry.
It has a read and lock feature that allows you to save the last reading for up to 15 seconds so that you can note it down without having to commit the temperature to memory.
The Lasergrip can also measure the temperature of any room and even has applications for mechanics as it can be used to assess how hot certain car parts are.
While not being able to read humans limits this device somewhat, it's a perfect tool for anyone that uses a thermostat on inanimate objects on a day-to-day basis.
The Etekcitylasergrip 1080 Is Great for Non-human Readings
While this is a great thermometer for home use, it particularly excels in a professional setting. The option to switch between Fahrenheit and Celsius will removes geographic barriers that lesser devices have.
This, combined with the read and lock function, makes it perfect for culinary or auto work where you're recording several temperatures daily.
Mueller Non-contact Infrared Thermometer
Whereas the EtekcityLasergrip isn't suitable for human use, this infrared thermometer is designed specifically for it.
While it can also be used to read the external temperature of inanimate objects like food, its main appeal is the ability to get forehead readings off of people, making it perfect for both checking employees before they clock in, as well as more casual use like making sure there's no one with a fever at home.
It's a versatile option that can be used both in and out of the kitchen.
Depending on the reading the thermometer gets, the LCD display will turn either green, orange, or red and display the temperature.
You also get sound notifications that indicate whether a temperature is too high or too low, along with a battery-low notification option.
It gathers this information with a one-second response time within a range of up to two inches. This gives you the ability to get readings in a hygienic way that avoids any potential human contamination.
The Mueller Non-Contact runs off of two AAA batteries, a set of which is actually included in the box, which is a nice touch.
What's arguably most impressive about this piece of kit over other thermometers on this list is its nine-reading memory recall feature.
The internal memory can display its last nine temperatures, making it possibly the best human-resource thermometer on Amazon right now, especially at this price.
While this thermometer might appear to be a budget option at first, it's anything but. The low price tag is remarkably deceptive for how well it performs on both humans and objects alike.
The Mueller Non-contact Infrared Thermometer Is an HR Manager's Dream Come True
If you're in any profession where you have to take your employees' temperatures, this will make the entire process easy and smooth.
The fact that it runs off of AAA batteries means that you never need to charge it, and the one-second readings combined with non-contact and memory recall make it easier than ever to take and record people's temperatures hygienically.
Smart Sensor Digital IR Laser Thermostat
Compared to the other thermostats on this list, the Smart Sensor Digital IR Laser Thermostat excels in one primary area: the culinary industry.
If you've ever worked with food in a professional setting, then you know it's not just enough to record the surface area of your grills or food; you also need to monitor the internal temperature of meats.
This infrared thermostat caters to that by including a meat probe in the box along with the external thermometer, making it an all-inclusive package for food professionals.
The gun doesn't read as wide a range as the likes of the Etekcity, only monitoring temperatures between -26 and 1022 Fahrenheit.
However, this range includes almost everything you're going to need to read in the foodservice industry, so that isn't too much of an issue.
With this set, you can also switch between Celsius and Fahrenheit readings, again overcoming any potential regional issues.
The LCD display is bright and large, and while it doesn't come with any additional fancy features, it's both simple and effective.
While Smart Sensor claims that the Digital IR Laser Thermostat, it's primarily designed with food in mind, both in the house and the workplace, you can use it for other purposes, such as auto work, but it should not be used for measuring the temperatures of humans.
Chefs and Restaurant Managers – This Is the IR Thermometer for You
There are better thermostat sets out there for general causal and professional use, but this is the only one you need for food workers.
The fact that it comes with a meat probe tells you everything you need to know regarding what it's meant to be used for.
You get a comprehensive method to measure both internal and external temperatures for a relatively budget price, turning your record-keeping into a breeze rather than a time-consuming process.
Kizenlaserpro LP300
The KizenLaserPro sits in the middle of the road in terms of thermostat versatility. It's not specifically for food like the Smart Sensor model is, nor is it perfect for casual everyday use like the Etekcity thermostat.
Instead, the LP300 is best used for more intensive workspaces such as in a restaurant or for AC installation.
You get a decent range with this IR thermostat over many others with an optimum distance of 14 inches.
This is thanks to the inclusion of an advanced Fresnel lens, allowing the KizenLaserPro to get accurate results over those 14 inches.
It measures a range of temperatures from -58 to 1112 degrees Fahrenheit, which is a little more than industry standard, and it has a C/F switch, much like other thermometers on this list.
Aside from that, the LP300 has a large, backlit LCD display, a low-battery indicator, and a data hold feature.
All of this comes together in one comprehensive package that makes this thermometer great for daily professional use.
The Kizenlaserpro LP300 Is Built for Professionals
From chefs to electricians, professionals are going to benefit by having the LP300 as a part of their kit.
It's sturdy and comes with all of the features you could possibly need in your day-to-day work, at least as long as you don't need to measure human temperatures.
Ezthings Non-contact Medical Screening Thermometer
This last infrared thermometer that we're looking at is more intense and expensive than the other ones on the list.
It's built almost exclusively for medical professionals, so don't expect to throw this one into your kitchen anytime soon.
The thermometer is wall mounted. Needless to say, the likes of mechanics or chefs aren't going to get much use out of it.
Instead, this eZthings model is much better suited to locations like a Doctor's office or on the wall of any workplace rather than having someone responsible for manually recording employee's temperatures.
Out of all the IR thermometers we've looked at, this one easily has the most intensive quality control process of the lot.
The device is lab tested and comes with all the necessary medical certifications before it's shipped out to you.
This model's price is a decent bit higher than every other thermometer on this list, but the niche that it has been designed to serve justifies that.
If you're a medical professional who needs to be on top of the ball when taking human temperature, you should be looking to buy this.
If You're a Medical Professional, Get This IR Thermometer
You should be investing in a thermometer of this quality if you work in the medical industry.
For anything other than that, a less intensive and expensive model is going to be a better option.
For Doctors, though, you're going to get everything you need and more with the eZthings Non-Contact Medical Screening Thermometer.
FAQs
Can I Use an Infrared Thermometer To Check the Temperature of Meat?
Casually in your kitchen, you technically can. However, in a professional setting, then the answer is a definitive no.
That's why there's a kit that comes with a meat thermometer included on the list.
The issue with using an IR thermometer to check the temperature of meat is that most are designed to read external surface temperatures.
This is also the reason why not all of them are suitable for reading human temperature.
With meat, you legally need to be recording the internal temperature.
While something like a burger might be piping hot on the outside, it's still possible for the inside to be raw and not cooked through.
If you're looking for a thermometer exclusively for reading meat temperatures, you need a probe that has a needle designed to pierce the meat.
Are Forehead Thermometers Dangerous?
It's possible you've seen various social media posts talking about how dangerous forehead thermometers are.
This generally surrounds the idea that thermometers use radiation to measure internal temperatures. These claims are false.
IR thermometers do not emit radiation and are used everywhere, from childcare facilities to hospitals. They are perfectly safe to use and present no possible harm to anyone that gets a reading from one.
Thermostat guns do not affect any part of the brain or anything of that nature. All it does is pick up on and read the heat being emitted from the body.
Why Do Thermostats Read Foreheads?
Thermostats designed to read human temperatures take them from the forehead. The reason for this is that your forehead emits heat in the form of infrared radiation.
Rather than the thermometer emitting radioactive waves, it picks up on the radiation from the body instead.
It's worth noting that brow sweat can cause a moisture build-up that can skew the readings that a thermometer gets, potentially masking something like a fever or cold.
That's why it's recommended that anyone getting a reading wipes off their forehead prior to submitting themselves for a check. This way, all the results gathered are as accurate as possible.
What Is the Ideal Temperature for a Child's Forehead?
A common use for thermometers, especially at home, is to measure a child's temperature to tell whether or not they have a fever.
When you get this reading, you're looking for a temperature of 100.4 degrees Fahrenheit or 38 degrees Celsius.
A few degrees higher than this number is generally considered okay. However, anything lower or unusually higher can be cause for concern.
If you're ever unsure about the readings you get from your child, be sure to bring them to a doctor to get a professional reading as well as a checkup.
Why Is It Better To Use a Non-contact Thermometer?
When reading the temperature of a human, you have the option of either using a touch thermometer or a non-contact thermometer.
Generally speaking, it's better to use one that reads temperatures at a distance. This has become a specific focus of thermometers during events like global pandemics.
When you use a touch thermometer, there is a possibility of bacteria and viruses transferring from the subject to the thermometer and onto the next person to get their temperature read.
This includes person-to-person as well as cross-contamination in the kitchen.
Even if the thermometer is wiped after each reading, it's impossible to 100% guarantee there is no form of cross-contamination.
With a non-contact model, this isn't an issue as the thermometer never actually makes contact with the skin.
Why Do I Need a Thermometer?
Anyone can make use of a thermometer. However, it's a mandatory tool in the food industry.
Not only is measuring the temperature of meat a legal requirement, but it's going to make sure you're not serving undercooked food and poisoning your guests.
Final Thoughts
Given the health-focus society we find ourselves living in, there are countless different thermometers to choose from for all sorts of applications.
Take your time and find one designed for the purpose you need it for. When dealing with potential illnesses, there's no reason to cut corners, especially given how affordable many thermometers are.
Even if you're looking for one to keep around the house, make a point of buying a non-contact model that is meant to be used to detect things like fevers.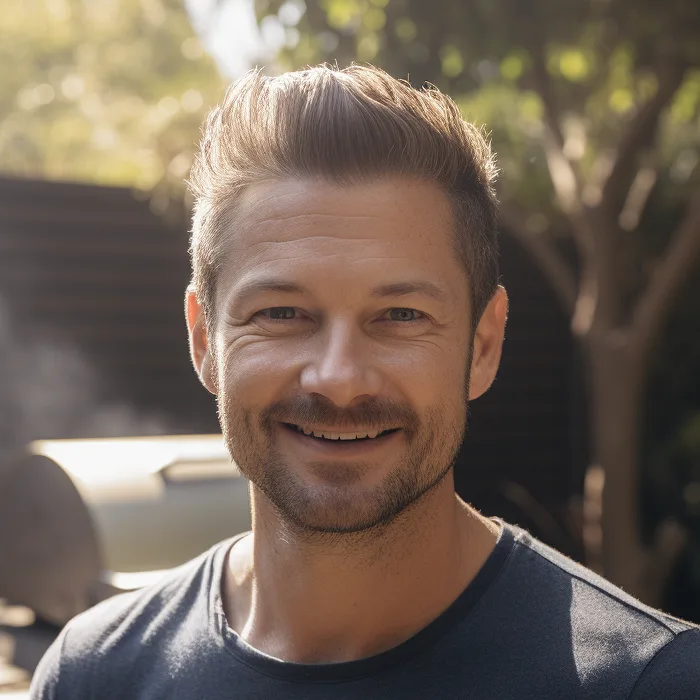 I have been smoking and grilling meat from an early age and enjoy sharing my knowledge and expertise through the hundreds of articles I have written about BBQ. I hope to make everyone's BBQ journey that little bit easier.