Kamado grills are a unique method of preparing food. Crafted from ceramic which is known for its ability to resist high temperatures, this allows users to smoke, grill, bake, or roast foods hassle-free.
Furthermore, kamado grills are so cool that they will jazz up the aesthetics of your backyard while allowing you to serve up some delicious dishes such as pizza, ribs, breads, grilled peaches, and so much more.
What Is a Kamado Grill?
Essentially kamado grills are ceramic grills. Kamado grills are nothing new to this world.
In fact, scientists have discovered older varieties of the kamado grill in ancient civilizations.
In addition to this, they were also used like tandoors in India and to steam rice in Japan.
Nevertheless, the modern-day kamado is the progeny of the Japanese mushikamado, which translates to cooking stove. Kamados arrived in the US during World War II.
At this time, Americans had to be resourceful with their supplies. After witnessing the beauty of an older version of the kamado grill, the same concept was implemented in the US.
Soon an entrepreneur by the name of Ed Fisher started producing and selling what is now branded the modern-day kamado grill. He also coined the term big green egg.
Unlike its ancestors, today, kamado grills are not your average clay dome. Kamado grills are usually circular or oval in shape and crafted from top-quality ceramic.
In addition to this, they also feature built-in dampers, thermometers, and stands that enhance their effectiveness and make them easier to use.
Moreover, kamados have more accessories that increase the grills cooking capacity to roast or bake foods using one cooker.
Types of Kamado Grills
Even though everyone has heard of the famous big green egg, there are several different kamado grills. Most kamado grills are constructed from ceramic.
They may have double-wall insulated steel, terracotta, or Portland cement.
In addition to this, they may also be polished with a high-heat paint, glossy ceramic glaze, and decorated with ceramic tiles to create a one-of-a-kind aesthetic.
Advantages of the Kamado Grill
Kamado grills are highly regarded because of their versatility. They can cook, bake or grill, anything.
They are also relatively easier to operate than other grills such as offset or pellet grills.
Furthermore, they are cook foods evenly by promoting heat distribution and provide insulation that maximizes heat absorption.
This allows the cooker to maintain a stable temperature.
Kamado grills also require less fuel than other grills. They are also the choice grill for the wintertime because they maintain heat sufficiently.
Because they are constructed from durable, strong materials, they are less resistant to rust, require very little maintenance, and are easy to clean.
Komodo grills are also better suited to small outdoor spaces and can be built into outdoor kitchen spaces.
Disadvantages of the Kamado Grill
As with any grill, the kamado grills also have some disadvantages.
Kamado grills do not have as much cooking space as large grills, such as offset or pellet grills.
Furthermore, its thick ceramic walls take a minimum of 15 minutes to heat up, which means a longer preheating is longer compared to gas grills.
Just like they take a long time to heat up, kamado grills take a long time to cool down.
Therefore it is important to heat it to the correct temperature. Moreover, the kamado grill's even heating ability is also a blessing and a curse.
The even heat distribution eliminates the ability to set indirect and direct heating zone, which allows you to cook and sear foods at the same time.
Not only are these grills heavy and hard to transport, but the ceramic can become damaged if the grill is dropped or knocked over.
Even though accessories are always great, in the case of the kamado grill, accessories will only increase the cost of the grill.
The biggest disadvantage of the kamado grill is the possibility of dangerous flare-ups occurring.
On oxygen-deprived, fire may reignite when the vents are not opened, and the lid is not removed slowly.
How Do Kamado Grills Work?
In short, the bottom two-thirds of the kamado grill is designed for the fire.
The coals are arranged on a small grate which allows the ash to fall through the grate and accumulate beneath it.
Located above the coal chamber is the cooking grate that is covered with an airtight, heat-conducting lid. Paired with the thick ceramic walls produces a 360 cooking chamber.
Kamado grills pull smoke into the food and infuse the food with an authentic smoky flavor. Opening or closing the vents will modify the grill's temperature.
Bottom Line
Kamado grills may also have a thick ceramic insert that is arranged over the fire to absorb or redirect the heat. The ceramic insert is also used for roasting or baking. You can also remove the ceramic insert if you intend to sear a steak or burger.
Can You Use Charcoal With a Kamado Grill?
As with almost any grill, fuel source tends to be a highly debated subject when it comes to kamado grills. Most Kamado grill producers will recommend using lump charcoal rather than briquettes.
In fact, many manufacturers make their own line of lump charcoal that can be purchase along with the kamado grill.
Even though briquettes are a cheaper fuel source, it is no match for lump charcoal. Limp charcoal can achieve higher temperatures and has a pleasant aroma than briquettes.
However, if you do intend to use briquettes, read your grills warranty to ensure it will not cancel your grills warranty.
In addition to this, do not purchase the instant light briquettes and never use lighter fluid.
Briquettes can absorb uncoated ceramic materials from the firebox and make your food taste like fuel.
How To Light a Kamado Grill
There are multiple ways you can light your kamado grill. To light your kamado grill using an electric starter, open the air vents fully and arrange a few pieces of lump charcoal in the bottom of the grill and dd the electric starter on top of the charcoal.
.After 10-15 minutes, smoke should appear, and the charcoal should ignite.
Unplug the electric starter, then remove the starter from the kamado grill and place it in a safe place so it can cool down.
Add more charcoal to the grill, place the lid onto the grill, adjust the air vents and give the kamado grill another 15-20 minutes to preheat.
You can also light your kamado grill using a charcoal chimney. Open the air vents, then arrange two pieces of newspaper in the bottom of the charcoal chimney.
Add charcoal on top of the newspaper and place the charcoal on top of the grill.
Heat the charcoal for 10-15 minutes until all of the charcoal is covered in a layer of ash. Pour the ignited charcoal onto the kamado grill and add more charcoal on top of the lit charcoal.
Place the lid on top of the grill and wait for 12-15 minutes until the grill achieves the right cooking temperature.
The final method for lighting a kamado grill is by using charcoal fire starters.
Open the grill's air vents and add the lump charcoal to the bottom part of the grill and add the manufacturer's recommended amount of charcoal starters.
After 10-15 minutes, the grill should produce smoke, and the charcoal should be hot. Add more charcoal to the lit charcoal and place the lid on top of the kamado grill.
Do not adjust the grill's air vents until the grill is at your preferred temperature.
What To Look For in a Kamado Grill
There is no doubt that most kamado grills could be related. However, kamado grills are more than just their egg-shaped domes. They all have different features and capabilities.
Material
Ceramic is the ideal material for crafting kamado grills. Ceramic can maintain heat really well, is strong, rust-resistant.
Nevertheless, intend to transport your kamado grill a lo; one crafted from metal may be the best option for you since ceramic has a tendency to crack easily.
Top-notch Construction
Even though kamado grills with thicker walls will cost you more money, they are the preferred choice when it comes to heat retention.
This will ultimately allow you to use less fuel and save more money. In addition to this, these kamado grills are more durable, so they will last a long time.
Hot Tip
Beware of cheap metal fittings and joints that are not sealed properly. These metal firrings are prone to rust, and improper seams will not allow heat to circulate evenly.
Sturdiness
Quality kamado grills are heavy. It's important that you find a kamado grill that has a strong, sturdy base as well as hinges and latches. Kamado grills are expensive; therefore, making sure your grill has these features will ensure that it lasts for a long time,
Quality Temperature Gauges
Purchasing a kamado grill without investigating the temperature gauge is like driving a car without gas.
Inadequate thermometers may give you a false or incorrect temperature reading which is dangerous when it comes to food safety.
You may believe your steak is at a medium-rare, but it may actually be rare, or your flatbread may not develop the crispy crust you were hoping for.
Always inspect the temperature gauge to ensure it will not give you an inaccurate reading.
Adequate Cooking Space
There is nothing worse than prepping and marinating your brisket or ribs overnight only to realize your kamado grill does not have adequate space to cook all of your food at the same.
For this reason, making sure your grill has adequate space before you purchase it is very important.
Consider what types of meats you will be cooking many people you intend to feed. If you intend to cook food for 2-3 people, a smaller grill may be the best option.
In contrast, if you are serving 6-8 people, a larger kamado grill may be the best option.
Work Space
Considering where you will be using is essential, especially if you intend to expand your patio into an outdoor kitchen.
On the other hand, you should also factor in whether your grill will be free-standing and the size of your backyard.
In addition to this, factor in how much space you will need to store your utensils, seasoning, sauces, serving dishes, and pots while you are grilling.
Accessories
Sometimes accessories make the grill. To maximize the full potential of your see what accessories are available and which ones you like the most.
For example, stacking grills create more cooking space. In addition to this, there are also skillets, rotisseries, carts, and pizza stones are also accessories that can be bought for kamado grill.
Covers
If you intend to store your kamado grill outside, you will leave it exposed to the elements. This is where a kamado grill comes in. It will extend your grill's shelf life.
A cover will prevent water from entering the top vent. In addition to this, the cover will also keep the grill's exterior surface in tip-top condition and keep metallic parts of the grill from rusting.
Warranty
In regards to kamado grills, the warranty is very important. Not only is the warranty a good indicator of quality, but it also gives you comfort because you have protection for your new investment.
If your kamado grill has defects, you may be able to send it back to the manufacturer and receive a full refund.
Budget
Price is the most important factor in regards to purchasing kamado grills. On average, the cheapest Kamado grill may cost approximately $300. However, kamado grills can cost up to $1000 or more.
Do not purchase a grill that is outside of your budget. Think about how much you will use your grill, how often you will prepare meals using it.
In addition to this consider how much the accessories will cost,
Use these factors to set a kamado grill budget and stick to it.
The 10 Best Kamado Grills
There are so many kamado grills on the market, and every one of them claims to be the perfect one for you.
While some of these grills may be good quality grills, others may not live up to their claims.
Fortunately, you do not have to be bombarded or overwhelmed by a million and one grills because we've narrowed your options down to the 10 best kamado grills.
Char-griller Akorn Kamado Charcoal Grill
The char-griller akorn kamado grill is perfect for cooking foods fast and hot or patiently cooking foods low and slow.
With a 20-inch cooking diameter and 447 square inches of cooking space, this grill is designed to feed a large crowd. You can even grill up to 27 bugger patties in one batch.
Featuring a triple-walled steel insulated design, cast iron grates, and a locking lid, you can cook foods to perfection with this grill.
As if 447 square inches of cooking space wasn't enough, this grill also comes with a removable warming rack to keep your foods warm until everything is finished cooking.
The bottom storage shelf is perfect for storing skillets or pans, serving dishes, spices, sauces, and rubs.
You can also store your utensils or cut fresh herns on the foldable side shelf workstation, which has storage hooks for your BBQ tools.
The 8-inches locking caster wheels keep the kamado grill sturdy while it is in use and makes it easier to transport should you ever need to move your grill.
The char-griller kamado grill is easy to use and clean. You can regulate heat levels by adjusting the indexed dual dampers and the built-in thermometer.
In addition to this, the easy dump ash pan makes cleaning the kamado grill super easy.
Polished with a powder-coated exterior and a porcelain-coated interior, this kamado grill is designed to last a long time.
Constructed from 22-gauge steel, this grill has a stainless thermometer gauge and con maintain temperatures ranging from 200°F- 700°F.
Overall, the char-griller Akortn kamado frill is perfect for new beginners to the BBQ world hoping to feed a crowd of hungry stomachs.
Kamado Joe kj23rhc Classic Ii Ceramic Charcoal Grill
The kamado Joe grill is an 18-inch ceramic grill that has a cast-iron cart and locking wheels to keep it grounded in place while you are cooking up delicious foods.
Featuring a 2-tier divide and conquer system, you can cook different foods on different levels using different temperatures simultaneously.
Furthermore, the control tower top vent keeps a constant air setting to ensure the even distribution of air while the dome is being opened or closed.
Furthermore, this unit is also constructed from powder-coated cast aluminum, which means this unit will serve you and your family meals for years to come.
The top vent is also responsible for slowly smoking foods at 225°F or sear steak quickly at 750°F.
Moreover, the patent-pending of the top air vent also prevents it from being damaged by the rain.
Just like the patented air vents, the airlift hinges are also patented. This decreases the weight of the dome by 96%, allowing you to lift the lid with one finger.
The removable ash catcher makes clean up so much easier.
The advanced multi-panel firebox, along with the patent-pending six-piece design, reduces the chances that your kamado grill will become damaged and increases grill efficiency.
Overall, the kamado Joe grill can cook foods simultaneously, and it is efficient and easy to use.
Weber Summit Kamado E6 Charcoal Grill
The weber summit kamado grill features dual-walled insulation that accommodates accurate, quick temperature changes.
Constructed from steel and boasting a porcelain-enameled finish, this grill is strong and sturdy.
The rapid lid damper enhances the airflow and allows you to quickly preheat your kamado grill.
You can also adjust the grate to accommodate smoking a brisket low and slow or searing salmon hot and fast.
Furthermore, the weber kamado grill is designed with a one-touch cleaning system for hassle-free cleaning.
The weber grill also has 24 inches of cooking space and can feed a crowd if you are hosting a BBQ party.
Unlike most kamado grills, you can also set up indirect and direct heating zones giving the chance to slowly cook foods then sear them to perfection.
The diffuser plant supports the constant low temperatures need for smoking foods.
The built-in lids thermometer displays the kamado grill's internal temperature and indicates different cooking zones.
Overall, the weber summit kamado grill is the perfect grill for seasoned veterans looking to set up indirect and direct grilling zones.
Blaze 20-Inch Cast Aluminum Kamado Grill
The blaze kamado grill is forged from one-inch-thick cast aluminum, which is known to be very durable. It also helps to control and maintain the grill's temperatures.
Best of all, the blaze kamado grill comes with a best-in-class lifetime warranty.
The unique tongue and groove design create a tightly sealed environment that prevents heat from escaping.
This unique design excludes a gasket means which means a damaged gasket will not need to be replaced.
In addition to this, the 12mm thick stainless steel 20-inch cooking grate retains heat, which helps sear meat to perfection.
It is also hinged on both sides allowing up to add more charcoal to your grill easily without having to remove the cooking grate.
The mid-level-18-inch cooking grate allows you to grill foods closer to the fire.
The blaze kamado grill can also be accessorized with a drip pan or a heat deflator that is used for indirect cooking.
The heavy-duty 304 stainless steel hinge allows you to open the lid easily.
You can also build this kamado grill into your outdoor kitchen. The blaze kamado grill's non-porous body allows you to use any kind of charcoal or wood as a fuel source.
You can also use any lighting material without fearing the material being damaged or absorbed by the grill's interior body.
The upper exhaust vent is constructed from molded cast aluminum that gives you more control over the heat and prevents it from sliding out of position.
The large temperature gauge features designated smoking, roasting, and searing temperatures and is mounted on the lid so you can easily monitor your food's temperature.
The blaze kamado grill also has cast aluminum feet that help to stabilize the grill and keep it from tipping over.
It also features high-heat cooking gloves so that you can remain safe while using your kamado grill.
All in all, with a lifetime warranty, the blaze kamado grill is for barbecuers looking to purchase a quality, long-lasting grill. Remember, the warranty can be an indicator of quality.
Primo Grills and Smokers 773 All-in-One Kamado Round Grill
The primo kamado round grill is crafted from ceramic and features an automatic ignition.
This grill is designed to last for a long time and absorbs heat which helps maintain stable temperatures.
Boasting 280 square inches of cooking space, it is built to give the user adequate cooking space.
Furthermore, even though it is constructed from a heat-conducting material, the heat will not be transferred to surfaces such as the grill's handle.
The design of this kamado grill is also strong, sturdy, easy to use and maintain. It also features 4 caster wheels that help you to transport this grill to its final resting place easily.
The primo kamado grill is also compact, so it will not take up too much space in your outdoor kitchen.
Like most kamado grills, this unit can cook several different foods and still maintain different temperatures to cook foods at the same time.
You can use the hot or low temperatures to prepare steaks, pizza, steaks, and so much more.
This grill will even maintain perfect temperatures if you are grilling steaks in the dead of winter. You can also adjust the grill's temperature using the dampers.
The primo kamado grill has a temperature range of 150F°-800°F and has an auto-fuel food system.
All in all, the primo kamado grill is perfect for novice barbecuers or individuals who want a durable grill that has adequate cooking space.
Oneinmil Kamado 13″ Ceramic Charcoal Grill
The oneinmil kamado grill features a ceramic wall that holds heat well. It can retain heat for hours at a temperature between 50-800 degrees.
The kamado grill uses less fuel for the heavy ceramic materials used to forge this grill, along with the classic egg-shaped dome.
This is because the grill's thick walls absorb heat so well, which allows less charcoal and oxygen to be used to fuel the grill.
You can cook multiple kinds of food with the oneinmil kamado grill.
From freshly baked bread to pizza, burgers, and steaks, its ability to maintain heat and control the airflow makes this grill the choice cooker of many BBQ experts.
Rather than using presoaked charcoal or a combination of traditional charcoal and lighter fluid, you can use true charcoal or lump charcoal as a fuel source.
This will allow your foods to be infuse4d with authentic smoky charcoal flavor.
Weighing in at 52.8 pounds, this kamado grill can easily be moved to another location, and with dimensions of 25 x 15.16 x 14.57 inches, it will not take up a lot of backyard real estate.
In general, the oneinmil kamado grill is perfect for families of 3-4 people.
This kamado grill is also perfect for those who do not have a designated cooking space and are looking for a compact grill that is easy to transport.
Outlast 23.5″ X-large Ceramic Kamado Barbecue
This all-in-one ceramic kamado grill comes with all of the bells and whistles. The cast-iron top vent and grill base are designed to last for a lifetime.
This allows the grill to retain heat for foods such as brisket that take all day to cook. For this reason, both the temperature gauge and cast iron vent are conveniently mounted on the grill.
All of the grills hardware is crafted from stainless steel. This includes the legs of the grill, which keep the grill upright and in position.
The outlast kamado grill also features environmentally friendly bamboo handles and side tables. These durable handles are very resilient and will last for a long time.
Furthermore, the side handles give you a place to store spices, sauces, pots, skillets, or utensils.
This grill is perfect for baking, smoking, slowly roasting meats, and grilling foods. You can also use lump charcoal or briquette charcoal as a fuel source.
You can even use smoking woods such as mesquite, applewood, or hickory to infuse your foods with a unique flavor.
Overall, the outlast kamado grill is backed with a limited lifetime warranty and is perfect for individuals looking to make a lifetime investment in a grill that comes with all the best features.
Depointer Life 13″ Kamado Ceramic Barbecue Charcoal Grill
The depointer life kamado grill is a classic kamado grill crafted from ceramic material.
Ceramic is the best heat-insulating material that allows the walls of the grill to have a heat capacity that is beyond expectation.
Not only can the depointer life grill absorb heat for hours, but it has a temperature range of 50-800 degrees.
The heavy ceramic construction and egg-shaped design also improve the fuel efficiency of the grill.
Its ability to absorb heat ultimately lowers the charcoal consumption, and the amount of oxygen needs to maintain the fire.
Moreover, you can cook several kinds of food with this grill. In general, the depointer kamado grill is perfect for those that love the outdoor grilling experience.
From pizza to hot dogs and burgers, any food you deem grill worthy can be cooked on this grill.
Titan Great Outdoors Kamado Grill
Titan great's 15inch kamado grill is outfitted with two locking wheels that allow you to transport the grill from place to place.
In addition to this, the grill also comes with a built-in thermometer and two collapsible wooden trays. You can store your utensils on one side and cut up vegetables on the other side.
The grill also features a heavy-duty design, a sleek black finish, and a stunning ceramic cooking chamber.
You can see the value and hard work that went into designing this kamado grill with one glance.
Upon closer inspection, you will notice 179 square inches of cooking space that will allow you to grill, sear, roast, bake, and slow roast foods.
It also features a self-cleaning feature that allows you to focus your time solely on cooking your food rather than cleaning the grill.
Overall, the titan kamado grill will help you grill up unforgettable meals in your background. It is versatile and easy to use.
Woodes Kamado 13″ Grill
The woodeze kamado grill features a sleek black ripples finish and features a bamboo handle and a spring-loaded lid.
The top-removable vent allows you to easily control the airflow and increase the kamado grill's heat in a few minutes.
Paired with the bottom damper, you can easily control the temperature of the grill. You can also use the bottom damper to light your kamado grill.
All that's required is to insert your lighter, and your fire is all set to go.
Furthermore, the kamado grill stainless steel cooking grate so you can grill all your food. This grill is fueled by charcoal, has a 7.5-inch bowl depth, and its dimensions are 8″ x 5″ x 17″.
In general, the woodeze is the perfect traveling companion.
You can have a backyard BBQ party, tailgate, or take it on your camping trips.
How To Use a Kamado Grill?
Even though big green eggs can be a bit intimidating, they are relatively easy to use no matter which kind of cooking you need.
Kamado grills are so versatile they can be used like charcoal grills. However, it can also be used like a smoker or outdoor oven.
First, you must light your grill. The easiest way to light your grill is by using the kamado grills insulated firebox.
You do not need to worry about the amount of charcoal you should add to the grill. Simply fill the firebox with charcoal to the top line.
The grill's air vents control the amount of air allowed inside of the grill, which means you have precise control over the temperature of the kamado grill.
Add a few fire starter cubes to the charcoal making sure to strategically burrow them into the charcoal.
Within 10-15 minutes, the surrounding coals should be red hot in color and ready to use. Spread the hot coals into a single layer and add the lid to the grill.
Depending on what type of cooking you intend to do, use the air vents to control the heat and airflow.
If you want to sear steaks, salmon, or burgers using high temperatures, open both the kamado grills bottom and top vents as wide as possible.
This increases the amount of air allowed in the grill. Depending on your kamado grill, fully opening the air vents can raise the temperature up to 700°F.
On the other hand, if to intend to cook foods low and slow, like smoking a brisket or roasting a whole chicken, close the air vents completely.
Switching the grill's air vents decreases the amount f oxygen allowed into the grill's interior.
In contrast, if you want to achieve a temperature that is about 400°F, partially open the air vents.
In addition to this, partially closing to half-inch will allow you to smoke a brisket at 275°F all day long.
Once you get the hang of grilling with a kamado grill, it is smooth sailing. Similar to charcoal grills, when using your kamado grill, you want to ensure that the lid is on the grill.
This rule applies even if you are searing a steak or grilling burgers.
Unfortunately, allowing the coals to be exposed to oxygen freely can cause the coals to become too hot, which can damage the ceramic lining or your kamado grill's interior.
In addition to this, because the kamado grill is designed to have an airtight seal, you have to burp your kamado grill before removing the lid to prevent flare-ups from occurring. Luckily burping your grill is relatively easy to do.
Standoff to the side of your grill and open the lid of the grill slowly. This allows the air to slowly enter the dome, eliminating the chance that a flash of fire could burn your hand.
Additionally, you may want to use a pair of fire-resistant gloves for extra protection.
Once you have removed the lid close the vents completely to block the airflow. Even this lengthens the time that grills take to cool down.
However, this allows the coals to be extinguished faster and conserves unused coals for your next grilling session.
How To Clean a Kamado Grill?
Cleaning a kamado grill is relatively easy. Unfortunately, most kamado grills have do not have some sort of ash-catching container like most charcoal grills do.
However, it requires an ash tool to clean around coals store in the kamado grill.
Essentially, you will use the ash tool to direct dust and ash through the holes at the grill's bottom into a bucket or a bowl.
If your coals are cool, you can also use a vacuum. However, do not discard large pieces of lump charcoal, as they can be used for your next grilling session.
Always clean the grill grates every time you use the kamado grill. Brush the grates of your grill with a wire brush while the grates are still hot.
Cleaning the grates when they are still hot helps any food debris stuck to the grills grates.
Even though cleaning the grill is necessary to clean your grills grate, you can clean the inside of the grill every so often.
Make sure you always keep dust or ashes from plugging up the air vents.
You will need to deep clean your kamado grill at least 1-2 times per year. Because the kamado grill is high heat capabilities, any grease that accumulated will be eliminated.
Therefore, there's no need to use a chemical cleaner since they can leech into the porous ceramic.
However, always remove any residual grime or dirt from your kamado grill.
Even though you have to remove the ceramic rine and firebox to clean them, always carefully remove them as they can become damaged easily.
To clean the interior of the grill, brush it with a dry brush or plastic scraper.
Do I Have to Season a Kamado Grill?
Like every cast iron skillet, a kamado grill should always be seasoned. Seasoning your grill will give your food better flavor as well as prolong the life of your kamado grill.
The first time you break out your kamado grill, you will need to use it in a lower temperature setting.
As you begin to use the grill on a consistent basis, you will be able to achieve higher temperatures. However, seasoning your kamado grill has several benefits.
Seasoning your grill enhances your food's smoky flavor. Just like wine, the flavor of the grill will get better as time goes by.
The authentic grill taste is what most people prefer. Seasoning the grill paired with lump charcoal produces meats that are tender and juicy.
Furthermore, seasoning the grill makes the cooking and cleaning process that much easier. Seasoning your kamado grill will create a nonstick surface.
This is particularly important as it will keep fats and oils from sticking to the grill's grate. Overall the nonstick surface will be much easier to clean than a regular surface.
Seasoning your grill also serves as an extra step to keep you and your family safe. A brand new kamado grill can have residual paint on its surfaces.
In addition to this, there are also oils and dust that could also come into contact with the grill at the manufacturing facility during transport at the retailer's store.
If you do not season your grill, you could be putting your family at risk.
Seasoning the grill removes these impurities and sterilizes the grill, ensuring you serve safe food.
In addition, some of these impurities may be flammable, so seasoning the grill will also protect you from potential fire hazards.
Kamado grills are known for their cutting-edge insulation, vents, and their ability to balance the influx and outflux of oxygen.
Seasoning your kamado grill will ensure you get to experience the wonderful benefits of the grill for years to come.
Bottom Line
More importantly, seasoning the grill protects it from rust and corrosion. All in all, as long as you season your kamado grill the right way, you will be producing flavorful foods for many years to come.
How to Season a Kamado Joe Grill
You must be careful with seasoning your kamado grill. First, you need to make sure you use the right oil to season your grill.
If you are not careful when seasoning your kamado grill you, and any foods that you may prepare could be exposed to carbon.
Carbon exposure typically results from overheating oil which is harmful to your health.
In addition to this, no matter oil you choose to season your grill, ensure it is the best quality oil.
Oils such as canola and peanut oil are all great options for seasoning your grill as they have a smoking point of 450 degrees Fahrenheit.
Before you season your kamado grill, clean your grill.
Make sure you remove all of the impurities, such as dust or metal shavings that may adhere to your grill's surfaces.
Light your kamado grill and wait for your grill to come up to a temperature of 300°F.
Mist the interior of your grill with water and repeat the steps two more times.
Add your split wood to your grill and close the firebox dampers to allow the smoke to penetrate the grill's interior.
Close the chimney damper at a 45-degree angle, then thoroughly smear the grills with oil.
The oil will burn away any harmful materials that are present on the surface of the grill.
Using a soft pastry brush or paper towels is the best way to coat the entire grill with oil.
Light the kamado grill, heat it to 300°F, and allow it to run for 30-40 minutes until the oil begins to darken.
This is a clear indicator that the grill is turning into a nonstick cooking surface.
FAQs About Kamado Grills
Truth be told, this is a lot of information to digest about kamado grills. It is perfectly normal to have a few lingering questions about kamado grills.
These are the most popular questions about kamado grills.
Are Kamado Grills Worth the Money?
There is no denying that kamado grills are expensive. They may not always seem like a worthy investment to the ordinary person.
However, kamado grills are worth the money to persons that truly enjoy grilling.
Kamado grills are expensive because they are quality grills.
Currently, they are one of the top types of grills because they are versatile.
Most people who have used a kamado grill typically use it as a primary cooker because they are able to tolerate most cooking methods.
What's So Attractive About the Kamado Grill?
The appeal of the kamado grill is its shape. After all, the big green egg shape is what made this grill famous.
The bizarre egg-shaped design also happens to provide an effective cooking unit as it stimulates the flow of air.
How Long Does a Kamado Grill Last?
Gas grills that have a lifespan of about 10 years if it is taken care of properly. On the other hand, as long as they are taken care of properly, kamado grills can last for a lifetime.
Purchasing a kamado grill rather than a gas grill will ultimately save you more money in the long run as you won't have to replace it after a decade.
Can I Use My Kamado Grill in the Rain?
Technically you can use your kamado grill in the rain, but this is contingent on whether the conditions are safe for you to grill outside. Ceramic grills seem to be unaffected by rain.
However, this does not mean that you should not use a cover for your kamado grill when you are not grilling foods on it.
What Are the Best Foods To Cook on a Kamado Grill?
If you can think of it, you can cook it on a kamado grill. From chicken to steak, burgers, and hot dogs, any meat can be perfectly cooked on a kamado.
Furthermore, these grills are so versatile that you could cook pizza, bread, corn, sweet potatoes, baked beans, pastries, and so much more.
Can I Leave My Kamado Grill Outside?
Unlike most grills, kamado grills can be left outside. Most people store their kamado grill in their backyard or outside kitchen with our without a cover.
However, ensure you purchase a cover for your grill to protect it from corrosion.
How Long Do Kamado Grills Take To Heat Up?
Kamado grills can heat up relatively quickly once the charcoal is burning.
On average, it will take about 15-30 minutes for hot charcoal to heat up your grill.
Can You Smoke Meat in a Kamado Grill?
Whether it is brisket or a pork shoulder, you can smoke foods with your kamado grill.
The grill's thick walls and its heat capacity create the perfect environment to smoke meat in.
Furthermore, you can also insert a heat deflector to create the perfect amount of indirect heat to cook a mouthwatering brisket.
Can I Use Wood Chips in a Kamado Grill?
Of course, you can use wood in a kamado grill. WOod infuses the best flavor into your grilled foods.
Simply add your lump charcoal to the base of your grill and tip with your preferred wood chips or chunks to give your food an extra depth of flavor.
Wood chips and wood chunks are compatible with a kamado grill. However, they should be treated differently. Wood chips are small, which means they burn quickly.
It may be beneficial to soak your wood chips in water as this will give a slower smoky burn. In contrast, wood chunks can be added right on top of your charcoal.
Why Are Kamado Grills So Expensive?
Even though kamado grills were constructed from clay, modern-day kamado grills are crafted from high-quality ceramic, so you can expect to see an expensive kamado grill.
In addition to this, because of their ability to maintain a stable temperature without fancy igniters or specialized coal and their popularity, kamado grills are relatively expensive.
How Do You Prevent a Kamado Grill From Flaring Up?
The best way to prevent a flare-up is by placing the lid while you are preparing your food.
This will reduce the amount of air that burns and allow heat to be distributed evenly.
Another way to prevent a flare-up is to trim any excess fat from meats such as steaks or pork chops before placing them onto the grill.
Final Thoughts
Now you have all of the information about kamado grills to make an informed decision.
Remember to determine the most important characteristics your kamado grill has to have and set a budget before purchasing a grill. Happy kamado grilling!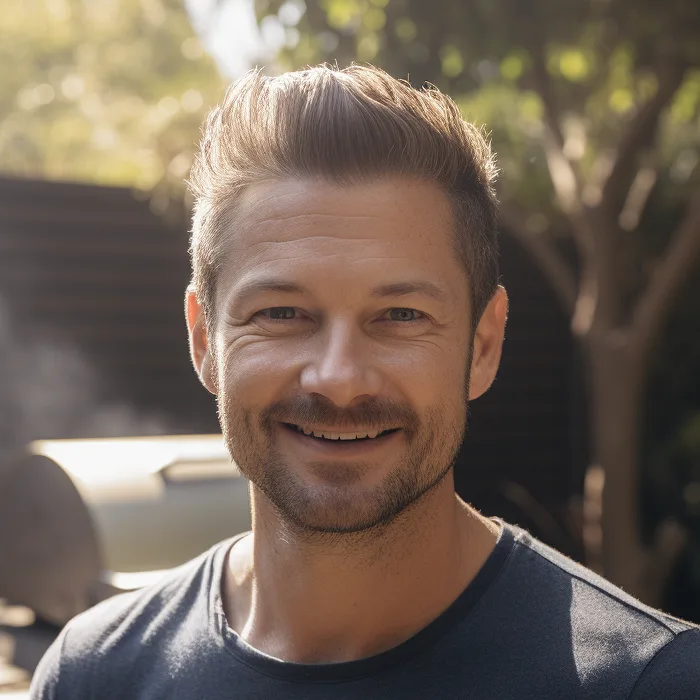 I have been smoking and grilling meat from an early age and enjoy sharing my knowledge and expertise through the hundreds of articles I have written about BBQ. I hope to make everyone's BBQ journey that little bit easier.