Everyone is itching to get out of the house, so you should expect a big turnout if you ever decide to fire up your grill.
That means that you've got some serious prep work ahead of you, the least of which is making up sausages.
Making your own sausages instead of buying them from the store not only lets you control what types of meat you use but allows you to mix that meat with your own herb and spice mixes.
If you take your cooking and BBQing even remotely seriously, then you need to get yourself a sausage stuffer to enable that.
That's why we've put together this list of the five best sausage stuffers on the market right now.
What To Look For in a Sausage Stuffer
While we're fans of the five stuffers we've included on this list, we get that they're not for everyone. That's why we're going to walk you through what to look for when you're buying a sausage stuffer for yourself.
Nozzles
The first thing we recommend you look for in your sausage stuffer is nozzle size. Specifically, whether or not it comes with more than one nozzle.
While the lower-end of your budget is going to limit your options in this regard, it's still something that you should be keeping in mind, regardless.
Having a variety of nozzle-diameter sizes means that you can make sausages of different sizes.
Control and variety is the name of the game when it comes to making custom sausages for BBQing, so this is deceptively important.
Two nozzle sizes will be enough for most people, but if you're serious about your cooking, you should be looking for a stuffer that comes with four different options.
Manual or Automatic
We only have one automatic sausage stuffer on this list, and that's because they're expensive.
The price difference between a manual stuffer and an automatic one can often be over $100, and while the cost is worth it, most of you out there aren't going to need something that expensive.
Automatic sausage stuffers are designed for heavy-duty use, meaning in an almost industrial setting. Unless you're making several sausages every other day, then you don't need one.
The only real difference between the two types, aside from the price tag, is the fact that you don't need to crank a handle to fill your casing with an automatic.
However, paying three digits more for that quality of life isn't going to be worth it for most people.
Price
Speaking of price, it's arguably the most important part of any buying decision that no one wants to talk about, and that applies to sausage stuffers, too.
We've included two budget options on this list, as well as two premium ones. The last sausage stuffer we cover is middle-of-the-road when it comes to sausage stuffer prices.
The idea is that this gives you enough variety to find a stuffer that can work with your budget.
Obviously, the more you pay, the better the stuffer. However, there's no need to spend $300 on one when all you're doing is hosting the occasional backyard BBQ, so think about how much you're going to be using it before you commit to a price range.
Capacity
Last but not least, we need to go over capacity. Generally speaking, the more meat your stuffer can hold at one time, the faster it's able to turn meat into sausages.
Most of the models we've included on this list have more than enough room for even large BBQ events, but some people might need a bit more, depending on how many neighbors and family they can expect each time they throw one.
Think about how many sausages you generally need for your BBQs and think about how much meat that is. That gives you an idea of how much stuffing you're going to need to do, as well as what size you should be looking at.
The Best Sausage Stuffers
Bushoa Manual Sausage Maker
Most of the sausage stuffers we're looking at are moderately priced. The BUSHOA, on the other hand, retails for under $20.
It's a manual stuffer, meaning you'll have to put a little more effort into using it than the other models we're looking at, and it's not going to deliver the same kind of results, but you can't really go wrong for that price.
The kit itself comes with two different stuffing tubes, so you do get a bit of variety in the size of the sausages you're making.
This also allows it to be used with all kinds of different meats, including both donor and pork.
The stuffer itself is made from plastic materials, but everything in its construction is food-grade, meaning it's safe to use in the kitchen, provided you keep it clean and sanitary.
It's a durable piece of kit that's a great addition to your kitchen tool kit, especially if you're looking for a stuffer you can use once or twice per month rather than weekly or daily.
If you've got the budget to push for a higher price, then you're going to get better sausages, but for the price, the BUSHOA is a great option.
The Bushoa Manual Sausage Maker Is Perfect for Those on a Budget
You can't really go too wrong with a $20 sausage stuffer, especially if you're buying it for a one-off event or recipe.
If you plan on making sausages regularly, then you should try to go for a higher-end model. As an extra gadget to have lying around the kitchen, though, this gets the job done.
The plastic that it's made from is surprisingly durable, and the overall construction, while not as good as a steel stuffer, is good enough to produce 5lbs of sausage in 20 minutes.
Lawei Stainless Steel Sausage Stuffer
The Lawei is a few dollars more than the BUSHOA, but the difference in quality between the two is staggering. If you're looking for the best stuffer on a tight budget, this is it, and it's not even close.
The most notable difference between the two comes in the form of its material. Rather than being made from plastic, the Lawei is built using stainless steel.
This means you're getting a more durable and powerful stuffer for a ludicrously low price compared to the last three we're going to look at.
The kit comes with three different nozzles, rather than two, sized at 15mm, 19mm, and 22mm. It also has a capacity of 2lbs.
The level of variety you're getting here is great. You get three different choices of sausage size, and with how easy the stuffer is to take apart, cleaning in between different meats to avoid cross-contamination is an absolute breeze.
This is the last stuffer on the list that has a horizontal design instead of a vertical one.
It's made with a silicon piston that ensures no air gets trapped in your sausage casings, and it even has a suction cup so that it can secure to your kitchen countertop.
If you're going to use your sausage stuffer enough to have it always out in the kitchen, you might want to consider upping the ante and investing in a premium one. However, the Lawei is more than capable of being used regularly to great effect, especially at that price.
The Lawei Sausage Stuffer Is Premium on a Budget
For only $20, you absolutely cannot go wrong with this sausage stuffer.
The quality of both the construction, as well as the sausages that it makes, makes it easily worth twice that price tag, if not more.
It doesn't matter if you want a stuffer for an occasional BBQ or for daily use; this is going to overdeliver on that $20 price tag by a large margin.
Hakka 11LBS Sausage Stuffer
This is the first heavy-duty sausage stuffer on the list, if that wasn't obvious by the fact that this HAKKA unit can hold a massive 11lbs of meat.
If you need to make a lot of sausage in a little amount of time, this stuffer is going to be your best friend.
It has two different speed settings that make actually stuffing your sausages a breeze compared to some of the manual models we looked at earlier.
If you have family or friends coming over for a big backyard BBQ, this device can single-handedly save the day if you're working on short notice.
The vertical loading tube comes with four different nozzle sizes: 16mm, 22mm, 32mm, and 38mm.
This gives you the ability to make some seriously juicy sausages if that's what you're looking to BBQ, although the range in sizes available to you means you don't have to settle for one specific type.
The entire body is made from stainless steel, making it easy to clean as well as food-hygiene regulation compliant.
The piston even comes with air release to guarantee your casings don't have any trapped air as opposed to simply minimizing it.
The Hakka Sausage Stuffer Is an Affordable Heavy-duty Unit
This HAKKA unit retails for around $150. That's considerably more expensive than the manual stuffers we've looked at but not as much as other, comparable models out there.
The stuffer is capable of holding up to 11lbs of meat, and it's surprisingly fast at filling up sausage casings.
So if you ever find yourself with a small amount of time needing to get meat ready for a BBQ, having a HAKKA is going to save you from having a headache.
Lem Vertical Sausage Stuffer
LEM has quite a few different premium sausage stuffers available. We're specifically going to be focusing on the 10lbs Big Bite Dual Gear model.
It may be twice the price of the HAKKA and hold less meat, but this sausage stuffer is a monster. Every single inch of this solid steel behemoth is built to last.
It has an absolutely huge drive gear and notched piston rod that turns out sausages like it's nothing.
The LEM has two distinct speed settings, one high-speed for filling the cylinder itself and another slower setting for when you're actually stuffing the sausage casing.
This sausage stuffing kit comes with four different nozzle sizes, just like the HAKKA, meaning you get variety in what sizes you want, as well as what meats you can comfortably use.
What's particularly impressive about this stuffer over the others is just how easy it is to crank the handle.
It's built at a specific angle that allows you to get more leverage on it while you're stuffing casings, meaning you're going to have an easier time of things, especially when you've got a lot of sausages to get through for a big BBQ.
The Lem Sausage Stuffer Is Premium Personified
If you're looking for a high-end sausage stuffer that delivers in every shape and form, this is it.
It might cost a pretty penny, but it's going to last you years, thanks to just how sturdy the steel construction is.
The LEM also makes the actual stuffing process a breeze.
Rather than spending upwards of an hour struggling against the machine, the leverage that the crank handle gives you allows for easy and efficient sausage stuffing that is faster than almost every other model we've looked at.
If you're in the market for the best of the best, the LEM is it.
Happybuy Electric Sausage Filler
Last but not least, we've decided to include an electric sausage filler on the list for anyone not a fan of spending hours turning a crankshaft on a traditional sausage stuffer.
This electric model is going to cost you more than the other options on this list, but it's automated, meaning you don't have to do any of the manual work yourself.
It's made from food-grade stainless steel, just like the other high-end units we've talked about, except this one comes with a large 12L capacity.
The speed of the automatic stuffer is controlled via a foot pedal and has 12 different total speeds to choose from.
You also get four different nozzle sizes, meaning you get total control over the sausage stuffing process despite it being automated for you.
Everything about the Happybuy electric sausage stuffer is high-quality.
So high quality, in fact, that you're going to struggle to justify a purchase of it unless you host neighborhood-wide BBQs every weekend.
If You're Looking for an Automated Sausage Filler – Then Buy the Happybuy
If you want to get yourself an automated sausage stuffer, then you can justify getting yourself the Happybuy.
However, if you're only in the market for a stuffer in general and haven't thought too much about it, consider going for a less expensive, manual model.
While it's true that this sausage stuffer will produce more sausages faster, it's an industry-grade piece of hardware designed for prolonged and heavy-duty use.
If you're just looking to put some sausages together for the occasional BBQ, there's no need to go overboard with a model like this.
If you find yourself making sausages regularly during the week, though, then the Happybuy will save you a lot of time and arm ache.
FAQs
What Is a Sausage Stuffer?
A sausage stuffer is a device that you use to shove sausage meat into a casing. Sausage stuffers are used for making your own homemade sausages rather than just buying a premade pack from the store.
This allows you to control what meat you're using, as well as what spices and herbs you mix into the sausage.
Sausage stuffers are great for fans of home BBQing. The ability to make custom spiced sausages is similar to creating your own burger mix in terms of control over the cooking and recipe.
Can You Stuff Sausages With a Meat Grinder?
Sausage stuffers and meat grinders aren't actually the same thing. Meat grinders are used to break up your meat, whereas a stuffer is used to help bind it together.
That being said, you can use your meat grinder as a sausage stuffer if you have the right kind of attachment for it.
You can buy a nozzle, similar to the ones seen on sausage stuffers, that attaches to your meat grinder and allows you to bind the meat instead of breaking it apart.
How Do You Cook Sausages Without Splitting?
If you've ever cooked sausage at a BBQ before, then you know all about this problem. The casing that your sausage is in can burst when it's applied to heat and builds up too much pressure.
This isn't too much of a problem, although it can make them a little bit more difficult to cook evenly.
If you want to stop your sausages splitting on the BBQ, you need to submerge them in water before you cook them to allow the casing to stretch more.
Bring them to a soft boil for six to eight minutes before you grill or fry them, and they shouldn't split on you.
Are You Supposed To Remove Sausage Casings?
You are able to remove the casings on your sausages before you cook them. However, you're not supposed to.
That's not to say that it's bad to do so; it just causes the sausage meat to fall apart while you're cooking it.
Sausage casings are completely edible, so the only reason you should remove one is to adjust the meat inside of it.
Hot Tip
If you're not a fan of the chewy texture that some casings have, you can roast your sausages or fry them crispy to remove that texture.
Do Sausage Casings Go Bad?
If you store your casings properly, which is to say in a resealable bag in a refrigerator, they can last you up to one year when opened.
Fibrous casings can last even longer than that, sometimes staying edible for up to two or three years later.
Should You Poke Holes in a Sausage Before Grilling It?
Absolutely not.
Some people poke holes in their sausages to stop the casing from splitting while they're cooking them, but soaking your sausage in water will have the exact same effect.
Poking holes in them, on the other hand, means that you will lose a ton of juices as your sausage cooks. The juices contain a whole load of flavor, so you need to keep as much of it as possible inside the sausage.
Hot Tip
Poking holes in a sausage for a BBQ is the same thing as needlessly pressing down on burger patties. All you're doing is losing flavor.
Final Thoughts
Hopefully, you now know everything you need about stuffing and cooking sausages for your own BBQ at home.
By letting you know what criteria we look out for, we hope that you can take that knowledge and find a sausage stuffer to suit your needs without spending hours shopping around different stores.
We've also done what we could to answer common sausage-stuffing-related questions that a lot of you had, so hopefully, we've cleared any areas of confusion up for you.
If you've found this article helpful, there's a ton of information on BBQing on our site, so have an explore and give some of our stuff a read. We guarantee you'll learn a thing or two.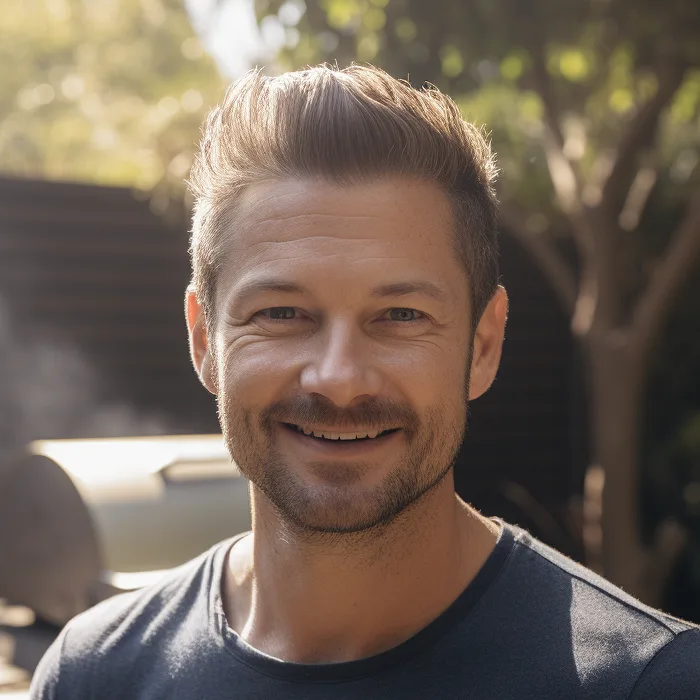 I have been smoking and grilling meat from an early age and enjoy sharing my knowledge and expertise through the hundreds of articles I have written about BBQ. I hope to make everyone's BBQ journey that little bit easier.