Whether you morph into a barbecue expert when the summertime or are a BBQ enthusiast year-round, cleaning your grill is essential after each use is an integral part of the BBQ experience.
It safeguards your grill's grates from corrosion as well as rust and stops bacteria and carcinogens from leaching into your food.
Additionally, it makes the cooking experience that much easier. Best of all, your grill will last a long time, and you will be producing delicious food for years to come.
To clean your grill the correct way, you need the right tools to get the job done. The appropriate tool for this job is a grill brush.
What To Look For In A Grill Brush
There are many grill brushes available on the market. From nylon to stainless steel wire brushes, the options are endless.
However, there are certain universal characteristics every grill brush should have.
Safety
Though a grill brush can seem like a harmless tool, certain varieties of grill brushes can pose a danger.
Yes, you can be harmed by a brush if you pick up the brush by the bristles. However, this is not the real danger.
The risk occurs when the minuscule metal wires are displaced while you are cleaning the grill.
If the bristles attach themselves to your food during your next grilling session, they will be consumed.
As a result, they will be lodged in your throat, stomach, or intestine. This may even require surgery to remove this harmful bristle from your body.
To prevent this serious hazard, you can start by selecting a quality wire brush.
Luckily; you can prevent such injuries by choosing a well-made wire grill brush, maintaining it appropriately, and replacing it right away when it becomes worn and torn.
Materials
The most popular efficient grill brushes are usually manufactured from brass or food-grade stainless steel bristles. Brass is softer than stainless steel.
However, it is still durable and strong enough to remove the debris from your grill grate. Brass is the perfect option if you think stainless steel will damage your grill's grates.
As you can imagine, stainless steel grill brushes are durable, strong, and can be used to clean your grill with ease.
In contrast, if you are not a fan of wire bristles, there are synthetic bristle grill brushes available. These are most often nylon brushes.
Certain nylon bristles have vivid colors. You can visibly notice if there are a few bristles missing from the brush.
There are even grill brushes manufactured from natural plant fibers. Additionally, there are grill brushes with a scour pad head available.
However, these are usually not as durable as bristle brushes.
Structural Reliability
Avoid wire grill brushes with bristles that have been fastened to the head of the brush with glue.
Instead, the bristles of a quality grill brush should be structurally secured onto a strong food-grade plastic or metal brush head with an even uniform cut.
Hot Tip
Noticeably straggly uneven grill brushes are unsuitable. They are likely to fall apart and end up in your food. If you can pull a bristle off of the grill brush, do not purchase it.
Heat Safe
Purchasing a heat-safe grill brush is a critical part of cleaning the grill.
If the instructions ask you to refrain from using the brush on a hot surface, the bristles are probably glued rather than physically securing the head.
These bristles are likely to become detached with recurrent.
Additionally, if the grill brush's head and body are not made of metal, ensure a heat-resistant or heat-safe label on the product's description panel.
Handle Length
The length of your grill brush is contingent on your preference.
Though a longer handle seems like the optimal choice, a shorter handle does have its advantages, especially if you are cleaning hot grill grates.
A shorter handle gives you more control and maneuverability when scrubbing different parts of the grill.
You can get to the edges of the grates, inside the grates, and many of the other crevices with a shorter handle.
Also, thick twisted wire handles give you more or less control. It is better than a long solid wood handle.
Brush Design
Square and rectangular grill brush's function similar to any other kind of brush. They usually are designed with rows of bristles in a grid pattern.
This kind of brush is typically easy to clean. However, if the brush head grid is not jam-packed, you may have to work a little harder to get your grill clean.
In contrast, a pipe cleaner-style grill brush head has many bristles running in every direction.
It has a rounded design easily clean between the grill's grates using back and forth movements.
Additionally, a pipe cleaner-style grill brush can also be twisted on its side to clean the filthiest areas of the grill.
Replaceable Brush Head
Who likes the idea of throwing a grill brush after the bristle wears out? No one does! You will have to purchase a whole new grill brush.
Opt for a brill brush with a replaceable head. Most square and rectangular brushes feature a replaceable head design.
Not only is this an ecological money-saving option, but if you can purchase grill brush heads in bulk, you can also replace them right away.
Built-In Scraper
Unfortunately, thick layers of grilled-on gunk may be too hard for a grill brush to remove on its own.
A grill scraper can help remove hard pieces of gunk those pieces.
In addition to this, scraping the grill before brushing it can lengthen the shelf life of your grill brush.
Most square or rectangular brushes are designed with a built-in scraper. However, if the brush does not have a replaceable head, it may be wise to invest in a scraper.
This will help you avoid forking extra money for a long-lasting scraper when tossing the replaceable head in the trash.
Bottom Line
A built-in scraper is not a must-have. If you prefer a single grill brush or one with a built-in scraper, the choice is up to you.
Price
The price of grill brushes can vary. Inexpensive grill brushes can cost as little as $5, while high-quality grill brushes can cost $100 or more.
Usually, top-notch products are outfitted with fancy attachments. However, high-end grill brushes don't come with these embellishments, and the price tag is not a determinant of quality.
Good quality grill brushes can be purchased for $20 or less. This is the price range you should aim for as this product will have to be replaced frequently.
The Best Grill Brushes
Though a grill brush is a simple tool, there are hundreds of grill brushes available on the market. Luckily, your options have been tapered down to the five best grill brushes.
Grill Art Grill Accessories Grill Brush
Grill art's grill brush is designed with a stainless steel extra sharp scraper that makes your job easier.
You can easily scrub stubborn gunk that seems to be glued to the grill's grates away to reveal clean grates.
With this brush, you can clean your grill five times faster than if you were to clean your grill with the competitor's grill brush.
The grill brush has a 3-in-1 360°brush head designed to cover and clean more surface area with each stroke.
Additionally, it also contains three times more bristles than the standard grill brush.
You can reach more areas of the grill while removing the grilled-on gunk from the edges and corners of the grill. sharp, durable, and has
It is outfitted with a soft but strong 18 -inch handle. The end of the handle features a stainless-steel ring that makes it easy to hang with the rest of your BBQ tools.
Stainless steel wire is tightly lodged in a steel pipe through a strongly woven rotation. This feature virtually eliminates run-away bristles.
Most people would assume a grill brush would damage or scratch the grill's grates. However, grill art's grill brush will not harm your grill in any way.
Whether the grates are made of porcelain, stainless steel, cast-iron, or another kind of material, it will never leave a scratch on your grates.
In fact, this grill brush is 85% more durable than a conventional brush. It will not corrode, bend, or lose its bristles easily.
This rust-resistant ability comes from the high-quality stainless-steel material it is constructed from.
Though there are brown marking on the grill brush, it is not from rust. These markings develop as a result of the welding process.
The grill brush and scraper are welded together at an extremely high temperature of 2726℉.
Bottom Line
Overall this is the ideal grill brush for stubborn grilled on debris. Grill art's grill brush saves you a ton of elbow work and money.
Kona Safe Clean Grill Brush
Believe it or not, this brush is actually bristle-free. It's made with patented technology. There are no sharp edges.
There's no need to worry about grill brush bristles getting into your food.
Additionally, this 3 in 1 grill brush will not melt as a nylon grill brush will. Submerge the grill brush into water and allow the steam to do all of the hard work for you.
The Kona safe grill brush is compatible with all types of grills. Whether it is porcelain, ceramic, infrared, weber, or char-broil, this brush will get your grill clean.
This brush lasts five times longer than the average grilling brush.
In regards to rigidity, it is 125% more firm than the traditional grill brush. It is not flimsy, nor will it bend or break easily.
The skillfully crafted handle allows you to keep your hands away from the heat and prevents you from getting burned while cleaning the grill. You can even use both hands if you choose to do so.
Best of all, the Kona safe grill brush has a five-year warranty. If there are any problems with the grill brush, you can send the grill brush back to the manufacturer.
In general, this is the ultimate grill brush for those who do not like bristle brushes. The Kona safe brush will keep your grill clean and looking brand spanking new.
Alpha Grillers Grill Brush and Scraper
This heavy-duty grill brush and scraper from alpha grillers lets you clean your grill with ease. You can put as much pressure on this brush as you deem necessary, and it will not break or bend.
It is compatible with all grill grates, including porcelain, stainless, and cast iron. Its extra-thick bristle design covers three times more cleaning surface than the standard grill brush.
The brush head is lined with dozens of stainless-steel bristles that can clean multiple grates and still clean between each grate.
This grill brush is about 18 inches in length. It's perfect for safely cleaning the grill. It gives you complete control while keeping your hands away from the heat.
You can even clean the back of the grill, and not one hair on your hand will be burned. This grill brush also has an integrated scraper. It's perfect for getting rid of that stubborn grilled-on gunk.
This grill brush has a thick handle with a reinforced brace to stop it from breaking and snapping while you clean the grill.
There's no need to fret about your family's health as the stainless-steel bristles do not fall off after a few uses.
Simply submerge the grill brush in water and allow the steam to dislodge the gunk and grime. After that, wipe the grill down, and your job is complete.
All in all, this grill brush is the ultimate tool for BBQ pitmasters. Alpha griller's grill brush will help you keep your grill clean for a long time.
Char-Broil Replaceable Head Nylon Bristle Grill Brush
No products found.
As the name implies, the char-broil grill brush head is replaceable. It is a nylon bristle grill brush that features that cool, clean technology.
It is safer than common stainless-steel brushes for cleaning the grill. The brush has red grit-infused nylon bristles that have been tested to 15000 cycles with no stray bristles.
Additionally, the integrated scraper blade allows you to remove carbon deposits easily. The vivid bright red bristles are designed with visibility in mind. You can literally see if bristles are missing.
The removable head makes cleaning the grill and replacing the head that much easier. You can easily switch the old one out for a new grill brush head at the first signs of wear and tear.
An added bonus is it saves you a lot of money. Moreover, the heavy-duty tool hood also serves as a grid lifter and under-wire scraper. The hook also comes in handy when it's time to store it.
Unfortunately, this grill brush can only be used on a cool grill. However, that does not mean a nylon grill brush cannot easily clean a grill.
You will be able to entertain your guest and enjoy the party once it starts. You can clean the grill tomorrow once it is completely cool.
Bottom Line
In general, this brush is perfect for those that are afraid of stainless steel or wire grill brushes. With this brush, there is no way wire bristles will end up in your food.
Weber 12-Inch 3-Sided Grill Brush
Though it looks different and maybe deemed insignificant, the weber grill brush can hang with the best BBQ grill brushes.
Boasting a wide brush head, it can clean your grill grates efficiently quickly, fast, and in a hurry.
One advantage of this grill brush is that the short sides can clean the edges of the grill and detach any residual debris stuck between the grates.
It is constructed from thick stainless steel. It's built to resist wear and tear.
Additionally, the ergonomic handle gives you more control as well as leverage when you are cleaning the grill's dirty grates.
To clean your grill with the Weber grill brush, program the grill to high for 15 minutes with the lid on top. Remove the lid and brush the grill grates with your clean with a Weber grill brush.
FAQs About Grill Brushes
To be fair, this is a lot of information about grill brushes to digest. The information above may or may not have answered all of your questions. These are the most popular questions about grill brushes.
What Type of Grill Brush Should I Use?
The type of grill brush you should use is based on your preference. Grill brushes come in a variety of shapes and sizes. Some have short or long, straight handles.
Some brushes are made of nylon, while others are made of stainless steel. Unfortunately, the only way to determine the right grill brush is through trial and error.
One concrete fact is most grill brushes work best when the grill is still hot.
What Is the Safest Grill Brush To Use?
Most people would recommend using nylon. Nylon is one of the safest materials for grill brushes because it won't damage the grill grates.
However, nylon brushes require a little more elbow grease to get the grill clean, and you have to wait for the grill grates to cool completely to clean it.
Are Stainless-steel Grill Brushes Really Safe?
Stainless steel brushes have sharp bristles that may stick to the grill grates and be transferred to your food. This poses a major health risk.
When these bristles are ingested, they can get stuck in your stomach or intestines. Proceed with caution when using a stainless-steel grill brush.
When you notice wear and tear to throw it away.
What Can I Use Substitute for a Grill Brush?
Though a grill brush is optimal, if you do not have a brush on hand, you can use aluminum foil.
Pinch a sheet of aluminum foil into a ball that is big enough to be firmly held with a set of tongs. Use the makeshift grill brush as you would normally use a grill brush.
What Type of Brush Is Best for a Stainless Steel Grill?
Even though there are a variety of grill brushes available on the market, stainless steel brushes are best for cleaning a stainless-steel grill.
Stainless steel bristles are stronger than brass or nylon bristles and are more durable. Additionally, if you dunk a stainless-steel grill brush in a bucket of water, you can steam clean your grill.
How Often Should I Brush My Grill?
If you are not using a nylon brush, the grill grates should be brushed after each grilling session.
In particular, you should let the grills grates cool slightly until they are warm. You can then use your grill brush to remove any residual food debris.
Should I Clean My Grill Brush?
Yes, you should wash your grill brush. If it is not washed or washed incorrectly, it can deteriorate and lose its bristles faster. Clean your grill brush at least 1-2 times per month.
How Do You Remove Grease From a Grill Brush?
To remove grease from your grill brush bristles, squirt dish soap into a sink or large container. Use your hand to swirl it around to create bubbles.
Lower your grill brushes into the water and rub the bristles against each other.
The friction will remove the grease build-up. Continue this process until all of the greases is gone.
What Type of Brush Is Best for a Ceramic Grill?
Although metal or wire bristles are the most popular materials for grill brushes, they are not the best for ceramic grill grates.
Soft-bristled brushes like nylon grill brushes are best for ceramic grates. Remember to burn off any residual food and let the rack cool completely before cleaning it.
Is A Grill Brush Dishwasher Safer?
In theory, yes, a grill brush is dishwasher safe. However, it requires a bit of work.
You have to handwash the grill wash in warm water using non-citrus flavored dish soap before placing the brush in the dishwasher.
We recommend washing your grill brush by hand.
Final Thoughts
There are many varieties of grill brushes available on the market. Some grill brushes are excellent cleaners, while others are lackluster.
Whichever grill brush you decide to buy, ensure it gets the job done correctly.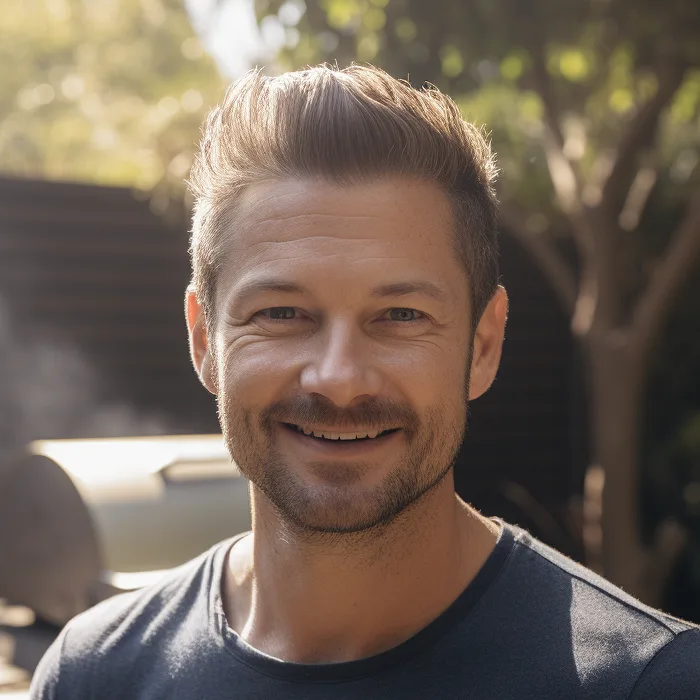 I have been smoking and grilling meat from an early age and enjoy sharing my knowledge and expertise through the hundreds of articles I have written about BBQ. I hope to make everyone's BBQ journey that little bit easier.