There are hundreds of jerky makers on the market, all claiming to be the best and only food dehydrator that you need. However, navigating these options can be an emotional rollercoaster.
Luckily you have the inside scoop on the best jerky makers.
The Best Jerky Makers
Cosori Premium Food Dehydrator Machine
The Cosori food dehydrator is a sleek jerky maker that comes with 6 stainless steel trays, a mesh screen, a fruit roll sheet, an instruction booklet, and a recipe booklet.
Furthermore, this stunning jerky maker is constructed from food-grade stainless steel and has a glass door.
There is no need to constantly open the door and monitor the progress of your food, as you can watch as your food dries out.
This device is very easy to use. With a digital control panel, this dehydrator allows you to easily program the timer to set an alarm that sounds every 30 minutes or set a timer for up to 48 hours.
Additionally, you can make batches of beef jerky, and the dehydrator will maintain an accurate temperature between 95º-165ºF.
The Cosori food dehydrator is also a quiet machine. You can even take a nap, and the noise level from this machine will not bother you.
The noise emitted from this dehydrator is lower than 48dB, which is comparable to the noise levels recorded in a library.
Best of all, the Cosori food dehydrator machine is easy to clean and store. All of the food trays are dishwasher-safe and can be washed on the upper rack of your dishwasher, but it is best to remove them before the drying cycle.
With a specialized rear-mounted fan and heating elements designed to heat each food tray evenly ensures the food cooks evenly. Besides, the one-touch display makes it easier to program your dehydrator to certain settings.
Furthermore, this food dehydrator is safe to use as it is ETL-listed and FDA compliant. In fact, the tray liners are 100% BPA-FREE.
The auto-shutoff turns the jerky maker off as soon as the timer sounds. Moreover, the overheat protection feature automatically turns on if the dehydrator overheats.
In general, this dehydrator is for novice and veteran jerky makers. You can even explore dehydrating other foods with this dehydrator.
Nescojerkyxpress Dehydrator
The NescoJerkyXpress dehydrator is 350 watts of dehydration that will dry your beef jerky efficiently.
With a detachable top-mounted powerhead with fixed temperature control of 160°F, this dehydrator comes with four BPA-free trays that provide users with approximately 0. 75 square feet of drying space per food tray.
Furthermore, the JerkyXpress dehydrator is expandable to up to 7 trays. This package deal includes a jerky gun with 3 different tip attachments, jerky seasonings, cure samples, and a recipe and instruction book.
Powered with fan-flow technology, your food will dry faster, and you don't even have the rotate the trays. Better yet, you can make up to 7 pounds of beef jerky at once.
The detachable top makes clean the base and drying trays easier to clean.
In general, the NescoJerkyXpress dehydrator is the ideal machine for beginners. You can flip the switch with a one-touch operation, and the temperature is pre-set automatically to ensure you end with perfect beef jerky.
Ostba Food Dehydrator Machine Food
The OSTBA food dehydrator machine food has a circusmart 360˚ airflow circulation system. This system is electronically controlled and designed with an automatic fan to ensure your food dehydrates evenly in less time.
The temperature ranges from 96℉-158℉, and 240 Watts of power to keep the dehydrator operating in the best condition and results in premium quality dehydrated beef jerky.
This dehydrator dehydrates several foods such as jerky, fruits, vegetables, and dried herbs.
Furthermore, OSTBA food dehydrator is easy to use.
You must press the power button, turn the temperature knob to set your preferred temperature, and turn the dehydrator on. Furthermore, this jerky maker is easy to clean and store.
The OSTBA food dehydrator comes with 5 BPA-free food trays that can be stacked to dry more food.
To clean the trays, wipe them with a clean damp kitchen towel, let them dry and store me in the cupboard. You can also arrange the food rays in two different ways.
You can rotate food trays 180 degrees to create two different heights. This will allow you to dehydrate different-sized foods simultaneously.
Overall, with dishwasher-safe food trays and cover, this machine is easy to use and easy to clean.
Magic Mill Food Dehydrator Machine
The magic mill food dehydrator is known for its ability to dry food evenly. With a rear-mounted drying fan and airflow circulation, this machine evenly distributes heat.
There's no need to rotate trays 180 degrees just to achieve the perfect beef jerky.
In addition to this, the transparent door window allows you to monitor the jerky's progress without opening the door.
The digital thermostat is adjustable, and the machine shuts off as soon as the timer goes off.
The magic mill dehydration dehydrator comes with 7 adjustable spacious stainless-steel trays.
You can dehydrate fruits, herbs, vegetables, beef jerky, and you can even make fruit rollups with the fruit leather sheet.
The magic mill food dehydrator machine is easy to use and clean
. All of the trays and are dishwasher safe. Furthermore, you can wipe the dehydrator's base down with a clean damp kitchen cloth.
All in all, the magic mill food dehydrator is safe to use. It is BPA-free and features overheat protection that immediately kicks in if the dehydrator overheats.
FAQs About Jerky Makers
With all of this information about jerky makers, there must be a few lingering questions. These are the most common questions about jerky makers.
What Should Dehydrated Beef Jerky Look Like?
Beef jerky should have a dry exterior. When it's dehydrated correctly, beef jerky should have white fibers running throughout the interior of the meat.
Grab a piece of beef jerky and carefully bend it at a 90-degree angle.
If moisture pools on the surface of the beef jerky, it is not finished cooking and needs to be placed back into the dehydrator and cooked until it is ready.
On the other hand, if your beef jerky cracks and breaks, it has been overcooked and will not be as flavorful or have the signature texture of beef jerky.
A little bending or cracking is okay as long as there is no moisture on the beef jerky's surface. However, beef jerky should not break.
What's the Best Wattage for a Food Dehydrator?
The wattage of a food dehydrator can vary depending on the fan and airflow system. The wattage also depends on the size and the capacity of the dehydrator.
In general, the wattage of a dehydrator can range from 300-1000 watts.
Can You Dehydrate Jerky Too Long?
As with most foods overcooking beef jerky is possible, essentially, beef jerky is spiced dried meat. Dehydrating this seasoned meat is the most important step.
If you dehydrate your jerky for too long and your beef jerky could be as hard as nails. It will spoil faster if you don't dehydrate your meat long enough.
Is a Food Dehydrator Worth It for Making Jerky?
Although dehydrators make dehydrating food easier, you do not need a dehydrator to make jerky.
You can arrange your jerky on a parchment-lined cookie sheet and bake it in the oven on its lowest setting for 8-10 hours.
Be sure to turn the beef jerky every so often to make sure all sides are dried evenly.
Moreover, you can also make jerky in your smoker. Though this option uses different techniques, the end result will be nearly identical.
In short, if you want to make the drying process easier, jerky makers are worth it.
What Temperature Is Best for Dehydrating Jerky?
After your dehydrator achieves a temperature of 160 °F or 165 °F, your dehydrator should maintain a consistent temperature of 130 °F-140 °F throughout the entire dehydration process.
Maintaining a consistent temperature is critical when making jerky because the dehydration needs to be complete before the food begins to spoil, and enough water must evaporate from the meat to prevent the growth of microorganisms.
Should Jerky Be Pink in the Middle?
User no circumstance should jerky be pink in the middle. Beef jerky is produced from raw slices of beef.
These strips of beef can range from a light red color to a pink color. Once the jerky is completely dehydrated, it will be darker in texture and take on a hardened texture.
Can I Leave My Dehydrator on Overnight?
Thanks to technological advances in the food industry, we can leave electric food dehydrators overnight unattended without fear of burning the house.
Make sure you place your dehydrator in a space with adequate ventilation.
Additionally, ensure your space is free of damage and is not covered with towels, water, or anything that could potentially start a fire.
Do Food Dehydrators Use a Lot of Electricity?
Using an electric dehydrator is actually a lot cheaper than most people assume.
For example, the cost per hour of running a dehydrator may range from 4 cents-13 cents, depending on where you live.
In addition to this, dehydrators that run for more than 30 hours can cost about $2-$4.
Are Dehydrators Or Smokers Better For Making Jerky?
Using a dehydrator is the most convenient and easy way to make jerky flavor-wise smokers are better for making jerky.
Smoking jerky seals the juices of meat while simultaneously infusing the meat with a delicious smoky flavor.
How Does a Jerky Dehydrator Work?
Dehydrators are electrical devices used to draw the moisture out of meat.
The dehydrator's heat source will increase the temperature of the machine as the fan circulates and distributes the heat evenly.
The heat will eliminate the moisture as the food is resting on the dehydrator trays.
How Long Does Dehydrating Jerky Take?
On average, jerky can take 4-5 hours to dehydrate when using a dehydrator.
Program your dehydrator to 165°F and allow the jerky to dehydrate for approximately 4 hours until the jerky's internal temperature reaches a safe 160°Fas recommended by the USDA.
What Cuts of Beef Are Best for Jerky?
Affordable, lean cuts of beef are best for jerky. For example, top round, bottom round, or beef cut from the lifter and pectoral muscles of the animal is best for beef jerky.
Final Thoughts
Beef jerky is an all-around tasty snack that is definitely worth investing in a jerky maker.
While you can dehydrate jerky using the oven or smoker, it is best to use a dehydrator.
Furthermore, you now have all the information you need to make an informed decision about jerky makers, so use it!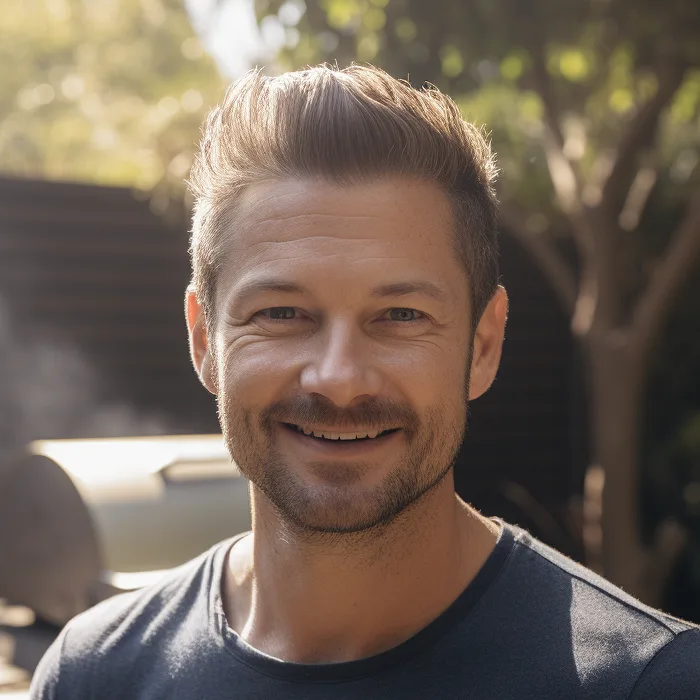 I have been smoking and grilling meat from an early age and enjoy sharing my knowledge and expertise through the hundreds of articles I have written about BBQ. I hope to make everyone's BBQ journey that little bit easier.